37% of Couples Feel Stressed When Discussing Finances
A 2023 Survey by RetireGuide reveals 16% of American married couples are financially incompatible with their partners, and about 27% of couples argue at once a month about finances. Check out our full findings below, along with financial communication tips for couples.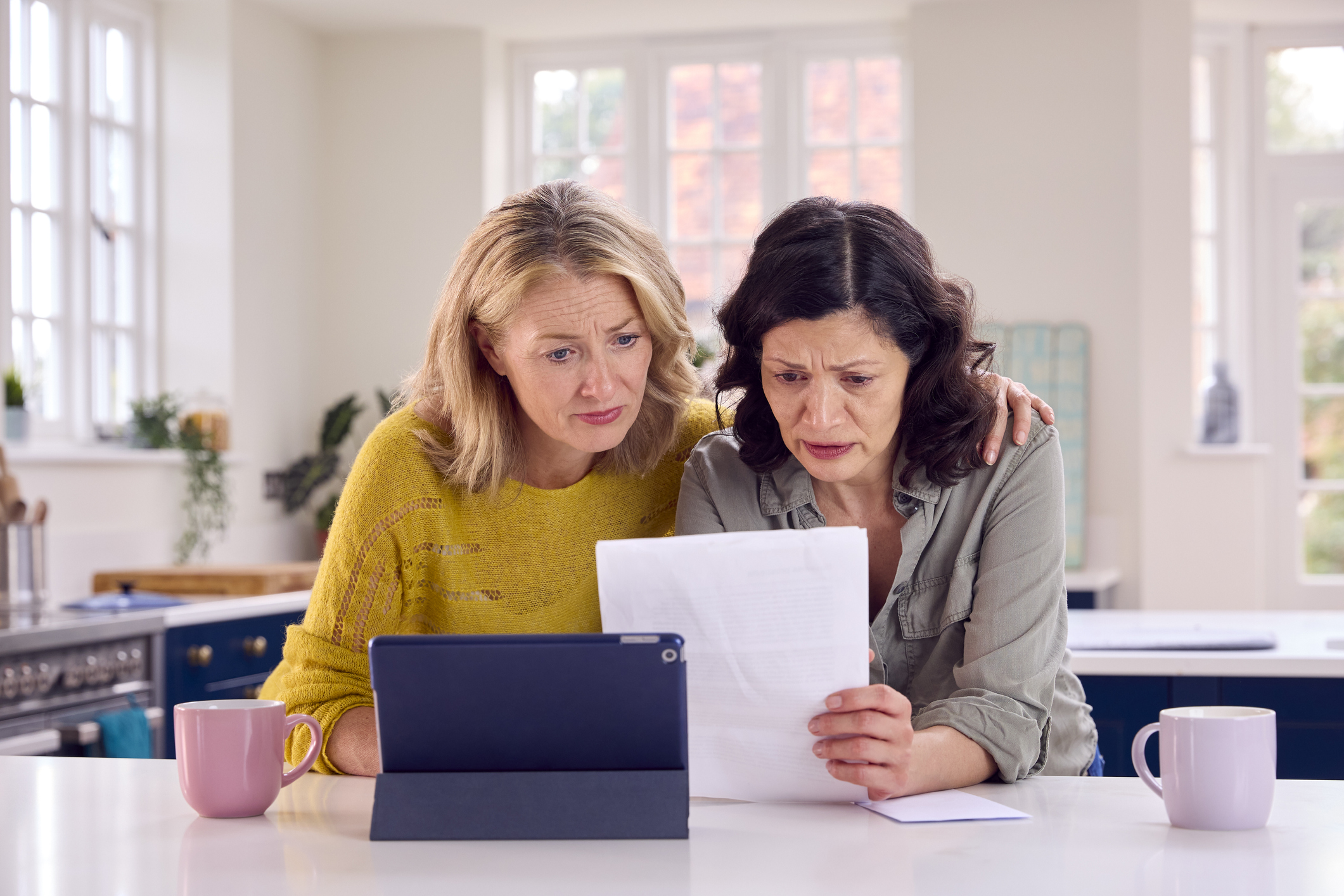 Written by

Christian Simmons

Christian Simmons

Financial Writer

Christian Simmons is a writer for RetireGuide and a member of the Association for Financial Counseling & Planning Education (AFCPE®). He covers Medicare and important retirement topics. Christian is a former winner of a Florida Society of News Editors journalism contest and has written professionally since 2016.

Read More

Edited By

Lamia Chowdhury

Lamia Chowdhury

Financial Editor

Lamia Chowdhury is a financial content editor for RetireGuide and has over three years of marketing experience in the finance industry. She has written copy for both digital and print pieces ranging from blogs, radio scripts and search ads to billboards, brochures, mailers and more.

Read More

Published: April 20, 2023
Updated: June 22, 2023
5 min read time
This page features 3 Cited Research Articles
Financial stability is an important part of a successful relationship. When bills go unpaid or debt accumulates, it can cause psychological stress and build resentment among partners.
To better understand the current state of financial compatibility between partners, we surveyed 738 married individuals about their feelings about discussing finances with their partners, how often they argue about money and more.
Key Takeaways
About 37% of married individuals feel stressed when discussing finances with their partner.
About 27% of married couples argue at least once per month.
About one in four couples said their biggest financial deal breaker would be if their partner gambled in secret.
About 22% of married individuals argued most about their budget.
How Financially Compatible Are Married Couples?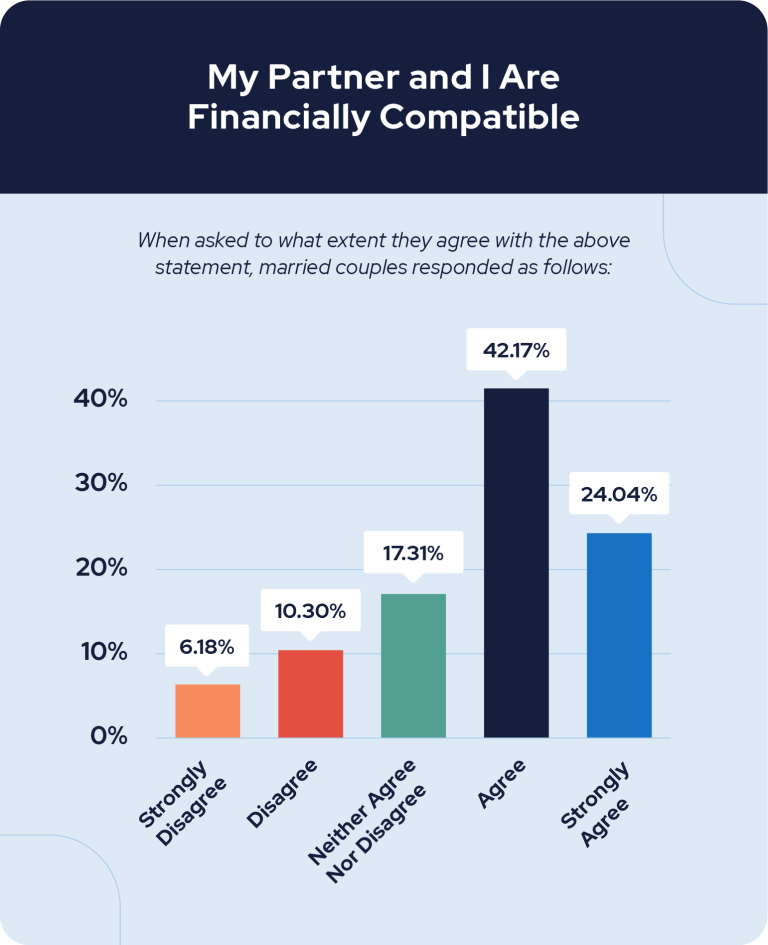 When married respondents were asked whether they agreed that they were financially compatible with their partner, about 16% of respondents either disagreed or strongly disagreed — indicating perceived financial incompatibility. In contrast, 66% of respondents agreed or strongly agreed, while around 17% reported to neither agree nor disagree.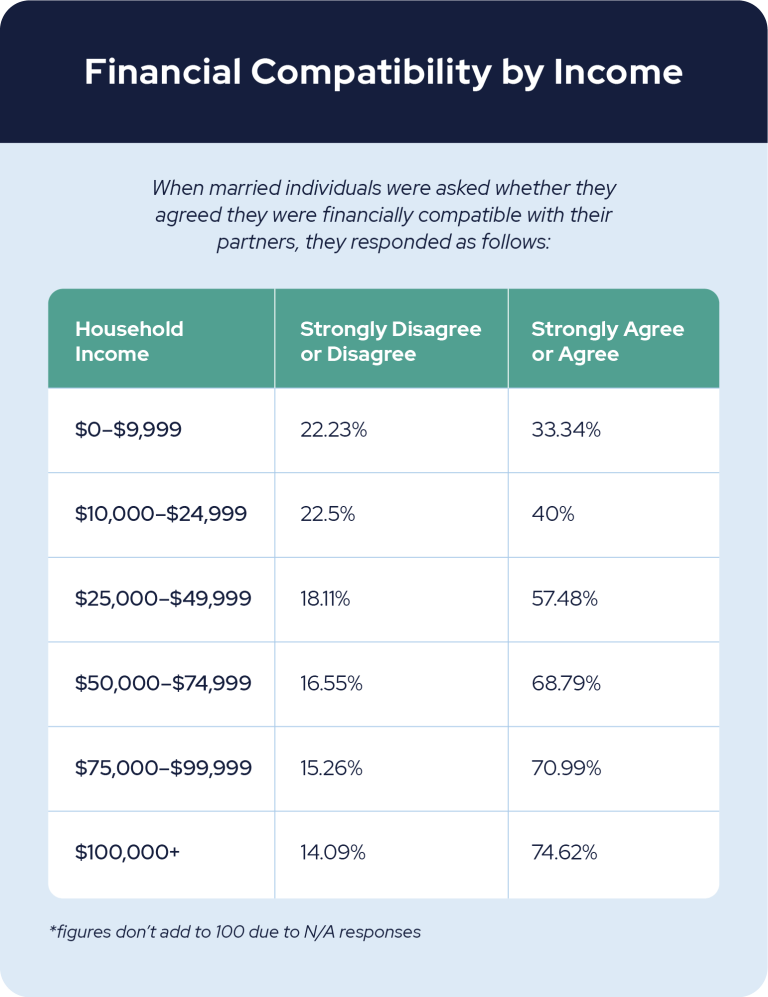 A trend that was consistent through our survey was that those with higher household incomes were more likely to agree that they were financially compatible with their partners.
While about 40% of those surveyed with incomes between $10,000 and $24,999 agreed or strongly agreed that they were financially compatible, about 75% of those making $100,000 or more reported the same thing — indicating a 35% increase in perceived financial compatibility.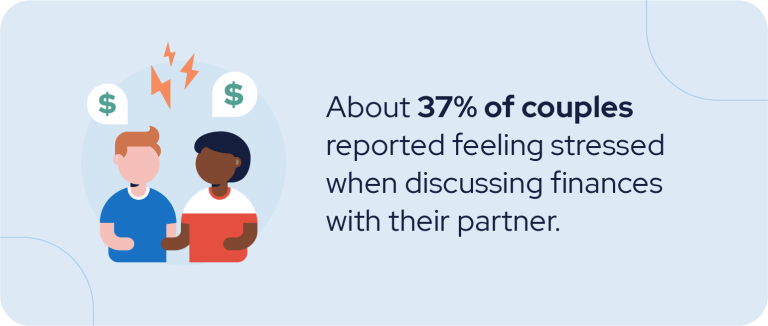 For married individuals, the most common emotions associated with discussing finances were:
Stress: 36.81%
Comfort: 35.44%
Tension: 29.26%
Confidence: 26.65%
Nervousness: 18.82%
Interestingly, young adults were the most likely to report feeling comfortable discussing finances with their partners — with 45% reporting that was the case.  In contrast, those ages 45-60 were the most likely to feel angry (11.63%) and stressed (48.26%) about discussing finances with their partners.
While stressing about finances peaks between 40 and 60, stress rates sharply decrease as Americans reach retirement age. Only about 26% of respondents ages 60 and up were stressed about discussing finances with their partner — meaning they're 10% less likely to feel stressed compared to the average adult.. 
This trend of the youngest and oldest generations being the most financially stress-free matches data about average credit card debt rates by generation. People ages 18-23, and 75 and older had the least credit card debt, with debt peaking at middle age, around 40-55.
Top Financial Deal-breakers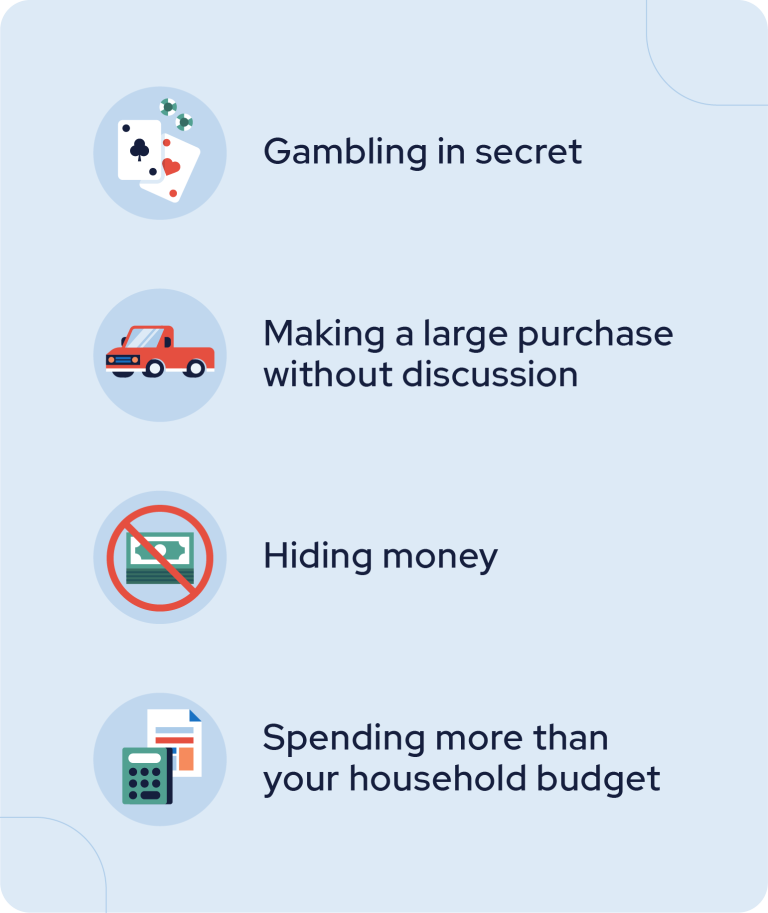 When surveyed about what type of financial infidelity would be the most hurtful, about 25% of couples said that gambling in secret was their number one financial deal-breaker. Other couples thought it would be most hurtful if their partner made a large purchase without discussion (15.80%), hid money (13.74%) or spent more than their household budget (11.40%).
About 17% of respondents were most hurt by the idea of their partner making large purchases without discussion. In comparison, only 3% said they'd be most hurt by their partner investing without discussion.
1 in 4 Couples Argue at Least Once a Month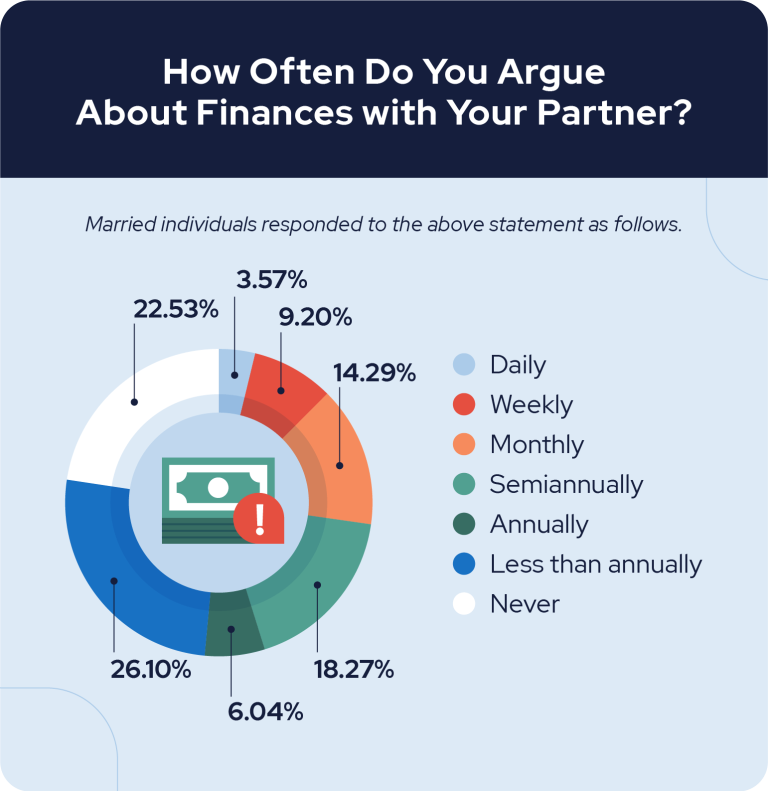 When we surveyed the rate at which married couples argue about finances, about 27% of couples reported arguing once a month. About 18% reported arguing semiannually, 9.2% weekly and 3.57% daily.
On the other hand, one in five couples reports they never argue about finances at all.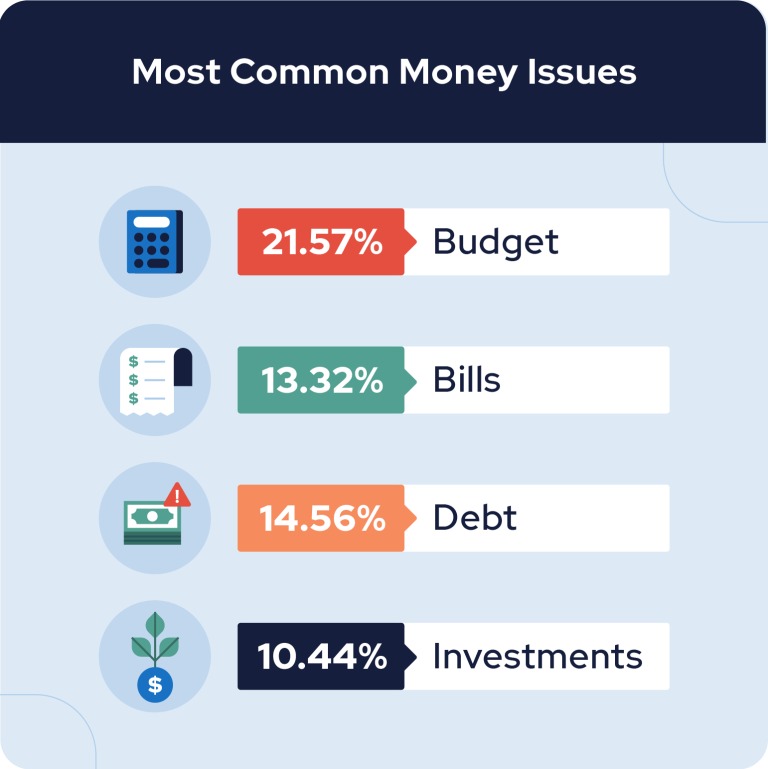 When we asked married couples what they argued about most, budget and debts were the most common discussion topics. About 21% of respondents argued about budgeting most, 10% argued about investments, 14% about debt and 13% about bills.

If you're one of the 37% of couples that feels stressed discussing money with their partner, it could be a signal that you need to improve the way you and your partner manage and communicate about money.
Here are some tips to improve your couple's relationship with finances:
Be proactive:

Don't procrastinate about talking finance with your partner. Talk about your expectations around money as soon as possible to avoid potential problems down the road

Schedule time to communicate:

It's easy to avoid money talks if you don't schedule a time to communicate. Find a recurring date on the calendar when you and your partner can review your budget and spending habits and discuss any other important financial matters.

Create shared goals:

If you have a different spending style than your partner, shared goals can help you work together and make compromises when it comes to spending.

Don't fear disagreements:

Couples are unlikely to see eye-to-eye on everything. If you have financial disagreements, it's important to acknowledge those differences so you can move forward in the right direction.

Split financial duties:

It's easy to stress about money if you aren't sure who is in charge of paying the utility bills or who is supposed to track investments. Assign different tasks and responsibilities to you and your partner to stay organized and accountable.
The more you communicate with your partner about money, the easier it will be for you to create and track financial goals. If you don't already, it could also be a good idea to pool together finances, since recent research suggests that doing so can increase relationship satisfaction.
Closing Takeaways
As you near retirement, discussing finances with your partner and developing positive money management habits becomes more important. Check out our retirement planning page for a full guide on setting yourself up for a financially stable retirement.
Methodology
The survey of 738 adults aged 18+ was conducted via SurveyMonkey for RetireGuide on March 31, 2023. Data is unweighted, and the margin of error is approximately +/-5% for the overall sample.
Last Modified: June 22, 2023
Share This Page
Who Am I Calling?
Calling this number connects you to one of our trusted partners.
If you're interested in help navigating your options, a representative will provide you with a free, no-obligation consultation.
Our partners are committed to excellent customer service. They can match you with a qualified professional for your unique objectives.
We/Our Partners do not offer every plan available in your area. Any information provided is limited to those plans offered in your area. Please contact Medicare.gov or 1-800-MEDICARE to get information on all of your options.
844-359-1705
Your web browser is no longer supported by Microsoft. Update your browser for more security, speed and compatibility.
If you need help pricing and building your medicare plan, call us at 844-572-0696