More Americans Saving a Year into the COVID-19 Pandemic

Written by

Terry Turner

Terry Turner

Senior Financial Writer and Financial Wellness Facilitator

Terry Turner has more than 35 years of journalism experience, including covering benefits, spending and congressional action on federal programs such as Social Security and Medicare. He is a Certified Financial Wellness Facilitator through the National Wellness Institute and the Foundation for Financial Wellness and a member of the Association for Financial Counseling & Planning Education (AFCPE®).

Read More

Edited By

Matt Mauney

Matt Mauney

Financial Editor

Matt Mauney is an award-winning journalist, editor, writer and content strategist with more than 15 years of professional experience working for nationally recognized newspapers and digital brands. He has contributed content for ChicagoTribune.com, LATimes.com, The Hill and the American Cancer Society, and he was part of the Orlando Sentinel digital staff that was named a Pulitzer Prize finalist in 2017.

Read More

Published: February 4, 2021
5 min read time
This page features 14 Cited Research Articles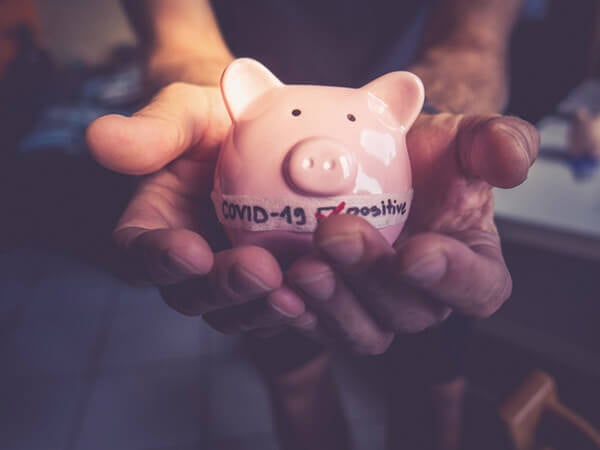 Nearly a year after the World Health Organization declared COVID-19 a global pandemic, its ramifications created a nation divided between savers and borrowers.
But they appear to be united on one thing — changing the way they plan for retirement.
"The savings rate tends to rise in recessions, and the COVID-19 recession has proven no different," A. Lee Smith, a research and policy advisor at the Federal Reserve Bank of Kansas City, wrote in a December 2020 Economic Bulletin. "Even so, the magnitude of the recent rise in the savings rate has been stunning."
The pandemic has created Americans' highest personal savings rate in history, according to the U.S. Bureau of Economic Analysis — a record 32.2 percent in April 2020 — just a little more than a month after the pandemic began.
Personal savings is the money Americans have left after their monthly spending and taxes. The personal savings rate is the percentage of their income that they save.
The rate has been declining since April, but the amount of money American's saved hit a record $1.3 trillion by November — and the amount was still climbing.
At about the same time, A CNBC and Acorns survey found 14 percent of Americans — an estimated 46 million people — had burned through all the savings they'd set aside for emergencies by September 2020 as a result of the pandemic.
The mixed messages on savings, market volatility and the need for some people to tap savings has resulted in some sweeping changes in how Americans are approaching retirement planning, according to several surveys conducted over the past year.
Will the Increased Saving Go Toward Retirement?
Two of the driving forces behind increased savings have been people continuing to work but having nowhere else to go during the pandemic.
"For the people who still have their jobs, and because many are working remotely, the savings rate has gone up," Mark Solheim, editor of Kiplinger's Personal Finance told RetireGuide.
In April, at the height of restrictions on schools and workplaces, 51 percent of Americans were working from home full-time, according to a survey by Gallup.
By September, the last time Gallup examined remote-working figures, it found a significant number of Americans were still working from home full time or part time.

Where Americans Worked, September 2020

Full-Time Remote33 percent
Part-Time Remote25 percent
Never Working Remotely41 percent
Source: Gallup
Remote working and travel restrictions appear to have accounted for the surge in personal savings.
Business and vacation travel and entertainment such as movies and concerts accounted for the biggest savings according to a January 2020 survey by Kiplinger's Personal Finance and wealth management firm Personal Capital. Eliminating commuter costs and meals outside the house also accounted for big savings.
But it's not clear if those who have saved money during the recession will put it toward their retirement or toward emergency savings — or if there will be a spending spree once the pandemic ends and pent-up demand is unleashed.
But Smith suggested the way Americans were saving might indicate they were socking away money for the long haul.
"This increase in savings appears to be predominantly driven by precautionary motives," Smith wrote in the Federal Reserve Bank of Kansas City's economic bulletin. "Therefore, consumers may be reluctant to draw down these savings in the future to support spending."
Pandemic Affects Quarter of Americans' Retirement Savings
Millions of other Americans haven't been so lucky as to have leftover earnings at the end of the month.
There were 10.7 million Americans unemployed at the end of 2020. That's nearly twice the number from pre-pandemic February, according to the Bureau of Labor Statistics.
In December, 15.8 million Americans also reported they had lost their jobs or were forced to work fewer hours because their employer took an economic hit or went out of business during the pandemic.
The dire straits for these millions of Americans forced many to cut back on or tap into their retirement savings.
More than a quarter — 27 percent — of American workers have either decreased or stopped retirement savings during the pandemic, according to an October retirement survey from FinanceBuzz.
Even for those who've been able to ride out the pandemic, there's been a seismic shift in how they are viewing retirement plans.
The Alliance for Lifetime Income found by late summer that people are planning to work longer, save more or look at alternative retirement investments such as annuities.
The Alliance for Lifetime Income conducted a series of three tracking surveys over the summer of 2020 to see how retirement planning had changed because of the pandemic. The ALI saw what it termed a "retirement reset," as a significant number of respondents showed shifts in how they were planning retirement finances.
"The survey gauged how opinions and perceptions have changed about people's confidence in their ability to retire and when they can retire," Cyrus Bamji told RetireGuide at the time. "Over 65 percent of the folks in this survey reported an erosion in their investments."
But for those playing catch-up, after digging into money put away for their golden years, retirement may be far more distant than they originally planned.
"If you take your money out after a 10 percent or 20 percent hit to the market, if that's a good part of your portfolio, then you end up with a 10 percent to 20 percent loss," Amin Dabit, vice president of Advisory Services at Personal Capital told RetireGuide. "And if you don't put that money back in before the market recovers, it'll take you years — possibly decades — to recoup what you took out."
Your web browser is no longer supported by Microsoft. Update your browser for more security, speed and compatibility.
If you need help pricing and building your medicare plan, call us at 844-572-0696