Pandemic Rattles Retirement Confidence, Changing the Way Americans Save

Written by

Terry Turner

Terry Turner

Senior Financial Writer and Financial Wellness Facilitator

Terry Turner has more than 35 years of journalism experience, including covering benefits, spending and congressional action on federal programs such as Social Security and Medicare. He is a Certified Financial Wellness Facilitator through the National Wellness Institute and the Foundation for Financial Wellness and a member of the Association for Financial Counseling & Planning Education (AFCPE®).

Read More

Published: October 16, 2020
6 min read time
This page features 8 Cited Research Articles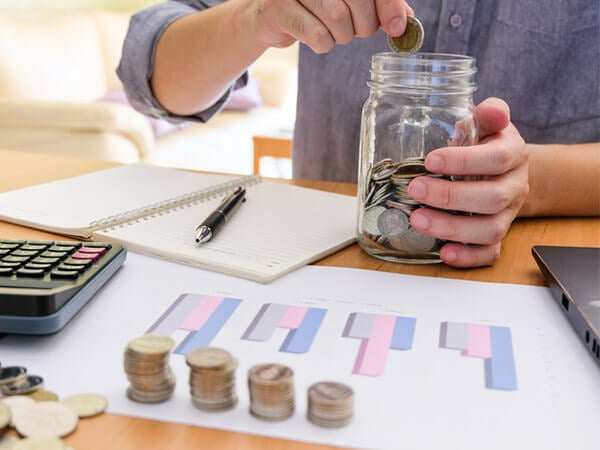 The COVID-19 pandemic has shaken American's confidence in their ability to retire comfortably, according to a new retirement survey.
The poll by Kiplinger's Personal Finance magazine and the Alliance for Lifetime Income found that a full half of respondents are less optimistic about retirement prospects six months into the pandemic than they were before it started.
Those who have already retired said they were more confident in their financial security than younger pre-retirees planning retirement in the next 10 to 15 years.
The pandemic, as well as the economic and market upheaval it's caused, has resulted in a "retirement reset," according to the Alliance for Lifetime Income, an education association focused on educating consumers about the need for protected income in retirement.
The poll suggests that those still in the workforce are altering retirement plans, from waiting to retire to changing how they invest or save.
"Whenever you go through a really difficult time, that just heightens worries that you'll last longer than your money — that you're going to run out of money before you die," Sandy Block, a senior editor at Kiplinger Personal Finance, told RetireGuide.
Guaranteed Income a Top Takeaway on Retirement Confidence
The survey highlights heightened interest in a guaranteed income both among retirees and those still planning for retirement. More than half — 56 percent of respondents — said they'd like more guaranteed income in retirement.
It shows a shift in focus from building a large nest egg to making sure people plan for a steady stream of income in retirement.
"We've definitely seen that shift and we think it's a permanent shift," Cyrus Bamji, head of communications at the Alliance for Lifetime Income, told RetireGuide.
Retirement savings such as a 401(k) or IRA don't necessarily guarantee a monthly income for the rest of your life. That becomes more obvious if your investments have taken a beating in the markets during the pandemic.
"If they're using their retirement savings to live on, they may have to readjust either their outlook or their goals or perhaps even their lifestyle," Steve Rohrig, insurance expert and associate director of training at Senior Market Sales, told RetireGuide earlier this year as the pandemic began to shake up retirement plans.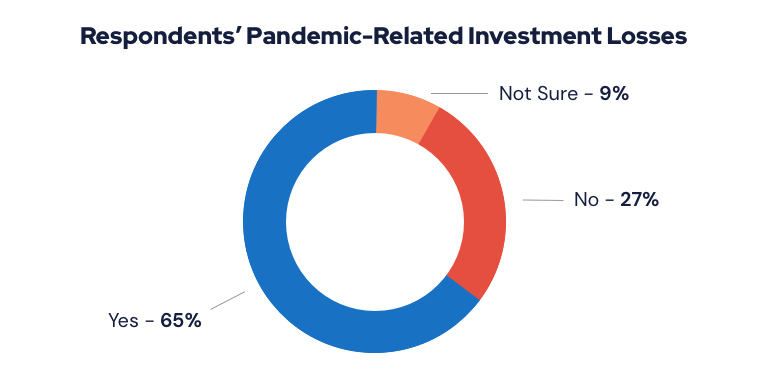 "You spend your whole life getting a paycheck and as long as you're getting a paycheck, you know you can work around expenses," Block said. "But when you're not getting a paycheck anymore, it really throws things off — you're just not sure what your paycheck should be."
Uncertainty over a steady retirement income underlines the importance of creating a retirement budget years before you plan to leave the workforce. More than a third of respondents planning retirement or already retired had not estimated their monthly expenses.
"Many people don't do the simplest thing — which is figuring out exactly what they're going to need to live not just on an annual basis but on a monthly basis. And how much of that money is guaranteed — whether it's Social Security, a pension, or it's protecting themselves with another piece of guaranteed income through an annuity," Bamji said.
Pandemic Is Fueling Interest in Annuities
The survey found that two-thirds of people who can invest in annuities through their employers have done so. Another 40 percent of respondents have either already invested in an annuity on their own or would in the future.
Annuities are tax-deferred financial products that continue paying a steady income regardless of how long you live. They can prevent you from running out of money before you die.
"In the past, a lot of financial planners were really sour on annuities because a lot of them were high cost and complicated." Block said. "But we're now seeing some well-known financial planners saying annuities make a lot of sense."
As employers have eliminated pensions, annuities have taken on a new role in providing guaranteed retirement income.
"Annuities sort of tie their popularity to the decline in traditional pensions so that people can allocate a portion of their savings to an annuity that will provide a regular paycheck for the rest of their lives," Block said.
Retirement Planning Attitudes Shift Along Generational Lines
The survey turned up a large divide in confidence levels between people in their 50s planning for retirement and those who've already retired.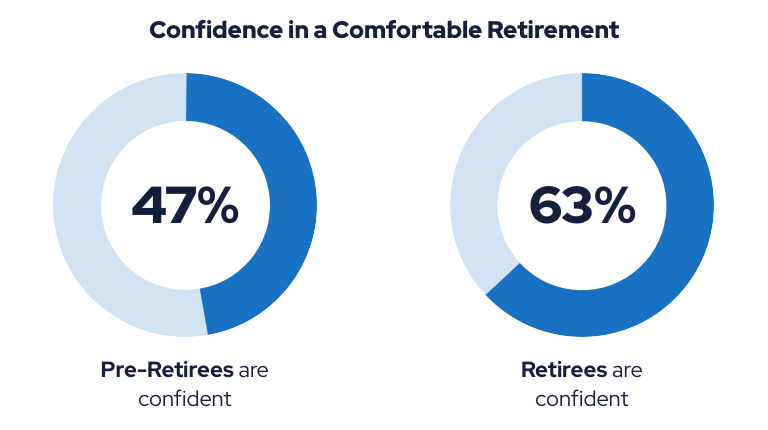 The generational dividing line appears to correspond with a drop-off in pension ownership, according to previous research by the alliance.
"In that older demographic, folks overwhelmingly have had a pension," Bamji said. "And that pension, and that source of guaranteed income when coupled with Social Security, gives them that sense of confidence."
Younger people also appear to have a growing focus on guaranteed income over savings alone.
"Young people have already sort of gotten it," Block said. "Unlike older folks, who thought they might get one, young people know there is no pension waiting for them and a lot of them have lost faith in Social Security, too — they're worried it's not going to be around when they get older."
Women Are Less Confident of Retiring Comfortably
Women are significantly less confident than men of being able to retire comfortably, according to the survey. The poll found that 56 percent of women were less optimistic, compared to just 43 percent of men.
"Women have a keen understanding that if they're in a relationship, they're going to live longer than men — and in many cases, significantly longer than men," Bamji said. "And because of that, they have to fund a longer retirement."
More than half of women in the survey said they expected to live up to 30 years after retiring. The current retirement age of 67 puts average remaining life expectancies at about 16.46 years for men, and 18.86 years for women, according to the U.S. Social Security Administration.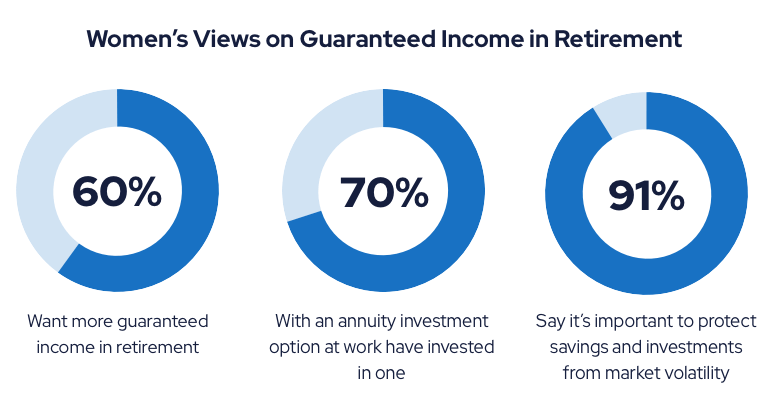 Bamji cites previous social research that suggests women as a demographic tend to be more risk averse than men, perhaps affecting the respondent's confidence in retirement planning and their investments. He also suggests that women who have taken a more active role in their own or their family's retirement planning may be more confident in their retirement plans.
Silver Lining for Retirement Confidence
Kiplinger's Block says overall, she's positive about the state of retirement planners' confidence, especially when compared to the Great Recession.
"People are getting really good at saving for retirement, but they are just very confused and puzzled about what to do when they get there," she said.
The survey shows that while only a quarter of respondents were very confident about living comfortably during retirement, nearly 50 percent more were somewhat confident.
"That's pretty good," Block said. "I think that's encouraging — it sounds to me like they're sleeping at night."