Proposed Legislation Could Expand Audio Telehealth Visits to Medicare Advantage Enrollees

Written by

Rachel Christian

Rachel Christian

Financial Writer and Certified Educator in Personal Finance

Rachel Christian is a writer and researcher for RetireGuide. She covers annuities, Medicare, life insurance and other important retirement topics. Rachel is a member of the Association for Financial Counseling & Planning Education.

Read More

Edited By

Matt Mauney

Matt Mauney

Financial Editor

Matt Mauney is an award-winning journalist, editor, writer and content strategist with more than 15 years of professional experience working for nationally recognized newspapers and digital brands. He has contributed content for ChicagoTribune.com, LATimes.com, The Hill and the American Cancer Society, and he was part of the Orlando Sentinel digital staff that was named a Pulitzer Prize finalist in 2017.

Read More

Published: April 15, 2021
4 min read time
This page features 10 Cited Research Articles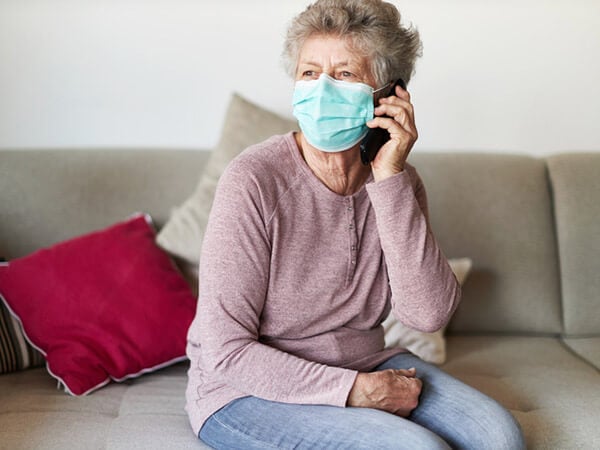 A bipartisan House bill could make it easier for people with Medicare Advantage plans to access audio-only telehealth visits during the pandemic.
Key Takeaways From the Bill
On March 23, U.S. House Rep. Terri Sewell, D-Ala., and Rep. Gus Bilirakis, R-Fla., along with six cosponsors, reintroduced The Ensuring Parity in Medicare Advantage and PACE for Audio-Only Telehealth Act of 2021 (H.R. 2166).
The legislation aims to ensure that Medicare Advantage enrollees who cannot access the video component of telehealth visits can still receive care via audio-only appointments during the COVID-19 pandemic.
Last year, the U.S. Centers for Medicare & Medicaid Services gave health care providers the flexibility to offer telehealth services to all Medicare Advantage and PACE (Program of All-Inclusive Care for the Elderly) beneficiaries.
But that new guidance requires visits to include a video component, which Sewell and other lawmakers argue isn't an option for some patients.
Filling a Gap for Medicare Enrollees with Limited Internet Access
People in rural and low-income communities — especially those with limited access to high-speed internet — stand to benefit from the proposal, as do seniors with vision loss and other medical conditions that may cause difficulty accessing video communications.
"This will ensure that patients are not forced to forego critical care during the pandemic, as many of our seniors live in rural areas without access to broadband speeds that support video connections," Sewell said in a statement.
According to an August paper from University of Pittsburgh and Harvard Medical School researchers, over 40 percent of Medicare enrollees lack access to a computer with high-speed internet at home; nearly 41 percent don't have a smartphone with a wireless data plan; and more than 26 percent don't have access to either.
Research from Better Medicare Alliance — a Medicare Advantage research and advocacy group — found that 34 percent of all Medicare Advantage beneficiaries living under the federal poverty level reported having no internet access.
"The (bill) is a sensible, bipartisan and sorely needed solution that will protect our most vulnerable Medicare Advantage beneficiaries' ability to access the care they need," Allyson Schwartz, president and CEO of Better Medicare Alliance, said in a statement.
Private Health Insurance Companies Could Get More Government Funding
Better Medicare Alliance was joined by other interest groups — including the American Psychological Association and America's Health Insurance Plans — in applauding the bill.
Aside from helping Medicare beneficiaries, H.R. 2166 would allow diagnoses from audio telehealth encounters to count in the Medicare Advantage risk adjustment program.
CMS compensates private Medicare Advantage insurers with a fixed monthly amount per beneficiary using a process called risk adjustment, which modifies payments based on the health status of enrollees.
Allowing diagnoses provided during phone call visits to count in risk adjustment could impact how much money the federal government pays private insurance companies.
"There's some potential for this to result in higher payments (from CMS) for Medicare Advantage enrollees, compared to similar beneficiaries in traditional Medicare," Tricia Neuman, a Medicare legislative expert and director of the Kaiser Family Foundation's Program on Medicare Policy, told RetireGuide.com.
Neuman said higher payments from CMS could be a boon to patients because Medicare Advantage plans can pass those extra funds along to enrollees by offering additional benefits and perks.
But it also means higher government spending.
"The rise in Medicare payments leads to higher Medicare premiums paid by all beneficiaries and contributes to the fiscal instability of the Medicare Trust Fund," Neuman said.
How It Could Impact Health Care Providers
The legislation is also attractive to health care providers, who would receive the same compensation for Medicare Advantage and PACE enrollees' audio telehealth visits as they do for in-person visits.
Experts say it's important to make sure patients still receive adequate care if these expanded payment policies continue after the pandemic.
"The bill would set payment rates for all telehealth visits at the higher, in-person rate, neutralizing the incentive for physicians to see patients in their office," Neuman said. "It will be important to track how telehealth ultimately affects quality of care, from the perspective of physicians and patients."
What's Next for Telehealth and H.R. 2166?
The bill's new audio-only telehealth flexibilities would likely expire at the end of the pandemic's public health emergency period, which is expected to last the rest of the year, according to a U.S. Health and Human Services' letter sent to governors.
While there's general support in Congress for extending broader telehealth access and reimbursement after the pandemic ends, there's no consensus on what those permanent flexibilities might look like.
The Ensuring Parity in Medicare Advantage and PACE for Audio-Only Telehealth Act was first introduced in July 2020 but died without a vote.
The bill was reintroduced on March 23 and referred to both the Ways and Means and Energy and Commerce committees.
The bill needs to exit committee and get passed by both houses of Congress before President Joe Biden can sign it into law.
Your web browser is no longer supported by Microsoft. Update your browser for more security, speed and compatibility.
If you need help pricing and building your medicare plan, call us at 844-572-0696