COVID-19 Accelerates Medicare Changes to Telehealth

Written by

Terry Turner

Terry Turner

Senior Financial Writer and Financial Wellness Facilitator

Terry Turner has more than 35 years of journalism experience, including covering benefits, spending and congressional action on federal programs such as Social Security and Medicare. He is a Certified Financial Wellness Facilitator through the National Wellness Institute and the Foundation for Financial Wellness and a member of the Association for Financial Counseling & Planning Education (AFCPE®).

Read More

Edited By

Matt Mauney

Matt Mauney

Financial Editor

Matt Mauney is an award-winning journalist, editor, writer and content strategist with more than 15 years of professional experience working for nationally recognized newspapers and digital brands. He has contributed content for ChicagoTribune.com, LATimes.com, The Hill and the American Cancer Society, and he was part of the Orlando Sentinel digital staff that was named a Pulitzer Prize finalist in 2017.

Read More

Published: July 7, 2020
5 min read time
This page features 9 Cited Research Articles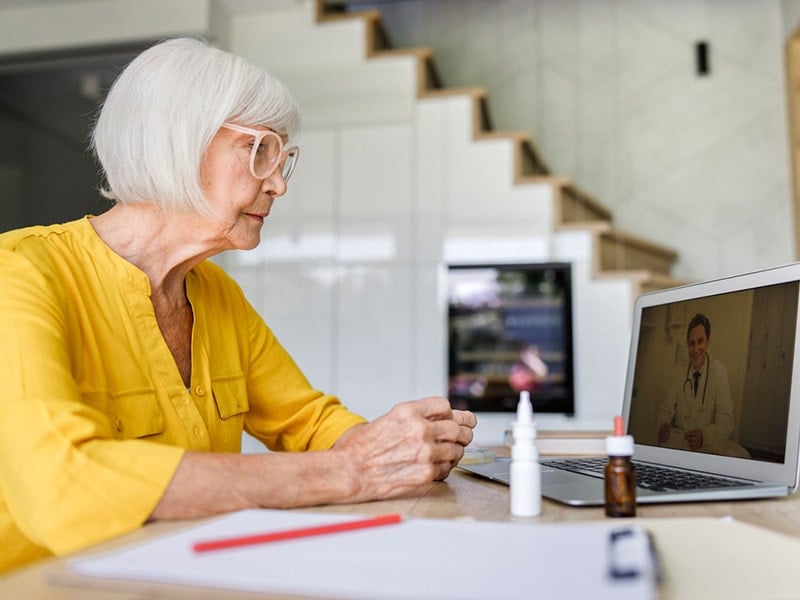 One of the lasting effects on Medicare resulting from the COVID-19 pandemic may be the expanded use of telehealth.
Medicare has been slow to embrace the idea of remote medical monitoring and consultations, at least until the risk of contracting the new coronavirus in a doctor's office made telehealth a more attractive option.
"During COVID-19, we've seen tremendous growth in consumer adoption of telemedicine," Jonathan Baker-McBride, the corporate manager for Orlando Health's Telehealth, Telecare and Remote Patient Monitoring in Central Florida, told RetireGuide. "Patients were able to remain connected with the medical care teams throughout the crisis, ensuring they got the care they needed during a difficult time."
The U.S. Centers for Medicare & Medicaid Services expanded coverage for telehealth services on March 6. CMS is currently laying out plans to permanently expand telehealth coverage beginning in 2021.
Medicare's top official has said the pandemic let the telehealth "genie out of the bottle," changing the way the agency will approach remote care and monitoring in the future.
"CMS's rapid changes to telehealth are a godsend to patients and providers and allows people to be treated in the safety of their home," said CMS Administrator Seema Verma. "The changes we are making will help make telehealth more widely available in Medicare Advantage and are part of larger efforts to advance telehealth."
It could also mean savings to out-of-pocket costs for patients. A 2011 study in the journal Health Affairs found that telehealth and remote monitoring services could save Medicare beneficiaries up to 13.3 percent.
Have you selected your 2024 Medicare plan?
Maximize your Medicare savings by connecting with a licensed insurance agent. Annual Enrollment is open until December 7th.
Telehealth's Sudden Moment in the Sun
Telehealth, sometimes called telemedicine, is the idea of replacing in-person doctor visits with remote consultations over the phone or through video connections.
The idea has been around since an 1879 article in The Lancet discussed using the newly invented telephone to eliminate unnecessary visits to doctors' offices.
Doctors have used radios since at least the 1920s to give medical advice to clinics aboard on ships, according to a 2013 article by Dr. Thomas Nesbitt of the University of California Health System.
Video-equipped smartphones and widespread internet access have fueled interest in replacing doctor office visits with face-to-face consultations over video chats. But the medical community and insurance companies have been slow to adopt the idea.
That is, until the COVID-19 pandemic made leaving the house more risky.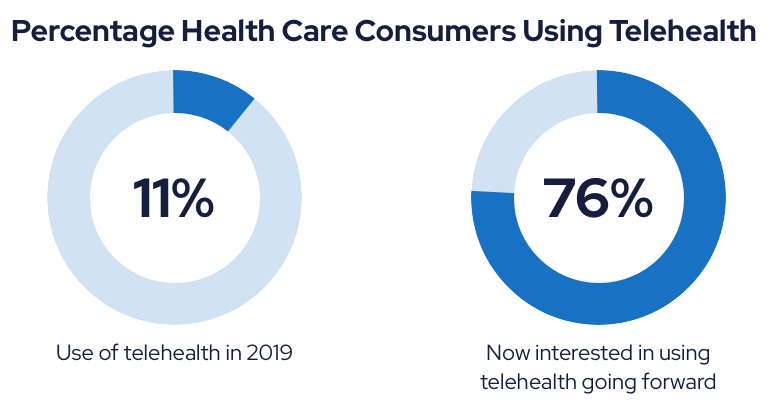 Expanded telehealth services has allowed people to receive medical monitoring while keeping people away from the risk of infection if they had to go to a doctor's office.
But Olive Morris, writing in a policy brief for The New Center, predicted telehealth could play a big role for Medicare beneficiaries after the pandemic passes.
"[T]he potential applications of telehealth extend far beyond this crisis," Morris wrote. "It could help ease longstanding problems with health care costs and accessibility, particularly in underserved communities."
Telehealth: A $250B Shift in U.S. Medical Spending
Telehealth was estimated to be a roughly $3 billion industry before COVID-19. Analysts at management consulting firm McKinsey & Company estimate it could reach $250 billion — 20 percent of all U.S. health care spending — within a few years.
That's necessitating changes in what Medicare is willing to cover when it comes to telehealth.
Authors of the McKinsey analysis identified five types of situations in which telehealth could make an impact on the way doctors and patients interact. These ranged from virtual home health services to on-demand virtual emergency room visits.
According to McKinsey & Company's analysis, telehealth could account for:
20 percent of emergency room visits.
Nearly 33 percent of doctor office visits.
35 percent of home health attendant services.
2 percent of current outpatient volume.
Baker-McBride admits there are still limitations to seeing your doctor virtually. And there are things you should keep in mind about telehealth.
"Physical examinations can be challenging as doctors will need to have patients describe symptoms," he said. "Additionally, many patients don't have a full suite of medical peripherals such as blood pressure cuffs and pulse oximeters at home."
The American Medical Association points out that telehealth's wider adoption faces other roadblocks, including concerns that there is a lack of evidence that telehealth can reduce health care costs.
There are also patient concerns over online security, confidentiality and privacy issues related to telehealth visits that may make some people hesitant to give up face-to-face visits with their doctors.
Expansion Opens Dozens of Medicare Advantage Options
In March 2020, as a response to the COVID-19 pandemic, Medicare temporarily expanded telehealth coverage to 80 new services previously not covered. Many were expected to be in place for at least 12 to 18 months.
CMS finalized proposed rule changes in May that would cement expanded telehealth services for Medicare Advantage plans starting in 2021.
This would include more options for Medicare beneficiaries in rural areas and flexibility for doctors and other health care providers in specialty areas, including primary care dermatology, psychiatry, cardiology and infectious diseases.
Cost savings and convenience for Medicare and Medicare Advantage beneficiaries appear to be major considerations behind CMS's planned expansion.
But there are still some generational and technological hurdles that have to be cleared before telehealth can expand among Medicare beneficiaries.
"Relaxed technological restrictions are particularly helpful for Medicare beneficiaries," Morris wrote in The New Center analysis. "Half of U.S. households headed by a person age 65+ do not own a smartphone, and more than one-third don't have an internet subscription."
However, Morris wrote that 91 percent of people 65 and older own a cell phone, making audio-only telehealth a possibility if rules are rewritten to allow it.
But its backers see improved access to technology once Medicare and other insurers expand telehealth coverage.
"As the federal government and private insurers start to embrace telemedicine, we will see tremendous innovation that was stifled by rules in health care that didn't embrace new technology," Baker-McBride said.
Who Am I Calling?
Calling this number connects you to one of our trusted partners.
If you're interested in help navigating your options, a representative will provide you with a free, no-obligation consultation.
Our partners are committed to excellent customer service. They can match you with a qualified professional for your unique objectives.
We/Our Partners do not offer every plan available in your area. Any information provided is limited to those plans offered in your area. Please contact Medicare.gov or 1-800-MEDICARE to get information on all of your options.
888-694-0290
Your web browser is no longer supported by Microsoft. Update your browser for more security, speed and compatibility.
If you need help pricing and building your medicare plan, call us at 844-572-0696