Medicare Telehealth Coverage Continues to Grow

Written by

Christian Simmons

Christian Simmons

Financial Writer

Christian Simmons is a writer for RetireGuide and a member of the Association for Financial Counseling & Planning Education (AFCPE®). He covers Medicare and important retirement topics. Christian is a former winner of a Florida Society of News Editors journalism contest and has written professionally since 2016.

Read More

Edited By

Lamia Chowdhury

Lamia Chowdhury

Financial Editor

Lamia Chowdhury is a financial content editor for RetireGuide and has over three years of marketing experience in the finance industry. She has written copy for both digital and print pieces ranging from blogs, radio scripts and search ads to billboards, brochures, mailers and more.

Read More

Published: January 21, 2022
2 min read time
This page features 5 Cited Research Articles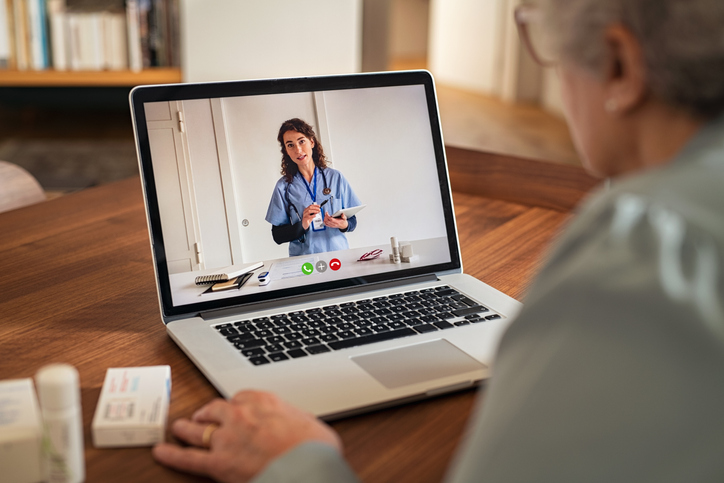 As the COVID-19 pandemic continues, telehealth has become an increasingly popular way for Medicare beneficiaries and Americans to receive their health care. According to the U.S. Department of Health and Human Services, the total number of telehealth visits in 2019 was about 840,000 — that increased to more than 52 million such visits in 2020.
Heading into 2022, both Medicare and Medicare Advantage plans continue to react to the growth of telehealth by expanding covered services.
Telehealth Changes in 2022
One major change for Medicare beneficiaries in 2022 is their access to mental health resources through telehealth.
New and increased mental and behavioral health services will now be available virtually to beneficiaries. Coverage will also include telehealth visits from rural health clinics, an area where telehealth has been slower to catch on.
Even as the pandemic's impact has lessened over the last year due to the availability of vaccines, Medicare has continued to prioritize and expand telehealth coverage. Many telehealth services are now covered if they include two-way communication between patient and doctor. This can range from a phone call to video portals that many doctor's offices now use. Coverage for a telehealth appointment is typically the same amount of coverage a beneficiary would receive for an in-person visit.
According to the Kaiser Family Foundation, more than one in four Medicare beneficiaries had a telehealth visit between the summer and fall of 2020. Since Medicare Advantage must cover everything that is included in Original Medicare, the expansion of telehealth over the last couple years has carried over to private insurers as well. Some Medicare Advantage plans are even offering benefits that go beyond what Original Medicare covers.
Benefits of Telehealth
The growth of telehealth since 2020 has naturally been heavily spurred by the pandemic. It offers a way for Medicare beneficiaries to still receive the health care they need without risking exposure to COVID-19. Telehealth is especially impactful for Americans who have illnesses or health issues and are particularly at risk if they contract the virus.
But, outside of the effects of the pandemic, telehealth continues to offer many perks to beneficiaries. Telehealth is often a more convenient and less time-consuming way for doctors to check in on their patients, leading to more efficient service and more appointment availability.
According to the U.S. National Library of Medicine, telehealth also has the potential to significantly reduce health care spending across the board. Taking advantage of telemedicine allows for a reduction in unnecessary visits, prolonged stays in the hospital and medication misuse.
There is also a preventive aspect, giving patients easier and more regular access to their doctors for regular check-ins. The option to book appointments virtually has allowed patients to avoid potential health problems by seeing a doctor earlier than they would in traditional health care.
While telehealth's dramatic growth rate at the height of the pandemic has not sustained, telemedicine is likely to continue to be a key part of American health care moving forward.
Who Am I Calling?
Calling this number connects you to one of our trusted partners.
If you're interested in help navigating your options, a representative will provide you with a free, no-obligation consultation.
Our partners are committed to excellent customer service. They can match you with a qualified professional for your unique objectives.
We/Our Partners do not offer every plan available in your area. Any information provided is limited to those plans offered in your area. Please contact Medicare.gov or 1-800-MEDICARE to get information on all of your options.
888-694-0290
Your web browser is no longer supported by Microsoft. Update your browser for more security, speed and compatibility.
If you need help pricing and building your medicare plan, call us at 844-572-0696