Medicare Coverage
Original Medicare (Parts A and B) covers hospitalization, home health care, doctor visits, preventative care and more. Part D covers prescription drugs. Part C, also known as Medicare Advantage, is an alternative to Original Medicare and is provided by federally approved private insurance companies.
On This Page
What Does Original Medicare Cover?
Original Medicare includes Part A and Part B. For most, there is no monthly fee, or premium, for Part A coverage — but there is for Part B.
Part A and B require you to pay a deductible. Part B also requires copays or coinsurance.
Most prescriptions are not covered under Original Medicare. Benefits such as vision and dental are also excluded.
Medicare Part A
Medicare Part A is hospital insurance. It covers inpatient hospital stays, skilled nursing facility care and hospice care.
If you receive Social Security for at least four months before your 65th birthday, you will be automatically enrolled in Part A and Part B. If you don't receive Social Security before turning 65, you'll need to sign up with Social Security to receive Part A and Part B.
What Part A Covers
Inpatient hospital care
Skilled nursing facility care
Hospice care
Home health care
What You'll Pay for Part A
No monthly premium.
A yearly deductible of $1,556 in 2022. (Note: You must pay this out-of-pocket amount before Medicare picks up the rest of the bill).
Nothing for the first 60 days in a hospital.
Nothing for the first 20 days in a skilled nursing facility.
Did You Know?
Most people don't pay a monthly premium for Part A. However, if you worked less than 10 years in the United States before turning 65, you may not qualify for premium-free Part A.
Medicare Part B
Medicare Part B covers most doctor visits, outpatient care, preventive services and some medical supplies. You may face a late enrollment penalty if you don't sign up for Part B when you first become eligible.
What Part B Covers
Doctor visits
Lab tests
Diagnostic screenings and preventative care
Medical equipment
Ambulance services
Telehealth services
Mental health
A very limited number of outpatient prescription drugs.
What You'll Pay for Part B
There is a monthly premium of $170.10 in 2022. This may be higher depending on your income. Those with limited income may qualify for Medicaid or other programs that help cover expenses.
You pay a deductible of $233 a year.
After paying your deductible, you'll owe 20 percent coinsurance for Medicare-approved services.
No cost for most preventative services.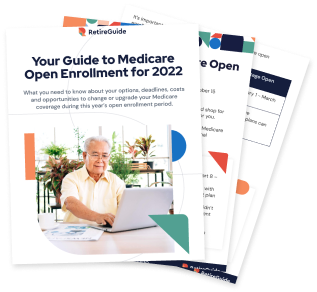 Prepare for Medicare Open Enrollment
Get help navigating and selecting the best Medicare coverage without any guesswork.
Medicare Advantage (Part C)
Medicare Part C, commonly known as Medicare Advantage, is an all-in-one alternative to Original Medicare. These plans are administered by private insurance companies approved by the federal government.
Medicare Advantage bundled plans include Part A and Part B and usually have Part D drug coverage. Plans may also include other extra benefits such as vision and dental.
What Part C Covers
All the services covered by Original Medicare.
Vision, hearing and dental are usually included.
Emergency and urgent medical care is always covered.
Most plans offer some form of prescription drug coverage.
What You'll Pay for Part C
Costs vary for Medicare Advantage plans.
You may pay a premium for Part C in addition to a monthly premium for Part B. The average monthly premium for a Medicare Advantage plan in 2022 is $19.
Plans may have a $0 premium or may help pay some or all of your Part B premiums.
Coverage Rules for Part C
In most cases, you'll need to use doctors inside the plan's network. Unlike Original Medicare, you may need to get a service or supply approved ahead of time for it to be covered by the Medicare Advantage plan.
Medicare Part D
Medicare Part D covers prescription drugs. This coverage is provided by private insurers that Medicare later reimburses.
What Part D Covers
All Part D drug plans must provide a minimum coverage level set by Medicare. However, the type of drugs covered depends on the formulary. A formulary is a list of prescription drugs covered by the Part D plan. Formularies vary from plan to plan.
Formularies are broken into tiers. Each tier has a different cost-sharing amount. For example, Tier I drugs may include low-cost generic medications while Tier III drugs may include non-preferred name-brand medications.
If you're enrolled in Original Medicare, you must purchase Part D coverage separately. Most Medicare Advantage plans include Part D coverage.
What You'll Pay for Part D
Medicare Supplemental Insurance
If you're enrolled in Original Medicare, enrolling in Medicare supplemental insurance — also known as Medigap — may help cover additional costs such as copayments and deductibles.
Long-term care, vision, dental, hearing aids and eyeglasses generally aren't covered with Medigap.
Medigap policies are sold by private insurance companies. You pay the insurer a monthly premium for your Medigap policy in addition to your monthly Part B premium.
During your six-month Medicare open enrollment period, you can purchase a Medigap policy from any insurer that sells one in your state, regardless of your health. If you're already enrolled in a Medicare Advantage plan, you cannot apply for Medigap coverage.
Last Modified: November 18, 2021
Share This Page
10 Cited Research Articles