What Are Medicare Taxes?
The current Medicare tax rate is 1.45 percent of your wages and is withheld from your paycheck. Your employer matches your contribution by paying another 1.45 percent. If you are self-employed, you have to pay the full 2.9 percent of your net income as the Medicare portion of your FICA taxes. This tax funds the part of the trust funds that pay for Medicare.
The Basics of Medicare Tax
The Medicare tax is generally withheld from your paycheck as part of your FICA taxes — what are usually called "payroll taxes." FICA stands for Federal Insurance Contributions Act. FICA taxes include money taken out to pay for older Americans' Social Security and Medicare benefits.
Both you and your employer pay the Medicare Tax as a part of FICA.
Your total FICA taxes equal 15.3 percent of your wages — 2.9 percent for Medicare and 12.4 percent for Social Security. But if you are an employee, you only pay half of that. Your employer pays the other half.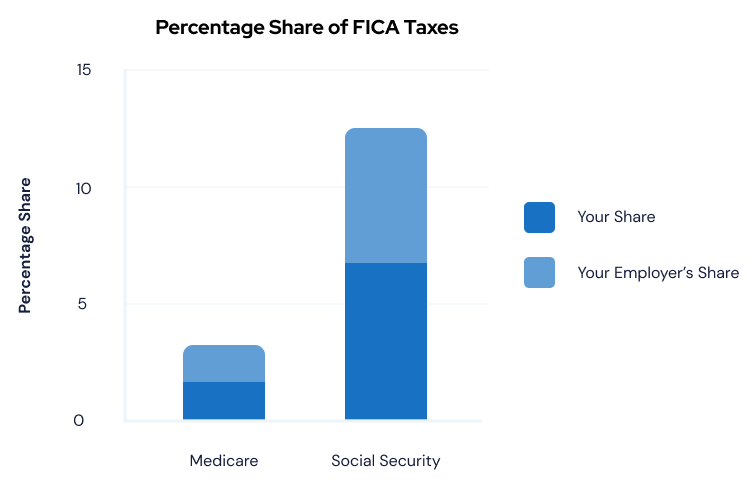 Your employer withholds 1.45 percent of your pay to cover your share of the Medicare Tax. Your employer also pays another 1.45 percent tax to Medicare to match your contribution.
People with higher incomes may also have to pay an additional Medicare tax of 0.9 percent to help pay for the Affordable Care Act.
Why Do You Have to Pay a Medicare Tax?
The Medicare tax helps fund the Hospital Insurance (HI) Trust Fund. It's one of two trust funds that pay for Medicare.
The HI Trust Fund pays for Medicare Part A benefits including inpatient hospital care, skilled nursing facility care, home health care and hospice care. It also pays for administering the Medicare program. It covers the costs of fighting Medicare fraud and abuse, collecting Medicare taxes and paying benefits.
A second, Supplementary Medical Insurance Trust fund receives money from Congress and interest earned on trust fund investments. It pays for Medicare Part B benefits and Part D prescription drug coverage.
Did You Know?
The Medicare trust funds spent $705 billion and provided health coverage for 58 million Americans in 2017.
Additional Medicare Tax
The Affordable Care Act added an extra Medicare surtax for people with higher incomes starting in January 2013.
Named the Additional Medicare Tax, it adds an additional 0.9 percent tax on top of the 1.45 percent employees have to pay. Employers are not required to match the amount and the employee is responsible for the entire amount of the extra tax.
Whether you have to pay the Additional Medicare Tax depends on your annual income and your tax filing status.
When Are You Liable for Additional Medicare Tax?
| Tax Filing Status | Minimum Income |
| --- | --- |
| Single | $200,000 |
| Married filing jointly | $250,000 |
| Married filing separate | $125,000 |
| Head of household (with qualifying person) | $200,000 |
| Qualifying widow or widower with dependent child | $200,000 |
Medicare Tax for Self-Employed Workers
If you are self-employed, you are responsible for the entire 2.9 percent share of your earned income for the Medicare tax. This is covered through a self-employment (SE) tax. The self-employment tax covers your entire 15.3 percent of FICA taxes, paying your share of Social Security and Medicare taxes.
However, you may get a break.
You determine your SE tax using IRS Schedule SE on either Form 1040 or 1040-SR. You may then deduct the employer-equivalent amount of your self-employed tax — half of the total amount — from your gross income.
Who Has to Pay the Self-Employment Tax?
Anyone whose self-employment earnings are $400 or more (with the exception of church employee income).
Anyone who had church employee income of $108.28 or more.
You must pay regardless of age and even if you are receiving Social Security or Medicare benefits.
Medicare Tax FAQs
Is the Medicare tax mandatory?
Generally, if you are employed in the United States, you must pay the Medicare tax regardless of your or your employer's citizenship or residency status. These taxes are deducted from each paycheck, and your employer is required to deduct Medicare taxes even if you do not expect to qualify for Medicare benefits.
If you are self employed, you are responsible for paying the Medicare tax on your own.
Are tips subject to Additional Medicare Tax?
Tips are subject to Additional Medicare Tax in certain situations. If the amount of tips, when combined with other wages, exceeds the minimum threshold for Additional Medicare Tax, you have to pay the tax.
If tips, combined with other wages, exceed the $200,000 threshold, they are also subject to Additional Medicare Tax withholding by your employer.
Is there a wage base limit for Medicare tax?
The wage base limit is the maximum wage that's subject to the tax for that year. There is no wage base limit for Medicare tax. All your covered wages for the year are subject to Medicare tax.
Only the Social Security tax has a wage base limit — $142,800 for 2021.
Last Modified: May 9, 2022
Share This Page
5 Cited Research Articles