Medicare Tax
The current Medicare tax rate is 1.45% and is withheld from your paycheck. Your employer matches your contribution by paying another 1.45%. If you are self-employed, you pay the full 2.9% of your net income as the Medicare portion of your FICA taxes. Those with incomes higher than set thresholds may be required to pay a surtax, known as the Additional Medicare Tax.
Written by

Terry Turner

Terry Turner

Senior Financial Writer and Financial Wellness Facilitator

Terry Turner has more than 30 years of journalism experience, including covering benefits, spending and congressional action on federal programs such as Social Security and Medicare. He is a Certified Financial Wellness Facilitator through the National Wellness Institute and the Foundation for Financial Wellness and a member of the Association for Financial Counseling & Planning Education (AFCPE®).

Read More

Edited By

Savannah Hanson

Savannah Hanson

Senior Financial Editor

Savannah Hanson is a professional writer and content editor with over 16 years of professional experience across multiple industries. She has ghostwritten for entrepreneurs and industry leaders and been published in mediums such as The Huffington Post, Southern Living and Interior Appeal Magazine.

Read More

Financially Reviewed By

Stephen Kates, CFP®

Stephen Kates, CFP®

Certified Financial Planner™

Stephen Kates is a Certified Financial Planner™ and personal finance expert with over a decade of experience working with individuals and families who need help with their finances. With experience as a financial advisor for two of the largest financial firms in the country, Stephen has worked with hundreds of clients to build comprehensive financial plans to grow and protect their wealth.

Read More

Published: August 6, 2020
Updated: January 17, 2023
13 min read time
This page features 11 Cited Research Articles
Key Takeaways
Medicare taxes pay for Medicare Part A costs, including hospital, hospice and skilled nursing facility care for people on Medicare.
Medicare taxes are withheld from your paycheck if you have an employer, and they are paid as part of your self-employment taxes if you are self-employed.
In 2023, the Medicare tax rate is 2.9% — with the employee and employer each paying one-half of the tax.
What Is the Medicare Tax?
Medicare tax is a federal payroll tax that helps pay for the Medicare program.
The Medicare tax is generally withheld from your paycheck as part of your FICA taxes — what are usually called "payroll taxes." FICA stands for Federal Insurance Contributions Act. FICA taxes include money taken out to pay for older Americans' Social Security and Medicare benefits.
If you are self-employed, your Medicare taxes are included in your self-employment tax.
Medicare tax pays for Medicare Part A hospital insurance, which covers hospital inpatient care, skilled nursing facility care, hospice care and certain types of home health care for people on Medicare.
2023 Medicare Tax Rates
The Medicare tax rate is 2.9% of your income. If you work for an employer, you pay half of it, and your employer pays the other half — 1.45% of your wages each.
If you are self-employed, you are responsible for the full 2.9%.
Your total FICA tax rate equals 15.3% of your wages — with the other 12.4% of your salary going to Social Security. Your employer also pays half of the Social Security taxes.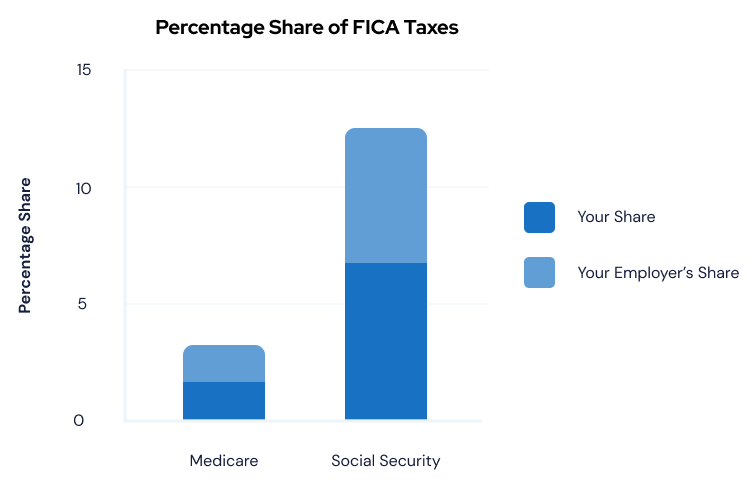 People with higher incomes may also have to pay an additional Medicare tax of 0.9% to help pay for the Affordable Care Act.
Learn More About Medicare Wages
Additional Medicare Tax
The Affordable Care Act added an extra Medicare surtax for people with higher incomes starting in January 2013.
Named the Additional Medicare Tax, it adds an additional 0.9 percent tax on top of the 1.45 percent employees have to pay. Employers are not required to match the amount and the employee is responsible for the entire amount of the extra tax.
Whether you have to pay the Additional Medicare Tax depends on your annual income and your tax filing status.
When Are You Liable for Additional Medicare Tax?
| Tax Filing Status | Minimum Income |
| --- | --- |
| Single | $200,000 |
| Married filing jointly | $250,000 |
| Married filing separate | $125,000 |
| Head of household (with qualifying person) | $200,000 |
| Qualifying widow or widower with dependent child | $200,000 |
You only owe the additional 0.9% Medicare tax on the money you earn over and above $200,000.
Let's say you have a single tax filing status. You don't pay the additional 0.9% tax on the first $200,000 you earn in a year. You will pay the standard 1.45%, and your employer will pay a matching 1.45%.
But if you earn more than $200,000 a year, your employer will withhold a 0.9% additional Medicare tax. So your total Medicare tax will equal 2.35% of your salary on everything you earn over $200,000.
The tax is not withheld until you cross the $200,000 threshold. The additional tax will then be withheld until the end of the calendar year. Your employer does not match this additional tax.
Don't Leave Your Health to Chance
Find a local Medicare plan that fits your needs by connecting with a licensed GoHealth insurance agent.
Do Wage Base Limits on FICA Taxes Apply to Medicare Taxes?
There is a wage base limit on the Social Security tax you pay but not on the Medicare tax. For 2022, you don't have to pay Social Security taxes on income over $147,000.
But you will still have to pay the same base Medicare tax rate regardless of how much you earn.
Who Pays Medicare Taxes and Why?
Almost every employee in the United States — whether they work for an American or foreign employer — pays Medicare taxes. All employers in the U.S. must also match the amount of Medicare taxes their employees pay — with certain limitations on additional Medicare taxes for high earners.
Self-employed workers also have to pay Medicare taxes.
Money not subject to Medicare taxes includes:
Wages or salary paid to an ordained, commissioned or licensed minister of a church — so long as it's for work done in the course of their ministry.
Money paid to a child under the age of 18 working for a parent if the child is paid under certain conditions.
Money for services performed as a student nurse if they are paid under certain conditions.
Foreign residents working in the United States on certain types of work visas or student visas are also exempt from having to pay Medicare taxes.
The United States has agreements with foreign countries to make sure that people from one country working in the other are subject to taxes only for one country or the other. These are called totalization agreements.
How Are Medicare Taxes Used?
The Medicare tax helps fund the Hospital Insurance (HI) Trust Fund. It's one of two trust funds that pay for Medicare.
The HI Trust Fund pays for Medicare Part A benefits, including inpatient hospital care, skilled nursing facility care, home health care and hospice care. It also pays for administering the Medicare program.
By paying this tax while you are working, you are funding the services you may encounter once you become a Medicare beneficiary.
A second Supplementary Medical Insurance Trust Fund receives money from Congress and interest earned on trust fund investments. It pays for Medicare Part B benefits and Part D prescription drug coverage.
Both of these trust funds also pay for administrating the Medicare program and covering the costs of fighting Medicare fraud and abuse.
Did You Know?
Medicare spent $926 billion to provide health care coverage for 62.6 million Americans in 2020.
Medicare Tax for Self-Employed Workers
If you are self-employed, you are responsible for the entire 2.9 percent share of your earned income for the Medicare tax. This is covered through a self-employment (SE) tax. The self-employment tax covers your entire 15.3 percent of FICA taxes, paying your share of Social Security and Medicare taxes.
However, you may get a break.
You determine your SE tax using IRS Schedule SE on either Form 1040 or 1040-SR. You may then deduct the employer-equivalent amount of your self-employed tax — half of the total amount — from your gross income.
Who Has to Pay the Self-Employment Tax?
Anyone whose self-employment earnings are $400 or more (with the exception of church employee income).
Anyone who had church employee income of $108.28 or more.
You must pay regardless of age and even if you are receiving Social Security or Medicare benefits.
Medicare Tax FAQs
Is the Medicare tax mandatory?
Generally, if you are employed in the United States, you must pay the Medicare tax regardless of your or your employer's citizenship or residency status. These taxes are deducted from each paycheck, and your employer is required to deduct Medicare taxes even if you do not expect to qualify for Medicare benefits.

If you are self employed, you are responsible for paying the Medicare tax on your own.
Is there a wage base limit for Medicare tax?
The wage base limit is the maximum wage that's subject to the tax for that year. There is no wage base limit for Medicare tax. All your covered wages for the year are subject to Medicare tax.

Only the Social Security tax has a wage base limit — $147,000 for 2022.
Never miss important news or updates
Get successful retirement tips in our free weekly newsletter
Last Modified: January 17, 2023
Share This Page
11 Cited Research Articles
Who Am I Calling?
Calling this number connects you to one of our trusted partners.
If you're interested in help navigating your options, a representative will provide you with a free, no-obligation consultation.
Our partners are committed to excellent customer service. They can match you with a qualified professional for your unique objectives.
We/Our Partners do not offer every plan available in your area. Any information provided is limited to those plans offered in your area. Please contact Medicare.gov or 1-800-MEDICARE to get information on all of your options.
888-694-0290
Your web browser is no longer supported by Microsoft. Update your browser for more security, speed and compatibility.
If you need help pricing and building your medicare plan, call us at 844-572-0696