Snowbird Medicare Coverage: The Right Policy for the Right Places
The information below will help you determine the best sunbird or snowbird Medicare coverage for your situation, whether you live in or travel frequently to two places within the U.S., or even outside of it.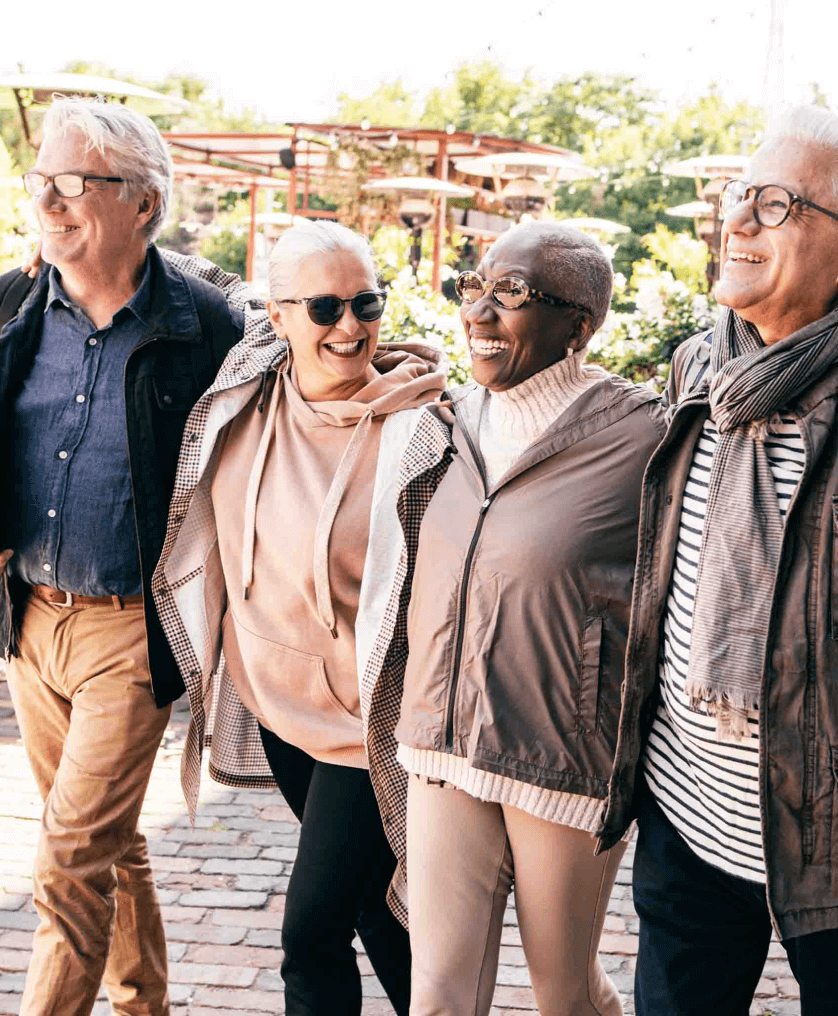 Edited By

Savannah Pittle

Savannah Pittle

Senior Financial Editor

Savannah Pittle is a professional writer and content editor with over 16 years of professional experience across multiple industries. She has ghostwritten for entrepreneurs and industry leaders and been published in mediums such as The Huffington Post, Southern Living and Interior Appeal Magazine.

Read More

Published: March 16, 2022
Updated: May 8, 2023
8 min read time
This page features 2 Cited Research Articles
From weather that's easy on the joints to a new view out your kitchen window, living in two places leaves little left to be desired. As a snowbird, sunbird or one soon to be, you likely already understand the benefits of living in more than one location throughout the year.
Unfortunately, health insurance coverage isn't always considered a benefit of a snowbird lifestyle. If you're eligible to enroll in Medicare, you should understand the limitations certain plans have as well as the coverage others provide for dual homeowners and travelers alike.
Key Takeaways
Original Medicare (Parts A and B) is a nationwide program that provides Medicare coverage anywhere in the continental U.S., Hawaii and U.S. territories.
Adding a travel benefit to qualifying Medicare Advantage plans can extend your coverage beyond in-network providers.
Domestic snowbirds and sunbirds could benefit from a Medicare cost plan that offers elements of both Original Medicare and Medicare Advantage.
Domestic Snowbird Medicare Coverage Options
As a sunbird, snowbird or other type of dual homeowner, you can choose from certain Original Medicare plans, Medicare Advantage plans, Medicare Part D plans or potentially even a Medicare cost plan, but they may not all be applicable for your situation.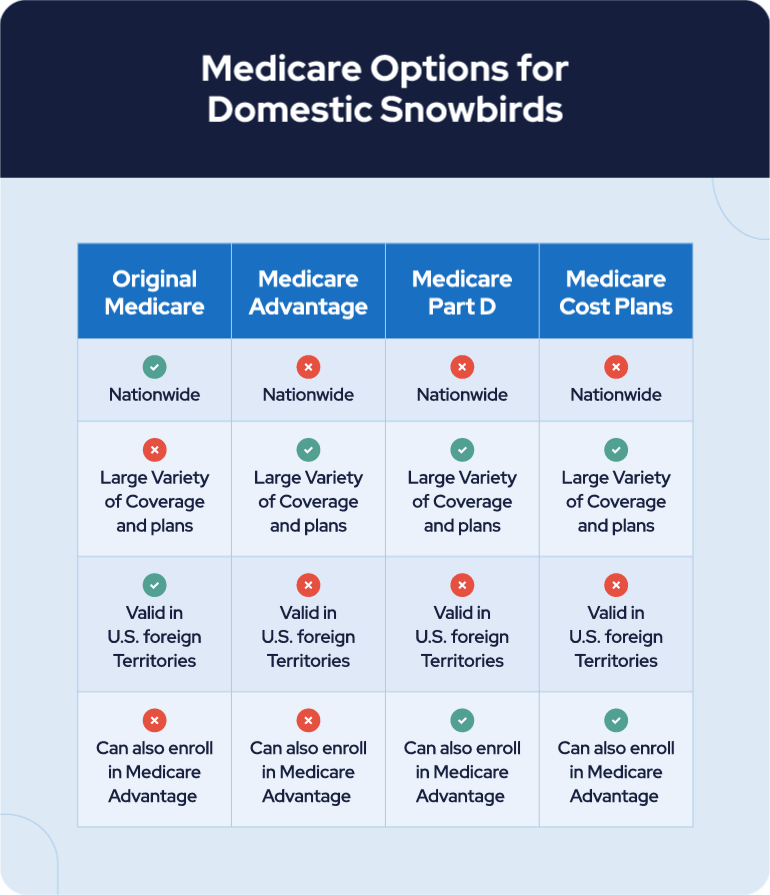 To meet your health care needs, finding the right Medicare option for your mobile lifestyle is essential. At this point, you may be asking, "Does Medicare work in all states?" Keep reading to learn which plans work in all states and which ones don't.
Original Medicare
Original Medicare includes Medicare Part A, which covers hospital treatment, and Medicare Part B, which covers visits to the doctor. Because it's a federal program, Original Medicare is supported across the U.S. However, no matter your location, when seeing a different provider than you normally would, you'll want to make sure they are participating in the Medicare program. Otherwise, you may be responsible for paying for their services out of pocket.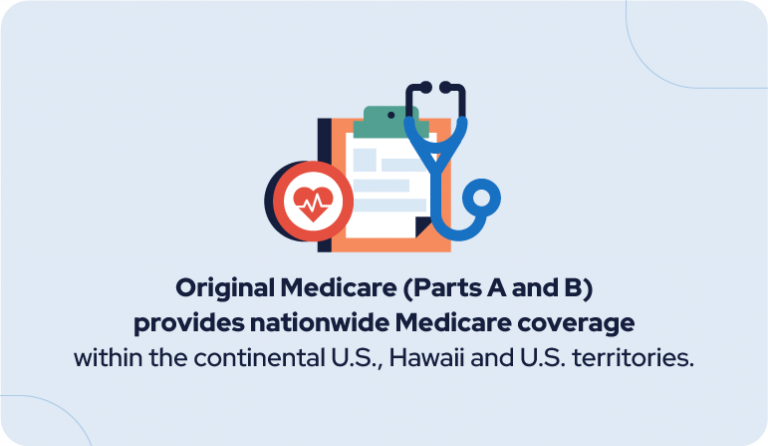 For a snowbird or sunbird, Original Medicare can provide you with the health care coverage you need, no matter where you live in the U.S. and with little to no difficulties.
Best for: Domestic full-time or part-time travelers
Medicare Advantage
Instead of running directly through the government, Part C — or Medicare Advantage — plans are provided through private insurance companies. As such, these plans can limit you to only specific providers within a certain network. However, most, if not all, of these plans provide coverage for emergency visits outside of your network.
While some policies' networks may span across the U.S., if your preferred policy's network does not, you may want to look into adding a travel benefit. In most cases, the best Medicare Advantage plans for snowbirds are those with such a benefit.
Some travel benefits are only applicable when traveling to certain areas of the country or world, while others span a specific time frame. This can be ideal for those who leave their main residence for a few months every year.
When deciding where you should sign up for a policy, you'll want to consider the cost and number of available options in the different places you live. The following chart shows some of the best states for Medicare Advantage plans to help you decide in which state to sign up for a policy.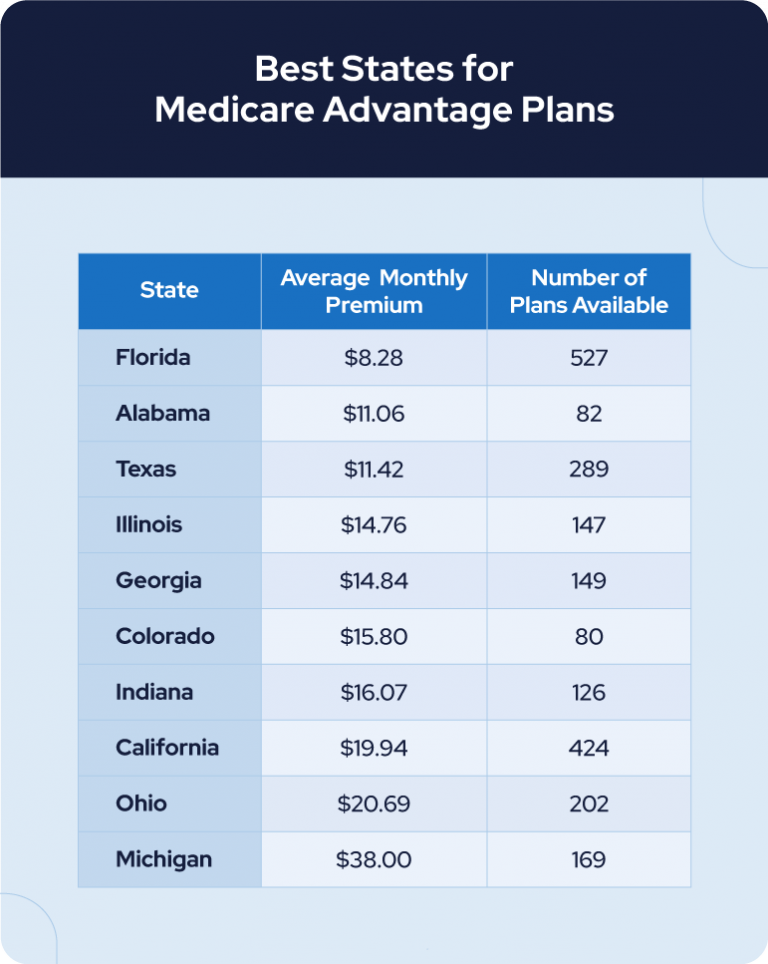 If the states you reside in aren't on this list, it's worth taking the time to research and compare the cost of different plans in your desired locations.
Best for: Domestic part-time travelers
Medicare Part D
Not all Medicare Part D plans are available nationwide. However, depending on the medications you need and your preferred pharmacy, you may be able to obtain your medications in both the locations where you live.
Before enrolling in a Part D plan, compare the different options available on the Medicare Plan Finder tool. Be sure to include the medications you take regularly as well as your preferred pharmacies. In doing so, you'll gain a better understanding of what your options are depending on where you live throughout the year.
Best for: Medicare beneficiaries who mostly travel to the same two places in the U.S.
Medicare Cost Plans
Medicare cost plans offer greater flexibility than many other Medicare plans. Similar to Medicare Advantage, you may benefit from additional service coverage for things like vision and dental, but you'll likely be limited to a certain network of providers. However, those with a Medicare cost plan are also eligible for Original Medicare, which can cover the cost of health services nationwide.
With the wide range of benefits cost plans offer, they can be one of the best sunbird or snowbird Medicare coverage options.
Best for: Rural dwellers who travel full or part time
International Snowbird Medicare Options
If you're a snowbird or sunbird who prefers crossing the border as an expat to staying stateside, you should know a few things about how Medicare works abroad. In general, Medicare coverage is limited in foreign countries unless you reside in a U.S. territory. However, in some cases, you may receive coverage from an Original Medicare plan or a Medicare Advantage plan.
Original Medicare Coverage
Medicare Part A and Part B will only cover services abroad under certain stipulations, according to the Centers for Medicare and Medicaid Services. These requirements include:
Inpatient emergency visits to a foreign hospital that's more easily accessible from the site of the incident than the closest U.S. hospital
The incident occurred in the U.S. or Canada while traveling on a direct route through Alaska or another state
Either an emergency or a non-emergency visit to the hospital if the patient lives closer to a foreign hospital than a participating institution in the U.S.
Covered foreign inpatient hospital visits when the practicing physician is legally authorized in that country and Medicare's definition of ambulance is met by the appropriate ambulance supplier
These stipulations apply when you're in a foreign country that isn't under U.S. jurisdiction, even if the hospital is owned by the U.S. government. Foreign locations that are under U.S. jurisdiction include:
Puerto Rico
U.S. Virgin Islands
Guam
Northern Mariana Islands
American Samoa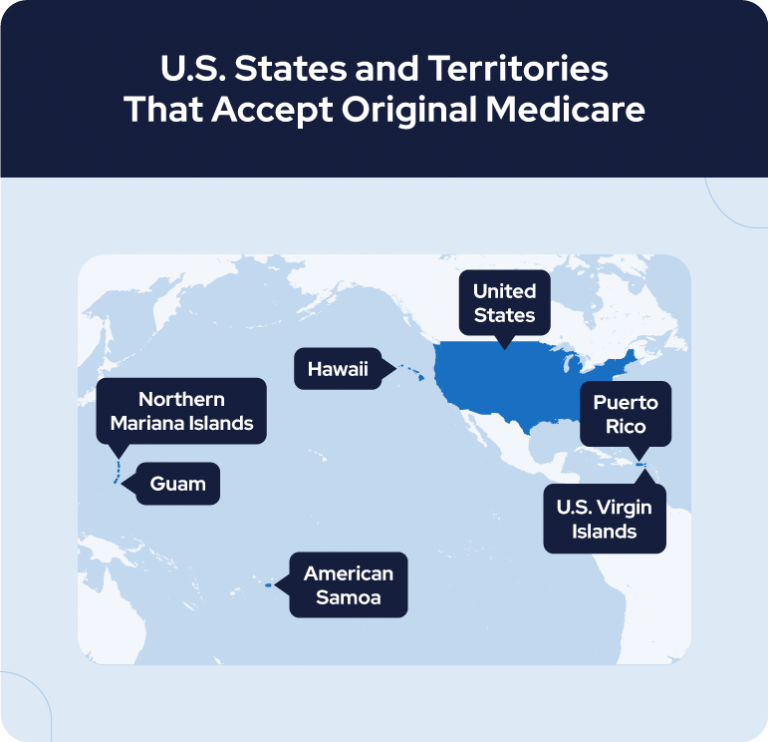 If you reside in any of these locations as a sunbird or snowbird, you're still covered by Original Medicare if you enrolled during an eligible enrollment period and your policy is still active.
Best for: Full-time travelers who remain in U.S. territories
Medicare Advantage or Medigap
Some supplemental insurance plans, such as Medigap, offer coverage for certain foreign health care services or supplies. However, this additional coverage typically only applies to emergencies. According to the Centers for Medicare and Medicaid Services, Medigap plans C, D, E, F, G, H, I, J, M and N provide coverage for foreign travel health emergencies.
Because Medicare Advantage has to offer the same amount of coverage Original Medicare offers, the same foreign coverage stipulations apply to every Medicare Advantage plan, as previously outlined. However, as part of your Medicare Advantage plan, you may be eligible for specific travel benefits. This may help cover non-emergency health care costs when living in your home away from home.
Best for: International travelers who also plan to use a travel benefit
Snowbird Medicare Coverage Frequently Asked Questions
When it comes to your health, leaving things to chance isn't the best way to go. Having the information you need to make informed decisions can ease your stress as you travel. If you still have a few questions after reading about your Medicare options, look through the frequently asked questions below to find your answer.
Can I Use Medicare in Two States?
Original Medicare (Part A and Part B) is a federal program that includes nationwide coverage. However, Medicare Advantage (Part C) and Medicare Part D coverage may be restricted to in-network providers that span a smaller geographic area and don't include more than one state.
Which Medicare Plan Is Best if You Travel?
If you travel strictly within the U.S., an Original Medicare plan will cover your health care costs nationwide.
If you travel abroad, most Medicare plans will only cover emergencies, unless you add a travel benefit. These benefits are available with some Medicare Advantage plans.
How Is Residency Determined for Medicare?
The state in which you file your taxes and vote is considered your primary residence. As such, this is the state where you'll be able to sign up for Medicare.
Are Medicare Plans Different From State To State?
Because Original Medicare is a federal program, plans are relatively consistent nationwide. However, Medicare Advantage (Medicare Part C) does vary greatly from state to state, as these plans are offered through private insurance companies.
Don't Leave Your Health to Chance
You've worked hard your whole life by thinking ahead. Now do the same for your health. Get free Medicare help to plan your future.
Life in two places can be exciting, relaxing and potentially even good for your health. Don't let health care coverage get in the way of those benefits. To get an even more in-depth understanding of the best sunbird or snowbird Medicare coverage option for you, talk with a Medicare expert today.
Last Modified: May 8, 2023
Share This Page
Need Help Planning Your Retirement?
Yes, I'm Interested
I Have Help Already
I Will Manage It Myself
RetireGuide will soon offer services to help you better manage your retirement.
We will be offering assistance with annuities, life insurance, Medicare and financial planning. Sign up for updates and be the first to know when these services are available.
Get the right information to stay on top of your retirement planning.
Sign up for our newsletter for our latest retirement planning guides, tips and more!
Who Am I Calling?
Calling this number connects you to one of our trusted partners.
If you're interested in help navigating your options, a representative will provide you with a free, no-obligation consultation.
Our partners are committed to excellent customer service. They can match you with a qualified professional for your unique objectives.
We/Our Partners do not offer every plan available in your area. Any information provided is limited to those plans offered in your area. Please contact Medicare.gov or 1-800-MEDICARE to get information on all of your options.
888-694-0290