Does Medicare cover YAG Laser Capsulotomy?
Original Medicare will cover YAG laser capsulotomy — a follow-up procedure to correct a complication of previous cataract surgery. YAG laser capsulotomy is usually performed in an outpatient facility and typically covered by Medicare Part B.
| Medicare Plan | YAG Laser Caps Coverage |
| --- | --- |
| Part A (Inpatient) | N/A |
| Part B (Outpatient) | Covers 80% of the cost of YAG laser capsulotomy after you have reached your Part B deductible. |
| Part C (Medicare Advantage) | Coverage mirrors Part B. Select plans may offer additional benefits. |
| Part D (Prescription Drugs) | N/A |
| Supplemental Insurance | Can help cover out-of-pocket costs of YAG laser capsulotomies. Coverage varies by plan. |
Medicare Coverage for YAG Laser Capsulotomy
Medicare covers 80 percent of the costs of YAG laser capsulotomy after you pay your Medicare Part B deductible.
YAG laser capsulotomy procedures are typically done in a hospital outpatient department or an ambulatory surgical center. This is why Medicare Part B medical insurance rules apply to the procedure.
Medicare Part B covers related services, including:
Diagnostic examinations or tests
Medications administered during the procedure
Supplies and surgical services necessary for the procedure
The YAG laser treatment itself
Your doctor must deem YAG laser capsulotomy a medically necessary procedure before Medicare will pay for it. Necessity is generally based on your report of reduced vision quality and an exam showing reduced sharpness or clarity in your vision after having cataract surgery.
Original Medicare's vision coverage is limited. It does not pay for regular eyeglasses or contact lenses or for routine eye exams.
But it does cover traditional or laser cataract surgery. By extension, it covers YAG laser capsulotomy because it is a follow-up procedure for cataract surgery.
Your Costs for YAG Laser Capsulotomy Under Medicare
If you have Original Medicare, you are responsible for your Medicare Part B deductible in addition to 20 percent of the Medicare-approved cost for YAG laser capsulotomy.
Medicare estimates that the average out-of-pocket cost for Medicare beneficiaries ranges from $114 to $164, depending on whether if the procedure is performed in an ambulatory surgical center or in a hospital outpatient department.
Your actual costs can vary depending on where you live and the type of coverage you have.
A Medigap (Medicare Supplement) insurance plan can help with your out-of-pocket costs — deductibles, coinsurance and copayments — if you have Original Medicare.
Medicare Advantage plans are required to cover everything Medicare Part A and Part B cover, but they may offer additional benefits that could reduce your share of the cost. These plans are sold by private insurers and benefits can differ from plan to plan, so it's always advisable to verify your out-of-pocket costs with your plan's administrator.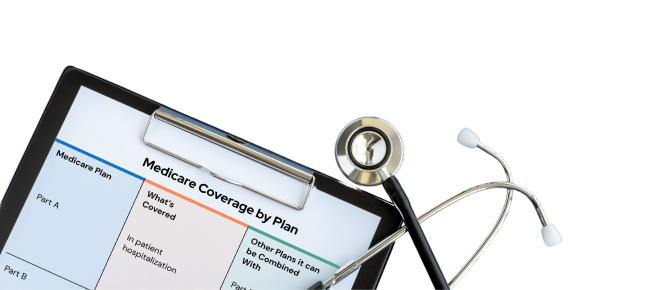 Need FREE Medicare Help?
Our Medicare experts will help you compare, build, and enroll in a plan that gets you the coverages you need at a price you can afford.
When Is YAG Laser Capsulotomy Necessary?
YAG laser capsulotomy corrects complications from previous cataract surgery.
Cataracts cause the natural lens in your eye to become cloudy, reducing your visual acuity — your ability to see clearly. Cataract surgery removes the damaged natural lens and replaces it with an artificial lens.
Did You Know?
YAG stands for the yttrium, aluminum and garnet crystals that generate the laser beam used in YAG laser capsulotomy.
But the proteins that caused the original cataract may continue to grow in the repaired eye — a complication called capsule clouding. It doesn't happen with every cataract patient and usually takes about one to two years for this complication to show up in those who do develop it.
YAG laser capsulotomy removes the protein buildup from the artificial lens. The procedure takes only about a minute or two, and the laser never touches the eye. Once completed, the procedure is usually not needed again.
Last Modified: August 3, 2022
Share This Page
7 Cited Research Articles