Does Medicare Cover Transitional Care Management Services?
Medicare Part B covers transitional care management (TCM) for 30 days when you are returning to your home or community from a stay in a facility. After you meet your Part B deductible, you will pay a 20 percent coinsurance of the Medicare-approved cost of the service.
Written by

Christian Simmons

Christian Simmons

Financial Writer

Christian Simmons is a writer for RetireGuide and a member of the Association for Financial Counseling & Planning Education (AFCPE®). He covers Medicare and important retirement topics. Christian is a former winner of a Florida Society of News Editors journalism contest and has written professionally since 2016.

Read More

Edited By

Lee Williams

Lee Williams

Senior Financial Editor

Lee Williams is a professional writer, editor and content strategist with 10 years of professional experience working for global and nationally recognized brands. He has contributed to Forbes, The Huffington Post, SUCCESS Magazine, AskMen.com, Electric Literature and The Wall Street Journal. His career also includes ghostwriting for Fortune 500 CEOs and published authors.

Read More

Published: June 22, 2021
Updated: April 21, 2022
2 min read time
This page features 8 Cited Research Articles
What Does Original Medicare Cover for Transitional Care?
Transitional care management is available through Medicare when you are returning home from a stay in the hospital or other similar facility.
According to the U.S. National Library of Medicine, TCM is essential for seniors dealing with multiple chronic conditions like arthritis, cancer and diabetes.
Transitional care is also effective if you are recovering from a traumatic condition like a stroke.
You Could Qualify for TCM After a Stay In:
Hospital (inpatients only)
Skilled nursing facility
Rehabilitation facility
Like other available Medicare services, TCM must be a medical necessity to be covered. If so, then you will pay a copayment after meeting the Part B deductible.
Transitional care is unlikely to be covered by Medicare Part A since it is a home-based service when you are no longer a hospital inpatient.
Medicare Advantage for Transitional Care Coverage
A Medicare Advantage plan, also known as Medicare Part C, is an alternative coverage option available to beneficiaries. These plans must include everything covered in Part A and Part B, so that you will receive at minimum the same level of coverage from Original Medicare.
Part C includes additional benefits and expanded coverage for many types of services that Medicare offers.
Check with a plan administrator to learn more options for transitional care coverage through a Medicare Advantage plan.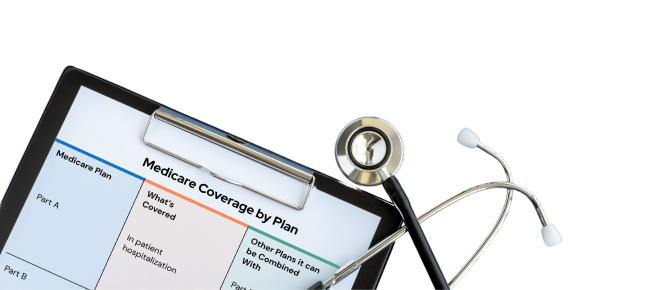 Need FREE Medicare Help?
Our Medicare experts will help you compare, build, and enroll in a plan that gets you the coverages you need at a price you can afford.
Services Included or Covered Under Transitional Care
Transitional care management lasts for 30 days after facility discharge and includes several services to help you adjust to returning to your home.
A healthcare provider will manage your transition and problem-solve with your family or caretaker to ensure everything is smooth and effective.
Also, you will get an in-person office visit within 14 days of returning home.
The healthcare provider overseeing your transition will also manage your medications and treatments, including scheduling or arranging any follow-up care or services as needed.
You may also be eligible for chronic care management, which is another service that Medicare covers for people dealing with multiple chronic conditions.
Transitional care can have a significant impact on your health if not handled properly. According to the U.S. National Library of Medicine, changing locations after you have received care can lead to miscommunication if the transition is disorganized – which can affect your future treatments, too.
Last Modified: April 21, 2022
Share This Page
8 Cited Research Articles
Who Am I Calling?
Calling this number connects you to one of our trusted partners.
If you're interested in help navigating your options, a representative will provide you with a free, no-obligation consultation.
Our partners are committed to excellent customer service. They can match you with a qualified professional for your unique objectives.
We/Our Partners do not offer every plan available in your area. Any information provided is limited to those plans offered in your area. Please contact Medicare.gov or 1-800-MEDICARE to get information on all of your options.
888-694-0290
Your web browser is no longer supported by Microsoft. Update your browser for more security, speed and compatibility.
If you need help pricing and building your medicare plan, call us at 844-572-0696