Medicare Annual Wellness Visit
A Medicare annual wellness visit is a chance for you to meet with your doctor to review your health and prevent future medical issues. This includes a health risk assessment but is different from an annual physical, which Medicare does not cover. You must be enrolled in Medicare Part B for 12 months before your first visit.
Written by

Christian Simmons

Christian Simmons

Financial Writer

Christian Simmons is a writer for RetireGuide and a member of the Association for Financial Counseling & Planning Education (AFCPE®). He covers Medicare and important retirement topics. Christian is a former winner of a Florida Society of News Editors journalism contest and has written professionally since 2016.

Read More

Edited By

Lamia Chowdhury

Lamia Chowdhury

Financial Editor

Lamia Chowdhury is a financial content editor for RetireGuide and has over three years of marketing experience in the finance industry. She has written copy for both digital and print pieces ranging from blogs, radio scripts and search ads to billboards, brochures, mailers and more.

Read More

Published: November 17, 2020
Updated: November 1, 2022
6 min read time
This page features 11 Cited Research Articles
What Is a Medicare Wellness Visit?
A Medicare wellness visit is designed to create a personalized prevention plan based on your health and risk factors with the goal of preventing future medical issues, disease or disability.
Medicare Part B will cover an annual wellness visit every year once you have been enrolled in Medicare for 12 months.
A wellness visit should not be confused with an annual physical or with the Initial Preventive Physical Exam (IPPE), also known as the "Welcome to Medicare" visit. Medicare covers the IPPE and annual Medicare wellness visits, but annual physicals are not included in the services Medicare covers.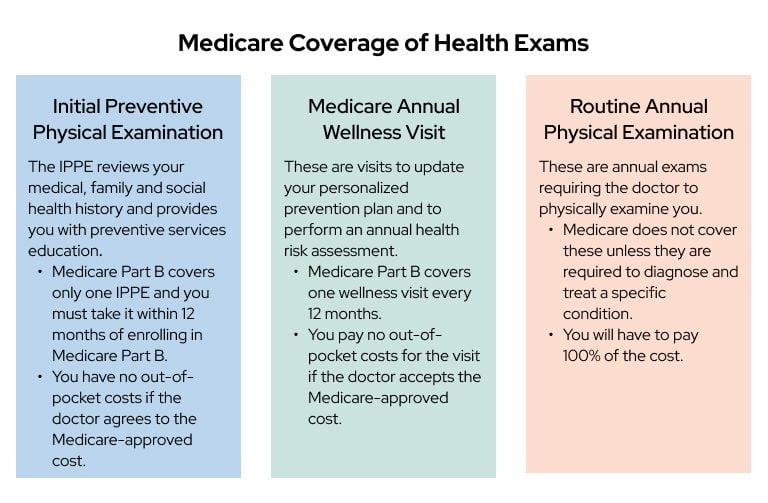 What's Included in a Medicare Wellness Visit?
The purpose of a Medicare annual wellness visit is to create or update a tailored plan to help you prevent future health problems.
It is used to examine your health history and question you about current practices that may increase your risk of certain health issues. The annual wellness visit includes basic measurements used to determine your health, but no physical exams or lab tests.
Services Included in an Annual Medicare Wellness Visit
A cognitive impairment assessment to look for signs of Alzheimer's disease or dementia.
Advance care planning – planning for care if you become unable to speak for yourself.
A health risk assessment questionnaire to develop a personalized prevention plan for future health problems.
A review of your family medical history.
Measuring and recording height, weight, blood pressure and other routine measurements.
Developing or updating list of current doctors and other health care providers.
Developing or updating list of current prescriptions.
A checklist and schedule for preventive services – screenings, shots and other preventive health care.
Personalized health advice.
The annual wellness visit can be performed by a doctor or other Medicare-approved health care professional.
Does Medicare Cover an Annual Physical?
While Medicare Part B pays for an annual wellness visit, annual physicals are not covered.
Medicare will only pay for your IPPE when you first enroll in Medicare. You are required to take the IPPE within the first 12 months after you enroll.
Annual physical exams are more detailed than the annual wellness visit. In addition to the wellness visit services, a physical includes exams and tests that require the doctor to physically examine you. These are not included in the wellness visit.
Annual Physical Exams Not Included in Wellness Visits
Check of vital signs
Head and neck exam
Lung exam
Abdominal exam
Neurological exam
Measure reflexes
Possible urine and blood samples for lab tests
Medicare will typically only pay for these physical examinations if you have been diagnosed with a condition that requires a doctor to perform one of these specific tests or examinations.
Annual Enrollment Ends December 7th
Have you selected your 2023 Medicare plan? The Medicare Annual Enrollment period ends tomorrow. Visit GoHealth today to see what savings you may qualify for with a new plan.
What Is the Medicare Health Risk Assessment?
During the Medicare health risk assessment (HRA), your doctor gathers information to identify potential risks to your health and uses that data to develop a plan to reduce those risks. Risk factors that can be identified include tobacco use and your diet.
The purpose of the annual wellness visit is to keep Medicare beneficiaries healthy or make them healthier. This is accomplished through promoting healthy lifestyles and instilling healthy habits.
The Medicare health risk assessment takes this concept a step further — aiming to customize this approach to individuals and each person's unique health situation.
Risks the HRA Can Identify
Chronic diseases
Injury risks
Health risk factors you can modify
Your most urgent health needs
The goal is to prevent disability and disease and to slow the progression of any existing condition you may have. In short, to keep you as healthy as possible for as long as possible.
Did you know?
The Medicare health risk assessment was created by the Affordable Care Act of 2010. It creates a "customized wellness or personal prevention plan, without cost to [Medicare] beneficiaries."
What's Included in a Health Risk Assessment?
During the health risk assessment, you will be asked several questions to determine your potential health risks.
Since the assessment is part of your annual wellness visit, it may be done by your primary care doctor or other licensed health care providers.
Professionals Who Can Perform a Medicare Annual Wellness Visit or HRA
Doctor
Nurse practitioner
Physician assistant
Clinical nurse specialist
Health educator
Registered dietician
A team of professionals working under a doctor's supervision
Your health risk assessment may be furnished through an interactive program over the phone or through the internet. It can also be done through your primary care physician, other health care professional or through a community-based prevention program.
You may also be asked to fill out a form before your visit to help the doctor identify behaviors and risk factors.
Topics Your Provider Will Cover During Your HRA
Your ability to perform daily activities including bathing, dressing and walking.
Your ability to perform other tasks including housekeeping, shopping and managing your medications and finances.
Your behavioral risks including tobacco use, diet and physical activity.
Your demographic and personal health or medical history.
Your mental health risks including stress, depression and pain.
Your self assessment of your current health conditions.
The assessment will consist of several dozen questions covering these topics. You may fill these out before meeting with your doctor or other health care provider — or your provider may ask you about these topics as part of the assessment.
There is no nationally standardized Medicare questionnaire for the health risk assessment. But some states or Medicare Advantage plans may have standardized questions.
Your Costs for the Medicare Health Risk Assessment
Your annual health risk assessment is covered by Medicare since it is part of your Medicare annual wellness visit. You will not have out-of-pocket costs as long as your provider accepts the Medicare-approved cost of your wellness visit.
But in certain circumstances, the Medicare Part B deductible will apply and you may have to pay coinsurance for the visit.
Out-of-pocket costs apply to your annual wellness visit if your doctor or other primary care provider performs additional services or tests during your visit that are not covered under Medicare Part B preventive care benefits.
Frequently Asked Questions About Medicare Wellness Visits
Can you refuse a Medicare wellness visit?
While Medicare beneficiaries have the option to receive an annual wellness visit after they have been enrolled in Medicare for 12 months, they are not required to. There is no mandate that you must undergo the wellness check.
What are the requirements for a Medicare annual wellness visit?
To receive a Medicare annual wellness visit, you must have already been enrolled in Medicare for 12 months. You typically don't pay for a wellness visit, but there may be costs if the visit leads to something outside the scope of what is covered, like a lab test. Remember that a wellness visit is different from a physical exam, which Medicare does not cover.
Who can perform a Medicare annual wellness visit?
A Medicare annual wellness visit can be performed by a doctor who is enrolled in Medicare. Nurse practitioners, physician assistants and other health specialists are also qualified to perform a wellness check.
Last Modified: November 1, 2022
Share This Page
11 Cited Research Articles
Who Am I Calling?
Calling this number connects you to one of our trusted partners.
If you're interested in help navigating your options, a representative will provide you with a free, no-obligation consultation.
Our partners are committed to excellent customer service. They can match you with a qualified professional for your unique objectives.
We/Our Partners do not offer every plan available in your area. Any information provided is limited to those plans offered in your area. Please contact Medicare.gov or 1-800-MEDICARE to get information on all of your options.
888-694-0290
Your web browser is no longer supported by Microsoft. Update your browser for more security, speed and compatibility.
If you need help pricing and building your medicare plan, call us at 844-572-0696