Hospice Care vs. Palliative Care
Hospice care and palliative care have similarities but are not the same thing. The key difference is that hospice is meant for people who have a terminal condition and are nearing the end of their life, typically with six months or less to live. Palliative care also provides comfort care and alleviates symptoms, but for people with a condition that is being treated.
Written by

Christian Simmons

Christian Simmons

Financial Writer

Christian Simmons is a writer for RetireGuide and a member of the Association for Financial Counseling & Planning Education (AFCPE®). He covers Medicare and important retirement topics. Christian is a former winner of a Florida Society of News Editors journalism contest and has written professionally since 2016.

Read More

Edited By

Savannah Hanson

Savannah Hanson

Senior Financial Editor

Savannah Hanson is a professional writer and content editor with over 16 years of professional experience across multiple industries. She has ghostwritten for entrepreneurs and industry leaders and been published in mediums such as The Huffington Post, Southern Living and Interior Appeal Magazine.

Read More

Reviewed By

Aflak Chowdhury

Aflak Chowdhury

Medicare Expert

Aflak Chowdhury is a Medicare expert and independent insurance broker specializing in group health insurance. He has worked for major providers including Humana and Principal Financial Group and today works mainly in the small group market.

Read More

Published: May 5, 2022
Updated: May 10, 2023
6 min read time
This page features 4 Cited Research Articles
How Are Hospice Care and Palliative Care Similar?
Neither hospice or palliative care act as treatments for your disease or condition with the goal of curing you or making you better. Instead, they both focus on making you feel better.
In the case of hospice, the general idea is to provide comfort care and alleviate painful symptoms for someone as they near the end of their life due to a terminal illness.
Palliative care, while employed when a condition is still being treated and could possibly be cured or managed, is similar in that it does not treat the condition but is used to improve the person's quality of life by reducing their symptoms.
Conditions Covered
There is a lot of overlap in the types of conditions in which palliative care and hospice care may be used.
Types of Conditions Hospice and Palliative Care Are Used With
Cancer
COPD
Dementia
Heart Failure
Parkinson's Disease
The main difference is the stage or specific type of the condition, with cases that become terminal using hospice care while palliative care can be used throughout your care. In fact, palliative care can transition into hospice care in some cases if the decision is made to stop trying to treat the illness.
Intent of Hospice and Palliative Care
The intent of hospice and palliative care is largely the same: to improve your quality of life and alleviate pain and discomfort that arise from your condition.
Both have value at the stages they are used. Palliative care can make living with a chronic condition much more manageable abd help a person through a disease or illness that may eventually be cured.
Hospice can help you if you are nearing the end of your life due to a terminal illness to ensure you're as comfortable as possible during that time.
Don't Leave Your Health to Chance
Find a local Medicare plan that fits your needs by connecting with a licensed insurance agent.
How Are Hospice and Palliative Care Different?
The key difference between hospice and palliative care is not how they are used but when they are used.
Hospice care is exclusively used in terminal cases. This means your condition will not get better or become manageable, will lead to the end of your life and is no longer being treated. Hospice typically only is used in the final months of a person's life.
Palliative care provides many of the same advantages as hospice care but is used in coordination with the treatment of an illness or disease. It can be used for a condition that you are fighting or can be cured, or even for a chronic condition that won't go away but can be managed.
If things get worse or your condition progresses to the point that it becomes terminal or you no longer want treatment, palliative care can transition into hospice.
Eligibility
To be eligible for hospice, you typically must have six months or fewer that you are expected to live. On top of your terminal condition, using hospice usually means that you are no longer attempting to treat your condition, with the sole focus now being on your comfort and your quality of life.
According to the U.S. National Library of Medicine, palliative care can begin essentially from the diagnosis of a serious illness and disease. It can be useful at various stages of your illness.
Duration of Services
Hospice begins when you have six months or fewer to live and will typically last until the end of your life. Throughout this time, the focus of your care will be on managing your pain and maintaining your quality of life.
Palliative care can last as long as you are dealing with your condition and receiving treatment. If you opt to stop getting treatment or the condition becomes terminal, then your palliative care would transfer to hospice.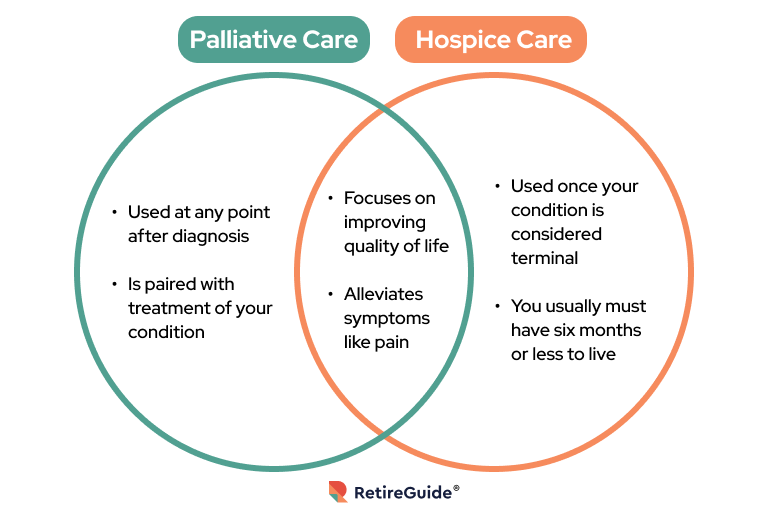 How are Hospice and Palliative Care Covered by Medicare?
Medicare covers hospice as long as you meet certain requirements. Your doctor must certify that your illness is terminal, meaning you have six months or fewer to live.
You also must verify that you are no longer receiving treatment for your condition and are opting for hospice instead, typically by signing a statement that says you choose hospice over Medicare-covered treatments.
Typically, you will pay nothing for hospice care. You usually receive care in your home. You may have 5% of the amount if you receive inpatient respite care, and there may be other costs like room and board if you receive care in a nursing home or similar facility since Medicare does not cover nursing home stays.
Some palliative care is included in Original Medicare services if they are covered under Part A or Part B. Palliative care is made up of treatments and services like physical therapy and medications. There may also be more coverage available through a Medicare Advantage plan, which is provided by private insurers and can offer coverage that goes beyond the scope of Original Medicare.
3 Minute Quiz: Can You Retire Comfortably?
Take our free quiz & match with a financial advisor in 3 easy steps. Tailored to your goals. Near you or online.
How to Choose Between Hospice Care and Palliative Care
The main factor to consider when choosing between palliative care and hospice is what stage you are at with your condition.
Remember that palliative care can be employed to ease pain, alleviate symptoms and improve quality of life while you are being treated for or fighting your illness. This makes palliative care your best option at any stage beginning as early as diagnosis and continuing as long as you are receiving treatment.
| | |
| --- | --- |
| Your Situation | Which Service Makes Sense |
| Your condition is terminal and you have six months or fewer to live. | Hospice |
| You have recently been diagnosed and are receiving treatment | Palliative |
| Your condition is chronic and you intend to live with it and manage it | Palliative |
| You are no longer going to receive treatment for your condition | Hospice once the condition advances to the point it is considered terminal |
Hospice is the best option if your condition advances to the point that you are reaching the end of your life. You should choose hospice if you have six months or fewer to live and if you no longer are interested in fighting the illness or receiving treatment for it.
Your hospice care will be entirely about making you comfortable and reducing symptoms instead of attempting to combat the condition.
Last Modified: May 10, 2023
Share This Page
4 Cited Research Articles
Who Am I Calling?
Calling this number connects you to one of our trusted partners.
If you're interested in help navigating your options, a representative will provide you with a free, no-obligation consultation.
Our partners are committed to excellent customer service. They can match you with a qualified professional for your unique objectives.
We/Our Partners do not offer every plan available in your area. Any information provided is limited to those plans offered in your area. Please contact Medicare.gov or 1-800-MEDICARE to get information on all of your options.
888-694-0290
Your web browser is no longer supported by Microsoft. Update your browser for more security, speed and compatibility.
If you need help pricing and building your medicare plan, call us at 844-572-0696