Does Medicare Cover ER Visits?
Medicare covers emergency room visits, but how much you pay depends on your patient hospital status. If you visit the ER but aren't formally admitted to the hospital, you are considered an outpatient under Medicare Part B. If you are admitted, you are considered an inpatient under Medicare Part A.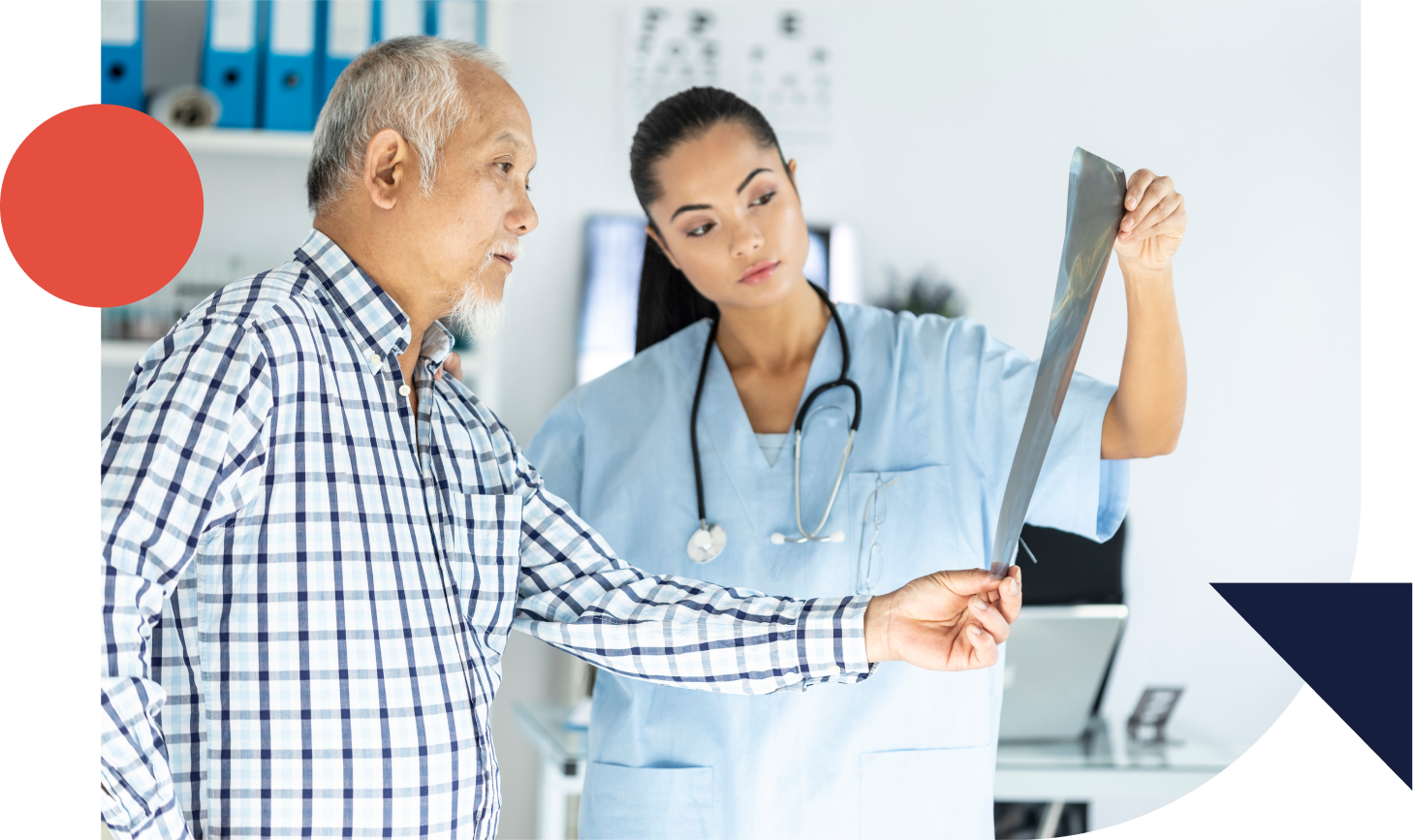 Written by

Rachel Christian

Rachel Christian

Financial Writer and Certified Educator in Personal Finance

Rachel Christian is a writer and researcher for RetireGuide. She covers annuities, Medicare, life insurance and other important retirement topics. Rachel is a member of the Association for Financial Counseling & Planning Education.

Read More

Edited By

Matt Mauney

Matt Mauney

Financial Editor

Matt Mauney is an award-winning journalist, editor, writer and content strategist with more than 15 years of professional experience working for nationally recognized newspapers and digital brands. He has contributed content for ChicagoTribune.com, LATimes.com, The Hill and the American Cancer Society, and he was part of the Orlando Sentinel digital staff that was named a Pulitzer Prize finalist in 2017.

Read More

Reviewed By

Aflak Chowdhury

Aflak Chowdhury

Medicare Expert

Aflak Chowdhury is a Medicare expert and independent insurance broker specializing in group health insurance. He has worked for major providers including Humana and Principal Financial Group and today works mainly in the small group market.

Read More

Published: February 22, 2021
Updated: October 20, 2023
6 min read time
This page features 6 Cited Research Articles

Emergency Room Coverage at a Glance

| Medicare Plan | Emergency Room Coverage |
| --- | --- |
| Part A (Inpatient) | If you are admitted to the hospital, Medicare Part A covers your entire stay. Your trip will be considered an inpatient stay and ER-related copays won't apply. |
| Part B (Outpatient) | Covers 80% of outpatient ER visit costs after you have reached your Part B deductible. You will also owe copayments for each service received. |
| Part C (Medicare Advantage) | Covers ER visits anywhere in the U.S. Costs for ER visits vary by plan. |
| Part D (Prescription Drugs) | N/A |
| Supplemental Insurance | Can help cover out-of-pocket costs related to ER visits. Coverage varies by plan. |

Emergency Room Visits and Original Medicare Costs

There are two parts to Original Medicare. Medicare Part A covers inpatient hospital stays and Medicare Part B covers outpatient services.

Your hospital status — whether you've been formally admitted to a hospital — affects how much you pay for emergency care and what part of Medicare applies.

When you visit a hospital's emergency department, via either an ambulance or the waiting room, you're initially considered an outpatient. You may be considered an outpatient even if you stay overnight in the hospital.

Outpatient emergency room visits are covered by Medicare Part B.

Outpatient Emergency Department Costs Under Medicare Part B

You usually pay 20% of the Medicare-approved cost for doctor and other health care provider's services.
You'll also usually face a copayment from the hospital for each Medicare-covered service you receive, such as X-rays or lab tests. Copays typically can't exceed the $1,632 Part A deductible for each service.
The Part B deductible — $240 in 2024 — also applies. You may not owe this if you've already met your yearly deductible before arriving at the hospital.

This can be confusing. If you're in the emergency room, how can you be an outpatient?

Medicare only provides hospital inpatient coverage after a doctor writes an order and formally admits you to the hospital.

Typically, inpatient admission takes place when you're expected to need at least two nights of medically necessary hospital care.

If you are admitted to the hospital, Medicare Part A covers your entire stay. Your trip will be considered an inpatient stay and ER-related copays won't apply.

Inpatient Hospital Costs Under Medicare Part A

Your $1,632 Part A deductible applies for each benefit period.
You will owe a $0 coinsurance payment for your first 60 days in the hospital.

Admission must take place at the hospital where ER services were provided. Getting admitted to a different hospital within three days, even for the same condition, is considered a separate event.

Examples of How Original Medicare Covers ER Visits

Let's say you arrive at the ER with severe ear pain. You wait in the lobby and after you are called back, hospital staff run tests, write you a prescription for antibiotics, write you a referral for follow-up care outside the hospital and send you on your way.

This would be considered an outpatient visit because you never left the emergency department and a doctor never formally admitted you to the hospital. Your visit would be covered under Medicare Part B.

Did You Know?

A study published in 2018 found that 48% of Medicare beneficiaries age 65 and older who sought treatment at an ER were discharged, 10.5% were kept in observation and 41.5% were admitted to the hospital as an inpatient.

Now, let's imagine you arrive at the ER because you are experiencing chest pain. After running tests, hospital staff learn that you suffered a heart attack. They hold you for observation before determining that you need more extensive care.

A doctor then writes an order to formally admit you to the hospital about 24 hours after you arrived at the ER.

Your entire visit, even the 24 hours you technically spent as an outpatient under observation in the ER, is now covered under Medicare Part A.

The way Medicare classifies your stay — either as an inpatient or outpatient — directly impacts your bill.

Make sure to ask the doctor or a hospital social worker if you're an inpatient or outpatient to avoid surprises.

Have you selected your 2024 Medicare plan?

Maximize your Medicare savings by connecting with a licensed insurance agent. Annual Enrollment is open until December 7th.

Coverage and Costs of ER Visits with Medicare Advantage

Medicare Advantage plans serve as an alternative to Original Medicare.

These plans are administered by private insurance companies and often bundle benefits from Medicare Part A and Part B with Part D prescription drug coverage.

Medicare Advantage plans cover ER visits — along with everything else covered by Original Medicare.

Medicare Advantage covers ER visits anywhere in the U.S., and you aren't required to use in-network hospitals for emergency care.

However, each Medicare Advantage plan sets its own cost terms for ER visits. These costs can differ from Original Medicare.

For example, a Medicare Advantage plan may require you to pay a copayment per visit that accounts for both the emergency room and the doctor. Or it may charge a flat fee per visit plus coinsurance for each service you receive in the ER.

Examples of How ER Costs Vary Among Medicare Advantage Plans

The way a Medicare Advantage plan bills you for a trip to the ER — and how much you owe — can vary from plan to plan.

For example, the Medicare Advantage PPO Plus Plan by Anthem Blue Cross charges beneficiaries $250 for admission to emergency room facilities plus a 20% coinsurance payment for services. It also charges a flat $100 rate for doctor services in the ER plus a 20% coinsurance payment.

Meanwhile, the Cigna‑HealthSpring Advantage HMO plan offers beneficiaries a flat $90 copayment for Medicare‑covered emergency room visits. If you're admitted to the hospital within 24 hours for the same condition, you pay $0 for the emergency room visit with this plan. A deductible may or may not apply.

These are just two examples of how emergency room costs can differ among Medicare Advantage plans.

There are thousands of different Medicare Advantage plans across the country, so it's important to check with your specific provider to learn how much a trip to the ER may cost you.

FAQs About ER Visits with Medicare

Does Medicare cover ambulance rides to the ER?

Medicare Part B covers ground ambulance transportation to a hospital, critical access hospital or skilled nursing facility if you need medically necessary services and travel by any other vehicle would endanger your health. After meeting your Part B deductible, you pay 20% of the Medicare-approved amount for the service.

Never Miss Important News or Updates with Our Weekly Newsletter

Get money-saving tips, hard-to-find info and tactics for a successful retirement in our free weekly newsletter.

Last Modified: October 20, 2023

Share This Page

6 Cited Research Articles
Who Am I Calling?
Calling this number connects you to one of our trusted partners.
If you're interested in help navigating your options, a representative will provide you with a free, no-obligation consultation.
Our partners are committed to excellent customer service. They can match you with a qualified professional for your unique objectives.
We/Our Partners do not offer every plan available in your area. Any information provided is limited to those plans offered in your area. Please contact Medicare.gov or 1-800-MEDICARE to get information on all of your options.
888-694-0290
Your web browser is no longer supported by Microsoft. Update your browser for more security, speed and compatibility.
If you need help pricing and building your medicare plan, call us at 844-572-0696