Does Medicare Cover Wigs for Cancer Patients?
Medicare does not cover wigs for cancer patients. While hair loss is a common side effect of cancer treatment, it is considered a cosmetic issue and not medically necessary. Some Medicare Advantage (Medicare Part C) plans may cover wigs during cancer treatment. Otherwise, you must pay the full cost of a wig if you want to purchase one.
Medicare Coverage of Wigs for Cancer Patients
Medicare covers medically necessary treatment, items and services. Wigs are not considered to have medical value in treating hair loss and, as a result, there is no Medicare coverage available to help pay for a wig.
A Medigap plan, which helps with some of the costs not covered in Original Medicare, would also not cover wigs.
Wigs can benefit cancer patients by offsetting some of that trauma and offering a way to maintain their appearance throughout the treatment process.
According to BreastCancer.org, wearing a wig can also help some people feel more normal and have consistency in their appearance.
While wigs are not covered, Original Medicare does cover other services and items related to cancer treatment, such as:
Other parts of your body affected by cancer could receive treatment and procedures that are covered as long as they are considered medically necessary.
For example, Original Medicare will cover surgically implanted breast prostheses if you have breast cancer and have undergone a mastectomy.
There could be coverage available for a wig through a Medicare Advantage plan provided by a private insurer. Medicare Advantage offers everything covered under Original Medicare as well as additional benefits.
If you're interested in receiving a wig or coverage for one, check to see if a Medicare Advantage plan could cover it.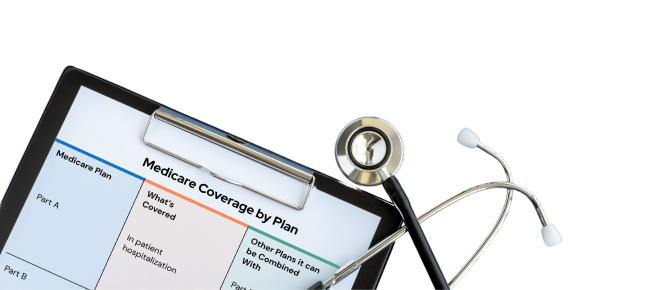 Need FREE Medicare Help?
Our Medicare experts will help you compare, build, and enroll in a plan that gets you the coverages you need at a price you can afford.
Expected Costs and Saving Options for Wigs
If you are undergoing cancer treatment and want a wig, your options range from affordable synthetics to expensive human hair.
The cheapest route would likely be a synthetic wig which can cost between $30 to $500, according to BreastCancer.org.
A more expensive option would be a wig made from human hair. Natural wigs require more maintenance and can cost anywhere from $800 to $3,000.
If you cannot afford a wig, there could be some local options to get one for free. According to the American Cancer Society, churches and non-profit organizations may have donated wigs that you could use.
You could also reach out to cancer support groups to talk with patients about where they have found affordable wigs.
In addition, consider other common alternatives like head coverings, scarves and turbans that you can use in place of a wig. Those options are also not covered by Medicare since they are not medically necessary items – but can be more affordable and easier to manage than a wig.
Last Modified: April 21, 2022
Share This Page
7 Cited Research Articles