Does Medicare Cover Oxygen Equipment & Accessories?
Medicare covers the rental of oxygen equipment and accessories for home use as long as your doctor prescribes it and you meet certain requirements. You will still have to pay your Medicare Part B deductible and 20 percent of the Medicare-approved cost for the equipment and supplies.

Written by

Terry Turner

Terry Turner

Senior Financial Writer and Financial Wellness Facilitator

Terry Turner has more than 35 years of journalism experience, including covering benefits, spending and congressional action on federal programs such as Social Security and Medicare. He is a Certified Financial Wellness Facilitator through the National Wellness Institute and the Foundation for Financial Wellness and a member of the Association for Financial Counseling & Planning Education (AFCPE®).

Read More

Edited By

Lee Williams

Lee Williams

Senior Financial Editor

Lee Williams is a professional writer, editor and content strategist with 10 years of professional experience working for global and nationally recognized brands. He has contributed to Forbes, The Huffington Post, SUCCESS Magazine, AskMen.com, Electric Literature and The Wall Street Journal. His career also includes ghostwriting for Fortune 500 CEOs and published authors.

Read More

Reviewed By

Aflak Chowdhury

Aflak Chowdhury

Medicare Expert

Aflak Chowdhury is a Medicare expert and independent insurance broker specializing in group health insurance. He has worked for major providers including Humana and Principal Financial Group and today works mainly in the small group market.

Read More

Published: April 27, 2021
Updated: April 3, 2023
3 min read time
This page features 5 Cited Research Articles
Medicare Coverage for Home Oxygen Equipment and Supplies
Medicare considers home oxygen equipment and accessories to be durable medical equipment (DME), which it covers. Medicare Part B medical insurance will cover oxygen equipment and accessories used in your home if your doctor determines that the supplies are medically necessary and you meet certain other criteria.
4 requirements you must meet for Medicare to cover oxygen equipment and supplies:
Oxygen therapy may improve your health
Your arterial blood gas level — the levels of oxygen and carbon dioxide in your blood and your blood acidity — falls into a specific range
Your doctor determines you have a severe lung condition or you are not getting enough oxygen
Other alternatives have failed
To qualify for Medicare coverage, you must have Medicare Part B or a Medicare Advantage plan. Medicare Advantage plans are required by law to cover everything Medicare Part A and Part B covers.
What Is Your Cost for Oxygen Equipment and Supplies?
Under Medicare, you will rent your oxygen equipment from a supplier for 36 months. During this time, you will be responsible for your Medicare Part B deductible and 20 percent of the Medicare-approved cost of the monthly rental.
After the initial 36-month rental period ends, your supplier must continue providing you with oxygen equipment, supplies and regular maintenance for another 24 months, free of charge — as long as the equipment remains a medical necessity.
Five years after starting oxygen therapy, you will have to decide how to continue, as a new 36-month rental period will begin. Several factors will determine your out-of-pocket expenses going forward — including the use of alternative insurance, if you choose to rent or buy the equipment and what your doctor or supplier charges.
What Equipment and Accessories Are Covered by Medicare?
If you meet all the requirements, Medicare Part B will pay for specific equipment needed to provide oxygen therapy in your home.
Oxygen equipment and supplies Medicare will pay for:
Medical-grade oxygen
Systems that provide oxygen (such as home oxygen concentrators)
Containers that store oxygen (such as oxygen tanks used to move around the home)
Tubing or mouthpieces
Oxygen machine maintenance
Oxygen machine servicing
Oxygen machine repairs
A humidifier (if it is used with your oxygen machine)
Medicare will also cover equipment and supplies for continuous positive airway pressure (CPAP) therapy. CPAP machines, tubing and face masks are used to treat sleep apnea and similar conditions.
Does Medicare Cover Portable Oxygen Concentrators?
Medicare typically covers portable oxygen concentrators only in very specific cases.
While Medicare provides billing codes for the devices, it usually does not cover enough of the cost for oxygen suppliers to want to offer portable oxygen concentrators as an option for Medicare beneficiaries.
Most suppliers will instead offer an older, larger home oxygen concentrator along with several oxygen tanks you can use when you move around your house.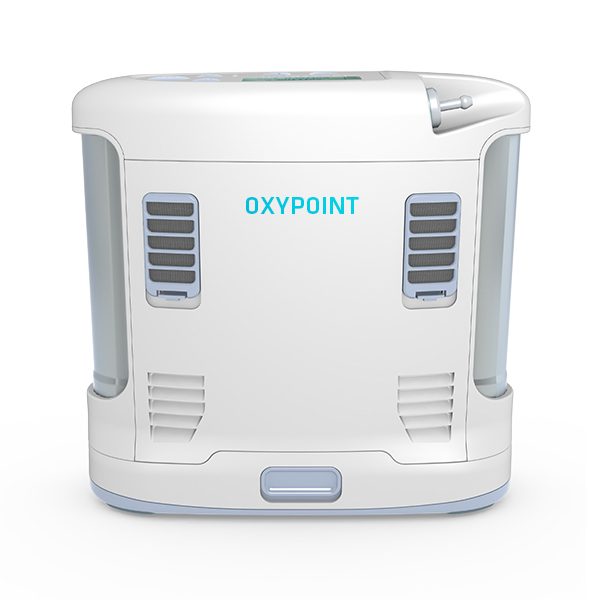 Oxygen tanks and oxygen concentrators are two different types of medical equipment that both provide oxygen to people who can't get enough oxygen on their own.
Oxygen tanks have a specific amount of pressurized oxygen, delivered through a tube to your nose.
Oxygen concentrators collect oxygen from the air around them. They concentrate the oxygen before delivering it to the user. The advantage of a portable oxygen concentrator is that it doesn't run out of oxygen.
Last Modified: April 3, 2023
Share This Page
5 Cited Research Articles
Who Am I Calling?
Calling this number connects you to one of our trusted partners.
If you're interested in help navigating your options, a representative will provide you with a free, no-obligation consultation.
Our partners are committed to excellent customer service. They can match you with a qualified professional for your unique objectives.
We/Our Partners do not offer every plan available in your area. Any information provided is limited to those plans offered in your area. Please contact Medicare.gov or 1-800-MEDICARE to get information on all of your options.
888-694-0290
Your web browser is no longer supported by Microsoft. Update your browser for more security, speed and compatibility.
If you need help pricing and building your medicare plan, call us at 844-572-0696