Does Medicare Cover Dermatologists?
Medicare will cover dermatologists and dermatology-related services if treatment is medically necessary. Because many skin-related treatments are cosmetic, your coverage will be heavily limited under Original Medicare. More options could be available through a Medicare Advantage plan.
| Medicare Plan | Dermatology Coverage |
| --- | --- |
| Part A (Inpatient) | N/A |
| Part B (Outpatient) | Covers 80% of medically necessary dermatology service costs after you have reached your Part B deductible. |
| Part C (Medicare Advantage) | Coverage mirrors Part B. Select plans may offer additional benefits including screenings and check-ups. |
| Part D (Prescription Drugs) | Medications related to dermatology or skin treatment may be covered depending on the plan. |
| Supplemental Insurance | Can help cover out-of-pocket dermatology costs. Coverage varies by plan. |
Dermatologist Services Covered Under Medicare
Original Medicare covers treatments and procedures that are considered medically necessary, so dermatology services covered under Medicare are limited. For example, treatment of skin cancer, a condition that could be serious and severely detrimental to your health, is usually covered under Original Medicare. But regular screenings, checkups and skin exams may not be covered if those procedures aren't shown to have medical value. Alternatively, a cancer screening could be covered if it is part of a suspected diagnosis.
For medications related to dermatology or skin treatment, your coverage will likely also be limited. Original Medicare can cover some medicines and prescription drugs, but the majority of that coverage falls under Medicare Part D, which is an optional benefit.
You could receive more dermatology coverage through a Medicare Advantage plan, which is an alternative to Original Medicare provided by private insurers. Advantage plans include everything covered under Original Medicare as well as additional benefits. For dermatology services, this often includes more coverage for things like screenings, checkups or medications.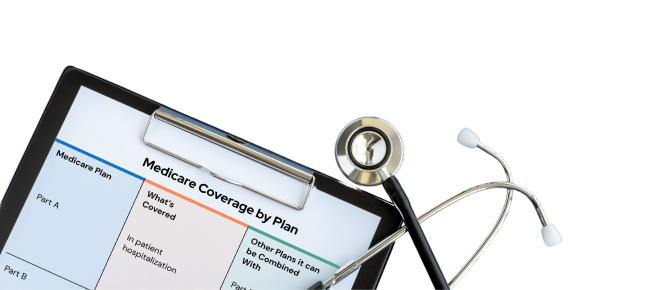 Need FREE Medicare Help?
Our Medicare experts will help you compare, build, and enroll in a plan that gets you the coverages you need at a price you can afford.
Dermatology Services Not Covered Under Original Medicare
If your dermatology treatment is strictly cosmetic, Original Medicare won't pay it. If you want a mole removed, for example, this is unlikely to be covered by Medicare unless it is a cancerous mole or part of a cancer diagnosis.
Acne is another major issue that dermatologists treat. But Medicare considers it to be a cosmetic concern and won't provide coverage for ointments or any other form of care. The same applies to wrinkle treatments and other remedies used to combat signs of aging.
One area where there may be a chance for Medicare coverage is skin removal. Medicare does cover bariatric surgery in some circumstances, and dramatic weight loss can often leave excess skin. According to NBC News, excess skin is not just a cosmetic issue, as it can lead to physical discomfort and pain from chafing. There may be a chance for coverage of skin removal surgery if you can show that removing the skin is a medical concern.
Resources for Finding a Dermatologist Covered Under Medicare
As with other doctors and services, dermatology care that is covered by Medicare will likely only be paid for if the dermatologist is enrolled in Medicare. You can find a dermatologist who meets this criteria through the physician compare tool on Medicare's website.
You can also call dermatologists near you to ask if they participate in Medicare. Any map application or Google search should pull up the dermatology offices nearest you and their contact information.
If you have a Medicare Advantage plan, you will likely need to use a dermatologist who is part of your plan's network. Check with your plan provider to find one.
Last Modified: August 4, 2022
Share This Page
6 Cited Research Articles