Does Medicare Cover Concierge Medicine?
Medicare does not pay membership fees for concierge care. You are responsible for all membership costs. Many concierge medical practices do not participate in Medicare, and those that do must follow all Medicare rules. Ask whether a concierge practice accepts Medicare before joining.
Written by

Terry Turner

Terry Turner

Senior Financial Writer and Financial Wellness Facilitator

Terry Turner has more than 35 years of journalism experience, including covering benefits, spending and congressional action on federal programs such as Social Security and Medicare. He is a Certified Financial Wellness Facilitator through the National Wellness Institute and the Foundation for Financial Wellness and a member of the Association for Financial Counseling & Planning Education (AFCPE®).

Read More

Edited By

Lee Williams

Lee Williams

Senior Financial Editor

Lee Williams is a professional writer, editor and content strategist with 10 years of professional experience working for global and nationally recognized brands. He has contributed to Forbes, The Huffington Post, SUCCESS Magazine, AskMen.com, Electric Literature and The Wall Street Journal. His career also includes ghostwriting for Fortune 500 CEOs and published authors.

Read More

Published: June 14, 2021
Updated: February 20, 2023
12 min read time
This page features 6 Cited Research Articles
Concierge Care Coverage at a Glance
| Medicare Plan | Concierge Care Coverage |
| --- | --- |
| Part A (Inpatient) | N/A |
| Part B (Outpatient) | Covers concierge care only if the doctor accepts Medicare. Any membership fee that gives you access to services, benefits and amenities related to concierge care is not covered under Medicare. |
| Part C (Medicare Advantage) | Coverage mirrors Part B. |
| Part D (Prescription Drugs) | N/A |
| Supplemental Insurance | Medigap policies will not cover concierge care costs. |
Concierge Medicine and Medicare
Medicare will pay for concierge care if the doctor — or group of doctors in the practice — accepts Medicare. But Medicare will not pay for any membership fees related to the practice.
Concierge care refers to personalized care from a doctor or group of doctors available to patients who pay a membership fee for services. You must pay this fee before you can receive medical services from the practice.
Other Names for Concierge Care
Boutique medicine
Concierge medicine
Direct care
Platinum practice
Retainer-based medicine
Paying the membership fee may give you access to services, benefits and amenities that Medicare does not cover.
A concierge service that accepts Medicare must follow all Medicare rules, but more than two in every five concierge practices do not accept Medicare, according to a survey of concierge physicians by Concierge Medicine Today.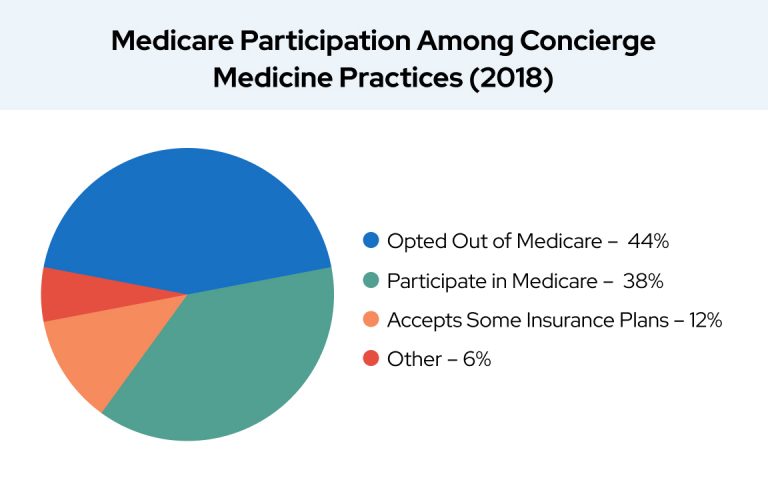 It is important to ask whether or not a practice accepts Medicare if you are considering membership in concierge care.
Your Costs for Concierge Medicine Under Medicare
You are responsible for 100 percent of a concierge care membership fee. Membership fees and monthly costs can range from $1,200 to $10,000 a year, according to Forbes.
You may also be responsible for additional fees and charges if the doctor or the practice does not accept Medicare.
Additional Fees You Could Incur
Doctors who don't accept Medicare can charge you up to 15 percent more than the Medicare-approved amount for services covered by Medicare.
Even doctors who accept Medicare can still charge you for items and services not covered by Medicare.
A concierge practice cannot charge you extra if it accepts assignment — meaning the doctor or practice agrees to accept payment directly from Medicare and accepts the Medicare-approved amount for the service.
Things to Know About Your Out-of-Pocket Costs with Doctors Who Accept Assignment
Practice cannot bill you for more than your Medicare deductible and coinsurance.
Membership fee cannot include added charges for things Medicare covers — unless Medicare will not pay for that item or service.
Doctor must provide a written notice, called an Advance Beneficiary Notice of Noncoverage, if Medicare will not pay for services it typically covers. This notice lists the services Medicare will not cover and explains why.
What to Know When Considering Concierge Medicine
It is important to weigh the pros and cons of a concierge care practice before deciding to join one.
The membership fee to join a concierge care practice typically includes benefits and services that Medicare does not cover. Concierge practices typically focus on smaller groups of patients and quicker service.
Amenities Associated with Concierge Care Practices
Shorter wait times for appointments if you are a new patient
Same-day appointments
Longer exam times with your doctor
Home delivery of your medications
Round-the-clock telephone and email access to your doctor
Concierge care tends to be popular with those who use it for day-to-day health care. But there are some services that concierge medicine does not deliver. This means you'll still have to pay for Medicare or other health insurance if you want those services covered.
Drawbacks of Concierge Care
Typically does not cover emergency care
Typically does not include specialist care (heart, cancer, or other medical specialties)
Membership fee is in addition to Medicare or private health insurance
It's important to do your homework on the services a concierge care practice offers and how it fits your health care needs.
Questions to Ask When Considering Concierge Care
Does the practice accept Medicare or other health insurance?

Many concierge care practices don't take Medicare or other insurance. You will have to pay the entire cost of services if they have opted out of Medicare. Medigap policies will not cover these costs. They cover only what Medicare covers.

What does your membership cover?

Be sure to ask about a list of everything included in the membership.
Be sure to check for:
Annual exams
Emergency care
Home visits
Hospital care
Lab work
Medications
Other medical tests
Referrals to specialists
Round-the-clock phone, email and text access
Also ask for an explanation of how the practice's billing works — ask about Medicare, your copayments and any other fees you may be charged.
Does the practice offer the type of health care I need?
If you have a serious health condition requiring routine care from a specialist, be aware that it may not be covered through your concierge membership. You may also have to do your own legwork to find a specialist for your condition.
What are the certifications of the practice's doctors?
Make sure the doctor or doctors at the concierge care practice you are considering are certified by the American Board of Internal Medicine. You can check a physician's certification at the board's website. You may also ask about geriatric certification. This means the doctor has a higher level of certification for treating older patients. Also ask if the doctor has admitting privileges with a hospital or medical center. This can get you admitted to a hospital sooner if you need to go to one.
Is concierge care right for you?
If you keep a busy schedule, need same-day appointments for routine health issues and want to spend more time with your doctor during appointments, concierge medicine may be worth considering. But if you have chronic or serious health conditions or limited finances, you should weigh your choices to make sure you're getting your money's worth.
Depending on where you live and your circle of friends and acquaintances who are around retirement age, you may hear comments and first-hand stories about concierge care services.
People over the age of 50 make up the majority of concierge care patients, according to AARP. The number of concierge care practices is also clustered in states with larger populations of older adults, such as California and Florida.
It's important to do your homework before committing to a concierge care practice.
Never miss important news or updates
Get successful retirement tips in our free weekly newsletter
Last Modified: February 20, 2023
Share This Page
6 Cited Research Articles
Who Am I Calling?
Calling this number connects you to one of our trusted partners.
If you're interested in help navigating your options, a representative will provide you with a free, no-obligation consultation.
Our partners are committed to excellent customer service. They can match you with a qualified professional for your unique objectives.
We/Our Partners do not offer every plan available in your area. Any information provided is limited to those plans offered in your area. Please contact Medicare.gov or 1-800-MEDICARE to get information on all of your options.
888-694-0290
Your web browser is no longer supported by Microsoft. Update your browser for more security, speed and compatibility.
If you need help pricing and building your medicare plan, call us at 844-572-0696