Does Medicare Cover COVID-19 Testing and Services?
Medicare covers COVID-19 tests whether done by a lab, pharmacy, doctor or hospital. The FDA-authorized antibody tests that can determine if you had COVID-19 in the past are also covered under Medicare. There is no out-of-pocket cost for the COVID-19 vaccines, regardless of the type and whether it requires one or two shots.
On This Page
What Does Medicare Cover for COVID-19?
COVID-19 tests, along with outpatient and inpatient services related to COVID-19 treatment, are covered by Original Medicare and Medicare Advantage plans.
All testing costs are covered if you are on Medicare, but you may have out-of-pocket costs for COVID-19 treatment and other services. Your out-of-pocket costs can vary depending on the length of your treatment and the type of Medicare coverage you have.
Medicare has also promised to pay the full cost for COVID-19 vaccines when those shots become available. If you have Medicare, you should not have to pay any out of pocket to get a vaccine, regardless of whether it requires one or two shots.
On Nov. 10, 2020, Medicare also announced it would cover a share of the cost for bamlanivimab – a monoclonal antibody delivered as an infusion to treat people with COVID-19. Its maker, Eli Lilly and Company, received an emergency use authorization from the U.S. Food and Drug Administration to market it as a treatment.
Bamlanivimab is delivered intravenously. Medicare will cover the treatment for beneficiaries whether it's given in a hospital or other free-standing treatment facility, through a home health agency, nursing home or health care providers that contract with nursing homes.
COVID-19 Costs Medicare Will Cover
Lab tests for COVID-19
Certain tests for related respiratory conditions that can aid in diagnosing COVID-19 (when done alongside COVID-19 tests)
Antibody tests authorized by the Food and Drug Administration (also called serology tests)
Inpatient and outpatient services related to COVID-19 treatment (out-of-pocket costs may apply)
Medically necessary hospitalizations related to COVID-19 (out-of-pocket costs may apply)
COVID-19 vaccines (when available)
FDA-approved treatments
Since COVID-19 became a global pandemic, Medicare has moved to cover additional services, expand access to telehealth and waive restrictions. Many of these moves are only temporary until the national emergency passes.
Additional Steps Medicare Has Taken Due to COVID-19
Allowed Medicare Advantage and Medicare Part D plans to waive or relax prior authorization rules for prescriptions
Cleared hospitals to offer services such as off-site screenings in other facilities
Waived certain requirements for skilled nursing facilities
Instructed nursing homes and hospitals to review their infection control procedures
Expanded telehealth services, roughly doubling the services available
What You Should Know About Medicare and COVID-19 Testing
Medicare covers the costs of lab tests to see if you currently have COVID-19 as well as FDA-authorized antibody – or serology – tests that can determine if you had COVID-19 in the past. If you have Medicare, you will have no out-of-pocket costs for these tests.
Medicare Advantage Plans and COVID-19 Testing
If you have a Medicare Advantage plan, the plan is not allowed to charge you a deductible, copayment or coinsurance for any approved lab tests used to detect or diagnose COVID-19.
Testing can help stop the spread of COVID-19 and improve your chances of recovering.
If you test positive, you can get medical attention sooner, before the virus advances.
Health care professionals can also trace any people you've come into contact with and warn them of the risk of potential infection, allowing them to self-isolate or go into quarantine so they don't spread the disease to other people.
Tests to Diagnose or Rule Out COVID-19
Medicare Part B medical insurance covers tests to determine if you have COVID-19.
If you undergo any tests to either diagnose or rule out COVID-19 — whether done by a lab, pharmacy, doctor or hospital — Medicare will cover the full cost. You will not be responsible for any out-of-pocket costs.
Tests Used to Diagnose COVID-19
PCR test

Also called a molecular test, PCR tests collect genetic material that can identify the virus with a swab of the nasal passage, the throat or saliva. Results can take a few days with some tests, but rapid test versions can return results in a few minutes. PCR tests are very accurate, but the rapid version can miss some positive cases.

Antigen test

Antigen tests look for proteins in the virus using a nasal or throat swab to deliver results in minutes. Positive test results are very accurate with antigen tests, but there is an increased chance of returning false-negatives — meaning you may have the virus and the test misses it. Because of this chance, if you test negative with an antigen test, your doctor will often order a PCR test to make sure you're not infected.
Diagnostic tests may be done by your doctor or pharmacist, a laboratory technician, home health nurse or other properly trained health professional or assistant.
Antibody Tests for COVID-19
Medicare Part B medical insurance covers the costs of antibody tests approved by the U.S. Food and Drug Administration. You pay nothing for these tests.
Antibody tests — also called serology tests — can sometimes determine if you previously had COVID-19. They work by testing whether you have developed an immune response to COVID-19 and therefore may not be at immediate risk of COVID-19 reinfection.
If the test shows that your body has antibodies against COVID-19, this indicates that you had the virus at some point in the past. Timing plays an important role in the accuracy of antibody tests.
These tests are usually done after full recovery from COVID-19. Antibody tests are not recommended until 14 days after you first experience symptoms.
It's still not clear to what extent or for how long antibodies will protect you from reinfection. It's important to keep up social distancing, mask use and other public health precautions even if you test positive for COVID-19 antibodies.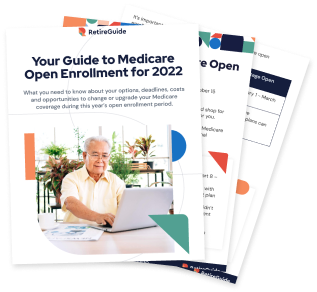 Prepare for Medicare Open Enrollment
Get help navigating and selecting the best Medicare coverage without any guesswork.
What COVID-19 Treatment and Services Does Medicare Cover?
If you have COVID-19, Original Medicare (including Medicare Part A hospital insurance and Part B medical insurance) and Medicare Advantage plans cover several inpatient and outpatient treatments and health care services.
The U.S. Centers for Medicare and Medicaid Services also announced in Nov. 2020 that it was "taking action to increase reimbursement for any new COVID treatments that are approved by the FDA."
COVID-19 Treatments and Services Covered By Original Medicare
Certain home health care visits
Doctor visits
Emergency ambulance transportation
Emergency room visits
Hospice care
Hospital stays
Outpatient services
Skilled nursing facility stays
Vaccines when available
FDA-approved treatments
How Much Do You Have to Pay Out-of-Pocket?
If you are on Medicare and require health care because of COVID-19, you may have to pay out-of-pocket expenses. These expenses include deductibles, copayments and coinsurance.
Under Medicare Part A hospital insurance, the $1,556 deductible in 2022 still applies. You will also have to pay daily copayments for hospital stays longer than 60 days. This includes a $389 per day copayment from day 61 through day 90 and $778 per day for lifetime reserve days beyond that.
Medicare Part B will cover skilled nursing facility care if you need it after COVID-19 treatment, but you will have a copayment of $176 per day after 20 days.
You also have to meet your $233 Part B deductible in 2022 and pay 20 percent of most covered services including doctor visits and ambulance transport.
If you have a Medigap policy, it may offset some of these out-of-pocket costs. Your out-of-pocket responsibilities may vary with Medicare Advantage plans. Check with the plan administrator for your Medigap or Medicare Advantage plan to find out exactly what your responsibilities may be if you are treated for COVID-19.
Last Modified: November 17, 2021
Share This Page
13 Cited Research Articles