How to Compare Medicare Plans
You essentially have three options to enhance your Medicare coverage: Keep Original Medicare and add a drug plan, add Medigap to Original Medicare and Part D, or surrender your coverage and enroll in a Medicare Advantage plan. You should compare the coverage each offers before making a choice.
Your Three Basic Options for Enhancing Medicare Coverage
Having Medicare Part A and Part B does not cover all of your medical bills. The average Original Medicare beneficiary spent $5,801 out of their own pocket in 2017, according to the AARP Public Policy Institute.
But there are three options that can cut your out-of-pocket costs. These involve adding or substituting other plans sold by private insurers.
When considering or comparing these options, it's important to consider factors such as your long-term health, life expectancy and your current and future finances to find the best deal for you.
Three Options for Medicare Coverage
Original Medicare with Part D

Medicare Part A covers hospitalization and Part B covers medical costs such as doctor visits. But neither cover prescription drug costs. A Medicare Part D prescription drug plan can cut your costs for prescription drugs.

Original Medicare with Medigap and Part D

A Medicare Supplement plan, also known as Medigap, can cover copays, coinsurance and other out-of-pocket costs that Original Medicare does not cover. Coupled with a Medicare Part D prescription drug plan, this combination can further reduce your out-of-pocket health care costs.

Medicare Advantage Plan

A Medicare Advantage plan is sold through private insurers and replaces your Original Medicare coverage. It is required by law to cover everything Original Medicare covers, but most include prescription drug benefits as well. Plans may also offer vision, hearing, dental or other benefits Original Medicare does not cover.
You are not allowed to buy both a Medicare Advantage plan and a Medigap policy. You must choose one or the other.
Costs and coverage will vary from plan to plan. You will need to consider your current and future situation and long-term costs to determine which option is right for you.
Evaluate Your Current and Future Health Care Needs
Your current and future health needs can affect how much you pay for Medicare coverage options. You should seriously consider potential changes to your health years — or even decades — down the road.
The options you choose when you first enroll in Medicare can affect what you spend for the rest of your life. What looks like a bargain at 65 may stick you with high out-of-pocket costs by the time you turn 75.
For instance, Medicare Advantage plans may have low monthly premiums compared to Medigap policies. But Medicare Advantage plans have maximum-out-of-pocket (MOOP) costs of up to $7,550 in 2022.
Medigap can be a "failsafe option" if you develop a chronic or costly medical condition later on, according to John Clark of Senior Solutions Insurance Agency.
He points out that you may pay an extra $150 to $300 a month for the rest of your life with a Medicare Supplement policy. But that's all you'll be responsible for — outside of your regular Medicare Part B premium, starting at $170.10 per month in 2022 — or higher depending on your income.
It's best to consider a Medigap plan during your Medigap open enrollment period. This is a six-month period starting the month you turn 65. Buying during this period typically provides you with better prices and more choices.
During this period, companies cannot deny you coverage or charge you more for coverage if you have a preexisting condition. If you wait beyond this period, you may have to take a medical exam or could be denied coverage by insurers.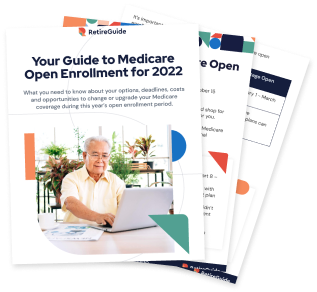 Prepare for Medicare Open Enrollment
Get help navigating and selecting the best Medicare coverage without any guesswork.
Comparing Real-Life Situations for the Best Medicare Coverage
Developing a chronic condition later in life can also complicate your health care costs depending on the Medicare options you select now.
There is no best option for everyone. The best option for you depends on your health and financial situation, your family's medical history as well as your own, and a clear understanding of how long you may live in retirement.
These can be difficult questions to answer on your own. A Medicare professional can help you understand how different options may be able to work best for your situation.
Scenario 1: Original Medicare with Part D
Stacey is a 65-year-old woman who is in great physical shape. She has no major health conditions — not even hearing, dental or vision problems.
In addition, her family medical history shows no record of cancer, heart disease or other chronic health conditions.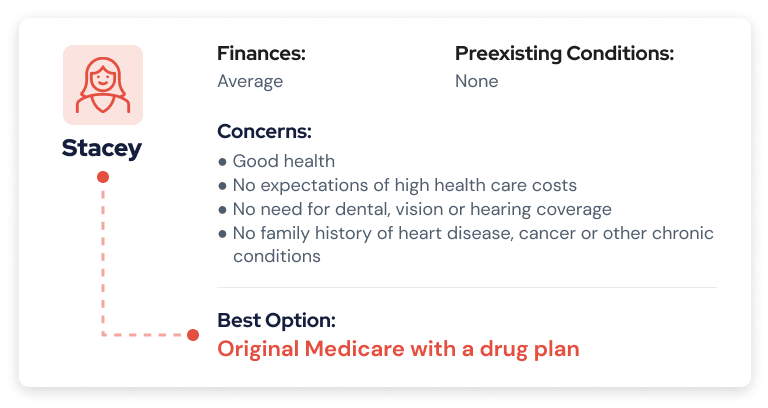 For the time being, Stacey expects no major health care costs. Adding a stand-alone Medicare Part D prescription drug plan to Original Medicare keeps drug costs low.
The big drawback is that she still has to pay a deductible plus 20 percent of health care costs under Original Medicare.
Stacey can switch to a Medicare Advantage plan later on if she requires extra benefits, but it will be harder and more expensive to switch to Medigap.
She'll also have access to any doctor, hospital or other health care provider that takes Medicare — not just a limited choice of doctors in a Medicare Advantage plan network.
Scenario 2: Original Medicare with Medigap and Part D
Robert is just transitioning to Medicare, but he's already survived a heart attack. At 65, he's older than his father and both grandfathers were when they died of heart disease. Diabetes is another chronic disease that runs in his family.
He's been planning for retirement since he was young and has put away enough money to be comfortable. Because his family history includes a below average life expectancy, he doesn't expect to outlive his savings.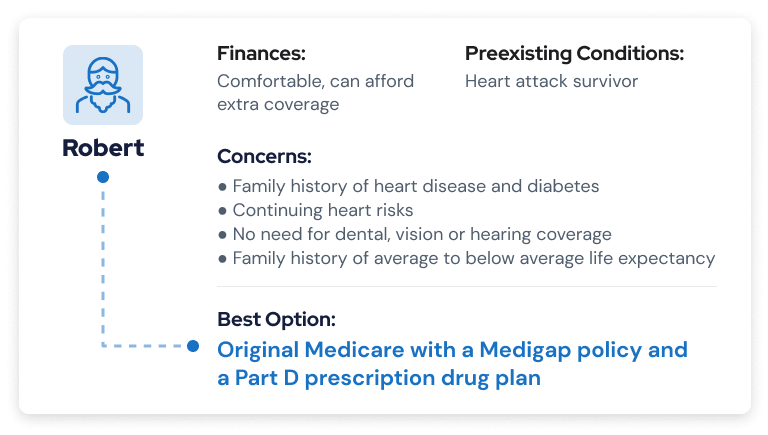 Adding both Medigap and a Medicare Part D prescription drug plan to his Original Medicare is the most expensive Medicare coverage option. But Robert expects expensive health care costs due to his chronic health care risk and he has the extra money socked away to afford it.
He will have access to any provider that takes Medicare and the peace of mind that his out-of-pocket costs will be kept to a minimum.
Heart and diabetes drugs can also run up high out-of-pocket costs that a Prescription D prescription drug plan can help offset.
Robert can still switch to either of the other two options later on if he decides the Medigap plan is no longer practical.
Scenario 3: Medicare Advantage
Diane is in good health with no family history of chronic conditions such as diabetes, cancer or heart disease. But her retirement funds are not as healthy. She has limited income and resources and doesn't want to spend a lot of money on health coverage.
She also wants help paying for yearly vision and dental services.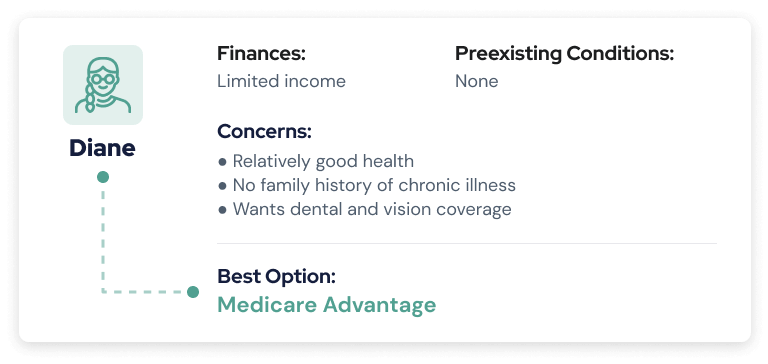 Medicare Advantage plans offer Diane the best option of low monthly payments. If she doesn't have a lot of health expenses, it could be worth the savings.
Most Medicare Advantage plans include prescription drug coverage along with vision, dental and other benefits that Original Medicare doesn't cover.
The drawbacks are that she will have a limited choice of doctors, hospitals and other health care providers to choose from. Medicare Advantage plans rely on their own network of providers.
Diane could also face high out of pocket costs if she develops expensive medical issues. And she'll have no guarantee of being able to switch to Original Medicare with Medigap coverage later on without having to pay higher premiums.
Medicare Alternatives That Can Fill Coverage Gaps
You may also already have access to other forms of health care coverage that can help you cover Original Medicare's out-of-pocket costs. You should look into how these options can work for you.
When you have additional coverage, Medicare has a system called coordination of benefits that determines who pays first — Medicare or your other coverage — and how it can cover your out-of-pocket expenses.
Additional Coverage That Can Work with Medicare
In addition, you can enroll in insurance plans not affiliated with Medicare that cover certain health-related costs such as private plans that only cover vision, hearing, dental or long-term care.
Last Modified: November 19, 2021
Share This Page
5 Cited Research Articles