How to Make a Retirement Budget
Creating a retirement budget can appear to be a daunting task. But anticipating major expenses including housing, health care, food and transportation along with being able to estimate your retirement savings and life expectancy can go a long way in creating a budget you can comfortably retire on.
How to Create Your Retirement Budget
Creating your retirement budget means taking a careful look at the savings you expect to have available at retirement, any retirement income you can count on, your expenses during retirement and how long you expect to live after you retire.
You should not wait until retirement to plan your budget, but start while you are still saving for your golden years. This way, you'll have a better idea of when retirement is right for you.
A retirement budget can also help you take into account any plans you have for retirement such as travel or a new pastime. And it can help you understand how long you have to work and save to make those retirement plans happen.
Questions to Consider in Planning a Retirement Budget
At what age do you plan to retire?
When is your spouse planning to retire?
How much longer do you expect to live after retirement?
Can you take part in your employer's retirement plan — 401(k), pension plan or other retirement savings plan?
Do you plan to travel or take up a new, possibly costly hobby?
Will you continue to work part-time during retirement?
Will your health insurance change when you retire or will you keep your current insurance?
Once you've answered these basic questions, you can start calculating your retirement savings, estimated expenses and other factors that will affect your retirement income and spending.
You should take concrete steps to include as much information as you can about your resources and expectations.
The 5 Steps to Creating Your Retirement Budget
Gather and review your financial records, including information from all your retirement savings accounts.
Estimate your annual or monthly retirement income from all sources.
Make a list of all your recurring expenses and potential one-time expenses you expect during retirement.
Compare your estimated expenses to your estimated income.
After you have these numbers down on paper — or on a spreadsheet on your computer — be sure to check back periodically to see if you are on target or need to make adjustments to your budget or retirement plans.
Start Your Retirement Budget with a Savings Plan
Generally, you should start saving at least 10 years before you plan to retire, but the earlier you start your retirement savings, the more money you'll have to work with in your budget.
The three most common ways to save for retirement include retirement plans offered by your employer, savings and investments (including individual retirement accounts or IRAs) and Social Security. Taking advantage of any or all three can help you build retirement savings.
Saving just $6,000 a year — with seven percent annual growth — can leave you with retirement savings of more than $800,000 over a 35 year career.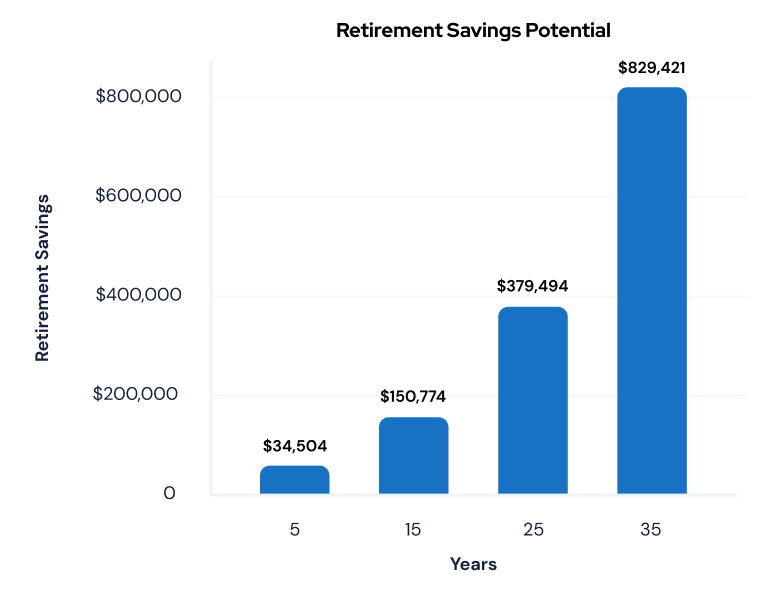 Expenses to Expect in Retirement
You can typically expect your retirement expenses to be only about 70 to 80 percent of what you were spending before you retire. Some expenses related to work, such as clothing and transportation, should decrease. But you should also plan for health care expenses to increase as you age.
When estimating expenses for your retirement budget, you should take into account three main types of spending over the rest of your lifetime: essential, discretionary and one-time expenses.
Expenses to Expect in Retirement
Essential spending

These expenses include things that you need to get by such as clothing, food, health care, housing, transportation and utilities.

Discretionary spending

These include non-essential items that usually come with monthly bills such as cell phone plans, cable television, streaming services, internet, gym memberships and other memberships or subscriptions. They may also include travel, entertainment and dining out.

One-time spending

Expect one-time expenses such as emergencies, family events such as a wedding or funeral and home or auto repairs. A good rule of thumb for housing maintenance is to budget one percent of your home's value toward repairs and maintenance every year.

Required expenses

This includes income as well as local, state and federal taxes, car registration fees, insurance premiums and other expenses that may come as a monthly or yearly bill.
All of these are generally expenses that you're already paying. But you may not realize how much they can add up to because you spread out the cost.
As you age, and after you retire, some of these expenses naturally decrease. The U.S. Bureau of Labor Statistics estimates the average costs of major expenses to expect based on your age.
Average Annual Expenses for Retirees
| Expense | Age 55 - 64 | Age 65 - 74 | Age 75 and Older |
| --- | --- | --- | --- |
| Housing | $18,006 | $15,838 | $13,375 |
| Food | $6,800 | $6,303 | $4,349 |
| Clothing | $1,789 | $1,417 | $683 |
| Transportation | $9,321 | $8,338 | $5,091 |
| Health care | $4,958 | $5,956 | $5,708 |
| Entertainment | $2,852 | $2,988 | $1,626 |
| Pensions & Social Security | $6,578 | $2,788 | $800 |
| Other expenses | $5,963 | $5,257 | $5,041 |
| Total expenses | $56,267 | $48,885 | $36,673 |
Calculating Life Expectancy for Your Retirement Budget
Annual expenses and income are fairly easy to estimate. But your life expectancy — how long you're likely to live — is harder to predict. And your life expectancy will ultimately determine how you can best stretch your savings into a steady income over the course of your lifetime.
However, there are tables, data and other tools that can give you a good estimate of your life expectancy.
U.S. Life Expectancy in 2017 – Years Remaining at Specific Ages
| Age | Men | Women |
| --- | --- | --- |
| 55 | 25.50 | 28.81 |
| 60 | 21.58 | 24.56 |
| 65 | 17.89 | 20.45 |
| 70 | 14.39 | 16.54 |
| 75 | 11.14 | 12.92 |
| 80 | 8.28 | 9.68 |
| 85 | 5.89 | 6.95 |
| 90 | 4.05 | 4.78 |
You may notice the remaining years in this table don't decline steadily. That's because the longer you live, the longer your life expectancy grows — at least from a statistical point of view.
Once you retire, you should adjust your retirement budget every few years to reflect your changing life expectancy.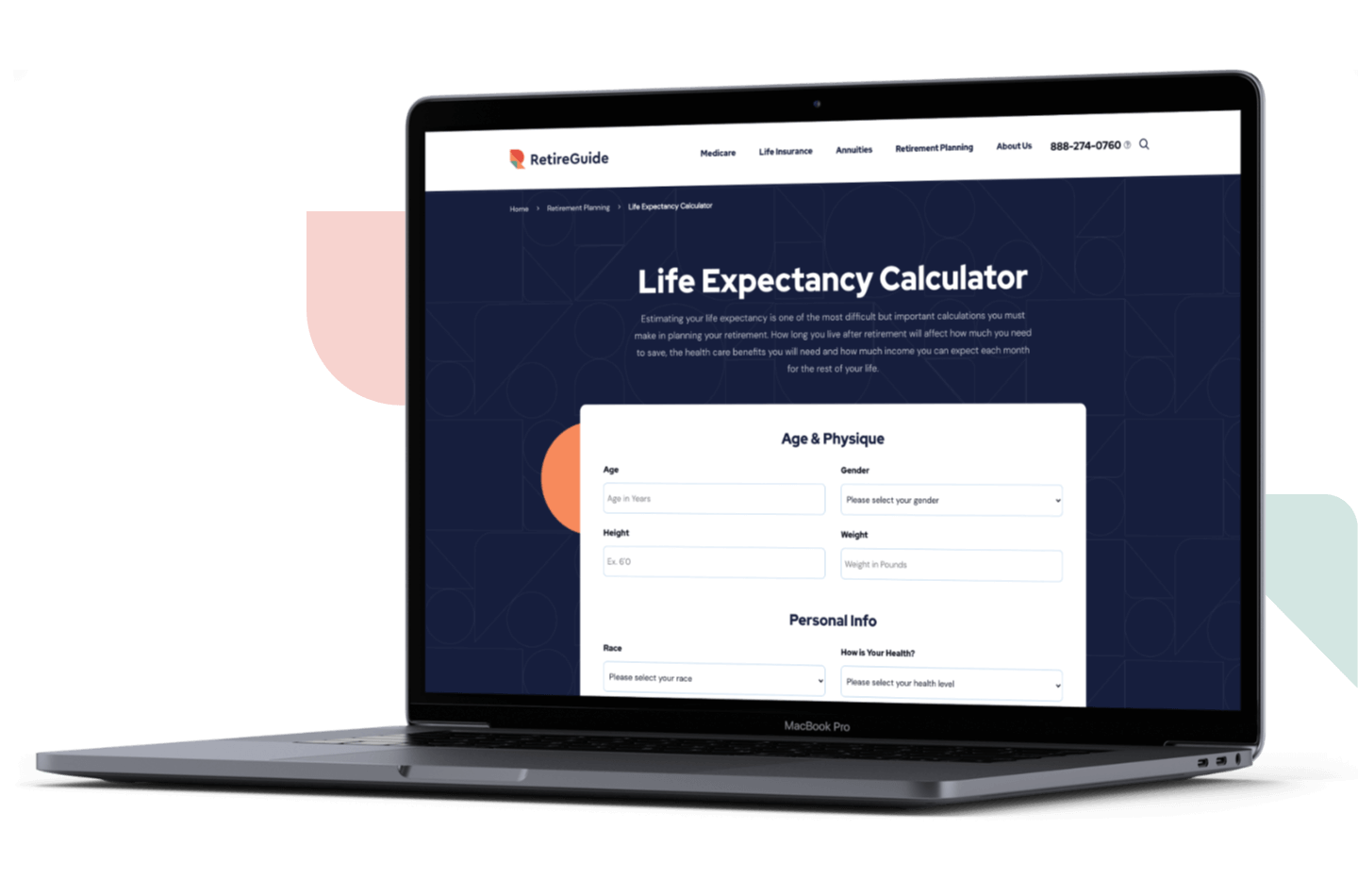 Calculate Your Life Expectancy
Life expectancy is a key factor in determining how much money you will need in retirement. Use our calculator to estimate how long you will live.
Tips to Make the Most of Your Retirement Budget
Putting together a retirement budget may seem like a daunting task, but there are several steps you can take to create your budget quickly and effectively.
Top 7 Tips to Plan Your Retirement Budget
Use retirement calculators like those offered by the Social Security Administration or your retirement savings plan to determine when you can afford to retire and how much retirement income you can expect.
Set a retirement savings goal and start saving toward it.
Contribute to your employer's 401(k) or other retirement savings plan.
Contribute to an individual retirement account (IRA).
Learn basic investment principles for your retirement savings, such as the role stocks and bonds play in your savings and how diversifying investments protects your investments.
Don't touch your retirement savings until you retire.
Keep up to date with your Social Security benefits and your 401(k), IRA or other retirement accounts.
Talking to a licensed financial advisor can also help you understand what you need to do to create a retirement budget that works best for you.
Last Modified: August 2, 2021
Share This Page
9 Cited Research Articles