Can I Roll My IRA or 401(k) Into an Annuity?
You can rollover funds from your individual retirement account (IRA) or 401(k) into an annuity to receive a steady income. Doing so creates an IRA annuity – a type of qualified annuity. To do this, your employer moves your 401(k) balance directly to the insurance company. Then, the insurance company will deposit your funds, tax-free, directly into the IRA annuity.

Written by

Terry Turner

Terry Turner

Senior Financial Writer and Financial Wellness Facilitator

Terry Turner has more than 35 years of journalism experience, including covering benefits, spending and congressional action on federal programs such as Social Security and Medicare. He is a Certified Financial Wellness Facilitator through the National Wellness Institute and the Foundation for Financial Wellness and a member of the Association for Financial Counseling & Planning Education (AFCPE®).

Read More

Edited By

Lamia Chowdhury

Lamia Chowdhury

Financial Editor

Lamia Chowdhury is a financial content editor for RetireGuide and has over three years of marketing experience in the finance industry. She has written copy for both digital and print pieces ranging from blogs, radio scripts and search ads to billboards, brochures, mailers and more.

Read More

Financially Reviewed By

Brandon Renfro, Ph.D., CFP®, RICP®, EA

Brandon Renfro, Ph.D., CFP®, RICP®, EA

Retirement and Social Security Expert

Brandon Renfro is a Retirement and Social Security Expert and financial planner. He focuses on helping clients create a secure financial future in retirement and co-owns Belonging Wealth Management. He is also a former finance professor and writes for several publications.

Read More

Published: October 27, 2021
Updated: August 29, 2023
8 min read time
This page features 7 Cited Research Articles
Why Roll Over Retirement Savings Into an Annuity?
The primary advantage of transferring your retirement savings into an annuity is the assurance of a consistent income stream for the rest of your life. This benefit can seem particularly attractive for those nearing retirement.
You can roll over several different types of retirement savings into an annuity, including:
A lump sum pension payment
If you decide to roll over your savings, you'll need to determine how you'll receive payments from your annuity, how you'll grow your investment and what'll happen to it when you pass away.
3 Steps to Choosing the Right Annuity
Choose Your Payouts

You have two annuity options – deferred annuities or immediate annuities. You typically buy a deferred annuity before you retire and use it to grow your money. You won't pay taxes on this growth until you withdraw money from it. Immediate annuities are a better option if you're close to retirement. You make one lump sum contribution and you have an immediate income stream for the rest of your life.

Understand Your Investment

You have three options – a fixed annuity, variable annuity or indexed annuity. A fixed annuity lets your money grow at a steady and guaranteed rate over the time period you select. A variable or indexed annuity is tied to underlying investments; their rate of growth depends on fluctuations in those indexes or other investments. Typically, indexed annuities have more risk and potential return than a fixed annuity, but less risk and potential return than a variable annuity. Generally, indexed annuities have more risk and potential return than a fixed annuity, but less risk and potential return than a variable annuity.

Consider the Death Benefit

Not all annuities have death benefits. When you die, some may turn over any remaining money to the insurance company that issued it. If you want to pass on the money left in the annuity, you will need to name a beneficiary. Keep in mind, the death benefit may be taxable. Discuss this thoroughly with the insurer when choosing an annuity.
Benefits & Risks of Rolling Your IRA or 401(k) Into an Annuity
Rolling over your retirement savings into a qualified annuity has many advantages for retirees, such as the sense of security regarding a guaranteed lifetime income. However, it's important to also consider some of the drawbacks a roll over includes before making this move part of your retirement plan.
Benefits & Risks with Annuity Roll Overs
Benefits
Risks

Creates a guaranteed monthly income for the rest of your life that can supplement Social Security
Ensures you won't outlive your money in retirement
You don't pay income taxes on your annuity until you withdraw money from it

Fees and other charges for annuities can eat into your retirement funds
Many annuities can't be passed onto your heirs — the insurance company may keep any leftover money when you pass
You must complete your roll over from retirement savings to an annuity within 60 days or pay a steep penalty
There are a few more points to consider before deciding whether to roll over your retirement savings into an annuity. These include the type of annuity you select and the fees that accompany it.
For example, variable annuities usually come with higher fees than fixed annuities. This is because variable annuities typically require more hands-on management. This extra effort can cost you up to 2% more a year than fixed annuity fees, according to the New York State Attorney General.
How soon are you retiring?
What is your goal for purchasing an annuity?
Select all that apply
Learn About Top Annuity Products & Get a Free Quote
Find out how an annuity can offer you guaranteed monthly income throughout your retirement. Speak with one of our qualified financial professionals today to discover which of our industry-leading annuity products fits into your long-term financial strategy.
For fastest service, call now!
866-219-2282
Call Now
Or fill out the form
Qualified Retirement Plans
How To Roll Your IRA or 401(k) Into an Annuity
There are two ways to roll over your retirement savings to an annuity – through a direct roll over or an indirect roll over.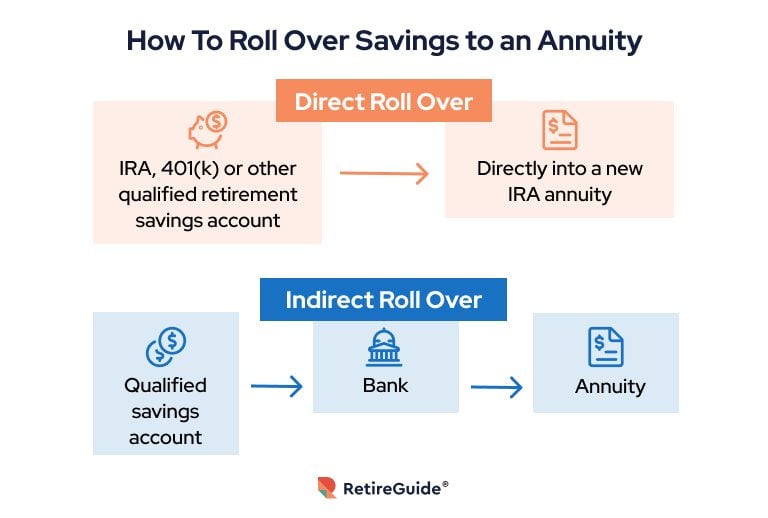 Direct roll overs can avoid tax implications and possible penalties. They can also meet Internal Revenue Service (IRS) requirements for required minimum distributions (RMDs). RMDs are when you're required to begin taking out a certain percentage of your pretax retirement savings each year.
According to the IRS, an RMD kicks in when you turn 73 in 2023. However, the rule doesn't apply to IRA annuities.
Strategies for Rolling Over Retirement Funds Into an Annuity
There are three strategies you could follow when rolling over your retirement funds into an annuity — delaying your payments, calculating the exact amount to roll over and laddering your annuities.
Top 3 Roll Over Strategies for Annuities
Delaying Payments

Just like Social Security benefits, the longer you delay receiving payments, the bigger your payment amount will be.

Calculating the Exact Amount

Don't put the entirety of your retirement savings into one annuity. Calculate in advance how much of your income you'll need to cover living expenses when you retire. Social Security and pensions alone likely won't pay for 100% of your future living expenses and potential long-term care costs. Your annuity can help bridge that gap. Any remaining funds can go towards other high-reward investments, like stocks.

Laddering Your Annuities

If you think interest rates will rise in the future, purchase multiple annuities with smaller amounts, instead of one large annuity. This way, you lower the risk of getting locked in a single fixed rate and have the potential for higher income if rates increase.
Tax Implications of Rolling Over Retirement Savings to an Annuity
The most important tax implication to note is the roll over deadline. Once you start the roll over process, you must complete it within 60 days. Miss that deadline and you'll owe income tax on the amount that's not rolled over.
Specific tax implications for rolling over your retirement savings into an annuity depend on the type of retirement savings plan you have.
Tax Implications for Roll Overs Into Annuities
| | |
| --- | --- |
| Rolling Over a 401(k) or Traditional IRA | There should be no tax impact so long as the roll over is completed in 60 days. Deposits into these savings plans are tax deferred – meaning you don't pay income taxes until you withdraw funds. In this case, the annuity would work the same as your retirement account, so the roll over itself does not count as a withdrawal. |
| Rolling Over a Roth IRA or Roth 401(k) | Money you place in a Roth IRA is not tax deferred – you pay income taxes on the money before depositing it in the Roth IRA. If you roll over your savings into a Roth IRA annuity, you won't have to pay income taxes on the money you withdraw from the annuity. |
While investments in an annuity are tax deferred until you withdraw money from it, IRAs, 401(k)s, 403(b)s and other retirement savings plans typically offer the same or similar tax advantages. You may want to talk with a tax professional about additional tax benefits you might receive from a roll over.
Annuity Rollover FAQs
Editor Malori Malone contributed to this article.
Advertisement
Connect With a Financial Advisor Instantly
Our free tool can help you find an advisor who serves your needs. Get matched with a financial advisor who fits your unique criteria. Once you've been matched, consult for free with no obligation.
Last Modified: August 29, 2023
Share This Page
7 Cited Research Articles
Who Am I Calling?
Calling this number connects you to one of our trusted partners.
If you're interested in help navigating your options, a representative will provide you with a free, no-obligation consultation.
Our partners are committed to excellent customer service. They can match you with a qualified professional for your unique objectives.
We/Our Partners do not offer every plan available in your area. Any information provided is limited to those plans offered in your area. Please contact Medicare.gov or 1-800-MEDICARE to get information on all of your options.
844-359-1705
Your web browser is no longer supported by Microsoft. Update your browser for more security, speed and compatibility.
If you need help pricing and building your medicare plan, call us at 844-572-0696