How Many Bank Accounts Should I Have?
Having too many checking or savings accounts can make financial management confusing. Experts advise maintaining four accounts, with two checking and two savings. This allows retirees to strategize savings goals and protect their money across banks. Explore the pros and cons of multiple accounts for your retirement portfolio.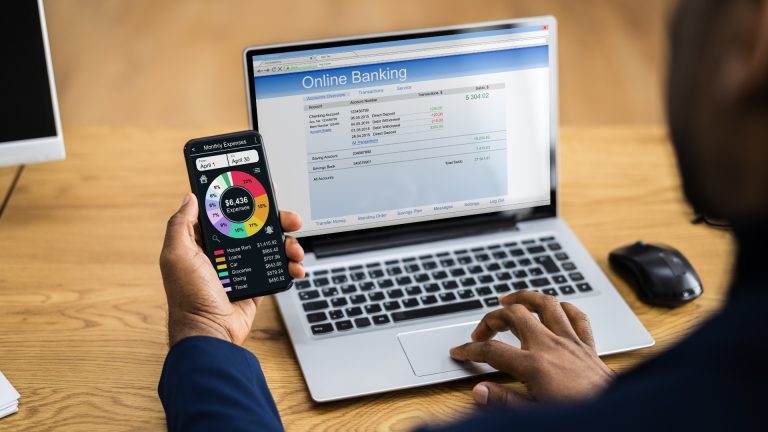 Written by

Lindsey Crossmier

Lindsey Crossmier

Financial Writer

Lindsey Crossmier is an accomplished writer with experience working for The Florida Review and Bookstar PR. As a financial writer, she covers Medicare, life insurance and dental insurance topics for RetireGuide. Research-based data drives her work.

Read More

Edited By

Lamia Chowdhury

Lamia Chowdhury

Financial Editor

Lamia Chowdhury is a financial content editor for RetireGuide and has over three years of marketing experience in the finance industry. She has written copy for both digital and print pieces ranging from blogs, radio scripts and search ads to billboards, brochures, mailers and more.

Read More

Financially Reviewed By

Timothy Li, MBA

Timothy Li, MBA

Business Finance Manager

Timothy, an experienced consultant and finance manager, excels in uncovering narratives within financial data for CEOs and CFOs. With a focus on enhancing profitability, he leads conference calls, analyzes performance trends and provides financial training. Holding an MBA from USC and an economics degree from UCLA, Timothy is well-equipped to navigate the intricacies of the business world.

Bachelor's degree in economics from the University of California, Los Angeles
Master of Business Administration from the University of Southern California

Read More

Published: May 3, 2023
Updated: June 2, 2023
7 min read time
This page features 8 Cited Research Articles

Key Takeaways

Owning multiple bank accounts can help you avoid catastrophic damage if one gets hacked. It also simplifies your savings goals across multiple accounts.
You don't have to open all your bank accounts at once. Open one additional savings or checking account at a time as you continue to learn how to balance your finances.
You can also consider other types of accounts, such as a money market account or a certificate of deposit (CD).

Why Should I Open Multiple Bank Accounts?

If you need to organize your spending costs and retirement savings goals, consider opening multiple bank accounts. Keep in mind that multiple bank accounts aren't a good idea for everybody.

For example, say you're considering four bank accounts and each one has a required minimum deposit. If you can't keep the required minimum deposit in each account, you could face fees. This is usually an indication that multiple bank accounts currently won't fit your needs.

"Ask yourself: Why would you want multiple bank accounts? Some people like bank accounts for savings goals, such as one account for a vacation and another to renovate their home or to make a large payment of their debt," Susan Greenhalgh accredited financial counselor and president of Mind Your Money, LLC told RetireGuide.

"Many online and brick and mortar banks accommodate people and allow them to open multiple accounts for these reasons. I like the idea of having a set name for an account based on the goal you have for it."

There are certain situations that may specifically benefit from the account holder having multiple bank accounts.

Owning multiple checking and savings accounts can be a smart way to budget for specific financial goals.

Reasons To Open Multiple Bank Accounts

Lower Damage if Your Bank Account Gets Hacked

If all your money is within one checking account and it gets hacked, you may not be able to cover your bills while the theft is getting sorted out. If you have a secondary checking account at a different bank, you'll have more protection to cover bills during a financial crisis.

More Liquidity

Some savings accounts have limits to how many times you can withdraw monthly. If you have multiple savings accounts, you can withdraw from different accounts to avoid limits.

Easier To Track Your Savings Goals

You can have one savings account for emergency funds and another for long-term savings goals. Separating these accounts can make it easier to track statements and keep up with financial goals.

Loophole for FDIC-Insurance Limits

The FDIC covers up to $250,000 per issuer, per bank. If you have more than $250,000, you should split up your funds among several banks so your money stays insured.

Advantages of Multiple Bank Accounts

Multiple bank accounts can offer you flexibility, potentially higher interest rates, better organization, fraud protection and higher FDIC coverage.

Pros of Multiple Bank Accounts

Flexibility

You can shop around for bonus features, low fees and high rates at multiple banks. For example , you could open a checking account at Chase and receive a $200 bonus. Then, you could open one of your savings accounts at Discover bank and potentially receive a $150 or $200 bonus. Each bank will likely have different fees and minimum account balances that you can work to your advantage. You'll also be able to avoid withdrawal limits with multiple savings accounts.

Higher Rates

Citizens Bank offers a 4.5% APY high-yield savings account as of May 5, 2023. Citi Bank on the other hand, only offers 4.05% APY on their high-yield savings account. You can carefully compare and choose an account with high rates for your savings, and another account at a different institution for other perks.

Better Organization

Multiple bank accounts can make it easier to track your goals. For instance, you could have one savings account from Citizens Bank with a high APY and then consider a savings account from Ally Bank. Ally has a bucket feature available for your savings account to separate and track your goals. This way, you could reap the high interest rates of Citizens Bank while easily tracking your savings goals with your account through Ally.

Potential Drawbacks of Having Various Bank Accounts

"If you're going to have multiple bank accounts, they can be difficult to keep track of. You'll have more statements to review and keep track of," Greenhalgh told RetireGuide.

Struggling to manage your accounts isn't the only potential drawback. Owning multiple bank accounts can mean higher fees and maintenance requirements. To minimize the risks associated with opening multiple bank accounts, do your research to see which banks have low fees and minimum account balances.

For example, Ally Bank and Discover don't require a minimum account balance and have no monthly service fees.

"If you're going to have multiple bank accounts, they can be difficult to keep track of. You'll have more statements to review and keep track of."

How Many Bank Accounts Should I Have?

While some experts have recommended the High-Five Banking method, which is two checking accounts and three savings accounts, you could reap similar benefits with only four bank accounts.

Consider this the Secure Four method, which covers your recurring bills, fun expenses, an emergency fund and savings goals.

Purpose of Four Bank Accounts

Checking
Account 1
Checking
Account 2
Savings
Account 1
Savings
Account 2
Used for recurring bills like your rent, mortgage or utilities.
Consider this your "fun fund" for new clothing, entertainment and going out to eat.
This savings account can be for emergency funds to cover unexpected expenses like your car breaking down, hefty medical bills or roof damage from a severe storm.
Your secondary savings account can be for short-term and long-term savings goals, like a vacation or the downpayment for a camper.

Remember that there isn't a set perfect number for how many bank accounts you should own. That number could be one, four or five — depending on your own unique needs and goals.

"If it makes you feel better to have five bank accounts that you're tracking with their goals, and because of that you're being more mindful of your money, then go for it," Greenhalgh told RetireGuide.

"But if you're the type of person who may forget about additional bank accounts, or move and forget to alert the bank, then you might lose track of your money."

Health Costs in Retirement

Strategies for Navigating Multiple Bank Accounts

Determine how many bank accounts you actually need to best manage your bank accounts. For example, if you're strapped for cash, you could consider taking baby steps towards maximizing your bank accounts.

Instead of opening multiple bank accounts all at once, you can open them one at a time.

If you only have one checking account, you could open a savings account to start building your emergency funds. Down the line, when you have your finances in order, you can consider opening a secondary checking account reserved for fun spending, and a secondary savings account designated for long-term and short-term goals.

Strategies To Help You Best Manage Your Bank Accounts

Follow your goals diligently to avoid backtracking.
Choose banks with highly rated online apps so it's easy to track each of your accounts.
If you're sharing the account with your spouse, make sure they know the purpose of each account.
Don't open all four accounts at once if it doesn't fit your financial needs. You can stagger them out over time.

If you're considering other types of accounts to earn additional interest, you could open a high-yield savings account, money market account or CD.

Other Account Types To Consider

High-Yield Savings Account

A high-yield savings account is the same as a savings account, but with a higher interest rate. These types of accounts are typically available online and can help you rapidly grow your emergency savings fund.

Money Market Account

A money market account is like a savings account with similar features to a checking account. You earn interest, but there are withdrawal limits. Think of this option as a more flexible savings account.

CDs

CDs are deposits that grow over a fixed period of time with a set interest rate. If you have an extra $1,000 or so just sitting in your checking, you could place the funds in a CD to let them grow.

Editor Malori Malone contributed to this article.

Advertisement

Connect With a Financial Advisor Instantly

Our free tool can help you find an advisor who serves your needs. Get matched with a financial advisor who fits your unique criteria. Once you've been matched, consult for free with no obligation.

Last Modified: June 2, 2023

Share This Page

8 Cited Research Articles
Who Am I Calling?
Calling this number connects you to one of our trusted partners.
If you're interested in help navigating your options, a representative will provide you with a free, no-obligation consultation.
Our partners are committed to excellent customer service. They can match you with a qualified professional for your unique objectives.
We/Our Partners do not offer every plan available in your area. Any information provided is limited to those plans offered in your area. Please contact Medicare.gov or 1-800-MEDICARE to get information on all of your options.
844-359-1705
Your web browser is no longer supported by Microsoft. Update your browser for more security, speed and compatibility.
If you need help pricing and building your medicare plan, call us at 844-572-0696