Banking for Seniors: Managing Your Finances With Confidence
As retirement approaches, navigating the world of banking and savings can be overwhelming. But a bit of research and consideration of your individual needs and goals can help you confidently manage your finances and enjoy your savings. Whether you prioritize accessibility, low fees or specialized bonuses for seniors, understanding the various savings options offered by different banks is crucial.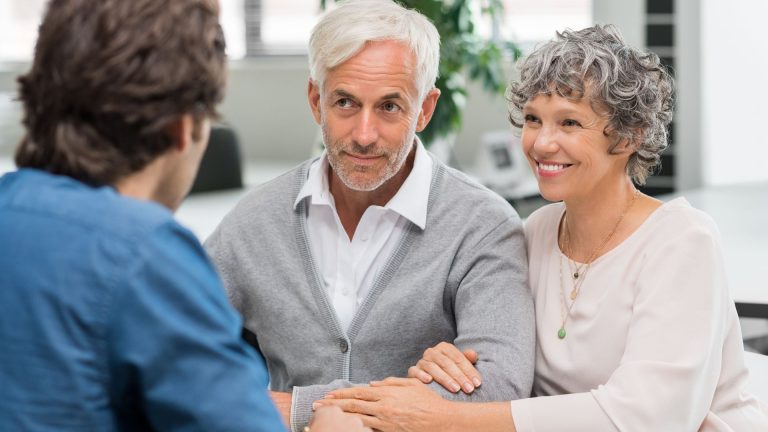 Written by

Lindsey Crossmier

Lindsey Crossmier

Financial Writer

Lindsey Crossmier is an accomplished writer with experience working for The Florida Review and Bookstar PR. As a financial writer, she covers Medicare, life insurance and dental insurance topics for RetireGuide. Research-based data drives her work.

Read More

Edited By

Savannah Pittle

Savannah Pittle

Senior Financial Editor

Savannah Pittle is a professional writer and content editor with over 16 years of professional experience across multiple industries. She has ghostwritten for entrepreneurs and industry leaders and been published in mediums such as The Huffington Post, Southern Living and Interior Appeal Magazine.

Read More

Reviewed By

Brandon Renfro, Ph.D., CFP®, RICP®, EA

Brandon Renfro, Ph.D., CFP®, RICP®, EA

Retirement and Social Security Expert

Brandon Renfro is a Retirement and Social Security Expert and financial planner. He focuses on helping clients create a secure financial future in retirement and co-owns Belonging Wealth Management. He is also a former finance professor and writes for several publications.

Read More

Published: April 17, 2023
Updated: May 16, 2023
9 min read time
This page features 10 Cited Research Articles

Key Takeaways

There are popular FDIC-insured banks available in all 50 states with features seniors can benefit from.
Don't rush into opening a bank account that's heavily advertised to seniors. Compare all bank account types and their benefits before selecting the one best suited for your needs.
Being aware of common bank scams can help you manage your funds as you near retirement.

Popular Banks for Seniors

To determine which banks are popular and trustworthy for seniors, RetireGuide reviewed the top banks based on their consolidated assets using data from the Federal Reserve. We narrowed the selection by only choosing FDIC-insured banks available in all 50 states.

Next, we considered the types of accounts offered, monthly fees, accessibility of branches and other bonus features seniors would benefit from. These metrics led us to our list of five popular banks for seniors — Chase, Capital One, Ally, Discover and Citizens Bank.

Popular Banks for Seniors

Bank
Details
Chase
Range of $0 to $25 service fee, depending on which savings or checking option you choose. Some fees can be waived if you link your Chase savings and checking account together.

$0 minimum account balance

Ample access to over $4,700 branches

Bonus Features:

$200 bonus if you open a Chase checking account
Option to waive $25 service fee with free counter checks, money orders and cashier's checks if you're a veteran of the U.S. Armed Forces
Has a checking account option with no overdraft fees

Capital One
No monthly service fees for savings or checking accounts.

$0 minimum account balance

Limited branch access

Bonus Features:


No overdraft fees
Allows you to add cash to your checking account at any CVS location
Easy-to-use app

Ally Bank
No monthly service fees for savings or checking accounts.

$0 minimum account balance

No physical branches

Bonus Features:


Has a savings bucket feature to organize your money and visualize what you're saving for
No overdraft fees
Allows you to set a spending limit with your debit card in their app

Discover Bank *
No monthly service fees for savings or checking accounts

$0 minimum account balance

No physical branches

Bonus Features:


Free help removing your personal information from select people-search websites
Potential $150 or $200 bonus when opening a savings account

Citizens Bank
Range of $0 to $25 service fee, depending on which savings or checking option you choose.

$0 minimum account balance

Over 1,200 physical branches

Bonus Features:


Option to waive some of the monthly service fees if you're over 65 years old
Citizens Peace of Mind feature allows you to reverse overdraft fees
Offers a digital advisor to help you invest your funds for a low-cost portfolio

Source: *As of April 2023, Discover's checking account is not open to new enrollees.

Remember, there isn't one most popular bank that caters directly to seniors. At the end of the day, seniors can have similar savings goals as anyone at any age.

Don't run to open a checking or saving account simply because it highlights senior discounts. Carefully compare the potential fees, required account balances, bonuses and any other features that may fit your retirement savings plan.

Choosing the Right Bank

Many factors, such as access to your money through a physical branch, will influence which bank is right for you. For example, if you want a reliable checking account with no monthly service fees or minimum deposit requirement, you might consider Capital One.

Factors That Influence Which Bank Is Right for You

Whether the account has monthly maintenance fees
If the account carries a required minimum deposit
The types of accounts available
The types of savings vehicles available
Whether the bank has physical branches near you
Any additional bonus features, like skipping overdraft fees
Comparable interest rates

"If you're using your bank as a savings vehicle, make sure to compare banks to see which have the most competitive rates,"

So, if you're looking for a high-yield savings account with a reputable bank, reconsider opening an account with the first bank you find. Rates fluctuate regularly, so be sure to compare them within the same timeframe for accuracy.

On the other hand, if you want multiple savings buckets to track goals like renovating your home or buying your granddaughter a car, you might consider Ally Bank instead. No matter your priorities, taking the time to define your goals can help you determine which bank is best for your retirement needs.

Is Your Retirement Plan on Track?

Explore annuity solutions that align with your planning needs.
*Ad: Clicking will take you to our partner Annuity.org.

Types of Bank Accounts for Seniors

There are five main types of bank accounts you can open — a checking account, savings account, money market account, certificate of deposit (CD) and individual retirement account (IRA). They each have different pros and cons to consider. Keep in mind you can open multiple bank accounts to personalize your savings needs.

For example, if you have a moderate deposit and want to earn high interest, you could consider a high-yield savings account.

"High-yield savings accounts do have a place in retirement portfolios, especially if you like the safety of these accounts," Greenhalgh told RetireGuide.

However, if you can tolerate your money being locked away to earn moderate interest, you could consider a CD instead.

| Bank Account Type | When To Consider It |
| --- | --- |
| Checking Account | A checking account might fit your needs if you need a home for day-to-day transactions or scheduled payments, like your Social Security benefits. This account type also typically allows unlimited ATM withdrawals and deposits. |
| Savings Account | Consider a savings account if you need a long-term savings vehicle to cover future costs, like a home or vacation. Some high-yield savings accounts allow you to earn up to 4.00% interest. However, there are usually limited withdrawals for this type. |
| Money Market Account | If you want an account with the features of a checking and savings account, consider a money market account. These allow you to earn interest and withdrawal funds without a penalty, but there are likely higher fees and minimum balances. |
| Certificate of Deposit (CD) | CDs act similarly to a savings account, but your money is locked away for a set term at a fixed interest rate. Terms range from six months to five years. You should consider this option if you can leave your money untouched for a set term, for a moderate return. CDs work best for short-term goals. |
| Individual Retirement Account | If you're looking for moderate interest and tax advantages, consider an IRA. Your tax advantages vary, depending on if you have a traditional or Roth IRA. You'd have to be prepared to leave your money untouched until you turn 59 1/2 to avoid penalties. |

How Many Bank Accounts Should I Have?

Managing Retirement Savings

If you fail to manage your savings effectively, you could find yourself unable to fund your retirement plans.

"Take the time to consider what you want to do in retirement. Are you going to travel more, improve your home, downsize or move?" Greenhalgh offered. "You should also prepare for medical expenses. Talk with a financial advisor about how you plan to fund the rest of your life."

Break down your goals and potential medical costs to get an idea of how much you need to save. It can help to match up savings vehicles with goals to best manage your money. For example, if your goal is to combat inflation for long-term goals, you could consider an I bond.

Strategies like delaying your Social Security benefits and investing in a 401(k) or an IRA early can also help you maximize your savings. Consider the following options to manage your finances.

| Retirement Savings Option | Savings Strategy |
| --- | --- |
| 401(k) | A 401(k) plan is a retirement account offered by employers that features tax breaks and different investment options. In addition, employers will often match your contributions. A 401(k) can help you reduce your taxable income to be placed in a lower tax bracket while growing your retirement funds. |
| Traditional IRA | You can invest your traditional IRA in stocks and bonds, while also earning interest with tax-deferred earnings. This is a great alternative if you don't have access to a 401(k). |
| Roth IRA | You have multiple saving strategies with Roth IRAs. Roth IRAs can help you manage investments, like stocks and bonds, while earning interest with tax-free earnings. |
| I Bonds | Since I bonds offer a fixed interest rate that changes with inflation, it can prevent your savings from losing purchasing power. This strategy works best for reaching long-term goals since they can earn interest for up to 30 years. |

Avoiding Financial Scams

There are common banking scams for retirees to be wary of. If you learn to recognize these scams, you can better avoid them and help protect your retirement funds.

4 Common Banking Scams

Overpayment Scams

The scammer will send you a fake check to deposit and request you wire part of the money back to them. Since the check is fake, you'd still need to pay your bank the amount of the check —meaning you'd lose the funds you wired to the scammer. Be suspicious if someone requests you to wire back a portion of a check.

Unsolicited Check Fraud

Some scammers will send you a check for no reason. If you cash it, you could accidentally authorize a purchase or loan. Never deposit checks from strangers or companies you don't recognize.

Automatic Withdrawals

The scammer will set up automatic withdrawals from your bank account in promises of a fake free trial or prize. Be wary of lotteries or free trials that request your bank number.

Phishing Emails

The scammer will send you an email looking like it's from a legitimate bank requesting you to verify your bank account or debit number. Don't input this information on a cold-call email; contact your bank instead.

Senior Scams: The Complete Guide

Beat the Bank With Fixed Annuity Rates As High As 6%

Start with a zero-commitment conversation to learn how annuities can help fund your retirement.
*Ad: Clicking will take you to our partner Annuity.org.

Banking for Seniors FAQs

Editor Malori Malone contributed to this article.

Advertisement

Connect With a Financial Advisor Instantly

Our free tool can help you find an advisor who serves your needs. Get matched with a financial advisor who fits your unique criteria. Once you've been matched, consult for free with no obligation.

Last Modified: May 16, 2023

Share This Page

10 Cited Research Articles
Who Am I Calling?
Calling this number connects you to one of our trusted partners.
If you're interested in help navigating your options, a representative will provide you with a free, no-obligation consultation.
Our partners are committed to excellent customer service. They can match you with a qualified professional for your unique objectives.
We/Our Partners do not offer every plan available in your area. Any information provided is limited to those plans offered in your area. Please contact Medicare.gov or 1-800-MEDICARE to get information on all of your options.
844-359-1705
Your web browser is no longer supported by Microsoft. Update your browser for more security, speed and compatibility.
If you need help pricing and building your medicare plan, call us at 844-572-0696