RetireGuide Launches Medicare Coverage Simulator
Written by

Christian Simmons

Christian Simmons

Financial Writer

Christian Simmons is a writer for RetireGuide and a member of the Association for Financial Counseling & Planning Education (AFCPE®). He covers Medicare and important retirement topics. Christian is a former winner of a Florida Society of News Editors journalism contest and has written professionally since 2016.

Read More

Edited By

Lee Williams

Lee Williams

Senior Financial Editor

Lee Williams is a professional writer, editor and content strategist with 10 years of professional experience working for global and nationally recognized brands. He has contributed to Forbes, The Huffington Post, SUCCESS Magazine, AskMen.com, Electric Literature and The Wall Street Journal. His career also includes ghostwriting for Fortune 500 CEOs and published authors.

Read More

Published: October 11, 2021
1 min read time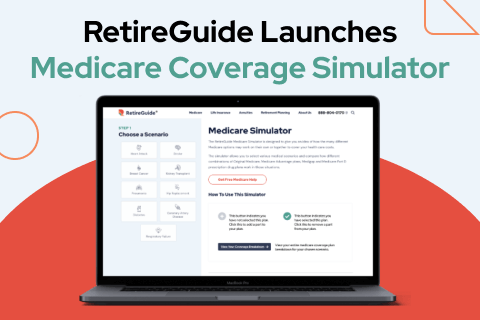 RetireGuide recently launched its new Medicare Coverage Simulator, giving readers the opportunity to better understand how the various Medicare options work together and how they will be covered.
The simulator lets users select various medical scenarios to test how different coverage options, combinations and types of Medicare would work to cover them.
"Our Medicare Simulator is a great way to learn how different Medicare plans work separately or together to cover your hospital and medical costs," said Terry Turner, senior writer for RetireGuide. "It gives you hypothetical examples as to how Original Medicare, Medicare Advantage, Medicare Part D and Medigap plans – sometimes used in combinations – can change how much you may have to pay out of your own pocket for different, major health conditions."
Medicare can be a complex topic to understand, but the simulator can help keep things simple. You start by selecting a scenario, like a stroke or heart attack, to learn how different Medicare options will react and see a full breakdown of how much money you would owe.
It's a straightforward process to identify the types of coverage you might need.
"This can give you a clearer understanding of how these plans work when you talk to Medicare or a private insurer about different Medicare coverage options," Turner said.
There are two main types of Medicare: Original Medicare from the federal government and Medicare Advantage from private insurers. The simulator covers both, as well as other types like Part D or Medigap, to help you better understand your options and make the right choice for your health care in retirement.
Who Am I Calling?
Calling this number connects you to one of our trusted partners.
If you're interested in help navigating your options, a representative will provide you with a free, no-obligation consultation.
Our partners are committed to excellent customer service. They can match you with a qualified professional for your unique objectives.
We/Our Partners do not offer every plan available in your area. Any information provided is limited to those plans offered in your area. Please contact Medicare.gov or 1-800-MEDICARE to get information on all of your options.
888-694-0290
Your web browser is no longer supported by Microsoft. Update your browser for more security, speed and compatibility.
If you need help pricing and building your medicare plan, call us at 844-572-0696