Does Medicare Cover Surgery?
Medicare covers surgeries that are deemed medically necessary. This means that procedures like cosmetic surgeries typically aren't covered. Medicare Part A covers inpatient procedures, while Part B covers outpatient procedures. Your out-of-pocket costs will depend on several factors, including where the surgery takes place.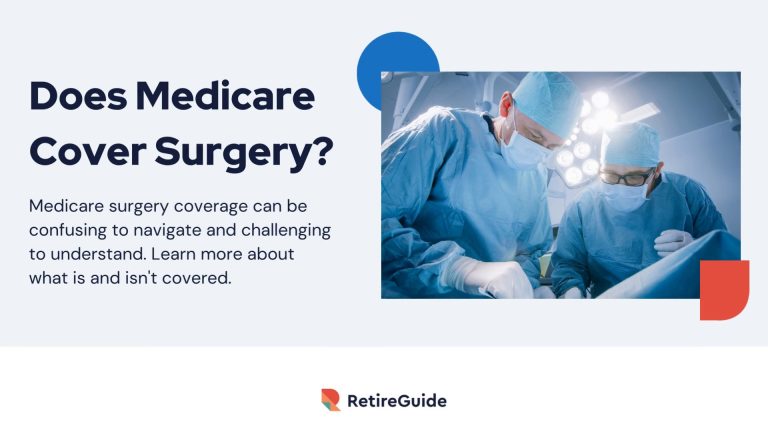 Written by

Christian Simmons

Christian Simmons

Financial Writer

Christian Simmons is a writer for RetireGuide and a member of the Association for Financial Counseling & Planning Education (AFCPE®). He covers Medicare and important retirement topics. Christian is a former winner of a Florida Society of News Editors journalism contest and has written professionally since 2016.

Read More

Edited By

Savannah Pittle

Savannah Pittle

Senior Financial Editor

Savannah Pittle is a professional writer and content editor with over 16 years of professional experience across multiple industries. She has ghostwritten for entrepreneurs and industry leaders and been published in mediums such as The Huffington Post, Southern Living and Interior Appeal Magazine.

Read More

Published: June 30, 2021
Updated: October 23, 2023
11 min read time
This page features 14 Cited Research Articles
Surgery Coverage at a Glance
| Medicare Plan | Surgery Coverage |
| --- | --- |
| Part A (Inpatient) | Covers surgery and Medicare-approved costs of your hospitalization after you have reached your Part A deductible. You'll also owe 20% of the doctor's charges and are responsible for coinsurance costs for stays beyond 60 days. |
| Part B (Outpatient) | Covers 80% of comprehensive outpatient surgery, plus any drugs, laboratory tests or other services you may receive, after you have reached your Part B deductible. |
| Part C (Medicare Advantage) | Costs for surgeries vary by plan. |
| Part D (Prescription Drugs) | N/A |
| Supplemental Insurance | Can help cover surgery costs not covered by Medicare. Coverage varies by plan. |
Understanding Medicare Surgery Coverage
Medicare surgery coverage can be confusing to navigate and challenging to understand.
Surgery is one of several treatments covered under Medicare. A procedure must be considered medically necessary to qualify for coverage. This means the surgery must diagnose or treat an illness, injury, condition or disease or treat its symptoms.
It's difficult to determine exactly how much you'll owe out-of-pocket because so many factors influence surgery cost.
Original Medicare coverage is split into Parts A and B. Part A will cover inpatient surgeries and hospital stays, while Part B covers outpatient procedures. Your Medicare coverage and out-of-pocket costs are different for inpatient and outpatient surgeries.
Just because you receive surgery in a hospital does not mean that you are by default considered inpatient. Whether you are an inpatient or outpatient can play a dramatic role in your costs.
Factors That Impact Your Surgery Cost With Medicare
Whether the surgery is considered inpatient or outpatient.
Where the surgery takes place. (For example, it may be cheaper to undergo outpatient surgery at an ambulatory surgical center than in a hospital outpatient department.)
What part of the country you live in.
How many doctors perform your surgery.
If you have any supplement insurance, such as Medicaid or a Medigap policy.
If you've already met your Part A or Part B deductibles.
If treatment includes more than one procedure or if complications arise after surgery.
It is important to make sure that the doctor performing your surgery accepts Medicare assignment. This means the doctor agrees to accept the Medicare-approved cost for the procedure and won't bill you anything besides a copayment or coinsurance fee. If your doctor does not accept Medicare, you may have to pay the entire cost.
Have you selected your 2024 Medicare plan?
Maximize your Medicare savings by connecting with a licensed insurance agent. Annual Enrollment is open until December 7th.
Surgeries and Procedures Covered Under Medicare
Original Medicare covers many surgeries and procedures. The guiding principle is that they must be medically necessary procedures. If a surgery is critical to your health or wellbeing, then Medicare will typically cover it.
Example Surgeries and Procedures Covered By Medicare
Hysterectomy

Medicare will cover a hysterectomy if the surgery is a medical necessity. This does not include undergoing the procedure to prevent future pregnancy. Any other elective reason behind receiving the surgery will also prevent it from being covered.

An outpatient laparoscopic total hysterectomy is estimated to cost Medicare beneficiaries $943 out-of-pocket at an ambulatory surgical center, while the same procedure can cost $1,669 at a hospital outpatient department, according to Medicare's Procedure Price Lookup tool.

Total Knee Replacement

Medicare will usually cover a knee replacement surgery. Typically, a knee replacement requires you to stay in the hospital for one to four days. Medicare Part A will cover a share of certain approved costs during your stay. Part B will cover associated costs, including for doctor visits before and after surgery and physical therapy sessions.

Medicare's Procedure Price Lookup tool estimates that a total knee replacement will cost Medicare beneficiaries $2,015 at an ambulatory surgery center versus $1,748 at a hospital outpatient department.

Mastectomy

Medicare covers mastectomy surgery when medically necessary and used to treat breast cancer. Medicare also pays for some post-mastectomy supplies, including mastectomy bras and breast prostheses.

An outpatient partial mastectomy is estimated to cost between $389 and $761 out of pocket, according to Medicare's Procedure Price Lookup tool. In contrast, a modified radical mastectomy — a more complex version that involves removing the lymph nodes and some chest muscles — averages between $694 and $1,350.

Anesthesia

Medicare covers most of the costs of anesthesia for surgery. Costs are covered through Part A if you are and inpatient and under Part B if you are an outpatient or in an ambulatory surgical center. You may still be responsible for a portion of the Medicare-approved costs, and you may have to pay an additional copayment to the facility.
Does Medicare Cover Outpatient Surgery?
Outpatient surgery refers to a procedure a doctor performs without formally admitting you into the hospital. Outpatient procedures usually take place in a doctor's office, an ambulatory surgical center or a hospital.
Medicare Part B covers outpatient surgery. Typically, you pay 20% of the Medicare-approved amount for your surgery, plus 20% of the cost for your doctor's services.
The Part B deductible applies ($240 in 2024), and you pay all costs for items or services Medicare doesn't cover.
You usually also pay the hospital a facility fee copayment and 20% for each service you receive in a hospital outpatient setting.
Medicare Costs Associated with Outpatient Surgery
You pay 20% of the total cost.
You must meet your Part B deductible.
You may be required to pay a copayment to the hospital.
However, there's an exception for costly surgical procedures. For these comprehensive procedures, you pay 20% of the entire cost, including the surgery plus any drugs, laboratory tests or other services you may receive.
If you are billed for separate services, your copayment for each service can't exceed the Part A deductible ($1,632 in 2024).
Tip
Medicare's online Procedure Price Lookup tool lets you compare average out-of-pocket costs for certain surgeries performed in both hospital outpatient departments and ambulatory surgical centers.
It's important to note that all estimates from Medicare's Procedure Price Lookup are based on Original Medicare coverage without supplement insurance, such as Medicaid or a Medigap policy.
These estimates also don't apply to beneficiaries with Medicare Advantage. If you have a Medicare Advantage plan, talk to your plan provider about outpatient surgery costs.
Ambulatory Surgical Centers
As outpatient surgery grows more popular in the United States., so too have ambulatory surgical centers — non-hospital facilities where certain procedures are performed for patients who aren't expected to need more than 24 hours of care.
According to the National Law Review, studies show that ambulatory surgical centers "offer consistently lower costs than hospitals, providing strong incentives for patients to shift their site of care."
The U.S. Centers for Medicare & Medicaid Services (CMS) has also increased the number of procedures that can be performed at ambulatory surgery centers. A CMS outpatient payment rule added 267 additional procedures eligible for reimbursement, which started in 2021.
As is clear, where your outpatient surgery takes place matters and can significantly impact your out-of-pocket costs.
3 Minute Quiz: Can You Retire Comfortably?
Take our free quiz & match with a financial advisor in 3 easy steps. Tailored to your goals. Near you or online.
Does Medicare Cover Inpatient Surgery?
Medicare Part A covers expenses related to inpatient hospital stays and surgeries.
Typically, you'll receive an all-inclusive package of services when you're admitted to the hospital and pay the Part A deductible of $1,632 for a stay of up to 60 days.
You'll also owe 20% of the doctor's charges.
Medicare Part A Out-of-Pocket Costs for Inpatient Hospital Stays
$1,632 deductible for each benefit period.
Days 1–60: $0 coinsurance for each benefit period.
Days 61–90: $408 coinsurance per day of each benefit period.
Days 91 and beyond: $816 coinsurance per each lifetime reserve day (up to 60 days over your lifetime).
Beyond lifetime reserve days: All costs.
It's important to note that you may owe the Part A deductible multiple times in a single year.
Medicare Part A deductibles work differently than most health insurance deductibles. Usually, you have one deductible for the entire year, and you pay that amount out-of-pocket before your insurance kicks in. Then your deductible resets the following year.
Medicare Part A uses what's known as benefit periods. A benefit period begins the day you go into the hospital and ends when you've been out of the hospital for 60 days in a row.
Tip
You can check your benefit period and Part A deductible by logging into your online
My Medicare
account. You can also find this information in your Medicare summary notice, which is mailed out every three months.
If you're readmitted to the hospital 60 days or more after you were discharged, then a new benefit period begins, and you'll owe the $1,632 Part A deductible again.
Medicare Advantage Coverage for Surgery
Medicare Advantage plans are administered by private companies that contract with the federal government. Plans must include the same basic care as Original Medicare but often bundle other benefits — such as vision and dental — into a single plan.
Medicare Advantage plans may require you to use hospitals and doctors within the plan's network for your surgery. Prior authorization is usually required.
Medicare Advantage plans may also have different deductibles, coinsurance and copayments for surgery than Original Medicare.
For example, the AARP Medicare Advantage Choice (PPO) plan features a $295 per day coinsurance payment for inpatient hospital care (days one through six). This is in addition to the standard Medicare Part A deductible of $1,632 in 2024.
After day six, there are no coinsurance payments with this plan.
A different Medicare Advantage plan — UnitedHealthcare Dual Complete® RP (Regional PPO D-SNP) — features $0 copayments for each Medicare-covered hospital stay for unlimited days, as long as the hospital is within the plan's network.
In contrast, Original Medicare's inpatient hospital policy features a $0 coinsurance payment for the first 60 days of inpatient care after you meet the Part A deductible.
Contact your specific Medicare Advantage plan's customer service department or consult your annual evidence of coverage manual for details about inpatient and outpatient surgery coverage.
Never Miss Important News or Updates with Our Weekly Newsletter
Get money-saving tips, hard-to-find info and tactics for a successful retirement in our free weekly newsletter.
How To Estimate Your Surgery Cost With Medicare
Talking to your doctor and health care team about costs prior to surgery is a good way to avoid surprise billing.
Call the hospital or facility and ask them to tell you about the copayment for the specific surgery or procedure your doctor will perform. Ask if they charge a facility fee.
Make sure to also ask your doctor, surgeon or other health care provider what kind of care or services you may need after your procedure — along with a cost estimate.
Questions to Ask Your Doctor Prior to Surgery
Is this procedure covered by Medicare?
Which hospitals or ambulatory surgical centers do you work with when you perform this type of procedure?
Which facility is the best place for me to get this surgery?
Does the facility you recommend participate in Medicare?
Do I need permission (such as prior authorization or a referral) before my operation?
While it's important to get an estimate in advance of non-emergency surgery, it's also important to understand that estimates are not always accurate. In fact, according to Kaiser Health News, hospital estimates are often inaccurate and there is no legal obligation that they be correct.
But even if your bill ends up higher than expected, having an estimate is useful. It can help you make the argument with your provider and Medicare that you shouldn't be charged more than you expected.
Surgical Procedures Not Covered Under Medicare
A surgery must be considered medically necessary to qualify for Medicare coverage.
Investigational procedures typically aren't covered.
Medicare generally won't cover cosmetic surgery either unless it repairs an accidental injury or improves the function of a malformed body part.
For example, rhinoplasty to correct a malformed nasal passage and chronic breathing issues can simultaneously improve the appearance of your nose. Or a procedure that removes excessive eye skin to improve vision may also make your eyelids appear less droopy.
Examples of Cosmetic Procedures Covered by Medicare
Surgery to treat severe burns.
Surgery to repair the face after a serious car accident.
Therapeutic surgery that coincidentally serves a cosmetic purpose.
It's important to note that Medicare does cover breast reconstruction procedures following a mastectomy or lumpectomy. Medicare doesn't consider these procedures to be cosmetic surgeries.
FAQs About Surgery Costs with Medicare
Advertisement
Connect With a Financial Advisor Instantly
Our free tool can help you find an advisor who serves your needs. Get matched with a financial advisor who fits your unique criteria. Once you've been matched, consult for free with no obligation.
Last Modified: October 23, 2023
Share This Page
14 Cited Research Articles
Who Am I Calling?
Calling this number connects you to one of our trusted partners.
If you're interested in help navigating your options, a representative will provide you with a free, no-obligation consultation.
Our partners are committed to excellent customer service. They can match you with a qualified professional for your unique objectives.
We/Our Partners do not offer every plan available in your area. Any information provided is limited to those plans offered in your area. Please contact Medicare.gov or 1-800-MEDICARE to get information on all of your options.
888-694-0290
Your web browser is no longer supported by Microsoft. Update your browser for more security, speed and compatibility.
If you need help pricing and building your medicare plan, call us at 844-572-0696