Medicare's Coverage of Neurological Disorder Treatments
Many treatments for neurological disorders — like Parkinson's disease and Alzheimer's disease — are covered by Original Medicare, Medicare Advantage and Part D plans. If you require additional coverage, you might qualify for a Special Needs Plan (SNP).
Which Neurological Disorders Does Medicare Cover?
Original Medicare covers medically necessary therapeutic treatments, surgeries, blood transfusions and diagnostic tests for many neurological disorders.
According to the World Health Organization (WHO), neurological diseases affect hundreds of millions of people worldwide. Below are some examples of common neurological disorders affecting Medicare beneficiaries.
Common Neurological Disorders
Alzheimer's Disease

Alzheimer's is a type of progressive dementia that affects memory retention and motor skills. In 2021, the Alzheimer's Association estimated that 6.2 million Americans over age 65 were living with the disease.

Parkinson's Disease

A disorder of the nervous system that can worsen over time, causing tremors, stiffness and impaired balance. Nearly one million Americans are living with Parkinson's disease. The Parkinson's Foundation estimates that 96% of diagnoses occur in individuals over the age of 50.

Amyotrophic Lateral Sclerosis (ALS)

ALS attacks nerve cells in your brain and spinal cord, weakening the muscles in your limbs and lungs. This leads to symptoms like trouble walking, running, speaking and writing and eventually respiratory failure.

Multiple Sclerosis

Multiple sclerosis is a disease attacking the central nervous system. The immune system attacks the protective covering around your nerves, resulting in nerve damage and blocked messages between your brain and body.

Brain Cancer

Brain cancer is a growth of abnormal cells in your brain. In 2018, there were an estimated 173,438 Americans living with brain and other nervous system cancers. The disease is most frequently diagnosed in people ages 65 to 74.

Epilepsy

A chronic disorder associated with abnormal electrical activity in the brain. Epilepsy can cause periods of lack of sensation, loss of consciousness and convulsions.

Dystonia

A disorder that causes involuntary muscle contractions of repetitive movements or abnormal postures.
Don't Leave Your Health to Chance
You've worked hard your whole life by thinking ahead. Now do the same for your health. Get free Medicare help to plan your future.
Which Neurological Disorder Treatments Does Medicare Cover?
Commonly covered treatments for neurological disorders include physical, occupational and speech therapy services. There are also covered treatments that are tailored for specific neurological disorders. Your coverage for specific treatments will vary by the type of neurological disorder you have.
For example, Medicare covers deep brain stimulation (DBS) if you have Parkinson's disease. DBS, a surgical procedure targeting brain activity with implanted electrodes and batteries to stimulate motor function, is the most common procedure for Parkinson's patients. But, if you have dementia, DBS could worsen your condition and therefore is not covered by Medicare.
Medicare Advantage plans bundle everything included in Original Medicare plus, typically, additional drug coverage and services. There could be benefits to choosing a Medicare Advantage plan, such as possible lower out-of-pocket costs for your neurological treatments than offered by Original Medicare, if you have a neurological disorder.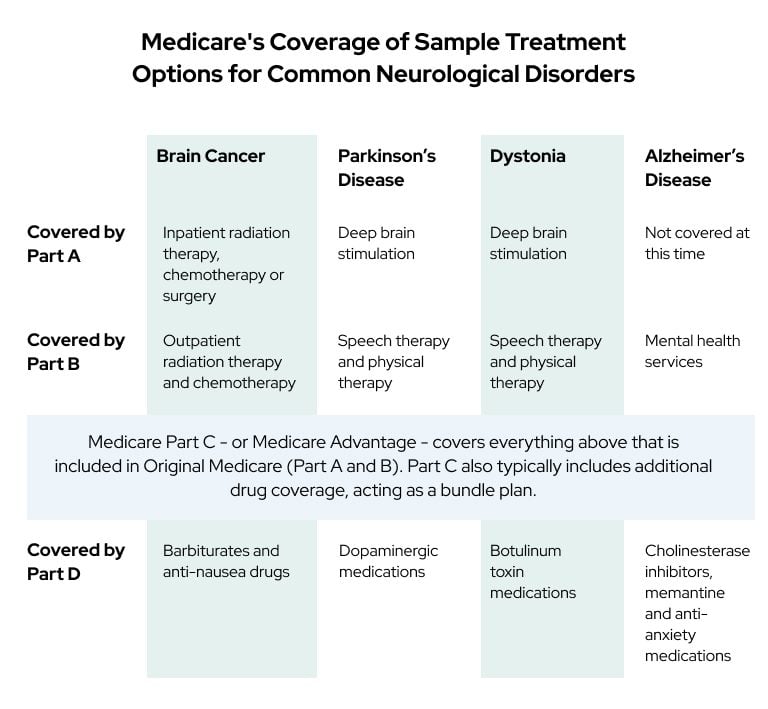 Coverage is subject to any copays, deductibles and/or benefit period rules you must meet before coverage begins. Whether you receive your treatments in an inpatient or outpatient facility can change your out-of-pocket costs.
Part A Coverage
Medicare Part A will cover your inpatient hospital costs for neurological treatments for up to 60 days once you've paid your deductible. Mental health inpatient stays are also covered for up to 60 days.
In 2022, there is a $1,556 deductible for each benefit period.
Part A also covers your surgeries, blood transfusions and inpatient therapeutic treatments. Some partial home health services, including part time skilled nursing care, are available as well. Deep brain stimulation surgeries are covered if you have Parkinson's or dystonia.
Additionally, biofeedback training has shown positive improvement for some neurological disorders, like epilepsy. Biofeedback training can be done at a hospital or a doctor's office, making it possible to be covered by Part A or Part B, depending on where you choose to get treatment. According to the U.S. Centers for Medicare & Medicaid Services, Medicare only covers biofeedback training if it's deemed medically necessary.
Part B Coverage
Medicare Part B covers 80% of your medically necessary neurological services and treatments, including telehealth options, outpatient therapy and durable medical equipment (DME) once you pay your $233 deductible in 2022.
Part B covers diagnostic and preventative testing, including brain scans and laboratory tests.
Part B also covers all approved durable medical equipment (DME). This equipment includes canes, walkers, wheelchairs and mobility scooters.
Your doctor must deem your service, treatment or equipment medically necessary to be covered by Part B.
Did You Know?
Medicare Part B covers initial diagnostic testing for neurological disorders with a cognitive assessment. A primary doctor or a neurologist can complete the assessment. Patients can bring a loved one or caregiver with them to help provide the doctor information during their cognitive assessment.
Medicare Advantage Coverage
Medicare Advantage plans are an all-in-one option for neurological treatments, covering everything included in Part A and B, typically along with drug coverage and extra benefits.
There are notable differences between Original Medicare and Medicare Advantage plans, such as needing to use in-network doctors or providers and requiring a referral for specialists for some Part C plans.
According to the Alzheimer's Association, Medicare beneficiaries can spend up to $11,571 in out-of-pocket costs for Alzheimer's and dementia-related neurological conditions. Medicare Advantage can have lower out-of-pocket costs, which can be extremely beneficial for expensive treatments and medications.
Part D Coverage
Medicare Part D covers drugs for neurological disorders, though coverage varies by plan.
To illustrate, consider cholinesterase inhibitors — a group of drugs used to treat Alzheimer's and dementia symptoms. Part D plans must cover at least one type of cholinesterase inhibitor, but it's up to the plan which drug they choose to cover. It's best to confirm coverage of any specific medication with your plan administrator to reduce unexpected or extra costs.
According to a WHO study, nearly one in six people across the globe suffer from a neurological disorder. Since many of these disorders still don't have a cure and rely on medications for treatment, Part D can be a crucial component of your Medicare coverage.
Gaps in Coverage for Neurological Disorder Treatments
Depending on your neurological disorder, severe symptoms may require extra services not covered by Original Medicare. Several services that aren't covered include extended nursing home stays, custodial care, help with daily living tasks and meal delivery.
Original Medicare also lacks prescription drug coverage. But there are options to fill coverage gaps, like a Medicaid plan for qualifying low-income individuals.
Medicaid plans can help with coverage gaps for things like personal care, transportation to medical services and medications. You can be dually eligible for both Medicare and Medicaid.
Medicare Special Needs Plans
You can qualify for a Special Needs Plan (SNP) plan for various reasons, including living in an institution like a nursing home, being dually eligible for Medicare and Medicaid or having specific chronic conditions.
An SNP plan includes tailored care plans, treatment and medications for your specific neurological disorder. A personal emergency response system and transportation assistance may also be included.
There are specific SNP plans, such as a Chronic Condition SNP plan (C-SNP), that you can qualify for if you have a specific severe or disabling neurological disorder. There are several qualifying neurological disorders for a C-SNP, including dementia, brain cancer, ALS, epilepsy, extensive paralysis and multiple sclerosis.
People who are dually eligible for Medicare and Medicaid can enroll in a Dual Eligible Special Needs Plan (D-SNP), which can give you tailored benefits for your specific neurological disease.
Tip
You can use the
Medicare Plan Finder
to find an appropriate SNP plan with additional coverage in your area.
Source: U.S. Centers for Medicare & Medicaid Service
Last Modified: April 15, 2022
Share This Page
24 Cited Research Articles