What Is Medicare Select?
Medicare SELECT is a type of Medigap plan that requires you to use specific hospitals and sometimes doctors in the plan's network to receive full benefits under the plan. The networks are meant to keep costs lower and because of this, Medicare Select premiums may be lower than other Medigap plans.
Written by

Terry Turner

Terry Turner

Senior Financial Writer and Financial Wellness Facilitator

Terry Turner has more than 35 years of journalism experience, including covering benefits, spending and congressional action on federal programs such as Social Security and Medicare. He is a Certified Financial Wellness Facilitator through the National Wellness Institute and the Foundation for Financial Wellness and a member of the Association for Financial Counseling & Planning Education (AFCPE®).

Read More

Edited By

Lee Williams

Lee Williams

Senior Financial Editor

Lee Williams is a professional writer, editor and content strategist with 10 years of professional experience working for global and nationally recognized brands. He has contributed to Forbes, The Huffington Post, SUCCESS Magazine, AskMen.com, Electric Literature and The Wall Street Journal. His career also includes ghostwriting for Fortune 500 CEOs and published authors.

Read More

Reviewed By

Kim Krebs-Murnane

Kim Krebs-Murnane

Licensed Agent at Insuractive

Kim Krebs-Murnane joined the Insuractive team as a licensed agent in 2018 and has stayed busy helping her clients meet their insurance needs ever since. She is currently licensed to sell insurance in over 40 states.

Read More

Published: November 24, 2020
Updated: May 8, 2023
4 min read time
This page features 4 Cited Research Articles
What Is a Medicare SELECT Plan?
Medicare SELECT is a special type of Medicare Supplement insurance, or Medigap, plan that is only available in certain states. Medicare SELECT policies can be any one of the regular, standardized Medigap plans.
Medicare SELECT Availability
To find out if Medicare SELECT is available in your area, contact your Medigap policy provider or use the
Medigap plan finder
online at Medicare.gov.
Source: U.S. Centers for Medicare & Medicaid Services
Like other Medigap policies, Medicare SELECT plans are sold by private insurers that contract with the U.S. Centers for Medicare & Medicaid Services, the agency that administers Medicare across the United States.
How Does Medicare SELECT Work?
Medicare SELECT plans may cost less than other Medigap policies, but they typically require you to see certain doctors or use certain hospitals for non-emergency services.
If you see a doctor or go to a hospital outside your Medicare SELECT's network, you will have to pay some or all of what Medicare does not pay. Medicare will still pay its share of approved expenses. But the Medicare SELECT plan is not required to cover all of your out-of-pocket expenses.
The restrictions usually don't apply in the event of a medical emergency.
A Medicare SELECT policy also may require you to get a referral from your primary care doctor before you can see a specialist.
Medicare SELECT vs. Medigap
Medicare SELECT is a type of Medigap policy. Medigap is Medicare Supplement insurance that covers certain out-of-pocket expenses that Original Medicare — Medicare Part A and Part B — don't cover.
These expenses include copayments, coinsurance, deductibles, emergency expenses when traveling, hospice care and doctor bills beyond the amounts Medicare agrees to pay.
The main difference between regular Medigap and Medicare SELECT is that you have to use the network of doctors and hospitals in your Medicare SELECT plan before it pays full benefits. Regular Medigap policies will pay so long as you go to doctors and hospitals that accept Medicare.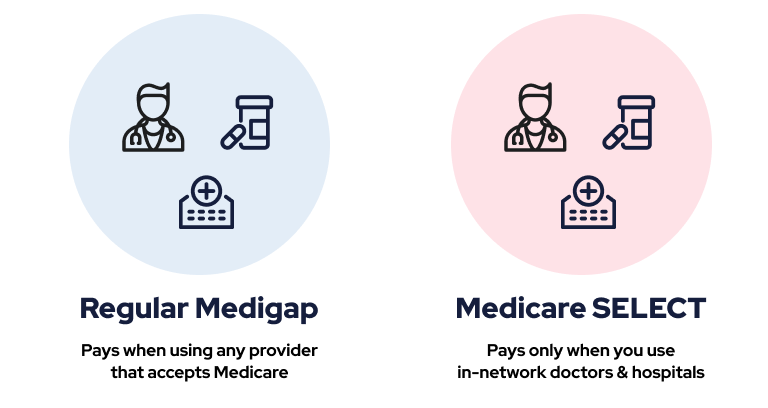 You cannot have a Medicare Advantage plan if you have a Medicare SELECT policy or any other Medigap plan.
How to Get a Medicare SELECT Plan
You can only enroll in a Medicare SELECT policy if the plans are offered in your state.
Before enrolling in a Medicare SELECT plan, you first have to enroll in Medicare Part B. You will then have to contact a private insurer that sells Medicare SELECT policies.
The best time to enroll in Medicare SELECT is during your Medigap Open Enrollment Period that begins with the month you are 65 or older and enrolled in Part B. During this period, you can't be denied coverage or charged extra because of your health conditions. If you miss this window, you can enroll at any other time of the year, but you will have to go through medical underwriting.
Considerations Before Buying a Medicare SELECT Policy
Are the savings on premiums worth the potential costs if you have to go out of network for health care?
Are your doctors, hospitals and other providers in the policy's network?
Are you willing to give up additional benefits that may come with a regular Medigap policy?
How important is it to you to choose specialists you may need to see?
How often do you travel outside the Medicare SELECT policy's coverage area?
If you buy a Medicare SELECT policy, you have the right to switch to a standard Medigap policy within 12 months if you change your mind.
You cannot have a Medicare Advantage plan if you have a Medicare SELECT policy or any other Medigap plan.
What to Know About Medicare SELECT Policies Before You Move
If you have a Medicare SELECT policy and move to another area without Medicare Select, you will need to change policies.
How to Replace Medicare SELECT if You Move Out of Area
Buy a standardized Medigap policy from your current Medigap insurer. It can offer the same or fewer benefits, but not more benefits as your Medigap SELECT plan.
Exercise your guaranteed issue rights to buy certain standardized plans — Plans A, B, C, F, K or L — from any insurance company that's offered in the state you moved to.
Your guaranteed issue rights — also called "Medigap protections" — are protected rights you have requiring insurance companies to offer you certain Medigap policies in certain situations. They usually take effect when you lose health coverage or your health care coverage changes in some other way.
Last Modified: May 8, 2023
Share This Page
4 Cited Research Articles
Who Am I Calling?
Calling this number connects you to one of our trusted partners.
If you're interested in help navigating your options, a representative will provide you with a free, no-obligation consultation.
Our partners are committed to excellent customer service. They can match you with a qualified professional for your unique objectives.
We/Our Partners do not offer every plan available in your area. Any information provided is limited to those plans offered in your area. Please contact Medicare.gov or 1-800-MEDICARE to get information on all of your options.
888-694-0290
Your web browser is no longer supported by Microsoft. Update your browser for more security, speed and compatibility.
If you need help pricing and building your medicare plan, call us at 844-572-0696