Aetna Medicare Supplement
Aetna's Medicare supplement plans — or Medigap plans — help cover costs excluded from Original Medicare coverage. Aetna has seven different Medigap plans that help cover your copayments, coinsurance and deductibles. Key features include plan flexibility and affordability, however, it is not available in some states.
Aetna's Coverage for Medicare Supplement Insurance
Medicare supplement insurance plans help fill the gaps of Original Medicare by bringing down your out-of-pocket costs. For example, while Medicare Part B covers 80% of your medical services, a Medigap plan could help cover the remaining 20%. Each plan offers additional benefits that can make one better suited for you over another.
Aetna is a highly popular health insurance company that offers coverage for seven of the 10 Medigap plans available – A, B, D, G, N, C and F. To qualify for Aetna's Medigap plans, you must be enrolled in Original Medicare parts A and B and live in a state where the plans are offered.
Did You Know?
Medigap standard plan regulations vary in Massachusetts, Minnesota and Wisconsin. Confirm your coverage with your Medicare provider if you live in any of these states.
All Aetna Medigap plans offer nonrestrictive provider networks, allowing you to see any doctor who accepts Medicare patients. Additionally, you don't need a referral to see a specialist.
Aetna Medigap Plan Features
No rate increase during the first year if you pay your premiums on time.
Thirty-day flexibility, meaning you can cancel your plan within the first 30 days and receive a full refund if you're unhappy with your choice.
Consistency in benefits with a guaranteed renewal for the following year.
Not limited to a specific group of health care providers.
Freedom to select your own doctors.
Although Aetna also offers Medicare Advantage plans, you cannot combine them with a Medicare supplement plan. The Medicare Advantage plan exists to take the place of an Original Medicare plan. Aetna's Medicare supplement plan functions as an add-on for Original Medicare plans.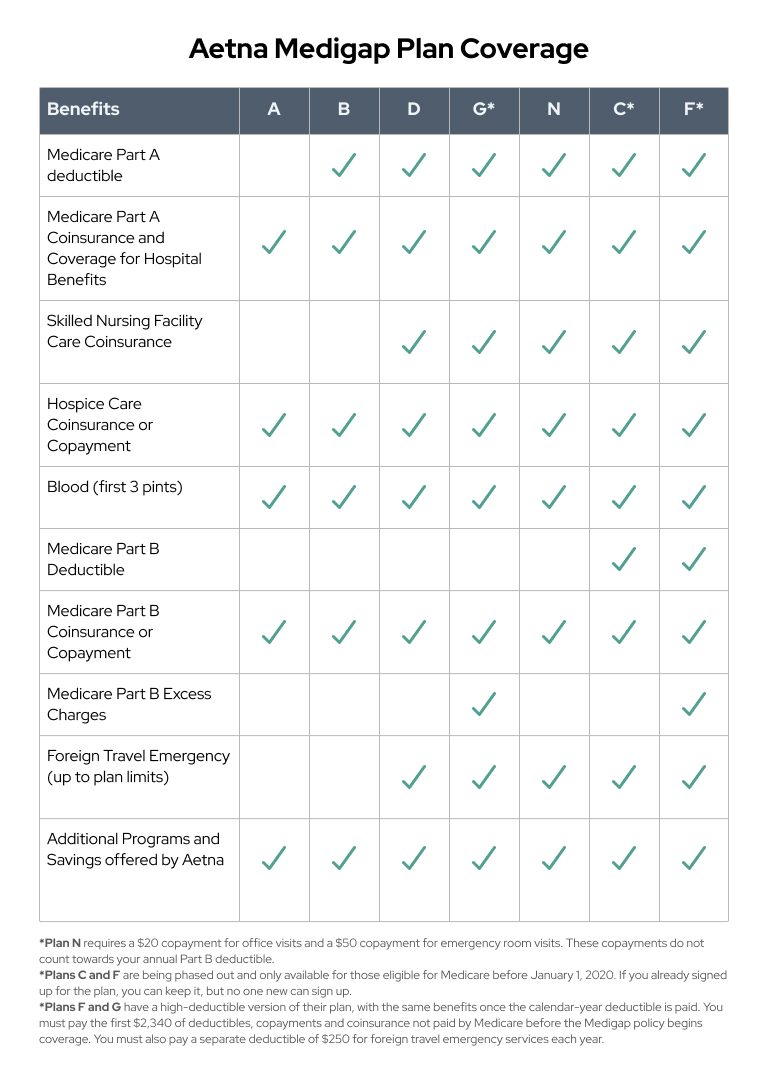 Do Aetna Medigap plans cover dental care and vision care?
No, but Aetna does offer Medicare Advantage plans that can cover dental and vision services.
Source: Centers for Medicare & Medicaid Services
Pros and Cons of Medicare Coverage from Aetna
While supplement plans can help reduce your health care costs, there are still advantages and disadvantages that come with choosing a Medigap plan from Aetna.
Pros and Cons
Pros
Highly rated on AM Best.
A large, trusted company with millions enrolled in plans.
No longer requires referrals and allowed to select your own doctors.
Most plans cover majority of out-of-pocket costs.
Travel insurance covers 80% of medically necessary care with a lifetime maximum benefit of $50,000 for some plans.
Cons
Does not offer all types of Medigap plans.
Wide price range for plans depending on age, gender and where you live.
Not available in some states.
Don't Leave Your Health to Chance
You've worked hard your whole life by thinking ahead. Now do the same for your health. Get free Medicare help to plan your future.
Average Costs of Medicare Supplement Insurance Plans From Aetna
The cost of Aetna's Medigap plans fluctuate depending on your age, gender and location.
Below is a sample of 2022 Medigap estimated costs for several states. These premiums are priced for women who are 65 years old and in their enrollment period.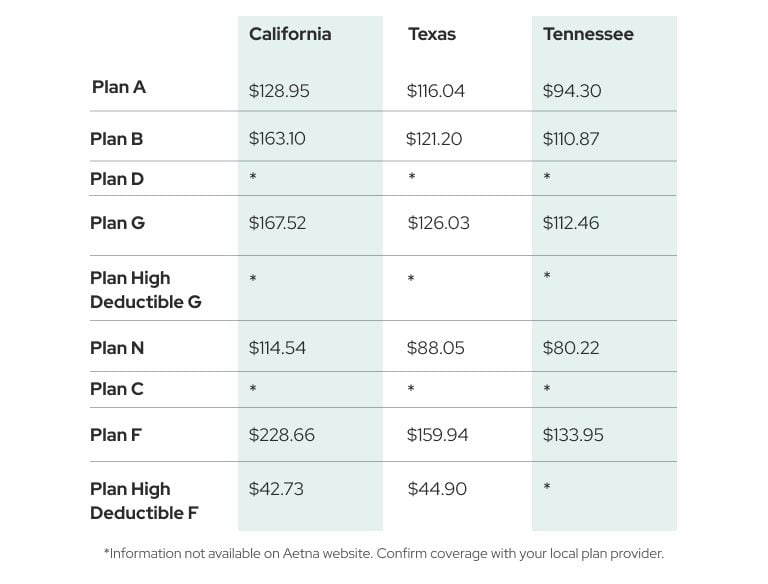 If you are still unsure about Aetna's Medicare Supplement plans, you can use the Medigap plan finder tool to help you find a plan best suited for your needs.
Last Modified: April 14, 2022
Share This Page
9 Cited Research Articles