Does Having Only Original Medicare Ever Make Sense?
You can choose to have only Original Medicare — Part A and Part B — without any supplemental coverage. But your overall out-of-pocket costs may be more expensive than the savings from the premiums you would pay for Medicare Advantage, Medigap and other supplemental plans.

Written by

Terry Turner

Terry Turner

Senior Financial Writer and Financial Wellness Facilitator

Terry Turner has more than 35 years of journalism experience, including covering benefits, spending and congressional action on federal programs such as Social Security and Medicare. He is a Certified Financial Wellness Facilitator through the National Wellness Institute and the Foundation for Financial Wellness and a member of the Association for Financial Counseling & Planning Education (AFCPE®).

Read More

Edited By

Lamia Chowdhury

Lamia Chowdhury

Financial Editor

Lamia Chowdhury is a financial content editor for RetireGuide and has over three years of marketing experience in the finance industry. She has written copy for both digital and print pieces ranging from blogs, radio scripts and search ads to billboards, brochures, mailers and more.

Read More

Reviewed By

Christian Worstell

Christian Worstell

Medicare Expert

Christian Worstell is a licensed health insurance agent and an established writer in the sector, with articles featured in Forbes, MarketWatch, WebMD and more. His work has positively impacted beneficiaries nationwide and empowers them to make strong health care decisions.

Read More

Published: January 13, 2023
Updated: January 17, 2023
7 min read time
This page features 8 Cited Research Articles
Key Takeaways
About one in five people enrolled in Original Medicare have no supplemental insurance.
Original Medicare beneficiaries without supplemental insurance pay an average of 31% higher out-of-pocket costs than those with some type of supplemental coverage.
Original Medicare does not cover most prescription drugs — which have risen faster than the overall rate of inflation between 2016 and 2022.
Can You Rely on Original Medicare Alone?
Relying on Original Medicare alone — without any supplemental insurance — can be a costly financial risk.
Some people may choose this option if they can't afford higher premiums. But it tends to cost more in the long run with higher overall out-of-pocket costs. And a sudden major medical condition or accident could make it an expensive choice.
Original Medicare — Medicare Part A and Part B — covers basic medical and hospitalization costs. These include doctor visits, hospitalization and several related services and items.
But Original Medicare doesn't cover every health care need and requires you to share the cost of the care you receive.
Examples of Out-of-Pocket Costs With Original Medicare Only
Part A deductible — $1,600 in 2023
Part B deductible — $226 in 2023
Copays and coinsurance (typically 20% after meeting your deductible)
Monthly Part B premium
Full cost of prescription drugs (with very limited exceptions)
Inpatient hospital coverage copays beyond 30 days
Without supplemental insurance, there is no limit on out-of-pocket expenses you might have to pay.
For instance, if you have heart surgery that costs $100,000 — you could be on the hook for $20,000 or more in out-of-pocket costs.
Medigap — also known as Medicare Supplement insurance — covers most out-of-pocket costs if you have Original Medicare. You can also add a Medicare Part D plan to help cover the costs of prescription drugs.
There are several different coverage combinations available to Medicare beneficiaries so it's important to determine which one may be the most cost-effective for your particular needs.
Medicare Advantage is another option to help with out-of-pocket costs. These plans replace Original Medicare and usually provide prescription drug coverage along with other benefits that Original Medicare does not include.
Medicare Advantage plans have varying maximum out-of-pocket (MOOP) limits, but it tops out at $8,300 in 2023.
Don't Leave Your Health to Chance
Find a local Medicare plan that fits your needs by connecting with a licensed insurance agent.
Candidates for Original Medicare Alone
Having only Original Medicare alone may be an option for Medicare beneficiaries with limited income who cannot afford higher premiums for supplemental insurance. But this could still leave you open to higher out-of-pocket costs.
For a 65-year-old couple retiring in 2022, total retirement lifetime health care costs are estimated to be $673,587, according to an analysis by HealthView Services.
Going with Original Medicare alone — without some type of supplemental Medicare insurance — not only exposes you to potentially high medical bills. It also exposes you to a late enrollment penalty if you later choose to add Medicare Part D prescription drug coverage.
If you miss your Medigap open enrollment period, you may also find it difficult, more expensive or impossible to get a Medigap plan if you change your mind later on.
But some people still choose to go without any supplemental insurance.
A 2021 analysis by the Kaiser Family Foundation determined that only about 90% of Medicare beneficiaries either had Original Medicare with some type of supplemental insurance — Medigap, Medicaid or employer-sponsored insurance — or had a Medicare Advantage plan in 2018. Medicare Advantage plans have a degree of built-in supplemental insurance.
But among people with Original Medicare, nearly one in five had no supplemental coverage.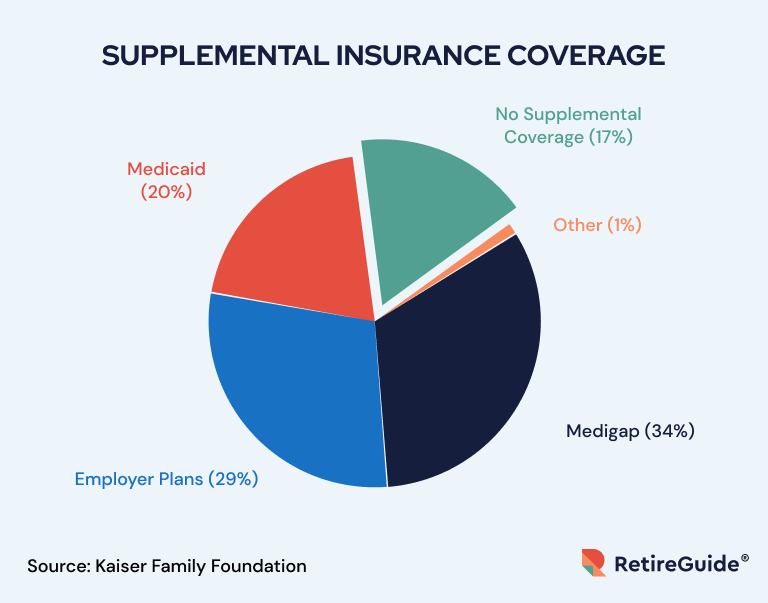 People with no supplemental coverage generally spend the least on premiums — $1,697 per year. But the most on total out-of-pocket costs — $7,473 per year — according to the Kaiser Family Foundation analysis. That's 31% more than the average out-of-pocket costs for people on all forms of supplemental insurance.
When Adding Supplemental Coverage Makes Sense
Adding supplemental coverage makes sense if it will reduce your out-of-pocket costs — including premiums, copays, coinsurance, deductibles and prescription drug costs.
The best plan or combination of plans depends on your health care needs.
Adding Medicare Supplemental Insurance (Medigap)
Medigap can be added to Original Medicare. It covers most of your out-of-pocket costs associated with Medicare.
It makes sense if you plan to travel. Most plans partially cover emergency medical services abroad. And all plans cover services anywhere in the United States so long as the doctor, hospital or other health care provider takes Medicare.
Medigap won't give you many additional benefits. It cannot be used to cover anything that is not covered under Medicare Part A and Part B already.
Adding Medicare Part D Prescription Drug Coverage
If you have a lot of prescriptions — or expensive prescriptions — it may make sense to add Medicare Part D prescription drug coverage.
Prescription drug prices have been rising faster than the overall inflation rate in recent years, according to the U.S. Department of Health and Human Services. HHS tracks the prices of 1,216 prescription drugs. It found that in a one-year period ending in July 2022, the average inflation rate for these drugs was 31.6% — compared to the overall 8.5% inflation rate.
Original Medicare and Medigap do not cover prescription drugs you take at home. Medicare Part D plans can reduce what you pay out-of-pocket for medications. But you should check a plan's formulary to make sure your medications are on the list — or if there is a substitute on the list you can take instead.
Replacing Original Medicare With Medicare Advantage
Medicare Advantage plans may be an attractive alternative to Original Medicare if you don't mind using doctors and hospitals in a limited network and want additional benefits. These may be a better option if you are in good health with no family or personal history of chronic or serious medical issues.
Medicare Advantage plans are private insurance policies designed to replace Original Medicare. They are required to cover everything Medicare Part A and Part B cover — but they typically provide more benefits.
Most plans come with Part D benefits built-in. Medicare Advantage plans may also cover hearing, dental and vision services along with other benefits.
You still have to pay Medicare Part B premiums in addition to any Medicare Advantage premium. But many Advantage plans have no premiums and some offer rebates — making them cheaper than Original Medicare premiums.
You can't have a Medigap plan with Medicare Advantage plans, so your out-of-pocket costs can be much higher than Original Medicare with Medigap.
Frequently Asked Questions About Having Only Original Medicare
Why would someone choose Original Medicare?
Original Medicare provides the greatest choice of doctors, hospitals and other health care providers. You can seek care from any provider so long as they accept Medicare — and about 99% of providers in the United States accept it, according to the Kaiser Family Foundation.
Does Medicare cover all costs for seniors?
Original Medicare does not cover all health care costs for seniors. While it covers most hospital and medical costs, you still have to pay premiums and a deductible — along with 20% of copays or coinsurance for doctor visits and other services or items after meeting your deductible. You also have copays for hospitalization beyond 30 days. You can add a Medigap plan that helps cover most out-of-pocket costs. Original Medicare does not cover most prescription drugs. You have to buy a Medicare Part D prescription drug plan to help cover the costs of your prescriptions. And Original Medicare does not cover long-term care costs. But, you can buy long-term care insurance from private insurers.
Are Medicare supplement plans necessary?
About 10% of Medicare beneficiaries do not have a Medicare supplement insurance plan (Medigap), a Medicare Advantage plan or some other type of supplemental insurance, according to the Kaiser Family Foundation. But the same analysis found that people without some form of supplemental insurance paid nearly a third more in out-of-pocket health care costs than the average spent by people with some type of supplemental insurance.
Editor Samantha Connell contributed to this article.
Last Modified: January 17, 2023
Share This Page
8 Cited Research Articles
Who Am I Calling?
Calling this number connects you to one of our trusted partners.
If you're interested in help navigating your options, a representative will provide you with a free, no-obligation consultation.
Our partners are committed to excellent customer service. They can match you with a qualified professional for your unique objectives.
We/Our Partners do not offer every plan available in your area. Any information provided is limited to those plans offered in your area. Please contact Medicare.gov or 1-800-MEDICARE to get information on all of your options.
888-694-0290
Your web browser is no longer supported by Microsoft. Update your browser for more security, speed and compatibility.
If you need help pricing and building your medicare plan, call us at 844-572-0696