Medicare Information
Medicare is a form of health insurance for seniors that is provided by the federal government. Original Medicare, which includes Part A and Part B for inpatient and outpatient care, is available to most Americans once they turn 65. Additionally, Medicare Advantage and Part D drug coverage are also available options through private insurers.
About Medicare
Medicare is managed by the U.S. Centers for Medicare & Medicaid Services (CMS). It is a federal program that is available to the majority of Americans once they turn 65.
Additionally, Medicare is available to younger people with disabilities or who fit specific health-related criteria like kidney failure. Medicare coverage varies depending on your needs and budget.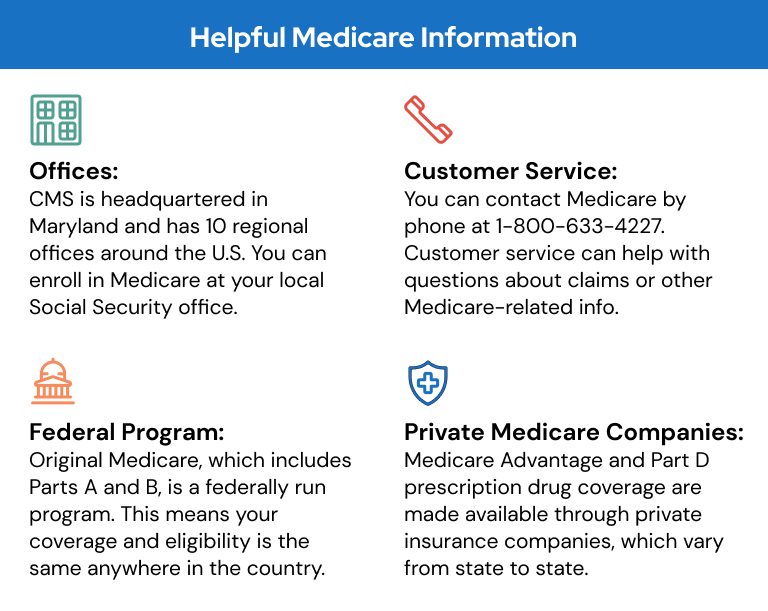 Medicare Coverage Plans and Costs
There are several different types of Medicare plans available to you. Original Medicare is provided through the federal government and is essentially the base form of coverage available. But there are also private options that can include expanded coverage, like Medicare Advantage or Part D prescription drug plans.
Don't Leave Your Health to Chance
You've worked hard your whole life by thinking ahead. Now do the same for your health. Get free Medicare help to plan your future.
Services, Conditions and Treatments
There are a wide variety of services, as well as conditions and treatments, that are covered by Medicare. However, Original Medicare coverage is not exhaustive and there are conditions and ailments that will not be covered. The general rule of thumb is that a condition or treatment must be considered a medical necessity for Medicare to cover it.
Services
Preventive Services

Original Medicare covers many preventive services like screenings, exams and some lab tests.

Ambulance Services

If you are in an emergency, then Medicare will cover your trip in an ambulance. There are some non-emergency scenarios where you can also be covered if it is medically necessary.

Specialty Care

Some specialty care, like physical therapy or speech-language pathology, can be covered by Medicare if it's medically necessary.
Conditions and Treatments
Diabetes

Medicare typically covers many services and treatments that are part of managing diabetes. Medicare also covers a prevention program for at-risk beneficiaries.

Rheumatoid Arthritis

Medicare can cover hospital stays and diagnoses related to rheumatoid arthritis, but you will likely need Part D for your medications to be covered.

High Blood Pressure

Medicare does cover blood pressure screenings and medically necessary treatment for blood pressure should be covered under Part B.

Respiratory Disease

Medicare covers certain rehabilitation programs for respiratory diseases, like chronic obstructive pulmonary disease.

Alzheimer's Disease

Medicare covers diagnostic services that can help detect Alzheimer's. Inpatient care related to Alzheimer's should also be covered under Part A.

Cancer

Most treatment related to cancer is typically covered by Medicare, from screenings to hospital stays and radiation or chemotherapy.

Chronic Care Management

Medicare can pay for chronic care management if you have two or more chronic conditions.
What's Not Covered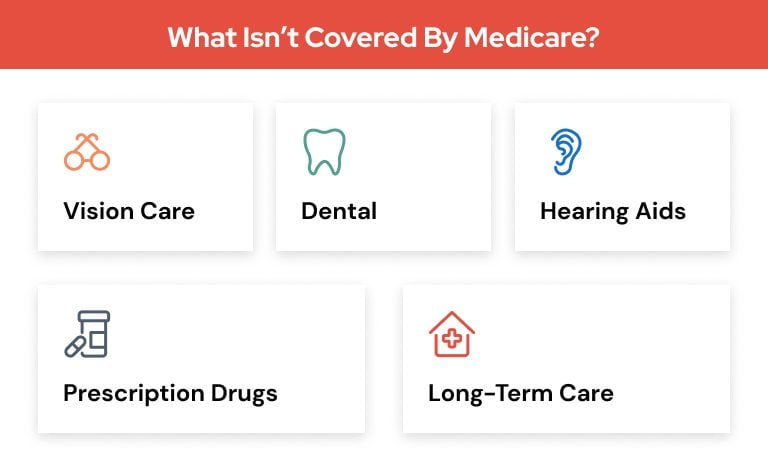 The following is not covered by Medicare:
Vision Care

Original Medicare does not include vision care like eye exams, but coverage is often available through Medicare Advantage plans.

Dental

Original Medicare doesn't cover dental care, including dentures, but many Medicare Advantage plans do.

Hearing Aids

Medicare does not cover hearing aids, but that coverage can be available through a Medicare Advantage plan.

Prescription Drugs

Available through a Part D plan. This can be purchased as a standalone plan or as a bundle with Medicare Advantage.

Long-Term Care

Medicare will not cover long-term care, like a prolonged stay at a nursing home; however, Medicaid can cover this.
Don't Leave Your Health to Chance
You've worked hard your whole life by thinking ahead. Now do the same for your health. Get free Medicare help to plan your future.
Eligibility Requirements
You must be 65 or older to qualify for Medicare. You can get it at a younger age in some rare circumstances or if you have a condition like Lou Gehrig's disease, also known as ALS.
You also must be a U.S. citizen or a permanent legal resident who has lived in the country for a minimum of five years. In addition to these requirements, you also must have worked 10 or more years and paid Medicare taxes while working.
If you didn't work or pay taxes, then you will not be eligible for premium-free Part A.
You or your spouse must also have worked long enough to be eligible for Social Security or Railroad Retirement Board (RRB) benefits.
Enrollment and Penalties
While Medicare is available to most Americans over 65, you are only allowed to enroll during certain periods. These periods are also when you can alter or change your plans. There are penalties if you want Medicare but fail to get it in an enrollment window.
The Various Medicare Enrollment Periods
Initial Enrollment Period

Your initial enrollment period begins in the three months leading up to your 65th birthday and ends three months after.

General Enrollment Period

The general enrollment period is used if you miss your initial enrollment period. It lasts from the beginning of January through March each year.

Open Enrollment Period

During open enrollment, you can switch your plan from Original Medicare to Medicare Advantage or add a Part D plan, among other things. It lasts from Oct. 15 to Dec. 7.

Special Enrollment Period

You may have a special enrollment period due to certain major life changes, like if you lose employer health insurance or move outside the network of your current plan.

Common Mistakes

These errors often include missing your enrollment windows, thinking you are automatically enrolled when you are not or not knowing your full retirement age.

Late Enrollment Penalties

If you miss your enrollment window, you might have to pay a penalty in the form of increased premiums.
Disabilities and Medical Conditions
While Medicare is typically only available to Americans who are 65 or older, there are some rare conditions that can qualify you for coverage at any age. You also can get coverage earlier if you are receiving certain types of insurance.
End Stage Renal Disease

If you have end stage renal disease, then you should qualify for Medicare regardless of your age. Medicare will handle much of the cost of your treatment.

ALS

Individuals with ALS can qualify for Medicare coverage even if they are younger than 65.

Social Security Disability Insurance (SSDI)

As long as you have been receiving SSDI for at least 24 months, you can qualify for Medicare regardless of age.

RRB

You are eligible for Medicare if you have disability benefits for 24 months.
Last Modified: April 21, 2022
Share This Page
7 Cited Research Articles