Does Medicare Cover End-Stage Renal Disease?
Medicare covers treatment for people with end-stage renal disease (ESRD) if you have permanent kidney failure requiring either dialysis or a kidney transplant. Medicare also covers the medical and hospital services it normally would that are necessary for your ESRD treatment.
End-stage renal disease (ESRD) is total and permanent kidney failure that can only be treated with dialysis or a kidney transplant, according to the National Institutes of Health. Medicare may cover much of the costs of these treatments. You will be responsible for some costs.
ESRD is the final stage of chronic kidney disease (CKD), which includes any condition that causes reduced kidney function over time. About 14 percent of Americans have some degree of CKD. About 21,000 cases of CKD advance to end-stage renal disease every year in the United States.
More than 661,000 Americans live with kidney failure, according to the NIH. Of these, 468,000 are on dialysis and another 193,000 have functional kidney transplants. But the incidence of ESRD has been declining since its peak in 2006.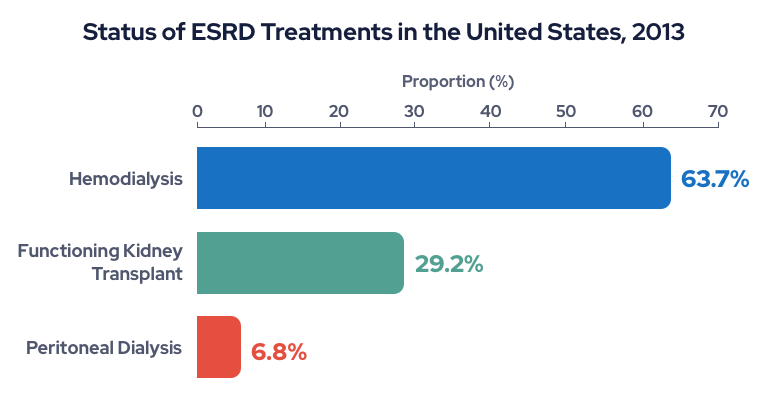 Your risk of developing ESRD can depend on your race or ethnicity. Compared to whites, ESRD is 3.7 times more prevalent among Blacks, 1.4 times greater among Asian Americans and 1.4 times greater for Native Americans.
Medicare Eligibility for ESRD
No matter how old you are, if you are diagnosed with ESRD, you can get Medicare to help cover your treatment costs if you meet certain criteria.
Requirements for Medicare to Cover ESRD at Any Age
Your kidneys no longer work (ESRD diagnosis).
You require regular dialysis treatment or require a kidney transplant.
You have had a kidney transplant.
You must also meet one of three other requirements for Medicare coverage:
You have worked 10 years while paying into Social Security or the Railroad Retirement Board.
You are already receiving Social Security or Railroad Retirement benefits.
You were a government employee who paid Medicare taxes for the required time period.
You are the spouse or the dependent child of someone who meets any of these requirements.
If you enroll in Medicare only after you've been diagnosed with ESRD, Medicare coverage will usually start in the fourth month of your dialysis treatment.
It may start in the first month if you take part in a dialysis training program to perform dialysis at home, begin home dialysis training before the third month of your treatment or you expect to complete home dialysis training and start self-dialysis treatments.
The 30-Month Coordination Period
If you have insurance through your job, retiree or COBRA coverage when you're diagnosed with ESRD, you don't have to sign up for Medicare right away.  Any of these coverages will remain as your primary coverage for the first 30 months of your treatment.
This 30-month coordination period begins when your eligibility for Medicare ESRD coverage starts. So if you start dialysis, your Medicare eligibility starts in the fourth month of treatment. Your Medicare coverage starts in that same, fourth month.
Your Options During the 30-Month Coordination Period
You don't have to sign up for Medicare immediately so long as you have group health plan (GHP) coverage — job-based health insurance, retiree coverage or COBRA coverage.
Your GHP has to pay first for treatment and supplies, Medicare may pay second.
If you have no GHP coverage, Medicare will pay first starting when you enroll.
Enrolling in Medicare right away may still save you money. Dialysis is expensive and having Medicare share the costs with your private insurance plan may reduce your out-of-pocket costs.
Signing up for Medicare If You Have ESRD
If you become eligible for Medicare because of ESRD, you can enroll in Medicare Part A hospital insurance and Part B medical insurance. These two parts are collectively called Original Medicare.
If you qualify for Part A, you also qualify for Part B, but you can choose whether or not you take Part B. But to receive full Medicare benefits for dialysis, you will need both parts.
Medicare beneficiaries already paying a late enrollment penalty for Part B will have the fee removed when applying for ESRD coverage.
Did You Know?
Source: U.S. Social Security Administration
Enrolling in Medicare Part D Prescription Drug Coverage
Original Medicare does not cover all prescription drugs you may need after you're diagnosed with ESRD. But you will be able to enroll in a Medicare Part D prescription drug plan to help with those medication costs.
You will have seven months to sign up for Medicare once you first become eligible for ESRD coverage. The period begins three months before you are eligible, the month you become eligible and continues through the next three months after that.
Once you sign up, your Part D prescription drug coverage begins at either the same time as your Original Medicare coverage begins or the first month after you request Part D coverage, whichever comes last.
Medicare Part B will cover transplant drugs and most medications you need for dialysis treatment once you've enrolled in Medicare coverage for ESRD. But you'll need a Part D prescription drug plan to help cover costs of prescription drugs you may require for other conditions, such as high blood pressure or diabetes.
Medicare Coverage for End-Stage Renal Disease
Medicare covers most ESRD treatment services. But you will still have to pay your out-of-pocket share of premiums, deductibles and coinsurance as you would with other Original Medicare-covered health care services. You should review these Medicare costs to budget accordingly.
ESRD Care That Medicare Covers
Outpatient dialysis (in a Medicare-approved facility, either in hospital or dialysis center)
Home dialysis equipment and supplies
Home dialysis training for you and caregivers from a dialysis facility
Hospital inpatient dialysis
Medications related to treatment when overseen by a doctor
Immunosuppressant drugs following kidney transplant (must have Medicare Part A at the time of your transplant)
Kidney transplant
You should be aware of limits on what Medicare will cover. For instance, Medicare does not cover surgery or other medical services to prepare for dialysis that happens before your coverage begins.
Ask your doctor about whether services are covered or use Medicare's coverage tool to see if your product, service or test is covered.
Medicare eligibility for ESRD works differently than other types of Medicare eligibility. For example, you can enroll before you are 65, and unlike typical Medicare, ESRD coverage is retroactive.
When Will Medicare ESRD Coverage Start?
Dialysis

Usually starts on the first day of the fourth month of your dialysis treatments. This is true even if you have not yet signed up for Medicare at the time. If you're covered by your employer's insurance, Medicare coverage will start on the first day of the fourth month, but your private insurance may cover the first three months of treatments.

Home Dialysis

Coverage starts in the first month of your treatments if you take part in a Medicare-certified training program during your first three months of treatment or your doctor expects you to complete training and be able to do your treatments.

Kidney Transplant

Medicare coverage can begin the month you're admitted to a Medicare-certified hospital for the transplant and it takes place that month or in the next two months. If your transplant is delayed by more than two months, coverage may begin two months before your transplant actually happens.
Medicare coverage for ESRD ends either 12 months after the month you stop dialysis treatments or 36 months after the month in which you have a kidney transplant.
Other Types of ESRD Coverage
Most end-stage renal disease coverage is delivered through Original Medicare or in coordinated coverage with employer-related health care insurance, including retiree and COBRA coverage.
But there are other options.
Medicare Advantage and ESRD
In most cases, you cannot enroll in a Medicare Advantage plan — such as an HMO or PPO — after you develop ESRD but have not had a kidney transplant.
But you may be able to join a Medicare Special needs plan for ESRD if one's available where you live. These are specific types of Medicare Advantage plans for people with severe medical conditions who are eligible for Medicare.
You may also be able to enroll if you are still receiving health insurance through a company that also offers a Medicare Advantage plan. But you have to buy the advantage plan through that particular company.
Once you have had a successful kidney transplant, you may also be eligible to enroll in a Medicare Advantage plan.
Medigap and ESRD
Medicare supplemental insurance, also known as Medigap, can help cover the cost of Medicare deductibles and copayments for ESRD treatments, services and supplies.
However, not all states require insurers to offer private Medigap insurance to people with ESRD until they turn 65. Most patients who develop ESRD are younger than that, according to the National Kidney Fund.
The fund may be able to help with financial assistance for your Medigap premium payments if you do enroll in a Medigap plan because of ESRD and meet certain financial need requirements.
Medicaid and ESRD
Medicaid may be able to help some people on Medicare cover out-of-pocket expenses for ESRD. To do this, you must first meet dual eligibility requirements for both programs. That means showing that you have limited income and financial resources.
Dual eligibility rules vary from state to state, and not all low-income Medicare beneficiaries may qualify for Medicaid in their state.
VA Benefits and ESRD
The U.S. Department of Veterans Affairs offers several VA benefits for treatment of qualified veterans. This includes transplant services for eligible veterans.
These include dialysis benefits for dialysis for chronic kidney disease even if the underlying cause is not service-related. The VA also covers certain home dialysis costs and certain medical care in non-VA facilities in your community.
The VA may also cover travel costs for your beneficiaries if you travel to a VA facility for dialysis or other VA health care services.
Frequently Asked Questions About Medicare's Coverage for ESRD
Does end-stage renal disease qualify for Medicare?
Medicare covers anyone, regardless of age, with end-stage renal disease (ESRD) if they meet certain eligibility requirements. These include that your kidneys no longer work, you require regular dialysis or you have had a kidney transplant.
You must also meet one of these three requirements:
You've worked the required time under Social Security, the Railroad Retirement Board or as a government employee to qualify for Medicare.
You're already receiving, or are eligible to receive Social Security or Railroad Retirement benefits.
You're the spouse or dependent child of a person who meets one of the first two requirements.
What costs does Medicare cover for ESRD?
Medicare covers several costs associated with ESRD treatment, including:
Drugs related to your treatment
Kidney transplants
Immunosuppressant drugs after a kidney transplant
Inpatient dialysis at a hospital
Outpatient dialysis in approved centers
Home dialysis training for you and caregivers
Home dialysis supplies and equipment
You will still be responsible for your monthly Medicare premiums, annual deductible and any coinsurance.
Can I receive dialysis when traveling?
Medicare will cover dialysis in a Medicare-certified dialysis center when you travel in the United States. Generally, Medicare will not pay for dialysis you receive while
traveling outside the United States
.
If you have a Medicare Advantage plan, the company that administers it may help you plan your dialysis treatments when you travel. You should contact the plan ahead of your travel to see if it can make arrangements for you.
Last Modified: September 29, 2021
Share This Page
11 Cited Research Articles