Medicare-Covered Treatments and Health Conditions
Medicare provides coverage for many of the most common chronic conditions that affect people age 65 and older, including diabetes, high blood pressure and Alzheimer's disease. It's important to understand the specific coverage details of your Medicare plan along with any potential costs.
Managing a chronic condition is a major challenge for millions of older Americans.
About 80 percent of adults ages 65 and older have at least one chronic disease, according to the National Council on Aging.
Four chronic conditions — heart disease, cancer, stroke and diabetes — cause nearly two-thirds of all deaths in the U.S. each year.
End-stage renal disease (ESRD) is another chronic condition affecting almost 750,000 Americans each year. In 2016, the cost of dialysis and other treatments for ESRD totaled $35 billion in Medicare spending.
Managing chronic diseases is expensive, accounting for 75 percent of national health care spending.
But Medicare — the government health care program primarily for people over 65 years old — can help cover some of these costs.
Medicare options fall into two broad categories — Original Medicare (Part A and B) and Medicare Advantage (Part C).
Medicare Advantage plans are sold by private companies that contract with the federal government. All Medicare Advantage plans must provide the same coverage as Medicare Part A and Part B, but may feature other benefits, rules and restrictions.
Some Medicare Advantage plans include prescription drug coverage. Original Medicare beneficiaries must purchase a stand-alone Part D plan to receive drug coverage.
Original Medicare doesn't cover all out-of-pocket costs such as deductibles, coinsurance and copayments. Medicare supplemental insurance plans, or Medigap, can help offset these expenses.
Medicare can also pay for a health care provider to help you manage your care if you have two or more serious chronic conditions. This service is often available for a monthly fee to those who qualify.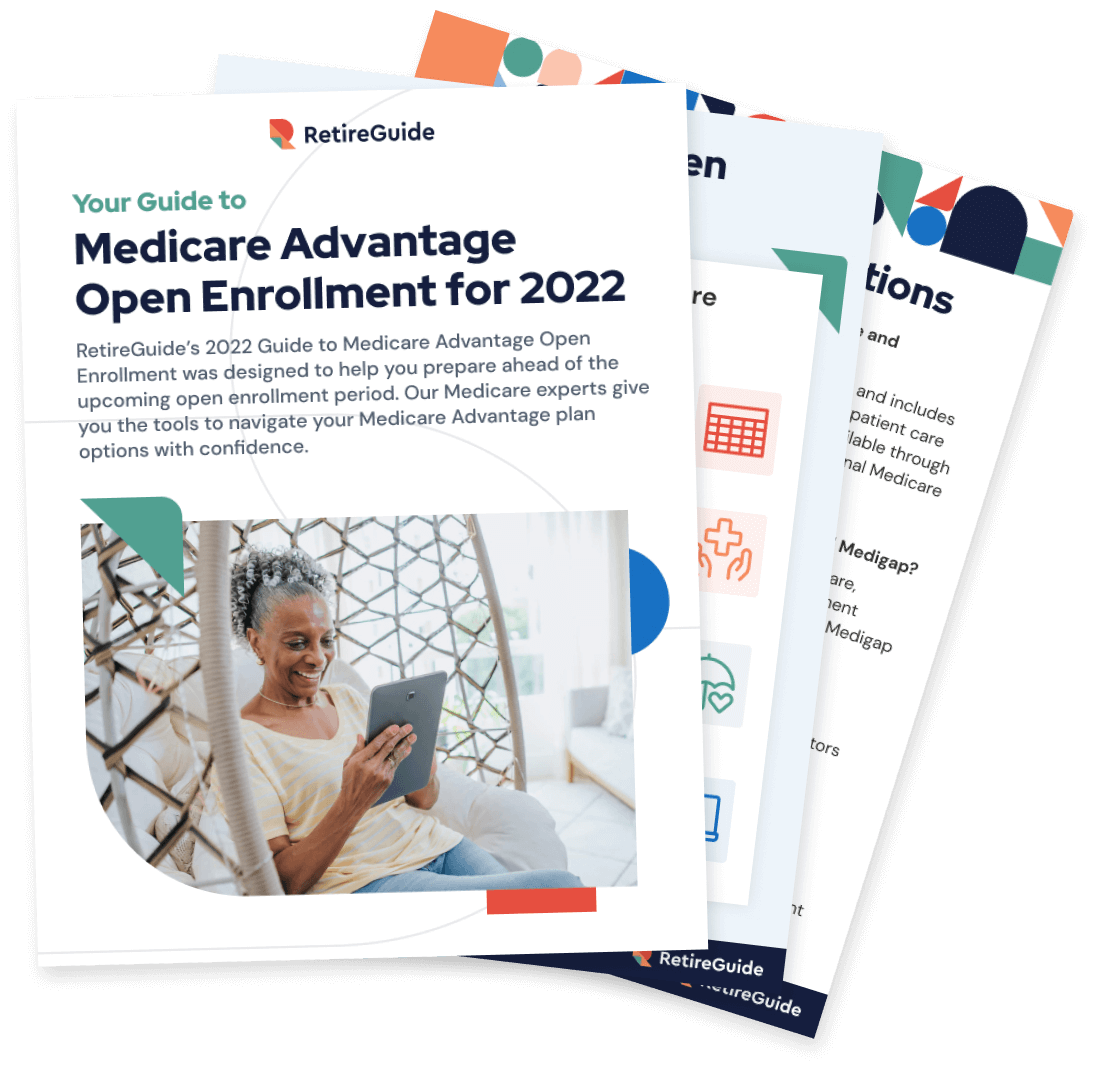 Get a Free Medicare Advantage Guide
Learn how to join, switch, or drop your Medicare Advantage plan before time runs out on March 31, 2022.
Diabetes
Diabetes is a chronic condition that causes higher than normal blood sugar levels.
About 1.5 million Americans are diagnosed with diabetes each year. The American Diabetes Association estimates that 14.3 million seniors ages 65 and older have this condition.
Medicare Part B typically covers the services that may affect people with diabetes. Some preventive services are also covered for people at risk of developing diabetes.
You generally pay 20 percent of the Medicare-approved amount for these services after paying your yearly Part B deductible.
What Does Medicare Part B Cover?
Diabetes Screenings

Medicare Part B covers diabetes screenings if your doctor determines you're at risk for the condition. You may receive up to two screenings a year. You typically won't pay coinsurance, a copayment or the Part B deductible for screenings.

Medicare Diabetes Prevention Program

Part B covers a one-time behavior change program to help prevent diabetes. There is no cost for this service if you're eligible.

Diabetes Equipment and Supplies

Part B covers blood sugar or glucose testing monitors and infusion pumps. Medicare also covers supplies for this equipment, including test strips, lancets, glucose sensors, tubing and insulin. You will pay 20 percent of the Medicare-approved cost after your yearly Part B deductible.

Insulin Pumps

Part B covers external durable insulin pumps and the insulin that the device uses if you meet certain criteria. You will owe a 20 percent copayment.
Part D provides coverage for many of the diabetes supplies not covered under Part B. You must be enrolled in a Medicare Part D plan or a Medicare Advantage plan with prescription drug coverage to receive these benefits.
For the following services, you will likely owe a copay or coinsurance and your Part D deductible may apply.
What Does Medicare Part D Cover?
Antidiabetic Drugs

Part D covers antidiabetic drugs for maintaining your blood sugar.

Diabetes Supplies

Certain medical supplies are covered to administer insulin — including syringes, needles, alcohol swabs, gauze and inhaled insulin devices.

Insulin

Part D covers insulin that isn't administered with an insulin pump.
While Medicare covers many services, drugs and devices related to diabetes, it may not include everything.
For example, Original Medicare and Medicare drug plans do not cover eyeglasses, orthopedic shoes or cosmetic surgery.
Rheumatoid Arthritis
Rheumatoid arthritis is a chronic inflammatory disorder that can cause painful joint swelling.
The risk of developing arthritis increases with age and is more common among women than men.
Nearly 50 percent of people ages 65 and older reported doctor-diagnosed arthritis, according to the Centers for Disease Control and Prevention.
Rheumatoid Arthritis Coverage Under Medicare
Part A

Covers your hospital stay if your doctor recommends joint replacement surgery. It also covers rehabilitation care for up to 100 days after your procedure. You will need to meet your Part A deductible ($1,556 in 2022) as well as a 20 percent copayment.

Part B

Covers your arthritis diagnosis and doctor visits. You will owe a 20 percent copay and need to meet your Part B deductible first ($233 in 2022).

Part D

Covers most rheumatoid arthritis medications. Depending on your plan, you may owe a copayment, coinsurance or deductible.

Medigap

Several Medicare Supplement plans, or Medigap, will cover your Part A and/or Part B deductibles. Many will also cover your 20 percent coinsurance costs for Part A and Part B.

Medicare Advantage

Medicare Advantage (Part C) plans are required to provide at least the same amount of coverage as Original Medicare. But some Part C plans may offer prescription drug coverage that results in lower deductibles, copayments and coinsurance.
High Blood Pressure (Hypertension)
High blood pressure, also known as hypertension, occurs when the force of your blood pushing against the walls of your blood vessels is consistently high.
About 46 percent of U.S. adults are classified as having high blood pressure.
Medicare covers blood pressure screenings, at no cost to you, during your "Welcome to Medicare" exam and yearly wellness visits.
Certain telehealth services, virtual check-ins and e-visits may also be fully covered.
Medicare Part B covers medically necessary doctor visits, outpatient services and procedures to treat and manage high blood pressure. You will typically owe 20 percent of costs after meeting your Part B deductible.
Medicare Part D or a Medicare Advantage plan with prescription drug coverage includes most high blood pressure medications. You may have an annual deductible, copayment or coinsurance, depending on your plan and the type of medications you take.
Respiratory Diseases
Respiratory illnesses affect millions of Americans. Some of the most common conditions include asthma, chronic obstructive pulmonary disease (COPD), bronchitis and emphysema.
Medicare Part B overs a pulmonary rehabilitation program for people with moderate to very severe COPD.
If you get this service in a doctor's office, you'll pay a 20 percent copayment and your Part B deductible applies.
Medicare will also help pay for oxygen equipment, contents and supplies if you meet certain criteria.
Alzheimer's Disease
Alzheimer's disease is an incurable, progressive brain disorder that destroys memory and thinking skills.
In 2020, an estimated 5.8 million Americans ages 65 and older were living with Alzheimer's dementia, according to the Alzheimer's Association. An estimated 80 percent of those people are age 75 or older.
What Medicare Covers
Diagnosis

At your yearly wellness visit, your doctor will perform a cognitive assessment that can help detect dementia. There are no fees for this annual wellness exam. Medicare will cover 80 percent of diagnostic tests, such as MRIs and CAT scans.

Treatment

Medicare covers inpatient hospital care and some of the doctors' fees for people with Alzheimer's or dementia.

Mental Health

Medicare covers an annual depression screening at no cost to you. Other mental health services — such as inpatient psychiatric care, counseling and psychiatric evaluations — are also available with various copayments.

Home Health Care Services

Some home health care services are covered by Medicare at no cost to you if you meet certain criteria. Services can include physical, occupational and speech therapy along with part-time or intermittent home health aide services. It does not cover 24/7 home health services.

Hospice

All expenses for hospice care delivered in the home are covered by Medicare for people who are determined by a doctor to have six months or less to live.

Prescription Drugs

Medicare covers many prescription drugs used by Alzheimer's patients. To receive this coverage, you must be enrolled in a standalone Part D plan or a Medicare Advantage plan with prescription drug coverage.
Unfortunately, Medicare doesn't cover long-term care in a nursing home or assisted living facility.
It also does not pay for at-home custodial care — such as assistance with dressing, bathing and eating — if this is the only care you require.
Cancer
Getting older greatly increases your risk of developing cancer.
According to the Cancer and Aging Research Group, 60 percent of new cancer diagnoses are adults ages 65 and older.
Medicare covers some common cancer screenings at no cost to you, including screenings for lung, breast, prostate, vaginal, cervical and colon cancers.
Medicare Part A covers Inpatient hospital stays, including cancer treatments such as chemotherapy and radiation.
Medicare Part B covers chemotherapy and radiation therapy if you're a hospital outpatient or inside a doctor's office or freestanding clinic.
Coverage is also provided for other services, including some clinical research study costs, mental health services and doctor visits.
Copayments, coinsurance or deductibles may apply for each service.
Part D covers many prescription medications and some chemotherapy treatments not already covered by Medicare Part B. Drug costs and plan coverage details vary.
Medicare Chronic Care Management
If you have two or more serious chronic diseases, Medicare may pay for a health care provider to help you manage your conditions.
This service includes a comprehensive care plan that lists your health problems and goals as well as other health care providers, medications and community services you receive.
It also explains how your care will be coordinated.
Through this service, a health care professional can help you manage your medications, offer support if you transfer from one health care setting to another and assist you with other chronic care needs.
Chronic care management may charge a monthly fee. The Part B deductible and coinsurance also apply. However, a Medigap plan can help cover these costs.
Last Modified: January 12, 2022
Share This Page
17 Cited Research Articles