Medicare Access and CHIP Reauthorization Act (MACRA)
The Medicare Access and CHIP Reauthorization Act of 2015 is a federal law that changed how doctors who treat Medicare patients are paid by Medicare. It's sometimes called the "Permanent Doc Fix" as a result. It also removed Social Security numbers from Medicare cards to prevent identity theft.

Written by

Terry Turner

Terry Turner

Senior Financial Writer and Financial Wellness Facilitator

Terry Turner has more than 35 years of journalism experience, including covering benefits, spending and congressional action on federal programs such as Social Security and Medicare. He is a Certified Financial Wellness Facilitator through the National Wellness Institute and the Foundation for Financial Wellness and a member of the Association for Financial Counseling & Planning Education (AFCPE®).

Read More

Edited By

Matt Mauney

Matt Mauney

Financial Editor

Matt Mauney is an award-winning journalist, editor, writer and content strategist with more than 15 years of professional experience working for nationally recognized newspapers and digital brands. He has contributed content for ChicagoTribune.com, LATimes.com, The Hill and the American Cancer Society, and he was part of the Orlando Sentinel digital staff that was named a Pulitzer Prize finalist in 2017.

Read More

Reviewed By

Brian Hickey, CLU®, CLTC®, FLMI

Brian Hickey, CLU®, CLTC®, FLMI

Vice President of Insuractive

Brian Hickey is vice president of Insuractive, an Omaha-based company providing direct-to-consumer Medicare plans, life insurance and wealth protection to individuals. With 24 years' experiencein Medicare, long-term care, life insurance and wealth protection, Brian leads and develops Insuractive's strategic initiatives with a focus on direct-to-consumeroptions for insurance information and solutions.

Read More

Published: February 22, 2021
Updated: May 8, 2023
3 min read time
This page features 9 Cited Research Articles
What Is MACRA?
The main goal of the Medicare Access and CHIP Reauthorization Act (MACRA) has been to improve care for Medicare beneficiaries by rewarding health care practices that improve care while reducing costs.
It attempts to achieve these goals through several actions.
Highlights of MACRA
Repealed the Sustainable Growth Rate formula — which had determined payments to doctors prior to MACRA.
Created the Quality Payment Program (QPP) at the heart of rewarding health care providers for quality of care instead of volume of treatments.
Streamlined multiple programs under the Merit Based Incentive Payments System (MIPS) to reform payments to clinicians.
Gave bonus payments for participating in eligible Advanced Alternative Payment Models (APMs) to incentivize efforts to achieve MACRA goals.
MACRA and the Sustainable Growth Rate Repeal
By repealing the Sustainable Growth Rate formula and replacing it with the Quality Payment Program, MACRA is credited with stopping a potential exodus of health care providers from Medicare.
Prior to MACRA, Medicare relied on the Sustainable Growth Rate formula to determine how much to pay health care providers. The formula was supposed to control rising health care costs to Medicare.
The formula had to be adjusted each year and was becoming increasingly unpopular with doctors. It limited payments to doctors without considering the type, complexity and amount of health care provided.
The formula called for a more than 29% cut in payments to doctors in 2012. This led to an increasing number of doctors simply refusing to accept Medicare.
A Texas Medical Association survey in 2011 found that 8% of doctors in that state had already stopped taking new Medicare patients. Another 22% planned to stop and 415 were considering whether or not to stop accepting new Medicare patients.
The Sustainable Growth Rate formula gave doctors incentives to schedule more visits, order more tests and perform more procedures for Medicare patients. MACRA shifted that incentive toward improving the quality of care and cutting overall costs by offering bonuses to health care providers that met that balance.
How Does the Quality Payment Program Work?
The Quality Payment Program is an incentive program at the core of the Medicare Access and CHIP Reauthorization Act. This is the mechanism that changed and simplified how Medicare pays health care providers for the care they provide.
Health care providers have two options for taking part in the Quality Payment Program: The Merit Based Incentive Payments System (MIPS) and Advanced Alternative Payment Models (APMs).
MIPS vs. APMs
Merit Based Incentive Payments System

MIPS is a system that determines a health care provider's Medicare payment adjustment. The system uses a composite score based on the clinician's performance to determine whether the provider receives a payment bonus, a penalty or no payment adjustment aside from what Medicare has already paid.

Advanced Alternative Payment Models

APMs provide added incentive payments for providing quality and cost-efficient care. Health care providers who take part in advanced APMs can earn Medicare incentive payments of 5% for taking part in a participating innovative payment model. An Accountable Care Organization is an example of an APM.
MACRA, Your Medicare Card and Identity Theft Protection
MACRA mainly affected the payment relationship between Medicare and health care providers. People on Medicare should have noticed few if any changes aside from one: MACRA also required Medicare to remove Social Security numbers from all Medicare cards.
This move was intended to improve security for Medicare beneficiaries.
Medicare replaced all affected cards by mid-January 2019. The new cards, and every card issued since the change took effect, now use randomly generated letter and number combinations called Medicare Beneficiary Identifiers, or just Medicare numbers.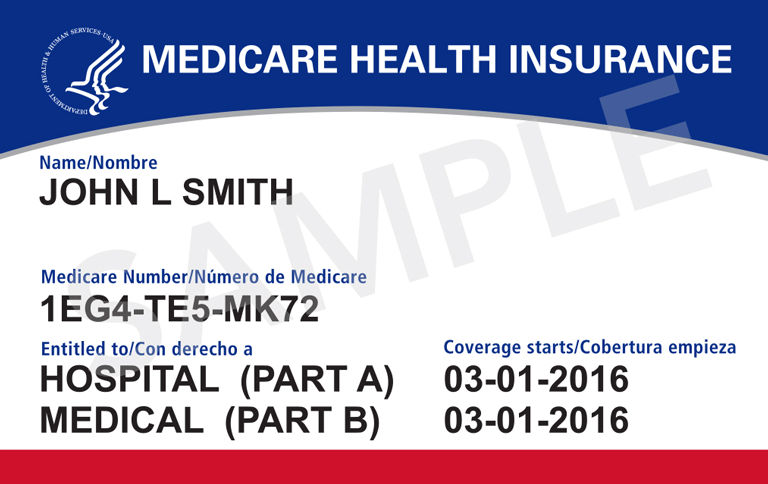 The intent of the law was to keep beneficiaries' private health care and information along with their federal benefit and service payment information safe from identity theft.
Last Modified: May 8, 2023
Share This Page
9 Cited Research Articles
Who Am I Calling?
Calling this number connects you to one of our trusted partners.
If you're interested in help navigating your options, a representative will provide you with a free, no-obligation consultation.
Our partners are committed to excellent customer service. They can match you with a qualified professional for your unique objectives.
We/Our Partners do not offer every plan available in your area. Any information provided is limited to those plans offered in your area. Please contact Medicare.gov or 1-800-MEDICARE to get information on all of your options.
888-694-0290
Your web browser is no longer supported by Microsoft. Update your browser for more security, speed and compatibility.
If you need help pricing and building your medicare plan, call us at 844-572-0696