Medicare Costs: Why You May Pay More for Health Care
Several factors, including age, income and health status, impact how much a Medicare beneficiary pays for health care. As federal health care expenditures rise, Medicare beneficiaries will likely see out-of-pocket costs increase in 2022 and beyond.

Written by
published May 27, 2021
Featured Experts
Mary Johnson, Medicare Policy Analyst with The Senior Citizens League
Shannon Hohl, Program Supervisor at the Idaho Senior Health Insurance Benefit Advisors (SHIBA)
Caitlin Donovan, Health Care Policy Expert with the Patient Advocate Foundation
Christine Mahoney, Public Affairs Specialist with the U.S. Centers for Medicare & Medicaid Services
Tricia Neuman, Senior Vice President of the Kaiser Family Foundation
Read their full bios below the article.
Aline Luenebrink paid $300 each month in 2020 for her prescription drugs with Medicare.
It was a huge expense for the retiree, who receives less than $10,000 a year in Social Security benefits.
"With just my Social Security, there's no way I can afford those prices," the 68-year-old told RetireGuide.
Luenebrink isn't alone.
While Medicare provides vital health care coverage to more than 62 million adults ages 65 and older as well as some younger people with disabilities, Original Medicare's benefit design includes high cost-sharing and no limit on out-of-pocket costs.

Many Medicare beneficiaries must pay monthly premiums, meet deductibles and shoulder copays for things such as prescription drugs and outpatient care.
Some pay substantial amounts out of pocket for devices and services Medicare doesn't cover, such as long-term care.
On average, people with Original Medicare spent $5,801 on insurance premiums and medical services, according to an AARP analysis of 2017 data.
That's a nearly 85 percent increase from the group's analysis of 2007 data a decade prior.
As the federal government grapples to cover escalating health care costs, new policy changes may result in higher expenses for beneficiaries.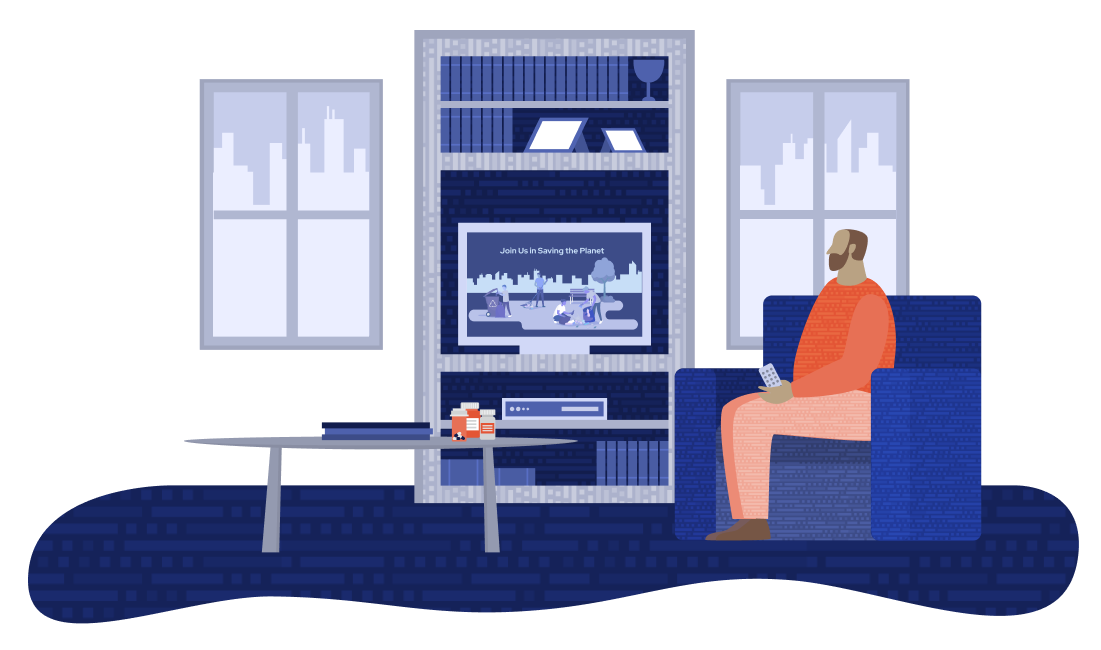 Breaking Down Medicare Out-of-Pocket Costs
The AARP analysis of out-of-pocket costs draws data from the 2017 Medicare Current Beneficiary Survey (MCBS), an annual nationally representative survey of Medicare enrollees conducted by the U.S. Centers for Medicare & Medicaid Services (CMS).
The report shows that nearly half — 47 percent — of Original Medicare beneficiary out-of-pocket costs in 2017 went to Medicare or supplemental insurance premiums. (The AARP analysis excludes beneficiaries enrolled in private Medicare Advantage plans.)
The analysis also found that beneficiaries spent an average of $709 on prescription drugs each year along with $776 on office visits and doctor services.
The rest went to cost-sharing payments or services not covered by Original Medicare, such as dental work and long-term care.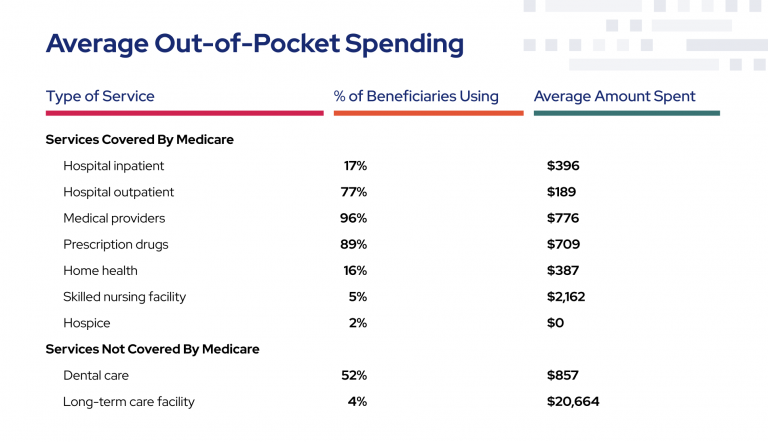 While only 5 percent of Original Medicare beneficiaries stayed at a skilled nursing facility, those who did spent an average of $2,162 out-of-pocket in 2017.
Long-term care — which includes extended stays at nursing homes and assisted living facilities — isn't covered by Medicare. Four percent of Original Medicare beneficiaries stayed at such facilities in 2017, where they spent an average of $20,664 out-of-pocket, according to the AARP report.
Premiums and Deductibles
Exactly how much a Medicare beneficiary pays depends on their specific coverage.
Original Medicare consists of Part A hospital insurance and Part B outpatient care. Each comes with its own costs.
Most people don't owe a premium for Part A because they already paid for it through payroll taxes while working. But many beneficiaries owe a monthly premium of $148.50 for Part B — or $1,782 a year — in 2021.
Beneficiaries are also responsible for the $203 Part B annual deductible in 2021 and 20 percent of all doctor services and office visits.
Did You Know?
After your deductible is met, Medicare pays 80 percent of the approved cost for most doctor services, outpatient therapy and durable medical equipment.
Standalone Part D prescription drug plans administered by private companies often come with their own deductibles and monthly premiums for those who don't qualify for low-income subsidies.
And enrollees can owe a $1,484 Part A deductible each time they're admitted to the hospital in 2021.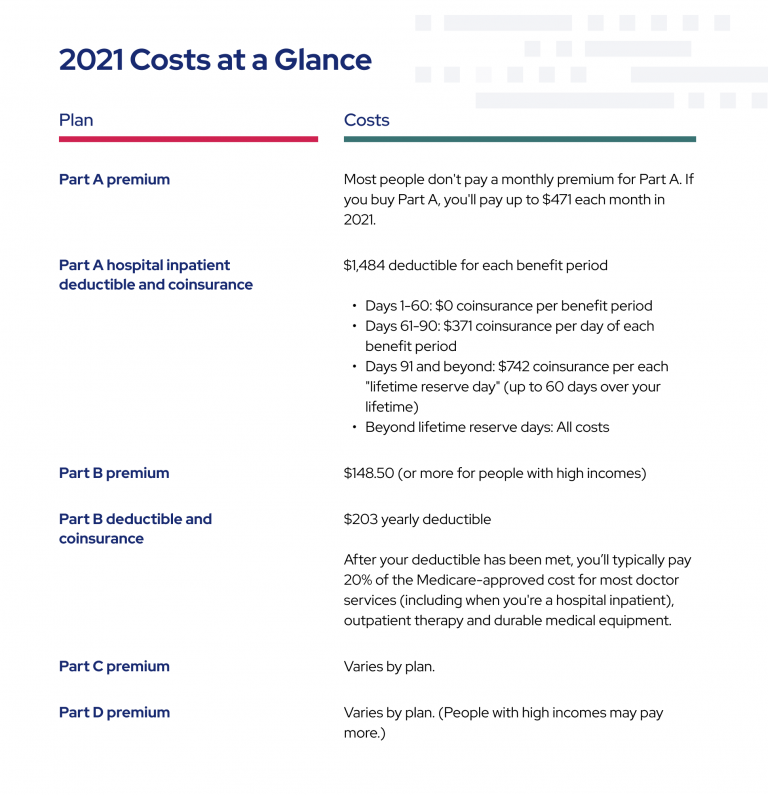 The Impact of Supplemental Insurance
Supplemental insurance, such as a Medigap policy or an employer-sponsored plan, can help offset some of these costs.
"Medicare comes with unusually high levels of out-of-pocket spending that can run into the tens of thousands of dollars a year without supplemental insurance," said Mary Johnson, a Medicare policy analyst for The Senior Citizens League, one of the nation's largest nonpartisan advocacy groups for older Americans. "Supplements can make a big difference in the health and quality of life people enjoy in retirement."
But while private Medigap policies limit some expenses and provide protection against catastrophic costs, Medigap premiums can be costly, ranging from $150 to about $200 a month.

The poorest Medicare beneficiaries can qualify for both Medicare and Medicaid, a designation known as dual eligible. Most health care costs are covered for these beneficiaries, but Medicaid income limits and eligibility requirements vary by state. In 2018, about 13 percent of Medicare enrollees were fully eligible for both programs.
Another 5.9 percent received some premium and cost-sharing assistance through Medicare Savings Programs, according to RetireGuide's analysis of MCBS data from 2018, the most recent year available. These programs are designed for beneficiaries with incomes that exceed Medicaid limits but who still struggle to pay their health care bills.
"But beneficiaries on the borderline who do not qualify for these programs face the risk of running out of savings due to high health care costs," Johnson said. "I have seen retirees over 70 years old return to work just to afford surgery."
Tip
You can use the
Out-of-Pocket Cost Calculator
on Medicare's website to estimate what Original Medicare or Medicare Advantage will cost you, based on where you live and the type of plan.
Over a third of all Medicare beneficiaries choose to receive their Part A and Part B benefits through a Medicare Advantage plan, which is a plan administered by a private insurance company that contracts with the federal government.
In 2020, 90 percent of Medicare Advantage plans included prescription drug coverage, and many include extra benefits — such as dental, hearing and vision — that Original Medicare doesn't fully cover.
And unlike Original Medicare, Medicare Advantage plans are required by law to have limits on out-of-pocket costs.
About 40 percent of Medicare Advantage beneficiaries pay a premium for their plan on top of their Part B premium. This additional cost averages $63 a month, according to an analysis from the Kaiser Family Foundation.
Looking for Medicare Help?
Let our experts help you find the right plan to get the coverage you need at a price you can afford.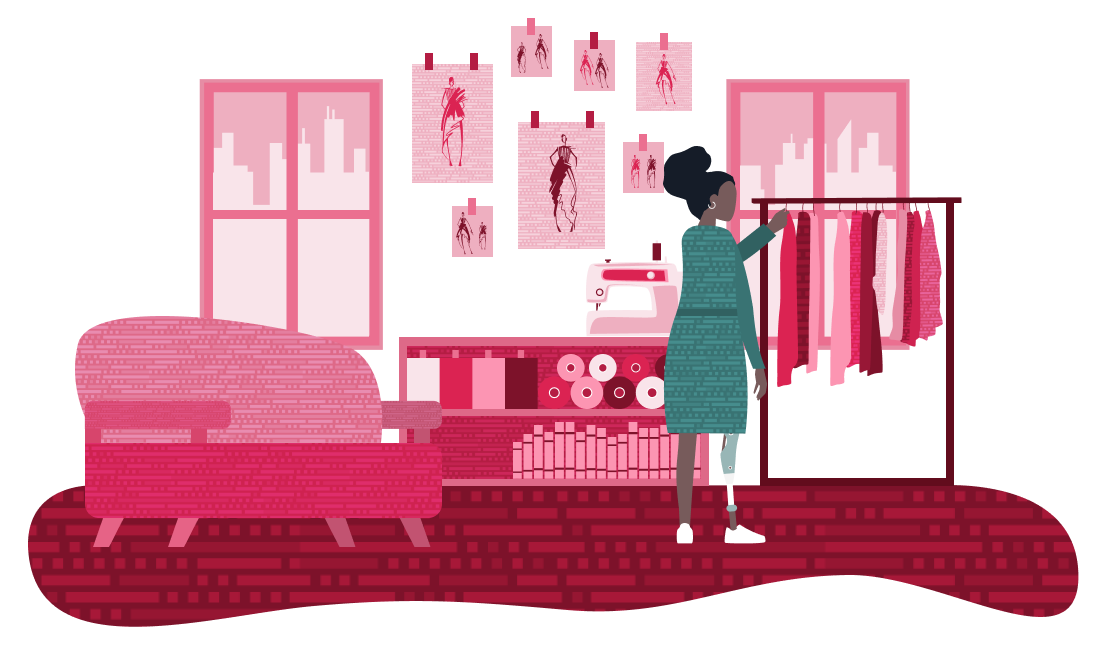 Medicare Out-of-Pocket Costs in Relation to Income
Medicare recipients often live on fixed incomes, underscoring the financial burden felt by many beneficiaries.
Half of all enrollees had incomes below $26,200 in 2016, and the average monthly Social Security retirement benefit in 2020 was $1,514, or $18,168 a year. Social Security benefits for the disabled were even less, at $15,108 a year on average.
Such limited resources can make even modest out-of-pocket costs difficult to manage.
One in 10 beneficiaries spent over half their income on health care in 2017, according to the AARP report.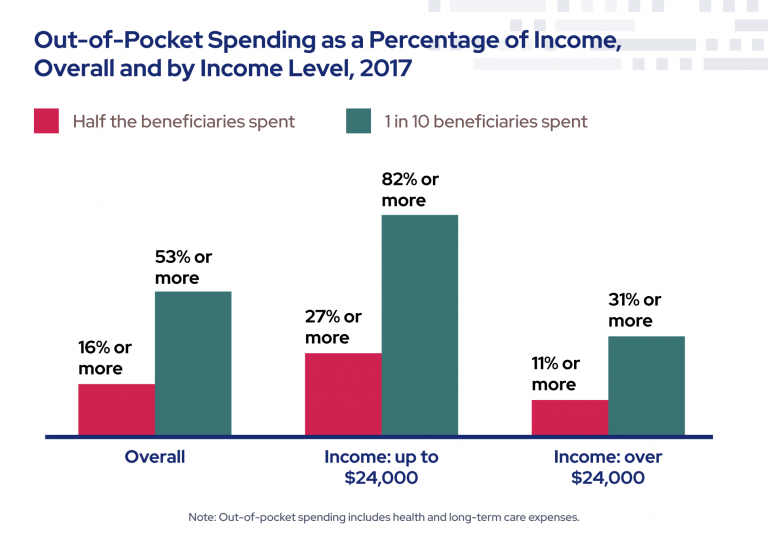 Half of people with incomes less than $24,120 spent 27 percent or more of their income on Medicare insurance and health care services.
In contrast, people with incomes above $24,120 spent 11 percent or more of their income.
Beneficiary Spotlight: Aline's Story
Aline Luenebrink, like many Medicare beneficiaries, has several chronic conditions, including high blood pressure and high cholesterol.
The Indiana resident receives her health care benefits through Original Medicare. She has a supplement policy that picks up many expenses, including her copays at the doctor's office.
She also has a workers' compensation settlement that sets aside money for health care costs related to a workplace spinal injury.
But neither her Medicare supplement nor her workers' comp set-aside covers her Part D out-of-pocket drug costs.
"Because they take my Medicare premiums out of my Social Security check, it doesn't leave much money to pay my bills, let alone prescriptions," said Luenebrink, who noted that the workers' comp money has made it difficult to qualify for Medicaid.

After struggling for months to afford her medication, Luenebrink's doctor told her about a closed-door pharmacy located within a nearby hospital. Closed-door pharmacies aren't typically open to the public and can often provide medications at a lower rate than retail pharmacies.
It was cheaper for Luenebrink to get her drugs from the closed-door pharmacy without health insurance than to use her Medicare Part D plan somewhere else.
"Now thankfully I only pay about $60 a month for my medications, "Luenebrink said. "But it took a while to figure this out. It's ridiculous my medications cost so much with Medicare. They don't make it easy to understand why you're paying so much or how to get it cheaper."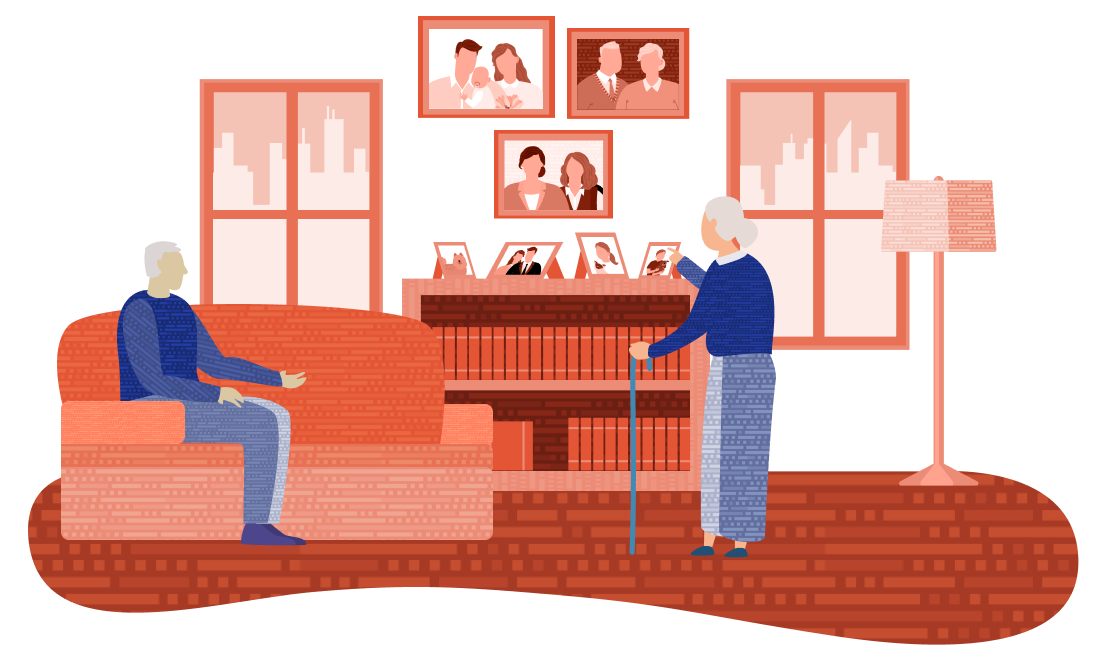 Medicare Costs Increase with Age
Aging is expensive. Medicare's oldest beneficiaries — those ages 85 and older — often bear the brunt of out-of-pocket costs, due in part to expensive surgeries and long-term care costs.
People ages 85 and older spent $10,307 on average in 2016 — more than twice as much as beneficiaries between the ages of 65 and 74, according to a Kaiser Family Foundation analysis of 2016 MCBS data.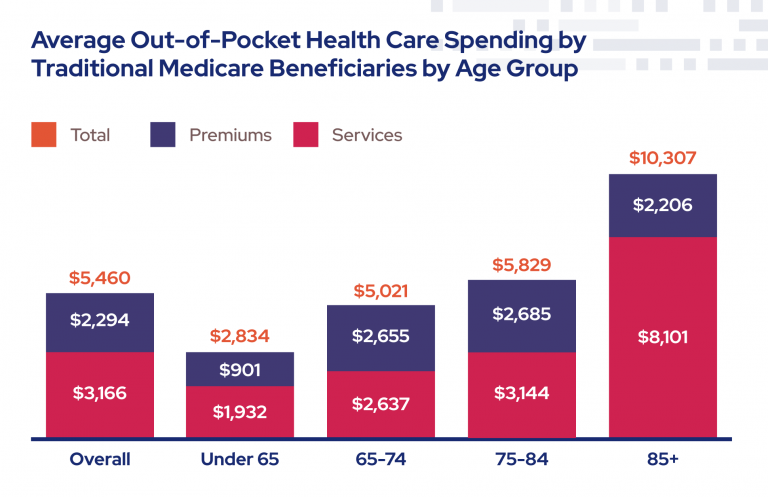 Elderly Medicare patients also allocated more income to these out-of-pocket costs than their younger counterparts.
Health care for the elderly is costly for the federal government, too.
Only 5 percent of Medicare beneficiaries die each year, but one-quarter of Medicare program spending occurs in the last year of life, according to a 2018 research paper published in the journal Science.
People with Multiple Chronic Conditions Face Higher Out-of-Pocket Costs
Medicare beneficiaries with one or more chronic conditions often face substantially higher out-of-pocket costs for prescription drugs, physician services and outpatient hospital care than the average beneficiary.
Almost a third — 32.5 percent — of the Medicare population reported having four to five chronic conditions in 2018.
According to an AARP analysis of 2017 MCBS data, beneficiaries in self-reported fair or poor health paid an average of $2,755 out of pocket for services — about 45 percent more than people in self-reported excellent or very good health.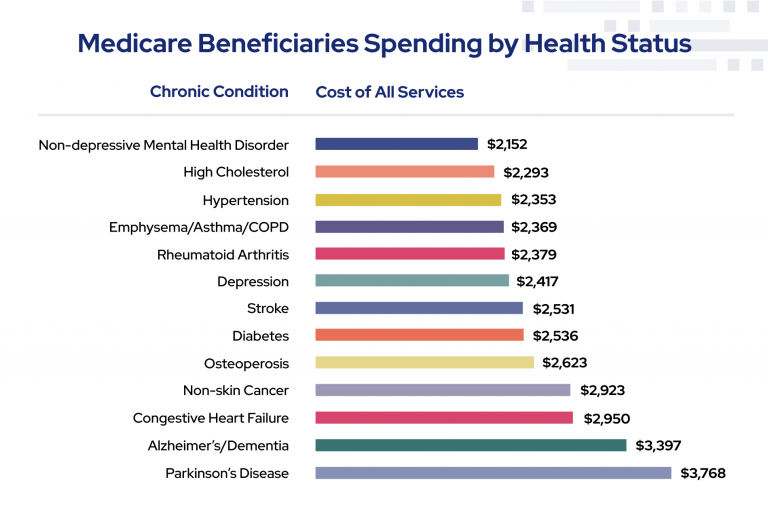 Original Medicare beneficiaries with Parkinson's disease spent more out-of-pocket annually — $3,768, on average — than enrollees with any other type of illness, according to the AARP report.
Cancer was the second costliest condition in 2017, with average spending of $3,397, followed by congestive heart failure at $2,950.
Medicare Beneficiaries Who Delay or Neglect Care Due to Cost
More than 1 in 10 Medicare beneficiaries — 11 percent — reported delaying care due to cost in 2018, according to MCBS data analyzed by RetireGuide.
Not surprisingly, beneficiaries with lower incomes are more likely to forgo care due to cost.
According to a Kaiser Family Foundation analysis of 2017 MCBS data, 26 percent of Medicare recipients with incomes under $20,000 had difficulty getting care or paying medical bills due to cost.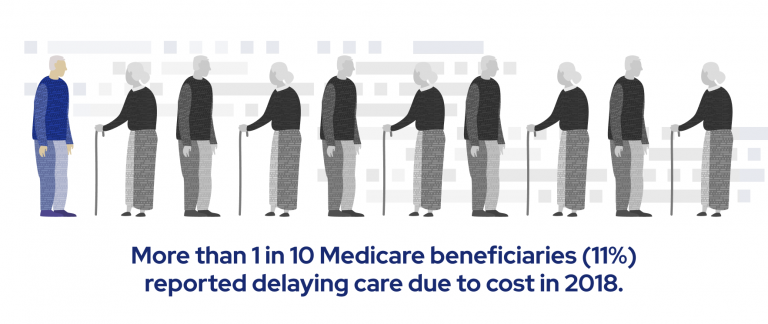 In contrast, just 7 percent of beneficiaries with incomes of $40,000 or higher delayed care due to cost.
The pattern held true for people enrolled in both Original Medicare and Medicare Advantage.