Medicare Part D Companies
Since Medicare Part D is provided by private insurers — unlike Original Medicare which you get through the federal government — you will have to research and select the best plan for you. A variety of companies sell Part D plans, with differences in costs and coverage. You can also consider a Medicare Advantage plan that includes drug coverage.
Written by

Christian Simmons

Christian Simmons

Financial Writer

Christian Simmons is a writer for RetireGuide and a member of the Association for Financial Counseling & Planning Education (AFCPE®). He covers Medicare and important retirement topics. Christian is a former winner of a Florida Society of News Editors journalism contest and has written professionally since 2016.

Read More

Edited By

Lamia Chowdhury

Lamia Chowdhury

Financial Editor

Lamia Chowdhury is a financial content editor for RetireGuide and has over three years of marketing experience in the finance industry. She has written copy for both digital and print pieces ranging from blogs, radio scripts and search ads to billboards, brochures, mailers and more.

Read More

Published: April 25, 2022
Updated: May 23, 2023
5 min read time
This page features 5 Cited Research Articles
What Companies Offer Medicare Part D Coverage?
Trying to find a Part D plan can be daunting if your only experience with Medicare has been Original Medicare, also referred to as Medicare Parts A and B. Medicare Part A and Part B are provided through the federal government and offer the same coverage and costs for all Americans, so there's no need to wade into the world of comparing plans and companies.
But since Original Medicare doesn't include prescription drug coverage, finding a Medicare Part D plan is a must for many Americans. Part D prescription drug plans are offered by private insurance companies, and you typically have the option to purchase them as standalone plans that are separate from your Original Medicare coverage.
Many of the companies that offer Part D coverage also sell Medicare Advantage plans, which are an alternative to Original Medicare. Medicare Advantage plans replace Original Medicare must include, at a minimum, the same level of coverage offered by Original Medicare, but they often include additional benefits such as drug coverage. When researching Part D companies, it may make sense to also look into their Medicare Advantage options.
What to Consider When Choosing a Part D Plan
When choosing a plan, there are several factors to consider. Part D plans typically come with their own formulary, which is the list of drugs the plan will cover.
Legal requirements help ensure that Part D plans cover a wide range of medications in their formularies, but each formulary may group its drugs into different tiers. You will often pay a separate price for each tier.
Factors to Consider When Comparing Part D Plans
Monthly premium
Out-of-pocket costs
Plan formulary
Availability where you live
Whether a standalone plan or Medicare Advantage plan makes sense
On top of comparing formularies, you should also look at how costs are handled in each plan. In addition to comparing premiums, review out-of-pocket costs like copayments to get a sense of how much you will pay — and when — if you need a specific drug.
Comparing Medicare Part D Plans for 2023
Selecting the Right Medicare Part D Company
Many factors go into selecting the right Part D company. When comparing your options, it helps to look into things like customer satisfaction scores, reviews and the limitations of individual plans.
You should also have a good understanding of the type of plan that makes the most sense for your personal needs.
How to Select the Best Part D Company for You
When choosing a Part D plan, it's important to consider your personal situation to help narrow down your options. Determine how much you are willing or able to spend on drug coverage and identify any specific medications that you know you need coverage for.
You should also consider your location when selecting a Part D plan and company. While many companies have Part D plans that are available nationwide, some companies' plans may only be available in a certain location. When researching Part D plans, make sure you are comparing options that are available where you live.
It's also worth looking into the Medicare Advantage plans offered by the companies you are considering. In some situations, it may make sense to switch from Original Medicare to a Medicare Advantage plan that includes drug coverage, instead of paying premiums for both Original Medicare and a standalone Part D plan.
Best Medicare Part D Companies
You will have many options when choosing a Part D plan, and your options may vary depending on where you live. According to the Kaiser Family Foundation, three main parent companies service much of the plans in the United States.
Of the 48 million Part D enrollees in 2021, 56% got their plans through UnitedHealth Group Inc., Humana Inc. or CVS Health Corporation. Also making up a large percentage of enrollment were Centene Corporation, Cigna and the Blue Cross and Blue Shield companies.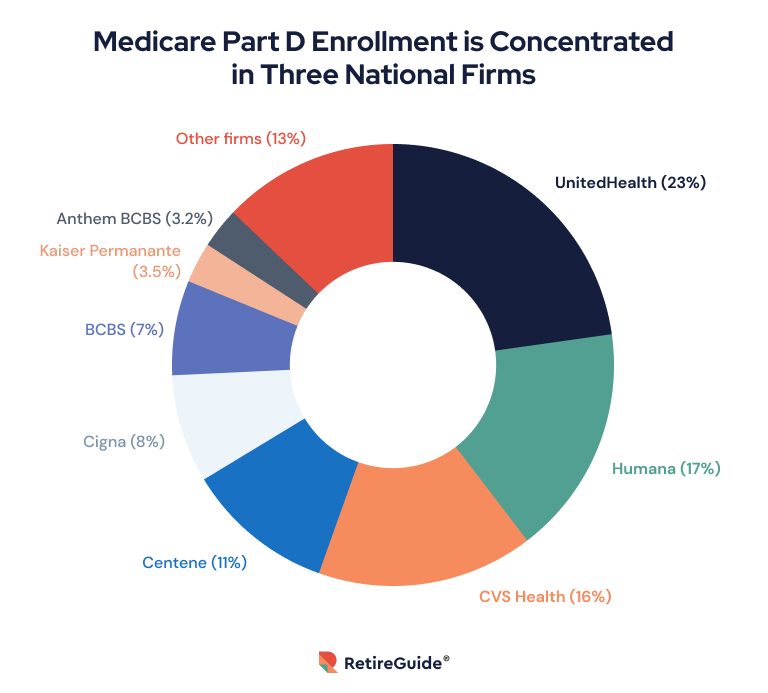 Humana Inc.
Humana offers a range of plans with different premiums and costs, giving you a good chance of finding a plan that makes sense for you. Of all Part D beneficiaries in 2021, 17% got their plan through Humana.
In addition to the variety of plans, another benefit of Humana is the ease of use when researching plans. You can easily compare different plan types and see the type of plan that's best for beneficiaries in different situations.
Humana also offers Medicare Advantage plans, and many of those plans include drug coverage. Ratings for Humana's Medicare Advantage plans are high, as 97% of those plans were given a four-star rating or higher in 2022.
UnitedHealth Group Inc.
UnitedHealth Group services more beneficiaries than any other company. In 2021, nearly a quarter of all beneficiaries got their plans through UnitedHealth. Drug plans are available almost everywhere in the country, with plans to fit the needs of various types of beneficiaries.
As with other companies, UnitedHealth offers Medicare Advantage plans, too.
CVS Health Corporation
CVS Health Corporation and its subsidiaries round out the three most popular Part D companies, servicing 16% of all beneficiaries in 2021.
While CVS Health offers a range of affordable plans, many of which have good ratings, there are some potential drawbacks when it comes to customer satisfaction for mail order services. According to the J.D. Power 2021 U.S. Pharmacy Study, CVS Caremark had the worst customer satisfaction rating for mail order of the pharmacies surveyed (Humana Pharmacy came in at No. 1).
Last Modified: May 23, 2023
Share This Page
5 Cited Research Articles
Who Am I Calling?
Calling this number connects you to one of our trusted partners.
If you're interested in help navigating your options, a representative will provide you with a free, no-obligation consultation.
Our partners are committed to excellent customer service. They can match you with a qualified professional for your unique objectives.
We/Our Partners do not offer every plan available in your area. Any information provided is limited to those plans offered in your area. Please contact Medicare.gov or 1-800-MEDICARE to get information on all of your options.
888-694-0290
Your web browser is no longer supported by Microsoft. Update your browser for more security, speed and compatibility.
If you need help pricing and building your medicare plan, call us at 844-572-0696