Medicare Enrollment
You can only enroll in Medicare at certain times. The window opens three months before your 65th birthday month and ends three months after it. You can sign up online, by phone or in person at your Social Security office. Enrollment is automatic if you're already receiving Social Security benefits.
You can apply for Medicare even if you are not planning to retire right away.
Medicare enrollment takes less than 10 minutes online, according to the Social Security Administration. The agency processes applications for Medicare.
Initial Enrollment Periods for Medicare
Your initial enrollment period runs seven months. It begins three months before your 65th birthday month. It includes your birthday month and the next three months after it.
This is when you can first sign up for Medicare.
You enroll in Medicare through the Social Security Administration. After that, your benefits will be administered by the U.S. Centers for Medicare & Medicaid Services.
How to Enroll in Medicare
You can apply online at the Social Security website.
Call the Social Security Administration toll-free at 1-800-772-1213 (TTY 1-800-325-0778).
Visit your local Social Security office. The agency has a Social Security office locator at its website.
When you first enroll, you will sign up for Medicare Part A hospital insurance. If you've worked and paid Medicare payroll taxes for at least 10 years, there will be no premium. You'll be given a choice of signing up for Medicare Part B medical insurance, which covers things such as doctor visits and outpatient services.
You'll also be able to sign up for a Medicare Advantage plan, sometimes called Medicare Part C. It helps cover out-of-pocket expenses such as copayments, coinsurance and deductibles. If you stay with Original Medicare, you'll be able to select stand-alone prescription drug coverage through a Medicare Part D plan. Otherwise, Medicare Part D is often included in a Medicare Advantage plan.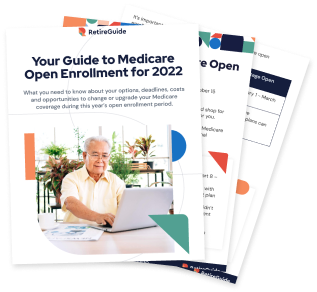 Prepare for Medicare Open Enrollment
Get help navigating and selecting the best Medicare coverage without any guesswork.
Open Enrollment Periods for Medicare
Outside of the initial enrollment period, there are certain times each year when you can change between or enroll in different Medicare plans. These are part of Medicare open enrollment.
Did you know?
The Medicare open enrollment period runs from Oct. 15 to Dec. 7 each year.
Open enrollment is available because Medicare health and drug plans can make changes once a year. Changes may include how much the plans cost, what they cover and what doctors, pharmacies and other health care providers are in their networks.
Medicare open enrollment gives you a chance to change to a new plan if you don't like those changes.
Special Enrollment Periods for Medicare
Medicare Special Enrollment Periods can happen any time during the year due to changes in your circumstances.
When Medicare Special Enrollment Is Allowed
When you move somewhere outside of the coverage area of your Medicare Advantage plan.
When you leave your employer's health insurance plan.
When Medicare ends its contract with your Medicare Advantage provider.
Late Enrollment Penalties
When you first enroll in Medicare, you can sign up for Medicare Part A hospital insurance and Medicare Part B medical insurance. If you qualify for Medicare and have paid payroll taxes into the system for at least 10 years, there should be no premium for Part A.
Because you have to pay a premium for Part B, you can decline it. But applying for it later will cost you a monthly penalty. The cost of your Part B monthly premium will increase by 10 percent for each 12-month period you were eligible but did not enroll.
You may also have to pay a late enrollment penalty on Medicare Part D if you go more than 63 days without creditable prescription drug coverage after your initial enrollment period ends. You'll have to pay this higher monthly premium for as long as you have Medicare prescription drug coverage.
There is no late enrollment penalty fee for Medicare Advantage plans.
Frequently Asked Questions About Medicare Enrollment
Medicare is a complex health insurance system, and it can be hard to grasp all of its intricacies without studying how different parts work. Don't be intimidated about asking questions with someone who may be able to explain something you don't understand about it.
Keep in mind that some of the most frequently asked questions are some of the most basic.
Last Modified: November 10, 2021
Share This Page
5 Cited Research Articles