Medicare Open Enrollment Statistics
Changes to Medicare plans happen every year, but as many as 70% of Medicare beneficiaries never review or compare plans during Medicare Open Enrollment Periods — potentially costing them money and the loss of coverage.
Written by

Terry Turner

Terry Turner

Senior Financial Writer and Financial Wellness Facilitator

Terry Turner has more than 30 years of journalism experience, including covering benefits, spending and congressional action on federal programs such as Social Security and Medicare. He is a Certified Financial Wellness Facilitator through the National Wellness Institute and the Foundation for Financial Wellness and a member of the Association for Financial Counseling & Planning Education (AFCPE®).

Read More

Edited By

Lamia Chowdhury

Lamia Chowdhury

Financial Editor

Lamia Chowdhury is a financial content editor for RetireGuide and has over three years of marketing experience in the finance industry. She has written copy for both digital and print pieces ranging from blogs, radio scripts and search ads to billboards, brochures, mailers and more.

Read More

Published: September 8, 2022
Updated: January 17, 2023
5 min read time
This page features 10 Cited Research Articles
Overview of Medicare Statistics
Medicare provides health insurance to more than 65 million people — or roughly one in every five Americans — according to the Kaiser Family Foundation.
Medicare spending has increased from $200 billion a year in 2000 to $689 billion in 2021, resulting in an annual growth rate of 6.2% over the years. Medicare spending accounts for 20% of all national expenditures on health care and 12% of the total United States budget.
As the U.S. population ages, enrollment in Medicare plans continues to increase. At the same time, there is a trend of those enrolled in Medicare migrating from Original Medicare — administered by the federal government — toward privately administered Medicare Advantage plans.
Switching to Medicare Advantage — Trends from Year-to-Year
Medicare Advantage plans accounted for 45% of all Medicare coverage in the United States in 2022, according to the Chartis Group, a health care consulting firm. It estimates that Medicare Advantage plans will reach 50% by 2025.
The number of people enrolled in Medicare Advantage plans doubled from 2012 to 2021.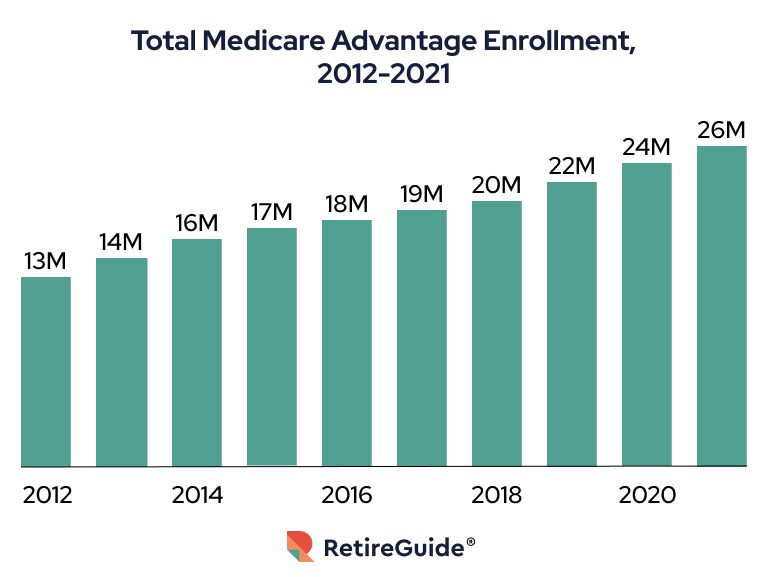 Source: Kaiser Family Foundation
Medicare Advantage plans, while sold and administered by private insurers, are required to meet requirements set by the federal government.
All Medicare Advantage plans must cover everything that Original Medicare — Medicare Part A and Part B — covers. But Advantage plans may offer additional coverage Original Medicare provides, such as dental, vision and hearing services.
Don't Leave Your Health to Chance
Find a local Medicare plan that fits your needs by connecting with a licensed GoHealth insurance agent.
How Many People Switch Medicare Plans During Open Enrollment?
Medicare Advantage Open Enrollment runs from Jan. 1 through Mar. 31 each year. You can also switch Advantage plans or switch between Original Medicare and Medicare Advantage plans during the Annual Open Enrollment Period, which runs December 15 through December 7 each year.
In 2022, Medicare Advantage added about 2.3 million beneficiaries, according to the Chartis Group. That included new Medicare beneficiaries as well as 1.3 million people who switched from Original Medicare to Medicare Advantage.
Medicare Advantage beneficiaries can also switch between Advantage plans, but these moves are not common and not easily tracked.
Between 2007 and 2014, only about 9% to 11% of Medicare Advantage plan holders switched to another Medicare Advantage plan, according to a 2016 analysis by the Commonwealth Fund. The study also found only about 2% of Medicare Advantage enrollees switch to Original Medicare each year.
How To Switch Plans During Open Enrollment
How Many People Don't Compare Medicare Plans During Open Enrollment?
Medicare plans can change their costs and coverage each year. That means you should compare plans each year to determine if your plan is still the best choice for your needs.
But about seven in 10 Medicare beneficiaries failed to compare coverage options during a single Open Enrollment Period, according to a 2021 analysis by the Kaiser Family Foundation. The percentage was slightly higher among people enrolled in Original Medicare than those in Medicare Advantage Plans.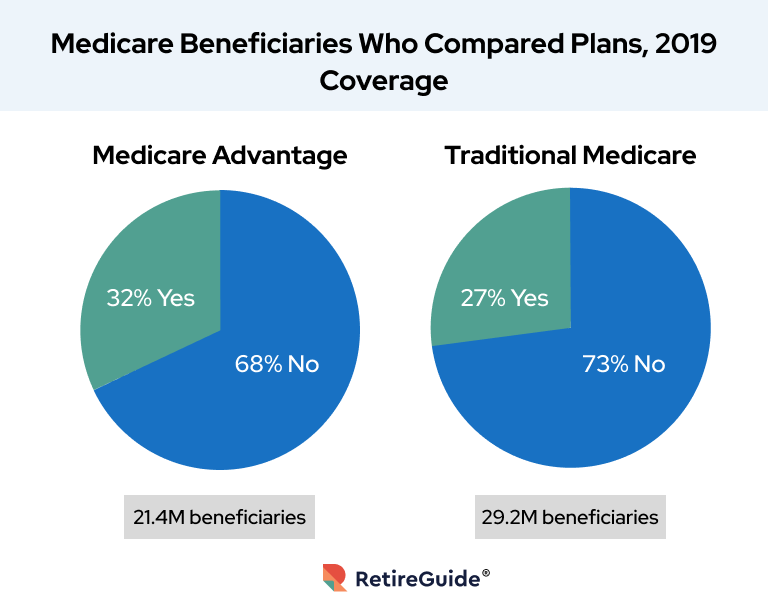 Source: Kaiser Family Foundation
Reviewing your plan and comparing it with other plans each year during the Open Enrollment Periods can help you avoid unexpected costs, changes in doctors or hospitals in your plans network or other disruptions in your health care.
Largest Medicare Advantage Companies by Enrollment
There has been a steady migration away from nonprofit Medicare Advantage plans toward plans offered by for-profit insurers.
In 2022, nonprofit plans accounted for 28.2% of Medicare Advantage plans compared to a 71.8% share of for-profit plans, according to the Chartis Group.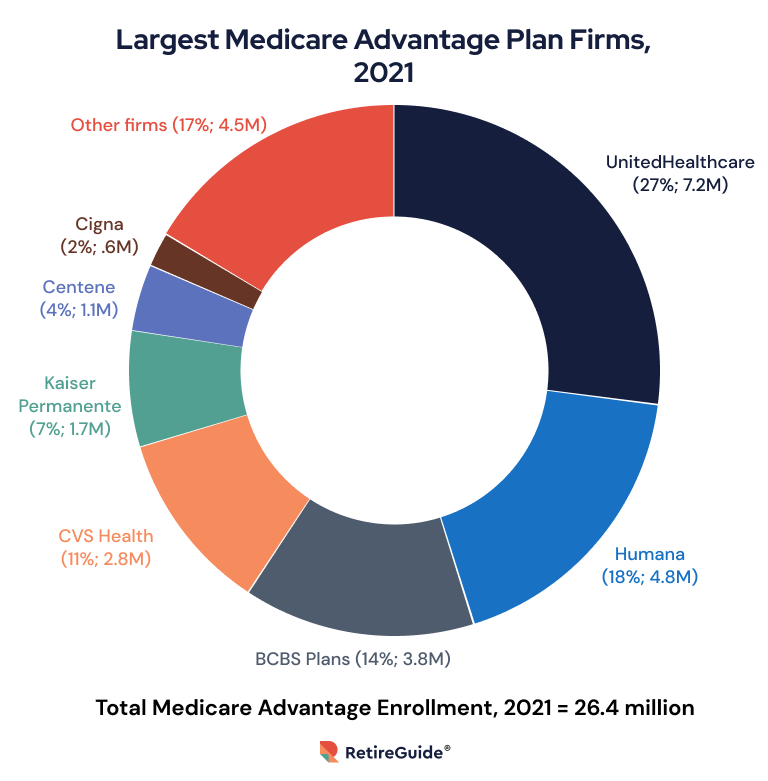 Source: Kaiser Family Foundation
Just three Medicare Advantage plan insurers — for-profit UnitedHealthcare and Humana and nonprofit Blue Cross/Blue Shield — accounted for 59% of all Medicare Advantage plans sold in 2021. The three companies covered a total of 15.8 million Medicare beneficiaries, according to the Kaiser Family Foundation.
Medigap and Other Supplemental Enrollment Statistics
Medigap — Medicare Supplement insurance — is the most common type of supplemental insurance enrollees of Original Medicare rely on to help cover out-of-pocket expenses.
The Medigap Open Enrollment Period is a 6-month window that opens when you are eligible for Medicare and enroll in Medicare Part B. You can only enroll in Medigap if you have Original Medicare. You cannot combine it with a Medicare Advantage plan.
Original Medicare beneficiaries may also have employer-sponsored health insurance for retirees, Medicaid or some other type of supplemental insurance.
Around 5.6 million Original Medicare beneficiaries — about one in five — have no supplemental insurance.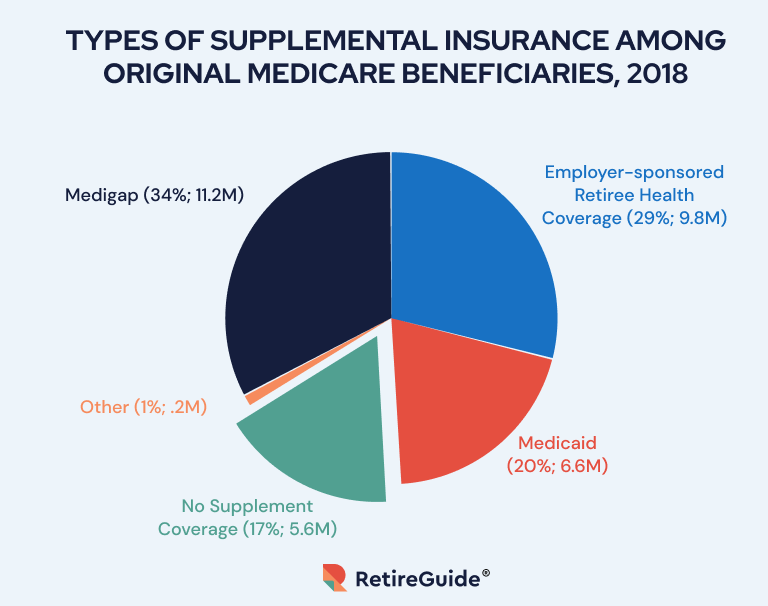 Source: Kaiser Family Foundation
Medigap is the most widely used form of supplemental insurance — with more than one in three Original Medicare beneficiaries enrolled in some type of Medigap plan.
There are currently 10 standardized Medigap plans available to new Medicare enrollees. Each provides coverage for different types and amounts of out-of-pocket expenses associated with Original Medicare. Medigap Plans F and G accounted for about 73% of Medigap enrollments in 2020.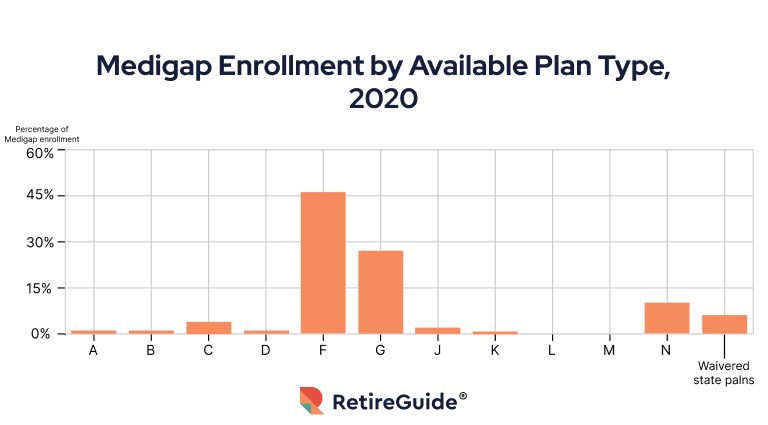 Source: Statista
Medigap plans are sold by private insurers, but Medicare requires they use standardized plans across most states. Three states — Massachusetts, Minnesota and Wisconsin — received waivers from the federal government to set up their own standardized Medicare plans.
Open Enrollment Considerations by State
Medicare Part D Prescription Drug Plan Statistics
About 48 million Americans were enrolled in a Medicare Part D prescription drug plan — or PDP — in 2021, according to the Kaiser Family Foundation. These include standalone Medicare Part D plans coupled with Original Medicare as well as Part D plans included in Medicare Advantage plans.
Medicare Part D plans also make changes to their formulary, which is a list of covered prescription drugs. It's important to make sure your plan still covers your medications each year ahead of the Open Enrollment Periods. But a 2021 study from the Kaiser Family Foundation found that as many as eight in 10 Medicare Advantage beneficiaries failed to compare Part D coverage during open enrollment.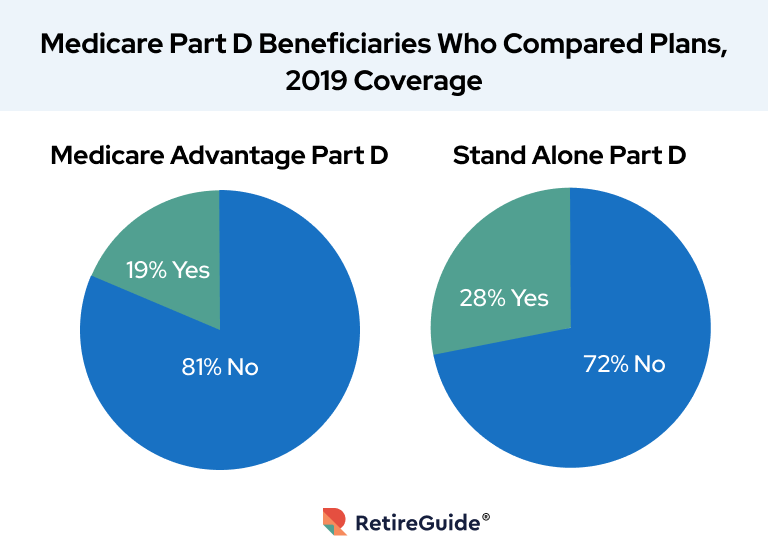 Source: Kaiser Family Foundation
Spending on Medicare Part D benefits were estimated to total $111 billion in 2022, according to the Congressional Budget Office. That amounts to 15% of all Medicare spending for the year.
Most Medicare Advantage plans include Part D coverage. And since 2006, Medicare Advantage plans have accounted for the most growth in prescription drug coverage.
In 2006, Medicare Advantage accounted for only 28% of Medicare Part D coverage. In 2021, Medicare Advantage plans accounted for just over half of the total.
Last Modified: January 17, 2023
Share This Page
10 Cited Research Articles
Who Am I Calling?
Calling this number connects you to one of our trusted partners.
If you're interested in help navigating your options, a representative will provide you with a free, no-obligation consultation.
Our partners are committed to excellent customer service. They can match you with a qualified professional for your unique objectives.
We/Our Partners do not offer every plan available in your area. Any information provided is limited to those plans offered in your area. Please contact Medicare.gov or 1-800-MEDICARE to get information on all of your options.
888-694-0290
Your web browser is no longer supported by Microsoft. Update your browser for more security, speed and compatibility.
If you need help pricing and building your medicare plan, call us at 844-572-0696