Medicare Part B
Medicare Part B is part of Original Medicare. It covers medically necessary care and preventative services. This includes doctor visits, outpatient care, cancer screenings, medical equipment and more. The standard monthly premium for Medicare Part B is $170.10 in 2022.
On This Page
What Does Medicare Part B Cover?
Medicare Part B is the medical insurance component of Original Medicare.
There are two main categories for Medicare Part B coverage:
Medically Necessary Services: Helps diagnose or treat a medical condition. This includes doctor visits.
Preventative Care: Services and screenings to prevent illness or provide early detection.
Types of Medically Necessary Services
Ambulance transportation
Medical equipment
Mental health
Limited outpatient prescription drugs
Clinical research
Lab tests
Types of Preventative Care Services
Disease screenings
Cancer screenings
Glaucoma tests
Mental health screenings
One-time Welcome to Medicare preventive visit
Shots
Tobacco use cessation counseling
Yearly wellness visit
Annual wellness visits are a way to monitor your health and may include a cognitive impairment assessment to screen for Alzheimer's Disease.
The Part B deductible doesn't apply for yearly wellness visits or most preventative services.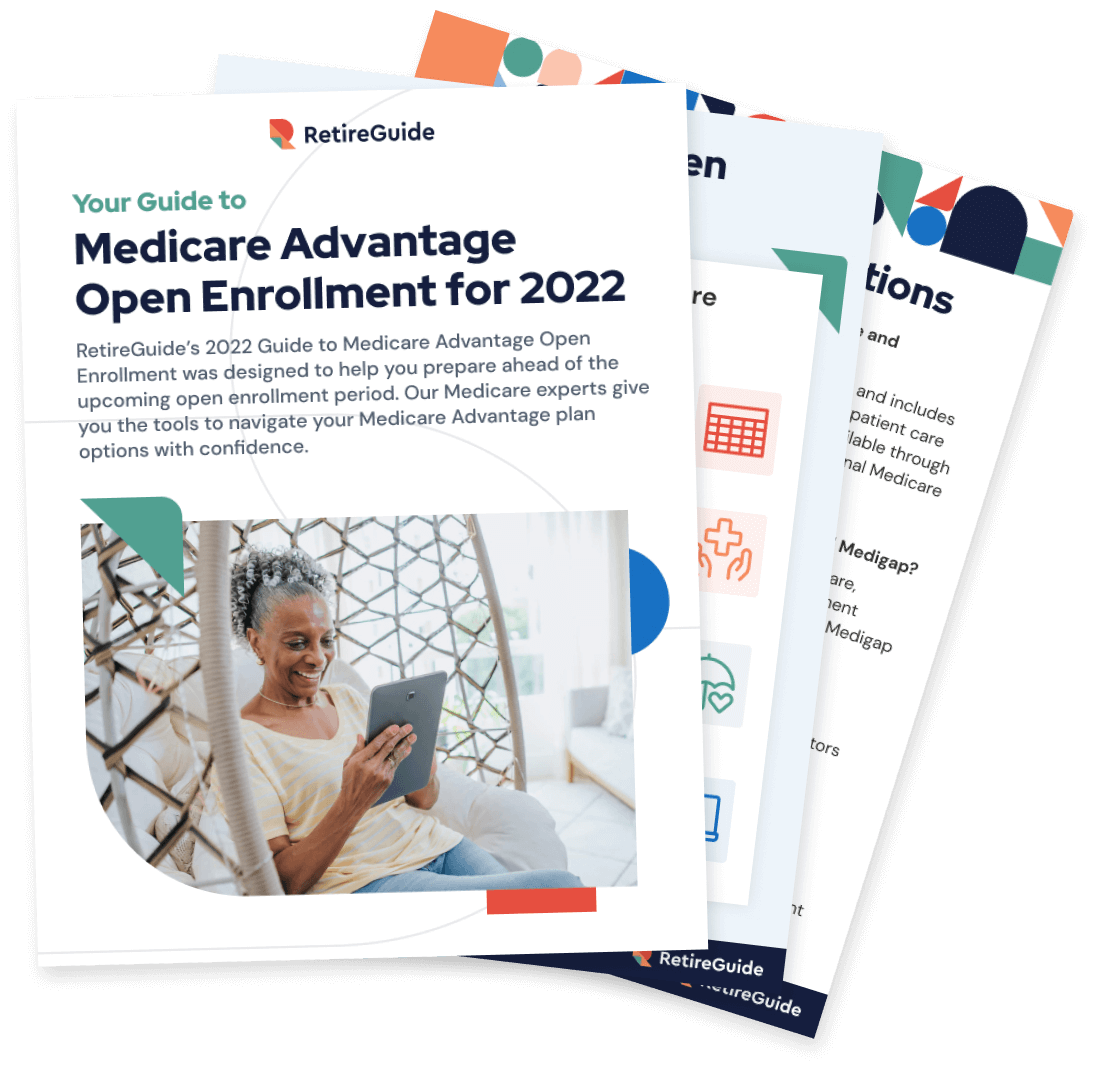 Get a Free Medicare Advantage Guide
Learn how to join, switch, or drop your Medicare Advantage plan before time runs out on March 31, 2022.
Medicare Part B Enrollment & Eligibility
If you already receive Social Security when you turn 65, you are automatically enrolled in Original Medicare (Parts A and B).
If not, you need to sign up with Social Security when you first become eligible. Otherwise, you may face a late enrollment penalty.
You can sign up for Medicare in about 10 minutes on the Social Security website.
Once enrolled, you don't need to sign up again for coverage each year. However, you have an annual opportunity to review your coverage and change plans.
Open enrollment, also known as the annual election period, runs from Oct. 15 through Dec. 7.
Late Enrollment Penalty
Delaying your Medicare Part B coverage can cost you. You have a seven-month window to enroll in Medicare. It begins three months before your 65th birthday, includes your birth month and extends three months after that.
If you miss this window, your monthly Plan B premium can increase 10 percent each 12-month period you go without coverage.
Did You Know?
The Medicare Part B late enrollment penalty doesn't apply if you still receive health insurance through your employer or your spouse's employer.
Medigap Open Enrollment
Medigap is private supplemental insurance that bridges Medicare coverage gaps. It helps cover coinsurance, deductibles and copays.
The best time to sign up for Medigap is within six months of enrolling in Part B.
During the Medigap Open Enrollment Period, you are guaranteed the best price for coverage by private insurance companies — regardless of your health.
This time frame cannot be extended, changed or repeated.
If you miss this window, you may not be able to buy Medigap supplemental insurance later. Even if you can, it will cost more.
Costs of Medicare Part B
You pay a monthly premium, or fee, for Part B coverage. Your premium is automatically deducted from your benefit payment if you receive Social Security. Otherwise, you'll receive a bill.
The standard Part B premium amount is $170.10 for 2022, up from $148.50 in 2021. Your cost may be higher if your adjusted gross income as reported on your individual IRS tax return from two years ago is above $91,000.
You must pay your Part B premium every month even if you don't use it.
Medicare Part B Costs
Standard Premium: $170.10
Deductible: $233
Coinsurance: 20 percent after deductible is met
Frequently Asked Questions About Medicare Part B
Can you delay Medicare Part B enrollment?
Yes. But you should contact your employer before doing so to see how your current insurance interacts with Medicare. Your employer plan may require you to enroll in
Part A
and Part B in order to continue receiving full benefits.
Last Modified: January 7, 2022
Share This Page
10 Cited Research Articles