Medicare Part A
Medicare Part A is the hospital insurance component of Original Medicare. Part A covers inpatient care, including stays at hospitals and skilled nursing facilities. It also includes home health and hospice care. Most people do not pay a monthly fee, or premium, for Medicare Part A.
On This Page
What Does Medicare Part A Cover?
Medicare Part A is emergency insurance. It provides coverage for hospitalization, hospice care, nursing facility care and home health care.
Inpatient Hospital Care Coverage
After you pay your $1,556 deductible, Medicare covers all hospitalization costs for 60 days. You begin paying a portion, called coinsurance, after that.
Medicare-covered hospital services include:
Semi-private rooms
Meals
General nursing
Drugs as part of your inpatient treatment
Other hospital services and supplies
Skilled Nursing Facility Care
Medicare Part A covers skilled nursing facility care under specific circumstances for a limited time. It does not cover extended nursing home stays or long-term care.
To qualify, your doctor must decide you need daily skilled care — such as physical or speech therapy — after hospitalization. Medicare will cover at least some of these costs for up to 100 days.
Home Health Care Coverage
Medicare Part A will cover home health care when your doctor orders these services for you. Services are coordinated through a health care agency.
This doesn't include around-the-clock in-home care or assistance with tasks of everyday living such as bathing, dressing or using the bathroom.
Home health care services covered with Part A include:
Part-time or intermittent skilled nursing
Physical therapy
Occupational therapy
Speech-language services
Medical social services
Durable medical equipment
After meeting your deductible, Medicare generally pays for all home health care services. However, there may be a coinsurance payment for durable medical equipment.
Hospice Care Coverage
Most Medicare beneficiaries pay little to nothing for hospice care.
To qualify, you must be terminally ill with a life expectancy of six months or less. You and your family must also work with a hospice team and develop a plan of care that meets your needs.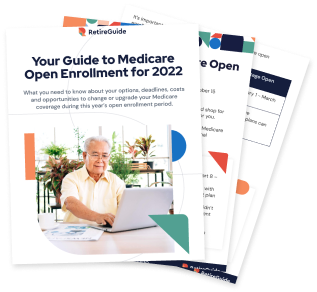 Prepare for Medicare Open Enrollment
Get help navigating and selecting the best Medicare coverage without any guesswork.
Medicare Part A Enrollment & Eligibility
If you're receiving Social Security benefits for at least four months before turning 65, you are automatically enrolled in Medicare Part A and B.
If not, you need to sign up with Social Security. You can do so by visiting the Social Security website or by calling 800-772-1213.
Initial Enrollment
You typically have a seven-month window to enroll in Medicare for the first time.
It begins three months before the month you turn 65, includes your birthday month and extends three months after your 65th birthday. This is called the initial enrollment period.
Open Enrollment
After you're enrolled, you don't need to sign up for Medicare each year. However, you get the chance to review your coverage and change plans each year during a period known as general or open enrollment. Open enrollment runs from Oct. 15 through Dec. 7.
Costs of Medicare Part A
Most people get premium-free Part A coverage. But if you worked less than 10 years in the U.S. before turning 65, Part A may cost you.
If you paid Medicare payroll taxes for less than 30 quarters — about 7.5 years — the standard Part A premium is $499. If you paid Medicare taxes for 30 to 39 quarters, the premium is .
Part A includes a $1,556 deductible for everyone. This is the cost you pay before Medicare covers anything.
Inpatient Hospital Care
Days 1 to 60: You pay nothing after reaching your deductible.
Days 61 to 90: $389 coinsurance each day per benefit period.
Days 91 and Beyond: $778 coinsurance per each lifetime reserve day.
After Lifetime Reserve Days: You pay all costs.
Skilled Nursing Facility Stay
Days 1 to 20: You pay nothing after reaching your deductible.
Days 21 to 100: $194.50 coinsurance each day per benefit period.
Days 101 and Beyond: You pay all costs.
Home Health Care
20 percent of the Medicare-approved amount for durable medical equipment.
Frequently Asked Questions About Medicare Part A
When will my Medicare Part A coverage start?
If you enroll in Medicare Part A one to three months before your 65th birthday, your coverage begins during your birthday month. If you enroll during your birthday month, your coverage begins the first day of the next month. If you enroll one to three months after your birthday, your coverage generally begins the first day of the following month.
Do I need to sign up for Part A coverage if I'm still working?
You aren't required to sign up for Medicare at 65 if you're still working and receive health insurance through your employer. When you retire, you have an eight-month enrollment period to sign up for Original Medicare without facing a late penalty.
Last Modified: November 18, 2021
Share This Page
7 Cited Research Articles