Medicare Doesn't Cover Hearing, Vision and Dental Services. Could Congress Change That?
Written by

Terry Turner

Terry Turner

Senior Financial Writer and Financial Wellness Facilitator

Terry Turner has more than 35 years of journalism experience, including covering benefits, spending and congressional action on federal programs such as Social Security and Medicare. He is a Certified Financial Wellness Facilitator through the National Wellness Institute and the Foundation for Financial Wellness and a member of the Association for Financial Counseling & Planning Education (AFCPE®).

Read More

Edited By

Lee Williams

Lee Williams

Senior Financial Editor

Lee Williams is a professional writer, editor and content strategist with 10 years of professional experience working for global and nationally recognized brands. He has contributed to Forbes, The Huffington Post, SUCCESS Magazine, AskMen.com, Electric Literature and The Wall Street Journal. His career also includes ghostwriting for Fortune 500 CEOs and published authors.

Read More

Published: July 21, 2021
9 min read time
This page features 15 Cited Research Articles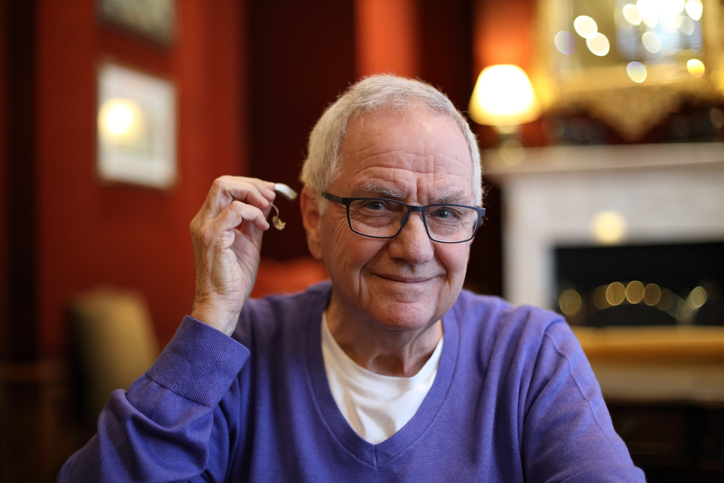 At least 17 U.S. Senators and 150 Representatives have formally called on the Biden administration to include vision, hearing and dental care in plans to expand Medicare coverage. Federal law currently bars Medicare from covering basic services in these areas, including eyeglasses and eye exams, hearing aids and dental care.
"Back when Medicare was crafted in the 1960s, it was really a piece of social welfare legislation to cover catastrophic illnesses," said Barbara Kelley, the executive director of the Hearing Loss Association of America, to RetireGuide.
Most private health insurance at the time covered hospitalization and visits to doctors' offices. Hearing, vision and dental services weren't considered critical at the time and items like hearing aids, eyeglasses, dental work were deliberately left out of Medicare when Congress created it in 1965.
These services were considered normal aging problems at the time, but medical research since the 1960s has shown they are intertwined with other, more serious health conditions. According to Kelley, hearing loss, for example, has been linked to falls, isolation, depression, anxiety, and even dementia.
"If you talk to family medicine or primary care doctors, they will tell you with certainty that ignoring medical issues related to dental, vision and hearing often devolves into far more serious medical problems for people — especially seniors — that cost more to treat and are harder to remedy," said Senate Majority Leader Chuck Schumer (D-N.Y.) during a June 20 news conference.
Advocacy groups have also called for varying forms of Medicare expansion, but many stop short of covering all dental, hearing or vision care options.
Any expansion plan would be part of a broader, $1.8 trillion American Families Plan from the Biden administration. And the White House plan faces opposition over its cost.
In the meantime, there are ways people on Medicare can reduce their hearing, dental, and vision care costs.
Check Your Medicare Advantage Plan for Coverage
Many people may not realize they already have coverage for hearing, vision and dental care through their Medicare Advantage plan.
"I was shocked to find out about people not knowing their Medicare Advantage plan covered hearing aids," Kelley said.
Medicare Advantage plans are private policies you can purchase to replace your federal Medicare Part A and Part B coverage. Medicare Advantage plans are required by law to cover everything Original Medicare covers, but they can offer additional benefits that Part A and Part B do not provide. These typically include vision, hearing and dental benefits.
"For Medicare beneficiaries enrolled in Medicare Advantage plans, beneficiaries already have access to vision care services," said Dr. David Glasser, the secretary for federal affairs at the American Academy of Ophthalmology, to RetireGuide.
If you have a Medicare Advantage plan, you should check with the company that administers it to see what services are covered.
Medigap plans – also called Medicare Supplement insurance – do not cover hearing, vision and dental costs. These supplement your Original Medicare from the federal government. Medigap only helps you pay out-of-pocket costs for things Original Medicare covers.
Make sure you know whether you have Medicare Advantage or Medicare Supplement insurance.
Other Resources To Consider
If you qualify for other state and federal benefits, these may cover some or all of your dental, hearing or vision care – even if you are on Medicare. Local civic clubs and state organizations may also be able to help with financial assistance.
Financial Aid Resources to Consider
MedicaidMedicaid is a joint state and federal program. Eligibility is limited to people with limited income and resources. What Medicaid will cover varies from state to state. Contact your state Medicaid office to determine if you are eligible and what services may be covered where you live.
PACEThe Program of All-inclusive Care for the Elderly (PACE) is a joint Medicare and Medicaid program that assists with health care in the community for those eligible for nursing home care that meet other requirements.
Veterans benefits and insuranceYour VA benefits may cover hearing aids, eyeglasses and dental services in certain cases if you qualify. Tricare for Life also has specific hearing, dental and vision benefits. Contact the Department of Veterans Affairs about your VA benefits or Tricare to find out if services are covered.
Civic organizationsLocal civic clubs may be able to help you with certain assistive devices — for example, Lions Clubs International partners with hearing care professionals for its Affordable Hearing Aid Project. Lions Clubs are also known for their work with the visually impaired and the blind. Your local Lions Club may be able to help you with reduced-cost eyeglasses.
United WayThis nonprofit organization may be able to help you find low-cost or sometimes free hearing, dental or vision care. You can contact the local United Way office near you. You can also dial 2-1-1 for Information and Referral Search sponsored by the United Way to help you find the agency or organization that can help you.
Impact of Medicare Covering Hearing Aids and Services
About two-thirds of Americans 70 and older have some form of hearing loss. The Hearing Loss Association of America (HLAA) supports expanding Medicare to cover hearing aids and services – including fittings, follow-up visits, aural rehab, and other related services.
"The number one call, email or letter that we've gotten over the 35 years I've been with HLAA is, 'I need hearing aids, I can't afford them, and Medicare doesn't cover them'," said Kelley. "Expanding Medicare to cover hearing aids and services will have a big impact."
Modern hearing aids can be complex digital devices that monitor pulse and blood pressure or alert someone if you fall. These features can drive up the price. Kelley points out that a single hearing aid can cost up to $4,000, but even a basic pair of hearing aids can run around $1,400.
"We want Medicare to cover hearing aids and services," Kelley added. "We're hoping that perhaps Medicare will pay for a basic device and people will have the option to top up on options they can afford."
Financial Aid Resources
The Hearing Loss Association of America maintains an extensive list of financial aid resources specifically for hearing aids and services, including state and local resources.
But the cost isn't limited to just the hearing aids. Kelley says the device itself is usually only about a third of the cost to address hearing loss issues.
The remaining two-thirds are the related services hearing aid specialists and audiologists provide to treat your condition.
Millions on Medicare Would Benefit from Vision Coverage
Medicare doesn't cover eyeglasses except following cataract surgery. More than 40.5 million older Americans wear glasses or contact lenses, according to a 2018 study in the Journal of the American Medical Association Ophthalmology.
Almost four million of those reported they still had problems seeing – likely needing new prescription lenses.
"Some of the cost of providing eyeglasses could potentially be offset by reductions in falls, depression, and cognitive decline in older adults," the authors of the study wrote.
Medicare covers rehabilitation services and necessary durable medical equipment (DME) for beneficiaries with most medical conditions that reduce their ability to function physically. But that isn't necessarily the case for vision impairment.
The American Academy of Ophthalmology (AAO) has encouraged Medicare and Congress to address what it calls "a critical gap" in Medicare coverage.
"We support the concept of making vision services and eyeglasses available to Medicare beneficiaries," Dr. Glasser said. "Low vision often results in impairment of daily activities, loss of independence, increased risk of falls and fractures and reduced quality of life and life expectancy."
But the AAO stresses that any expansion in vision services should not divert Medicare resources away from treatment for serious, blinding eye diseases and conditions.
"We want to make sure that access to critical services and treatments for medical eye care is not compromised in the effort to expand Medicare benefits," Dr. Glasser said.
AAO Offers Financial Aid for Eye Care for Medicare Beneficiaries
The AAO sponsors EyeCare America to promote access to critical vision care services to U.S. seniors 65 and older. Volunteer ophthalmologists in the program agree to accept whatever your private insurance pays and offer their services free of charge.
If you're eligible, If you're eligible, a participating ophthalmologist matches with you for a comprehensive eye exam and up to one year of eye care.
"More than 90 percent of care is provided at no out-of-pocket cost to the patient," said Dr. Glasser.
Most Medicare Beneficiaries Do Not Have Dental Coverage
Medicare does not cover dental care unless it is related to another medically necessary procedure. Medicare beneficiaries who want dental coverage have to find a private insurance option in most cases.
But purchasing a private dental insurance plan can still leave you with steep out-of-pocket expenses – some costing more than $1,000 a year in premiums alone.
According to the Kaiser Family Foundation, almost two-thirds of people on Medicare – about 37 million Americans – have no dental coverage.
According to the American Dental Association, the cost of extracting four teeth and providing a partial upper denture was $4,800 in 2020.
5 Financial Aid Resources for Senior Dental Care
American Student Dental AssociationAmerican Student Dental AssociationThe ASDA website lists dental schools by state. These schools often offer low-cost dental care while giving dental students valuable training.
Dental Life NetworkFormerly called the National Foundation of Dentistry for the Handicapped, the network has a network of 17,000 volunteer dentists that offer treatments free of charge if you qualify. You can visit the Dental Life Network website or call 303-534-5360.
Eldercare LocatorThe Eldercare Locator – a service of the U.S. Administration on Aging – lets you find senior services available in your state. You can search online or call 1-800-677-1116 to talk with a specialist.
Health Resources and Services AdministrationThe U.S. Health Resources and Services Administration supports federal health centers providing care to people without insurance or with limited incomes around the country. They can be reached toll-free by phone at 1-888-275-4772.
National Association of Free and Charitable ClinicsThe NAFCC is a nonprofit network of about 1,200 clinics around the United States. They provide health and dental care for low-income and uninsured people.
Oral health care is linked to other health problems as you age. Having routine dental care can help diagnose serious health conditions including nutritional deficiencies, HIV, infections and certain types of cancer.
Your web browser is no longer supported by Microsoft. Update your browser for more security, speed and compatibility.
If you need help pricing and building your medicare plan, call us at 844-572-0696