Prescription Drug Costs to Play Major Role in 2020 Election

Written by

Rachel Christian

Rachel Christian

Financial Writer and Certified Educator in Personal Finance

Rachel Christian is a writer and researcher for RetireGuide. She covers annuities, Medicare, life insurance and other important retirement topics. Rachel is a member of the Association for Financial Counseling & Planning Education.

Read More

Edited By

Matt Mauney

Matt Mauney

Financial Editor

Matt Mauney is an award-winning journalist, editor, writer and content strategist with more than 15 years of professional experience working for nationally recognized newspapers and digital brands. He has contributed content for ChicagoTribune.com, LATimes.com, The Hill and the American Cancer Society, and he was part of the Orlando Sentinel digital staff that was named a Pulitzer Prize finalist in 2017.

Read More

Published: July 9, 2020
4 min read time
This page features 20 Cited Research Articles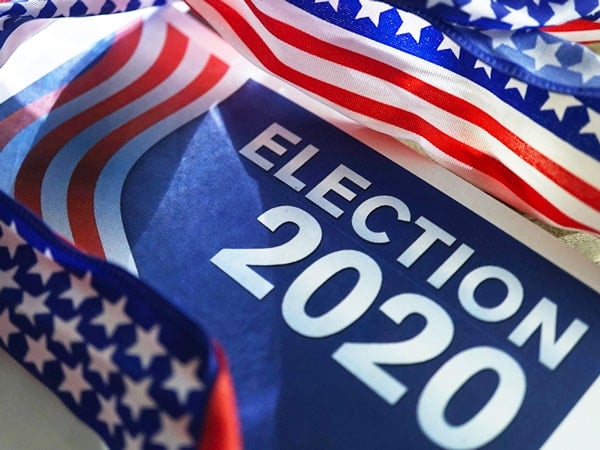 Lowering prescription drug prices, especially for older Americans, remains a key issue for voters and candidates ahead of the 2020 general election.
More than 75 percent of people age 65 and older believe the cost of prescription drugs is unreasonable, according to 2019 research by the Kaiser Family Foundation, a nonprofit and nonpartisan group focused on national health issues.
Medicare spent $129 billion on prescription drugs in 2016, but some Medicare beneficiaries still face major out-of-pocket costs.
Researchers found dissatisfaction with rising costs crosses party lines.
"Drug prices are a pocketbook issue for seniors," Tricia Neuman, executive director of the Kaiser Family Foundation's Program on Medicare Policy, told RetireGuide. "Democrats, Republicans and independents may not see eye to eye on many issues, but they agree that government should do something about drug prices."
Bill to Lower Medicare Drug Costs Stalls in Senate
In December 2019, congressional lawmakers passed HR 3, or the Elijah E. Cummings Lower Drug Costs Now Act.
The bill encourages Medicare to negotiate with pharmaceutical companies on the price of certain medicines, limit annual out-of-pocket costs for Medicare Part D beneficiaries and add basic dental, vision and hearing coverage to Original Medicare.
The Congressional Budget Office estimates that HR 3 would account for $98 billion in savings over a 10-year period.
An April 2020 Gallup poll showed 75 percent of surveyed Americans favored a Senate vote on the bill.
Yet, the measure has stalled in the Senate, and Senate Majority Leader Mitch McConnell hasn't indicated plans to move it forward.
Meanwhile, the Senate Finance Committee adopted a different prescription drug proposal last year, known as the Grassley/Wyden Compromise.
But Neuman said that without strong bipartisan support, the bill may not be brought to the Senate floor before the end of the current Congressional session.
Policy experts cite strong resistance from the pharmaceutical industry and the GOP's general opposition to free market interference as reasons for the delay.
"The clock is ticking," Neuman said. "Democrats and Republicans campaigned on this issue prior to the last election and may be looking to deliver on their promise prior to the coming election."
Presidential Candidates Plan to Lower Drug Costs for Seniors
On July 24, President Donald Trump announced four executive orders aimed to lower prescription drug costs.
The proposals include:
Importing drugs from other countries.
Linking the price seniors pay for certain medications to prices in foreign countries.
Passing insulin savings on to consumers who receive the drug from certain low-income community health centers.
Providing drug-maker rebates straight to patients.
In May, Trump aimed at making insulin more affordable for Medicare beneficiaries.
About 1,750 insurance plans that offer Medicare drug coverage have agreed to provide insulin for a maximum monthly copay of $35 beginning in 2021, according to a news release by the U.S. Centers for Medicare & Medicaid Services.
Coverage will be available through special plans that may result in higher monthly premiums but are expected to offer other benefits, such as reduced cost-sharing on some drugs.
"I hope the seniors are going to remember it," Trump said about his new order during a White House press conference.
Meanwhile, former Vice President Joe Biden's platform seeks to expand measures and protections established under the Affordable Care Act.
Biden has promised to tackle rising prescription drug prices and supports importing cheaper drugs from other countries.
One of Biden's proposals would try to cut expenses by levying tax penalties on pharmaceutical companies that hike prices above the general inflation rate.
He also wants to reduce launch prices for branded drugs.
State Governments Take the Lead on Reducing Drug Costs
As federal politicians grapple with high drug costs, recent state laws aim to propel the movement forward.
Last year, 26 state legislatures passed 40 bills supported by AARP and other groups.
Measures included screening for excessive drug company price hikes and creating oversight boards to establish how much states will pay for drugs.
Four states — Colorado, Florida, Maine and Vermont — enacted legislation in 2019 to import cheaper prescription medications from Canada and other countries.
By April 2020, eight states had passed 11 laws to address various drug pricing issues.
"States keep pushing the envelope, looking for approaches that work," Trish Riley, executive director of the National Academy for State Health Policy, told RetireGuide. The nonprofit advocacy group develops model legislation and promotes such laws.
"States cannot wait for federal action," Riley added.
However, Riley said states can be limited in their ability to curtail prices.
The four states that passed importation laws, for example, still need federal government approval to implement them — but Washington has yet to announce any final federal ruling on the issue.
Still, Riley said it's important for these efforts to continue.
"States play an important role in testing innovations that can inform federal policy," she said. "All the activity in these states helps educate opinion leaders and the public about drug pricing issues."
Your web browser is no longer supported by Microsoft. Update your browser for more security, speed and compatibility.
If you need help pricing and building your medicare plan, call us at 844-572-0696