Why Are Some Medicare Advantage Plans Free?
Some private insurers offer Medicare Advantage plans with a $0 monthly premium. But other out-of-pocket costs — including deductibles, copayments and coinsurance — still exist. Check the plan's evidence-of-coverage document to get a better idea about all the potential costs involved.
What Are Free Medicare Advantage Plans?
Maybe you've seen the commercials on TV or advertisements in the mail for free Medicare Advantage plans.
You may be wondering — how can Medicare Advantage plans be free?
In short, some private health insurance companies do offer Medicare Advantage plans with a $0 monthly premium — but other out-of-pocket Medicare costs still exist.
Medicare Advantage plans are increasingly popular for their "one stop shop" approach. Many plans offer dental, hearing, vision and Part D prescription drug coverage in addition to standard Medicare coverage.
Instead of juggling coverage from multiple plans, Medicare Advantage offers all benefits within a single plan.
Anyone who is already Medicare beneficiary can qualify for a Medicare Advantage plan.
There are several times throughout the year when you can enroll in a Part C plan, including during the open enrollment period, which lasts from Oct. 15 to Dec. 7 each year.
Did You Know?
In 2021, nearly 42 percent of all Medicare beneficiaries, or 26 million people, were enrolled in Medicare Advantage plans.
How Some Medicare Advantage Plans Have $0 Premiums
Some Medicare Advantage plans offer $0 premiums because of the way they receive federal funding.
Medicare pays private Medicare Advantage plans through a bidding process.
Plans submit bids based on how much they estimate it will cost to provide each enrollee the same services covered by Medicare Part A and Part B.
These bids are compared to established benchmark amounts set by a formula.
If a plan's bid is higher than the benchmark, consumers pick up the difference between the benchmark and the bid by paying a monthly Medicare Advantage premium in addition to the Part B premium.
However, if the bid comes in lower than the benchmark, Medicare and the plan split the difference. This results in a rebate.
In other words, if a Medicare Advantage plan spends less than the flat fee it receives from the federal government, it can pass these savings on to members.
These rebates let insurers offer $0 premium plans. It may also result in additional plan benefits, such as dental, vision, hearing and/or prescription drug coverage.
Even though the monthly Medicare Advantage premium may be waived, insurers have other ways to make up the cost.
Did You Know?
In 2021, about 54 percent of Medicare Advantage plans with prescription drug coverage didn't charge a monthly premium, other than the Part B premium.
Out-of-Pocket Costs with a 'Free' Medicare Advantage Plan
Not all Medicare Advantage plans have $0 premiums. For those that do, it's important to realize that no premium does not mean zero costs.
Only Part A is free for most people. You typically must still pay your Medicare Part B premium, along with deductibles, copayments and coinsurance. You will also pay more for out-of-network care.
Out-of-Pocket Costs of Free Medicare Advantage Plans
Deductibles

Some $0 premium plans have deductibles, or the amount of money you pay out of pocket before the insurance company picks up the tab. For example, if the plan features a $2,500 deductible, you must pay $2,500 each year before Medicare Advantage pays your medical expenses. Most Medicare Advantage plans have separate medical and prescription drug deductibles.

Coinsurance

This is the amount of money you pay out of pocket for services you receive after meeting your deductible. For example, after meeting your $233 Part B deductible, coinsurance is usually 20 percent of most doctor services. However, coinsurance for Medicare Advantage can vary by plan. Or you may owe a copayment instead.

Copayments

Medicare Advantage plans usually charge a copayment for doctor's visits instead of the 20 percent coinsurance you pay under Original Medicare. Copays are also common for lab work, X-rays, ER visits and other services. Medicare Advantage plans cannot charge more than Original Medicare for certain services, including chemotherapy and dialysis. Copayments vary by plan but can sometimes be several hundred dollars or more.

Out-of-Network Care

Most Medicare Advantage plans require you to use the plan's network of doctors, pharmacies and health care providers except in emergencies. These networks are specific to certain geographic areas. Going outside your network costs you extra money. Original Medicare does not restrict members to in-network providers.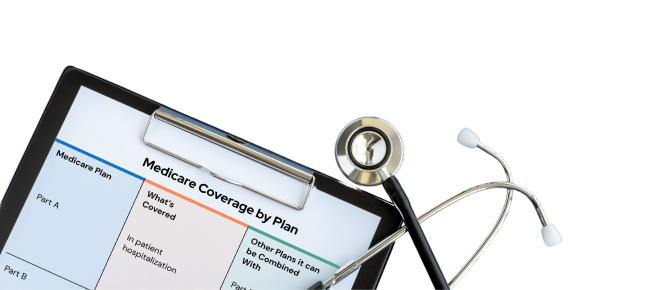 Need FREE Medicare Help?
Our Medicare experts will help you compare, build, and enroll in a plan that gets you the coverages you need at a price you can afford.
One benefit that Medicare Advantage plans offer unlike Original Medicare is a cap on out-of-pocket spending.
This limits how much money you will pay for covered services in a plan year.
These out-of-pocket maximums can be high. In 2022, out-of-pocket maximums cannot exceed $7,550 for in-network care and $11,300 for combined in-network and out-of-network care.
Each plan decides its own out-of-pocket limit, which may be lower. For example, in 2022, the average Medicare Advantage out-of-pocket limit was below the maximum.
Keep in mind that services not covered by Original Medicare — such as hearing, vision and prescription drugs — do not count toward the out-of-pocket limit.
It's important to note that your Medicare Advantage premium, deductibles and other costs can change each year.
Make sure to read your plan's statement of benefits to identify any changes your provider makes.
How to Pick the Right Medicare Advantage Plan
If you want to sign up for a Medicare Advantage plan, there's a few things you should know.
You can browse plans in your area by using the online Medicare Plan Finder tool.
After entering your zip code and some basic information, you can see each plan's premium in large font. You can also check the plan's out-of-pocket costs for medical coverage on the details page.
However, not all the essential information may be listed.
To get all the facts, check out the plan's evidence of coverage. This document will describe the plan's benefits, how much you will pay and how the plan works.
The evidence-of-coverage document will also include information about a plan's:
Prior authorization rules
Out-of-pocket limits
Networks
Approval process
Additional benefits and limitations
You'll need to go to the plan's specific website and look for the evidence-of-coverage link.
This may take some extra time and effort, but according to experts, it's the best way to get all the details you need to make an informed decision about a Medicare Advantage plan.
Last Modified: April 21, 2022
Share This Page
7 Cited Research Articles