MOOP: Maximum Out-of-Pocket Coverage
The maximum out-of-pocket (MOOP) limit is the amount you have to pay for covered Medicare services in a year. Medicare Advantage plans have MOOP limits. There is no maximum limit for Original Medicare — Part A and Part B — but a Medigap plan can help cover your Original Medicare out-of-pocket costs.
Written by

Terry Turner

Terry Turner

Senior Financial Writer and Financial Wellness Facilitator

Terry Turner has more than 30 years of journalism experience, including covering benefits, spending and congressional action on federal programs such as Social Security and Medicare. He is a Certified Financial Wellness Facilitator through the National Wellness Institute and the Foundation for Financial Wellness and a member of the Association for Financial Counseling & Planning Education (AFCPE®).

Read More

Edited By

Lee Williams

Lee Williams

Senior Financial Editor

Lee Williams is a professional writer, editor and content strategist with 10 years of professional experience working for global and nationally recognized brands. He has contributed to Forbes, The Huffington Post, SUCCESS Magazine, AskMen.com, Electric Literature and The Wall Street Journal. His career also includes ghostwriting for Fortune 500 CEOs and published authors.

Read More

Published: September 8, 2021
Updated: September 19, 2022
7 min read time
This page features 5 Cited Research Articles
What Is Maximum Out-of-Pocket Coverage?
Maximum out-of-pocket coverage is essentially a cap on how much you would have to pay out of pocket each year for medical services. The idea is that, once you hit the cap, then your insurance will cover all costs that go beyond that.
The point of MOOP limits is to prevent beneficiaries from being burdened with never-ending or out-of-control expenses due to something like an ongoing health issue that you are continuously receiving treatment for.
It's important to remember, if you have a plan that includes maximum-out-of-pocket coverage, it will reset at the end of each year. This means that you will once again have to pay out-of-pocket costs in the new year, even if they are for an ongoing health issue.
MOOP only applies to treatments or services that are covered by your insurance. So, even if you hit your out-of-pocket maximum, you will still have to pay for anything that is not covered by your insurance.
Does Original Medicare Have a Maximum Out-of-Pocket Limit?
Original Medicare — Medicare Part A and Part B — does not have a maximum out-of-pocket limit.
Medicare Part A helps cover hospital costs if you are admitted as an inpatient to a hospital. Medicare Part B helps cover your medical costs for doctor office visits and similar health care.
But you have to pay coinsurance and copayments associated with the health care you receive if you have Original Medicare coverage.
Your Share of Costs With Original Medicare
ORIGINAL MEDICARE ITEM
YOUR SHARE
Part A deductible
$1,556 per benefit period in 2022
Part A coinsurance (while a hospital inpatient)
Days 1-60: $0 for each benefit period
Days 61-90: $389 per day each benefit period
Days 91 and beyond: $778 per day for "lifetime reserve days" (up to 60 in your lifetime)
Beyond lifetime reserve days: All costs
Part B premium
$170.10 per month in 2022 (higher if you have a higher income)
Part B deductible
$233 in 2022
Part B coinsurance
Typically 20 percent of the Medicare-approved cost of medical services after you've met your deductible
Medigap plans — also known as Medicare Supplement insurance — helps cover your out-of-pocket costs if you have Original Medicare. Medigap policies are standardized plans sold through private insurers.
What Is the Maximum Out-of-Pocket for Medicare Advantage?
The federal government sets the maximum out-of-pocket limit for Medicare Advantage plans each year. For 2022, the MOOP limit was $7,550 for in-network and $11,300 for in-network and out-of-network services combined.
Once you hit these limits, you will not owe cost-sharing payments for services you receive for the rest of the year.
The limits are set pretty high; however, according to the Kaiser Family Foundation, most Medicare Advantage plan enrollees' average cost was lower than the MOOP.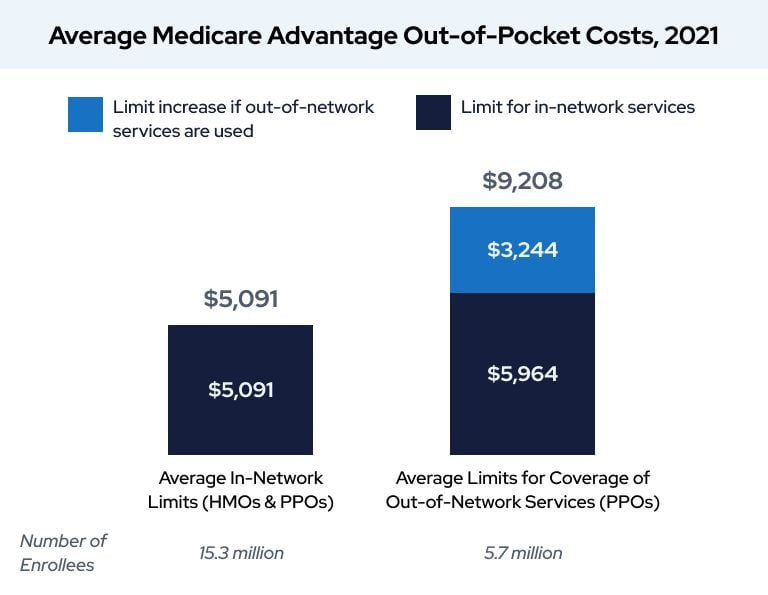 The type of Medicare Advantage plan you have can also affect your average out-of-pocket costs each year.
Average Medicare Advantage Out-of-Pocket Limit by Plan Type
| PLAN TYPE | AVERAGE COST (2021) |
| --- | --- |
| HMO | $4,566 |
| Local PPO | $9,206 |
| Regional PPO | $9,226 |
Source: Kaiser Family Foundation
Medicare Advantage plans are also allowed to set their own MOOP limits — so long as they are below the maximum out-of-pocket limits set by the federal government.
Your yearly out-of-pocket costs will vary depending on how many medical services you need, how much they cost, your particular Medicare Advantage plan and multiple other factors. But you will not be required to pay more than the MOOP limit set by Medicare each year.
What Costs Are Credited To Your MOOP?
Copayments and coinsurance for Medicare-approved services apply toward your annual MOOP limit. Your deductible and monthly premiums typically do not apply toward your MOOP.
Medical Services Copayments and Coinsurance That Apply Toward Your MOOP
Diagnostic or imaging services
Doctor visits
Durable medical equipment
Emergency room visits
Home health care
Hospital stays
Lab work
Medicare-covered outpatient services
Prosthetics
Skilled nursing facility stays
Typically, any out-of-pocket costs you would have with Original Medicare would apply toward your MOOP limit in a Medicare Advantage plan.
But your Medicare Advantage plan may also allow other out-of-pocket costs — such as vision, dental or hearing services not covered by Original Medicare — to apply to your MOOP as well.
Connect With a Medicare Advantage Professional
New updates are made every year to Medicare Advantage plans. Find out which plan is right for you.
Are There Out-of-Pocket Maximums for Medicare Part D?
Medicare Part D prescription drug plans do not have an out-of-pocket limit. But they have a set of reduced out-of-pocket payments phased in once you've spent certain amounts out-of-pocket.
Medicare Part D Out-of-Pocket Costs
Deductible

This is the amount you have to pay out-of-pocket before your Part D plan kicks in. It varies depending on your plan, but is limited to $480 in 2022.

Initial Coverage

Once you meet your deductible, your plan will pay a portion of your prescription costs. You will be responsible for a copayment or coinsurance until you have typically paid $4,430 out-of-pocket.

The Donut Hole

The Medicare Part D donut hole — also called the coverage gap — kicks in when you have spent $4,430 (in 2022) out-of-pocket on covered drugs. After that, you are responsible for 25 percent of the cost of your drugs.

Catastrophic Coverage

Catastrophic coverage kicks in when you have spent $7,050 out-of-pocket for drugs covered in your plan. In catastrophic coverage, you pay $3.95 for generics and $9.85 for name-brand drugs — or 5 percent, whichever is greater.
Are There Out-of-Pocket Maximums for Medigap?
Only two of the 10 standardized Medigap plans — Plan K and Plan L — have maximum out-of-pocket limits. The Medigap Plan K out-of-pocket limit for 2022 was $6,220. The limit for Plan L was $3,110.
While most Medigap plans cover 100 percent of many Medicare out-of-pocket costs, Plans K and L cover only a percentage of most costs. This is part of the reason these two plans have an out-of-pocket limit.
Medigap Plan K and Plan L Coverage Compared
| Covered Service | Plan K Coverage | Plan L Coverage |
| --- | --- | --- |
| Medicare Part A coinsurance and hospital costs up to 365 days after Medicare benefits are exhausted | 100% | 100% |
| Medicare Part A deductible | 50% | 75% |
| Medicare Part A hospice care coinsurance | 50% | 75% |
| Skilled nursing facility care coinsurance | 50% | 75% |
| Medicare Part B coinsurance or copayment | 50% | 75% |
| First three pints of blood for medical procedures each year | 50% | 75% |
Once you meet your yearly out-of-pocket limit for Plan K or Plan L — along with your yearly Medicare Part B deductible — your Medigap plan will pay 100 percent of your covered services for the rest of the calendar year.
How Can I Cover My Out-of-Pocket Costs?
In addition to a Medigap plan — designed to cover out-of-pocket costs related to Original Medicare — there are other options to help with out-of-pocket costs.
But Medigap only works with Original Medicare and cannot be used with a Medicare Advantage plan.
Options to Help With Medicare Out-of-Pocket Costs
Medicare Medical Savings Account (MSA) plans

Medicare MSA plans are provided through private insurers and must be used with a high deductible Medicare Advantage plan. You deposit money into your Medicare MSA plan to cover health care costs before you meet your deductible.

Medicare Savings Programs

There are four Medicare Savings Programs that help people with low incomes and limited resources cover out-of-pocket Medicare costs. The programs require you to live in the U.S., be 65 or older, receive Social Security disability benefits or meet other income and resource requirements.

Health savings account (HSA)

Health savings accounts must be used with high-deductible health plans. Once you enroll in Medicare, you can no longer contribute to an HSA. But you can still use the money in your HSA to pay for certain Medicare out-of-pocket costs.
Also, remember that Original Medicare and Medigap do not cover out-of-pocket expenses for most vision, dental and hearing services — but a Medicare Advantage plan may cover these.
Last Modified: September 19, 2022
Share This Page
5 Cited Research Articles
Who Am I Calling?
Calling this number connects you to one of our trusted partners.
If you're interested in help navigating your options, a representative will provide you with a free, no-obligation consultation.
Our partners are committed to excellent customer service. They can match you with a qualified professional for your unique objectives.
We/Our Partners do not offer every plan available in your area. Any information provided is limited to those plans offered in your area. Please contact Medicare.gov or 1-800-MEDICARE to get information on all of your options.
888-694-0290
Your web browser is no longer supported by Microsoft. Update your browser for more security, speed and compatibility.
If you need help pricing and building your medicare plan, call us at 844-572-0696