Guide to Finding the Best Life Insurance for Seniors
Most life insurance companies will not sell insurance to people 70 or older. But for people nearing retirement age or newly retired, life insurance may still be a valuable and viable option for your retirement planning portfolio.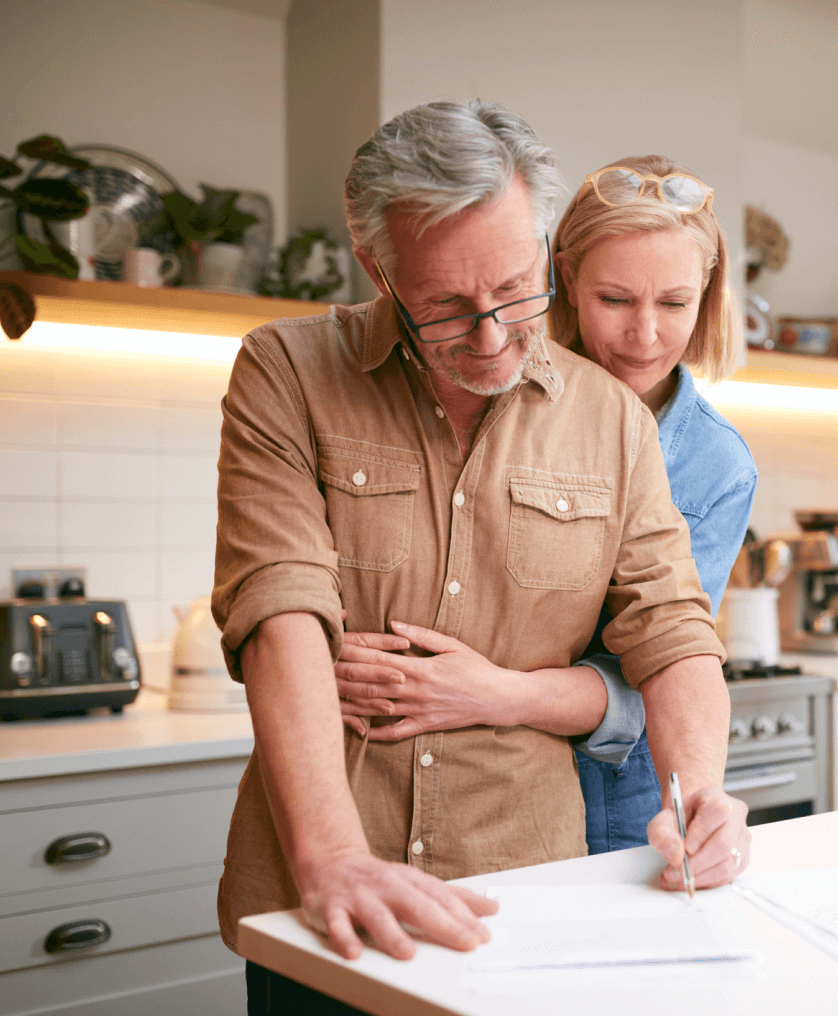 Written by

Terry Turner

Terry Turner

Senior Financial Writer and Financial Wellness Facilitator

Terry Turner has more than 35 years of journalism experience, including covering benefits, spending and congressional action on federal programs such as Social Security and Medicare. He is a Certified Financial Wellness Facilitator through the National Wellness Institute and the Foundation for Financial Wellness and a member of the Association for Financial Counseling & Planning Education (AFCPE®).

Read More

Edited By

Lee Williams

Lee Williams

Senior Financial Editor

Lee Williams is a professional writer, editor and content strategist with 10 years of professional experience working for global and nationally recognized brands. He has contributed to Forbes, The Huffington Post, SUCCESS Magazine, AskMen.com, Electric Literature and The Wall Street Journal. His career also includes ghostwriting for Fortune 500 CEOs and published authors.

Read More

Financially Reviewed By

Eric Estevez

Eric Estevez

Owner of HLC Insurance Broker, LLC

Eric Estevez is a duly licensed independent insurance broker and a former financial institution auditor with more than a decade of professional experience. He has specialized in federal, state and local compliance for both large and small businesses.

Read More

Published: August 30, 2021
Updated: May 23, 2023
10 min read time

What Is the Best Life Insurance for Seniors?

The best life insurance for seniors differs from person to person. It should be tailored to your age, financial situation and physical health.

"You want to look at your own personal financial situation," said Susan Greenhalgh, AFC®, president of Mind Your Money LLC, to RetireGuide.

Typically, insurers won't sell life insurance to most people 70 and older. And people who've waited into their 50s or 60s should look at whether a life insurance policy is right for them.

"If you're over 65, there's a couple of things you need to consider – first, you really have to know why you're buying and second is your budget," said Eric Estevez, an independent insurance broker and expert contributor to RetireGuide. "If you give those two answers to your broker or agent, they'll be able to give you some options."

Suppose you have a spouse or children with limited income and resources, special needs or other conditions and circumstances that could leave them in a financial pinch when you're gone. In that case, those are major considerations in deciding whether to purchase life insurance and what kind to buy.

"There are a lot of factors that go into buying life insurance when you're older or retired," Greenhalgh said. "I would say the number one question to consider is if you have anyone who is depending on you for your income."

Types of Life Insurance

Usually the most expensive type of life insurance, it offers lifetime coverage and a guaranteed return on its cash value. The premiums and death benefit are constant over the course of your coverage.

Term life offers coverage over the policy term – a fixed number of years typically in five-year increments from five to 30 years. The death benefit is paid if you die during the term of your policy. Premiums can be lower than other types of insurance.

Final Expenses

Also referred to as burial insurance, this is a type of whole life insurance with a small death benefit designed to cover your final expenses – the cost of your funeral and other fees you leave behind. The death benefit ranges from $2,000 to $50,000.

Guaranteed Issue Life

A type of permanent life insurance coverage typically limited to $25,000 or less. There is no medical exam to get guaranteed issue life. And you're guaranteed to get it if you meet the policy's age requirements.

Guaranteed Universal Life

This type of universal life insurance typically has little cash value. On balance, the premium and death benefit remains constant over the course of your coverage.

Indexed Universal Life

The cash value of your policy is tied to a stock market index. This lets you adjust premiums and the policy's death benefits, but they can be complicated and come with high fees. You can sometimes use them in addition to your 401(k) plan for tax advantages in retirement.

Variable Universal Life

These offer a variety of investment options, allowing you to adjust your premiums and choose how to invest the cash portion of your life insurance.

Understanding Life Insurance Riders

Life insurance riders are amendments to a standard insurance policy. They can enhance your coverage to better tailor it to your needs.

Riders give you options to include benefits that are not included in the basic policy.

Examples of Life Insurance Riders for Seniors

Accelerated Death Benefit Rider

If you are diagnosed with a terminal illness, you can use a portion of the death benefits from your policy to pay for medical treatment and other expenses.

Accidental Death Rider

It pays out an additional death benefit if you die in an accident.

Guaranteed Insurability Rider

It lets you buy more insurance coverage during a certain period without having to have another medical exam.

Long-Term Care Rider

If you have to go into a nursing home or need home care, this rider pays for monthly care. You can also buy long-term care insurance if you don't want to draw down your family's death benefit.

Waiver of Premium Rider

If you become permanently disabled before you get to an age determined in the rider, you no longer have to pay monthly premiums.

Comparing Life Insurance Companies

If you are considering life insurance, you should compare several types of policies from several life insurance companies.

You will want to compare industry ratings from J.D. Power, the Better Business Bureau and A.M. Best. These can tell you how financially stable the company is and how other clients have rated its service.

An insurance advisor can also help you with the options that may best work for you.

You can check with several different insurance companies about the different types of insurance it offers. Then compare those policies with one another.

Or you can go through an independent insurance agency or broker.

Independent insurance agencies sell policies from many different insurance companies. Independent online brokers also sell policies from different companies. In each of these cases, insurance professionals can compare similar types of insurance from different insurers.

Ask an Expert

Nancy Buller, Associate Director of Life and LTC Solutions, SMS Financial Solutions

Nancy Buller of

SMS Financial Solutions

answers questions about how life insurance can help seniors with the only two certain things in life: death and taxes.

How Much Does Life Insurance for Seniors Cost?

Life insurance premiums are more expensive as you get older. But that doesn't always mean that coverage is out of reach for people nearing retirement or newly retired.

"Depending on your health, there are some very, very fair premiums on life insurance," said Buller. "If you're still in your 50s, you can still get a term policy which is very inexpensive."

Average Monthly Life Insurance Premiums for Seniors in the U.S.

| Policy Type | 55 Year Old Man | 55 Year Old Woman | 65 Year Old Man | 65 Year Old Woman |
| --- | --- | --- | --- | --- |
| $100,000 Term Life (20 Year) | $59 | $43 | $170 | $118 |
| $500,000 Term Life (20 Year) | $235 | $161 | $740 | $481 |
| $1,000,000 Term Life (20 Year) | $456 | $308 | $1,397 | $937 |
| $100,000 Guaranteed Universal Life | $166 | $133 | $290 | $228 |
| $500,000 Guaranteed Universal Life | $701 | $555 | $1,207 | $981 |
| $1,000,000 Guaranteed Universal Life | $1,322 | $1,041 | $2,380 | $1,856 |

Source: SMS Financial Solutions

"Most of the time, seniors think that life insurance is too expensive or they think that they are too old to get life insurance," Buller said. "They need to definitely reach out to an advisor and really find out what their options are."

There are several factors insurance companies use to set their rates. The right combination of positives for you may mean that you can find a policy that works for you.

Be sure to plan ahead and know that you can keep up payments on any policy you consider. Life insurance is a long-term commitment.

"Be aware of whether the premiums can go up and how much they can go up," Greenhalgh said. "If you start out with a policy with very affordable premiums – are those premiums still going to be affordable 10 or 20 years down the road."

3 Minute Quiz: Can You Retire Comfortably?

Take our free quiz & match with a financial advisor in 3 easy steps. Tailored to your goals. Near you or online.

Guaranteed Issue Life Insurance – No Medical Exams

Most types of life insurance – especially if you are older – require that you take a medical exam. This is part of the underwriting process – methods companies use to determine how much risk they face in selling you a life insurance policy.

But guaranteed issue life insurance requires no medical exam. But there is a trade-off when you opt for life insurance that does not require a medical exam – a higher premium.

Who Might Consider Guaranteed Issue Life Insurance

People who are fine with small coverage amounts – like $25,000
People with a health issue that would keep them from qualifying for other types of life insurance
People with limited budgets for life insurance premiums

Insurance companies take a greater risk of insuring anyone without having them pass a medical exam.

"The insurance companies are going to make that cost up somehow," Estevez said. "So if they're going to guarantee you life insurance without medical tests, they're going to get their money for it."

And there can be a big difference in what you get compared to other types of life insurance.

"If you are not healthy, there are products out there that are guaranteed issue that are final expense insurance," added Buller. "If you compare a $100,000 term policy or a guaranteed issue $20,000 final expense policy, they're going to be about the same price."

FAQs About Life Insurance for Seniors

These are some of the most frequently asked questions from seniors considering life insurance.

Ask An Expert – Death and Taxes

Nancy Buller, Associate Director of Life and LTC Solutions, SMS Financial Solutions

EXPERT ON DEATH AND TAXES

Nancy Buller is the associate director of Life and Long-Term Care Solutions at Senior Market Sales. Her financial certifications include Associate, Secure Retirement Institute; Associate, Customer Service; and Fellow, Life Management Institute.

We asked her about two inevitable certainties that every senior should take into account when they consider buying life insurance – death and taxes.

We often talk about how difficult it is for people to address their mortality in retirement planning. How should that discussion factor into seniors' plans when they consider buying life insurance?

Final expense insurance is important to have. If they have no other insurance, final expense is critical to have in their portfolio because you don't want to leave your family trying to figure out how they're going to pay for that funeral or other debts you leave behind. It's something that really takes that burden off your family.

Final expense insurance is a very good product to have – even just a $10,000, $15,000 policy can make a difference.

How important is it to talk about your final wishes with your family ahead of time?

When you are dealing with these kinds of subjects which are very emotional, when you think about life insurance and how you want to leave your family – it's best not to do it when you are in a state of emotional distress because it is very complicated.

You really have to have that discussion with your family members. What do you want your funeral to be? Do you want to be cremated or a burial? Because you want your insurance to cover that cost.

Are there tax issues that seniors need to consider when buying life insurance?

No one wants to pay taxes, but there truly is something we call a silent partner with your 401(k) in retirement – and that's the IRS.

People don't always understand that all that money they built up in their 401(k) is most likely going to be taxable, but indexed universal life insurance has very interesting tax advantaged benefits that should be considered as part of your financial plan.

Last Modified: May 23, 2023

Share This Page

Need Help Planning Your Retirement? Yes, I'm Interested I Have Help Already I Will Manage It Myself

RetireGuide will soon offer services to help you better manage your retirement.

We will be offering assistance with annuities, life insurance, Medicare and financial planning. Sign up for updates and be the first to know when these services are available.

Get the right information to stay on top of your retirement planning.

Sign up for our newsletter for our latest retirement planning guides, tips and more!
Your web browser is no longer supported by Microsoft. Update your browser for more security, speed and compatibility.
If you need help pricing and building your medicare plan, call us at 844-572-0696