How Does Telemedicine Work? + Tips From Doctors
Telemedicine improves access to health care through phone and virtual appointments, digital records and even remote health monitoring. Learn how telemedicine can support your health and save you time.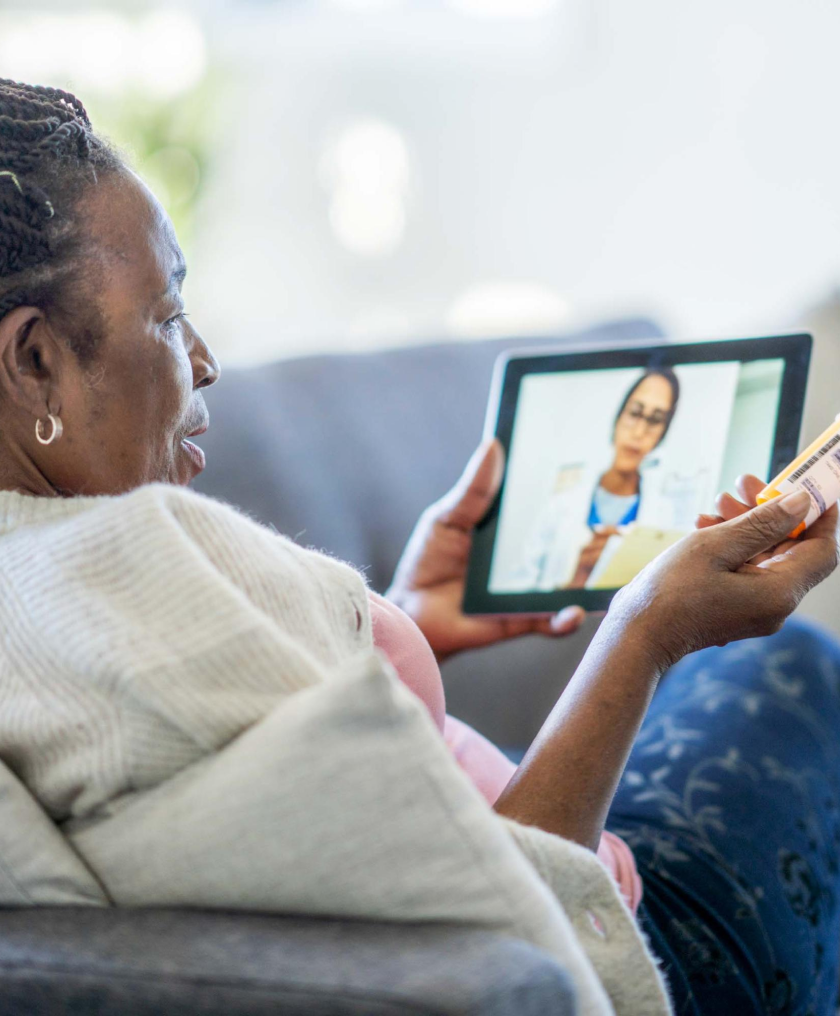 Edited By

Lee Williams

Lee Williams

Senior Financial Editor

Lee Williams is a professional writer, editor and content strategist with 10 years of professional experience working for global and nationally recognized brands. He has contributed to Forbes, The Huffington Post, SUCCESS Magazine, AskMen.com, Electric Literature and The Wall Street Journal. His career also includes ghostwriting for Fortune 500 CEOs and published authors.

Read More

Published: November 17, 2021
Updated: June 23, 2023
9 min read time
This page features 6 Cited Research Articles
Technology is advancing, and health care providers are broadening their service offerings with virtual appointments and insurance health lines available 24/7. If your doctor offers virtual health services, you may be asking, "How does telemedicine work?"
Telemedicine connects patients with health care providers through phone and digital communication to improve access to care, quality of care and communication for all parties.
The goal is comfortable and equitable access to health care from home or anywhere. If you've never scheduled a virtual appointment or accessed a patient portal, here's everything you need to know about telehealth services.
What Is Telemedicine?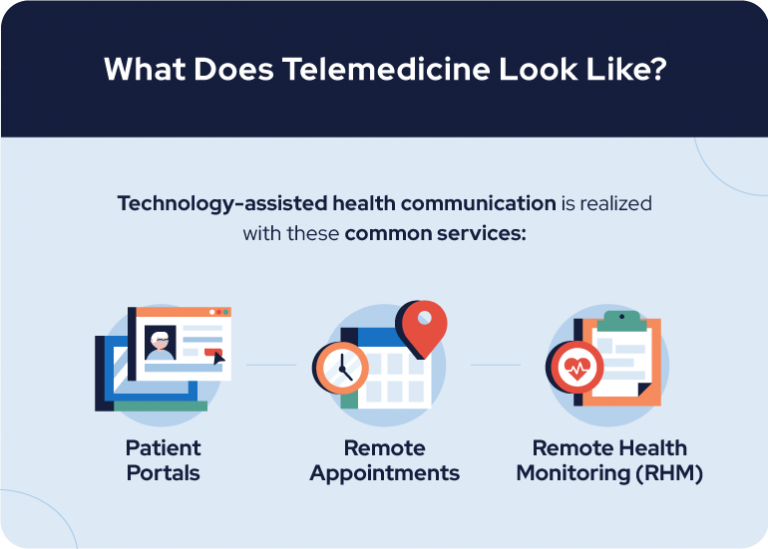 Telemedicine includes any technology-assisted communications among you and your health care providers.
This can be a simple phone consultation, accessing an online patient portal or attending virtual appointments.
Telehealth appointments are increasingly common for routine concerns like a sore throat or headache. They're also convenient for people who travel, work odd hours or have mobility limitations that make in-person visits difficult to schedule.
Telemedicine can also be provided through remote health monitoring (RHM). These services use technology to collect patient data, like vitals, for providers and patients to monitor without having to physically visit an office. This is especially beneficial for seniors and those with chronic health conditions.
How Does Telemedicine Work?
Telemedicine refers to tech communications designed to improve health care and accessibility. This breaks down into a few key categories:
Patient portals — provide care history, test results and other communications online
Remote health monitoring — collects patient information outside of a health care setting for patients and providers
Telemedicine appointments — provides flexible and remote care alternatives for accessibility and convenience
If your health care provider offers a patient portal, contact their office to get the URL and information you need to register. Here you can access previous screenings, appointment notes, test results and more anytime.
Your provider will also provide details for RHM and telehealth appointments as needed.
How Do Telemedicine Appointments Work?
Telemedicine appointments are similar to in-person appointments. You'll just communicate through a phone or video call instead of in an office.
The general telemedicine process is as follows:
Schedule an appointment with your provider
Check your insurance coverage
Fill out any paperwork required
Gather relevant medical records
Log on early to test your technology
Accept software permissions for microphone and video access
Wait for your provider to welcome you to the appointment
Discuss your health questions and concerns during the appointment
Access the patient portal for payment and appointment details
There are several telemedicine apps available for virtual appointments. Your provider should specify which app or software they use to conduct appointments when you schedule your appointment. They may also send a waiting room link the day of your appointment for you to access.
Your first appointment will likely require some setup on your end, just as initial office visits require paperwork. Log on early to accept permissions for your microphone and camera. These should pop up at the top of your internet browser if you're accessing a website.
If you're using an app, the app should walk you through this process when you register.
Once you're in the virtual waiting room, your doctor will accept you into a private call once they're available. From there, the appointment should proceed as usual.
If testing is necessary, you'll be sent to a lab prior to or following your appointment. Your doctor can schedule a time to go over the results with you.
Have you selected your 2024 Medicare plan?
Maximize your Medicare savings by connecting with a licensed insurance agent. Annual Enrollment is open until December 7th.
When Should You Consult a Teledoctor?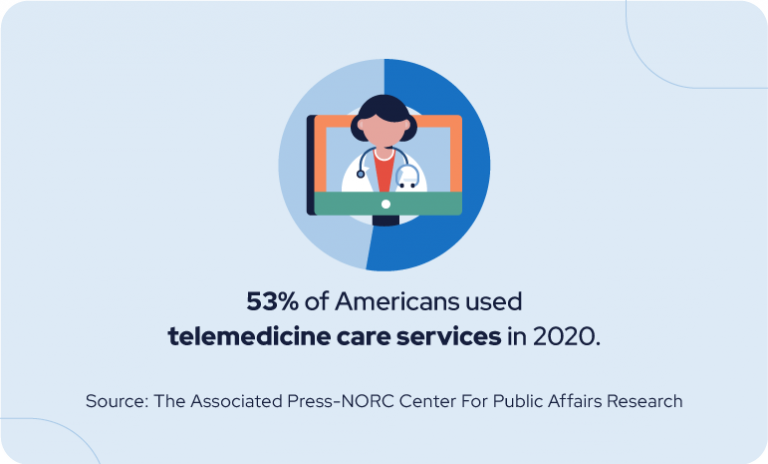 Telehealth appointments are great for general checkups that don't require a physical exam, mental health visits and consultations. Even procedures that require routine tests can be scheduled virtually and patients can visit a lab at their convenience to be tested.
Most routine conditions can be treated via telemedicine, including the following:
Allergies
Asthma
Colds
Flus
Infections
Rashes
Skin inflammation
Sore throats
Sprains
Strained muscles
UTIs
Vomiting
Telemedicine is a flexible option for specific circumstances, too. Individuals with mobility concerns, patients who travel and those with chronic conditions that require follow-ups may all find virtual appointments convenient and easy.
Teledoctors aren't replacements for emergency visits. If you have chest pain, difficulty breathing or other serious concerns, you should visit an emergency room for treatment.
Benefits of Telemedicine
Telemedicine's biggest benefits are convenience and communication.
Patients who have difficulty attending in-person visits because of a busy schedule, disability or lack of transportation can still receive quality health care from home.
"Previous barriers, such as transportation, caretaking of children or others in the home, and time off from work are all eliminated by telehealth options," says Lisa A. Curtis, LCSW, CASAC, who provides telemedicine counseling services.
Remote health monitoring also benefits individuals with chronic health conditions. Patients and doctors have access to vital information concerning the health of the patient to monitor progress and make informed decisions.
Online patient portals improve communication and a patient's access to health records. Test results, conversations and health plans can all be documented and reviewed online.
Telemedicine may also be more cost-effective than in-person treatment. Many insurance companies offer hotlines and chat resources to talk to doctors for free or a small fee.
Ask your insurance provider what benefits they offer and if they cover telemedicine services.
Telemedicine vs. Telehealth
Telemedicine is the use of communication technology to provide patient care outside of a medical office. This is typically seen with virtual visits or online care portals.
Telehealth is an umbrella term for technology and services designed to improve public health and health care services as a whole. This can include education, internal provider meetings and clinical services through the use of these technologies.
Telemedicine is a part of telehealth, but telehealth includes services beyond direct patient care.
Is Telemedicine Covered by Insurance?
Many insurance providers see the benefit of telemedicine and offer some form of coverage. Consult with your insurance representative to understand what your benefits cover.
Private insurance coverage is often determined by state legislation. Twenty-nine states currently require private insurance providers to reimburse health care providers for telemedicine services. This is called a parity law. The specific telemedicine services and regulations for existing and first-time patients vary by state.
Some insurance providers also offer their own hotlines and chat services to connect beneficiaries with doctors 24/7. These services are convenient for quick concerns like a new cough or sore throat.
Medicare and Medicaid Telemedicine Coverage
Medicare covers telemedicine services for remote beneficiaries who live within a Health Professional Shortage Area. This means beneficiaries don't have in-person access to health care specialists and live outside of a metropolitan area.
In these cases, patients may be required to visit a designated facility for the duration of the call. Another physician will also attend the call from the designated facility to discuss the patient's care plan with the specialist.
During the COVID-19 emergency, benefits were expanded to allow for at-home telemedicine services and provide service for non-rural beneficiaries. These benefits are not currently slated to extend once the health emergency ends.
Patients receiving Medicaid also have access to telemedicine services, though what's covered varies by state. Some states offer on-site services similar to Medicare's process. Others allow patients to connect from home.
3 Minute Quiz: Can You Retire Comfortably?
Take our free quiz & match with a financial advisor in 3 easy steps. Tailored to your goals. Near you or online.
How To Make the Most of Your Virtual Appointments
We've asked doctors what patients should know before their first telemedicine appointment. Here are the doctor's orders to help you prepare for your appointment:
It's so important to have a place to talk openly and privately. We often ask clients to share very personal information and it's easier for them to be vulnerable when they're alone.
Familiarize Yourself With the Technology
Give yourself plenty of time prior to your appointment to log on to the app or software your provider is using for the call. You want to make sure you have a strong internet or telephone connection, and accept all necessary permissions for your microphone or camera.
Tech concerns are common and easy to fix. Jen Hernandez, R.D.N., C.S.R., L.D.N. of Plant-Powered Kidneys, a virtual private nutrition practice, says, "The key is to be patient. Many telehealth practitioners are fairly tech-savvy and can help guide their patients through tech issues as well."
You also want to make sure you have all necessary equipment available, including chargers and headphones. "It seems like a simple thing, but limiting the range of sounds that can interrupt the session makes a big difference," says Marcuetta Sims, L.P., Ph.D. of The Worth Wisdom Wellness Center.
If you don't feel confident in your tech abilities, ask a friend or family member to help you set up and stay available for any troubleshooting.
Gather Necessary Documents
With any new doctor's appointment, you should come prepared with relevant medical documents and history.
Nicole Aaronson, M.D., M.B.A., C.P.E., F.A.A.P., F.A.C.S. emphasizes the importance of organizing everything in advance. "If there are imaging studies or labs that need to be shared, it is beneficial to call the office ahead of time. Many telemedicine platforms will allow these documents to be uploaded directly into the visit so they can be reviewed at that time."
Prepare Your Space for Your Appointment
Ensure your space is free from distractions and you're comfortable opening up during your appointment.
Clinical psychologist Carla Manly, Ph.D. emphasizes the importance of feeling secure during your call. "When home or other environments feel stressful or are distracting, the session can be less than ideal. I've had clients speak with me from their cars, bathrooms, garages and even closets! It's key to find a space that feels right for you."
You should also be sure your space is well-lit and quiet. Your doctor may have to see parts of your body for treatment, so you want to make sure your doctor can see and hear your situation. Natural lighting, private space and room to move are ideal.
Be Honest and Communicate Clearly
Come to your appointment with a list of your concerns, questions and previous medical records to go over with your doctor. It's important to communicate your symptoms clearly so your doctor has a full picture of your care needs.
"Virtual care can sometimes mask important body language that providers find helpful in making a diagnosis and establishing the doctor-patient relationship," says Jacob R. Hascalovici, M.D., Ph.D. of Clearing, a telemedicine provider for chronic pain. "Doctors and patients can help compensate for this by creating a warm and inviting atmosphere for dialogue and by being extra forthcoming about symptoms, diagnosis and prognosis."
Considerations
Telemedicine is a booming industry given COVID-19 restrictions, and virtual visits aren't going away anytime soon. Familiarize yourself with your insurance benefits, health care provider services and the telemedicine process so you're ready for your virtual visit.
Telemedicine works by connecting you with health care professionals via phone, video call, remote health monitoring and online portal access. Communicate with your doctors without worrying about transportation or missing time at work while prioritizing your health.

Last Modified: June 23, 2023
Share This Page
6 Cited Research Articles
Need Help Planning Your Retirement?
Yes, I'm Interested
I Have Help Already
I Will Manage It Myself
RetireGuide will soon offer services to help you better manage your retirement.
We will be offering assistance with annuities, life insurance, Medicare and financial planning. Sign up for updates and be the first to know when these services are available.
Get the right information to stay on top of your retirement planning.
Sign up for our newsletter for our latest retirement planning guides, tips and more!
Who Am I Calling?
Calling this number connects you to one of our trusted partners.
If you're interested in help navigating your options, a representative will provide you with a free, no-obligation consultation.
Our partners are committed to excellent customer service. They can match you with a qualified professional for your unique objectives.
We/Our Partners do not offer every plan available in your area. Any information provided is limited to those plans offered in your area. Please contact Medicare.gov or 1-800-MEDICARE to get information on all of your options.
888-694-0290