Dentures vs. Implants: Best Restoration According to Dental Professionals
Are you in need of one or multiple replacement teeth? Knowing the cost of dentures and implants, which one will fit your lifestyle and whether or not Medicare or your regular insurance will help cover the bill can direct you to the best option for your situation.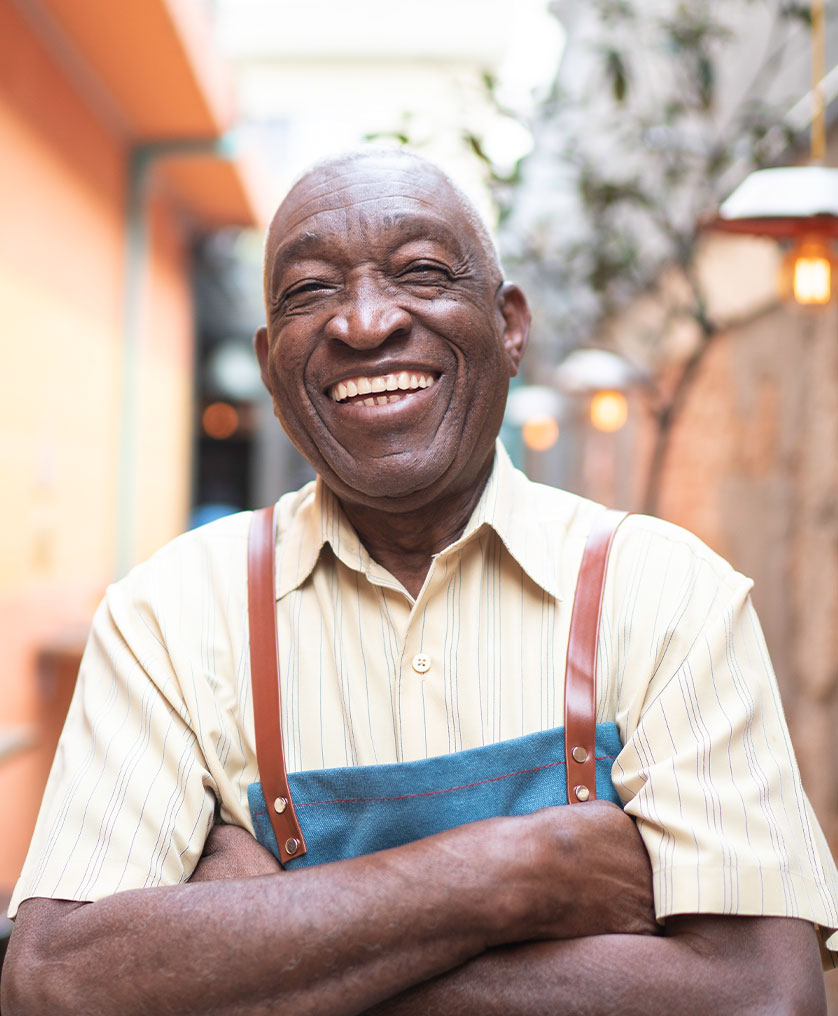 Edited By

Lee Williams

Lee Williams

Senior Financial Editor

Lee Williams is a professional writer, editor and content strategist with 10 years of professional experience working for global and nationally recognized brands. He has contributed to Forbes, The Huffington Post, SUCCESS Magazine, AskMen.com, Electric Literature and The Wall Street Journal. His career also includes ghostwriting for Fortune 500 CEOs and published authors.

Read More

Published: December 15, 2021
Updated: January 17, 2023
13 min read time
This page features 23 Cited Research Articles
According to the National Institute of Dental and Craniofacial Research, those 65 and older have an average of nine decayed or missing teeth. Your smile is often one of the first things people notice, and, based on research from the Journal of Periodontology, missing teeth can negatively affect self-image.
If you're debating on getting dentures vs. implants to replace lost teeth, doing your research is vital to making a decision that's best for your budget, insurance coverage and lifestyle.
Key Takeaways
Dentures and dental implants differ in their cost, procedure, insurance coverage, comfort and longevity.
Dentures are typically more affordable but dental implants often last much longer.
There are a variety of payment options for replacement teeth, including dental insurance, HSA funds and grants.
Difference Between Dentures and Implants
| Dentures | Dental Implants |
| --- | --- |
| Semipermanent replacement teeth | Permanent replacement teeth |
| Can aid in jawbone deterioration | Helps maintain bone structure |
| Will likely need replacement every 5-10 years | Lasts longer than dentures |
| Can feel unnatural and uncomfortable | More comfortable and natural feeling |
| Often requires adhesives | Sturdy and secure |
| More affordable than implants | Can be costly |
| Most dental plans will cover part of the cost of dentures | Not covered under many dental insurance plans |
| Most dentures can be removed regularly | The process can be long and more invasive than other options |
| Dentures work for a larger variety of people | You can only get implants if your jaw and gums are healthy |
There are several key factors that differentiate dentures from dental implants. One of the main differences is in their quality, which affects their cost. Aside from the quality of materials used, dentures and implants also differ in their longevity and comfort, as well as a handful of other things.
Dentures: Typically referred to as a semipermanent fix to fill gaps from missing teeth, dentures can be removed regularly and with relative ease. They are typically a more affordable option and most dental insurance companies agree to help cover the cost.
When deciding if dentures are right for you, consider this advice from Evan McCarthy, founder and CEO of Sporting Smiles:
Tip
Generally, dentures are a better option if one is looking to replace a series of missing teeth. Dentures are also generally more affordable, however, they need to be replaced every 5-8 years, so depending on one's age, this could get costly. Dentures are usually recommended for older people, where the lifestyle impact is not as onerous than on younger people.
Implants: As a more permanent solution to missing teeth, the process for getting implants is much more extensive, invasive and expensive than dentures. However, this investment will likely last much longer than any semipermanent option.
Implants are also often more secure in your mouth and help to strengthen and maintain oral bone structure.
In an email to RetireGuide, Dr. Adrienne Hedrick at Longmont Dental Loft said the following regarding implants:
Tip
Implants are anchored directly into the bone, similar to natural teeth. Since implants are anchored into bone, they are much more stable. This means you can chew a much greater range of foods…[including those that are] hard and fibrous such as meats and salads.
Look through the side-by-side comparison below to get a better idea of the differences between implants and dentures.
Cost of Dentures vs Implants
There can be a major cost difference between dentures and implants. The cost of each also varies depending on certain factors, including your dental provider's level of experience and any follow-ups or consultations needed.
You may also have to pay for procedures that are preparatory to getting implants or dentures, such as having teeth removed. According to Healthline, removal can cost anywhere from $75 to $200 per tooth.
Dentures: Depending on the type of materials you choose and how authentic you want them to look, dentures can range from $300 to $8,000, according to Fixodent.
Implants: According to the European Denture Center, full dental implants cost anywhere from $20,000 to $50,000 per arch. This amount, again, depends on the type of materials you choose, your dentist's experience level, lab work that may need to be done and the location of your dental office.
If you don't need all your teeth replaced, partial dental implants cost less — typically ranging from $2,500 to $12,000.
Never Miss Important News or Updates
Get money-saving tips, hard-to-find info and tactics for a successful retirement in our free weekly newsletter.
Dentures and Implant Procedures
Understanding the process for getting dentures vs. implants might impact your decision on which to get. It can also help you better understand the benefits and drawbacks of each.
Dentures: Compared to implants, the process for getting partial dentures can be fairly simple. According to Healthline, your dentist will measure and take impressions of your upper and lower teeth and order dentures that fit the shape of your mouth.
For complete, or full-mouth, dentures, you'll need to have any remaining teeth extracted. Typically, your back teeth will be removed first and your gums are given about four to eight weeks to heal. Once healed, your dentist will take an impression of your mouth and remove any remaining teeth. Your dentures will then be placed in your mouth and adjusted immediately after surgery.
Implants: Because implants are built to be more secure, the procedure is typically more invasive and takes longer to recover from compared to dentures.
Dental implant surgery requires drilling into your jawbone and placing a metal screw in place of a tooth root. After this has been done, you'll have to wait for the bone to grow into the screw or implant, according to Mayo Clinic. This process can take several months. If needed, a partial, temporary denture can take the place of your missing teeth until you can move into the next phase of the implant procedure.
Once your bone has grown into the implant, you'll potentially need additional oral surgery to place the abutment. The abutment is a connector that attaches to your implant and your false teeth. Once this is complete and your gums are healed, your false teeth can be attached.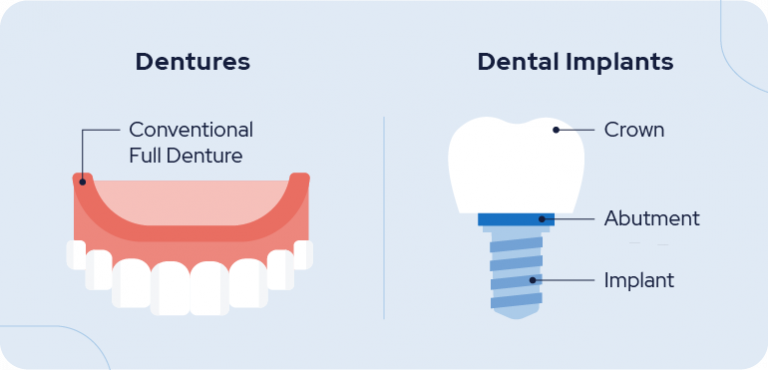 Care and Maintenance for Dentures and Implants
Both dentures and dental implants can be costly. Like any expensive investment, not taking care of them can increase the need for maintenance or even replacement.
Dentures: Unlike dental implants, you'll likely need to replace your dentures at some point. According to Preferred Dental Care, you may be able to get five to 10 years of use out of a single pair. Caring for your dentures properly will help you get the most benefit out of them for as long as possible.
To care for your dentures, the Mayo Clinic recommends the following:
In the morning: If using a denture solution to soak your dentures overnight, always rinse off your dentures before putting them back in your mouth.
After eating: Remove and rinse your dentures after you eat. After removing your dentures, rinse out your mouth.
At night: Soak your dentures in water or a mild denture solution overnight. Rinse your mouth after removing your dentures.
Regularly: Brush your dentures on a daily basis with a denture-specific cleanser and schedule regular checkups with your dentist.
Never use hot water when dealing with your dentures, as it can cause the materials to warp. You also shouldn't use whitening toothpaste or other tough cleaning products like stiff-bristled toothbrushes.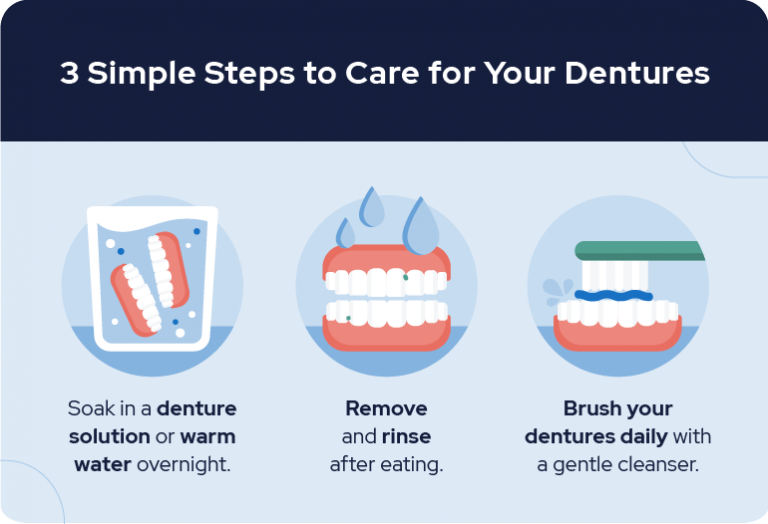 Dental implants: While implants may be tougher and sturdier than dentures, you should still understand how to care for them so they stand the test of time. Forest Park Dental gives the following advice for taking care of your implants:
Avoid harsh, abrasive and intense-flavored oral hygiene products.
Avoid tough, hard and sticky foods like steak and caramel.
Schedule regular dentist visits.
Floss every day to avoid plaque buildup around your implants.
Avoid alcohol and smoking.
Payment Options for Dentures and Implants
There are a variety of ways to pay for replacement teeth, but certain options aren't available for specific procedures. For this reason, it's important to understand what your insurance coverage will pay for and other payment options available to you.
Payment options for dentures and dental implants:
Health Savings Account funds

You can use funds saved in your HSA to pay for dental care like dentures and implants.

Dental Schools

Some dental schools offer low-cost dental procedures to give dental students real-world practice. Check the American Dental Education Association for dental schools in your area.

Program of All-Inclusive Care for the Elderly (PACE)

Created by Medicare and Medicaid, PACE helps those with a low income meet their health care needs.

Health Care Financing

Rather than paying all your costs up front, you'll often be able to set up a payment plan with your dental care provider.

Retirement Income

If you have enough funds, don't be afraid to dip into your retirement savings. (Always talk to your financial advisor first.)

Personal Loan

If you can't pay the full cost of your dental work up front and don't have the option of health care financing, consider applying for a loan.
Dental Implants and Dentures Pros and Cons
As with everything in life, seeing the benefits and drawbacks of your options can help you make the most informed decision and prepare you for any possible setbacks.
Cost: While it is possible to get dentures that cost just as much as implants, generally speaking, dental implants will cost you more. In fact, getting implants for your whole mouth can cost upward of $20,000. Dentures, on the other hand, may only cost you a few thousand dollars or even a few hundred.
Comfort: Sturdiness and security from your replacement teeth can give you more daily comfort when eating and speaking. Because implants were made to secure the false teeth directly to your gums and bone, they're naturally more secure than dentures that often just require a superficial adhesive.
In response to this, Dr. Kire Stojkovski of Farr Institute told RetireGuide in an email:
"Implants have [as much] strength as that of a real tooth because they are made up of titanium. Implants are also comfortable like that of a real tooth."
However, it's important to remember that the process for getting implants is typically more invasive, requiring surgery and other procedures. For this reason, the process for securing implants can be more uncomfortable than that of dentures.
Best by comfort initially: Dentures
Best by comfort in the long run: Implants
Longevity: Dentures, in general, only last around five to 10 years. Because of their increased durability and stability in the mouth, implants can last much longer. In fact, you may only need to get implants once in your lifetime, depending on how you care for them and how young you are when you get them.
Best by longevity: Implants
Impact on facial structure: Because dentures are fitted around your bone, every time you bite or clench your teeth, you place pressure on the ridges of bone they are placed on. This can accelerate bone deterioration and impact the structure of your face, according to Pasadena Periodontics & Dental Implants.
Implants, however, can actually support and strengthen the bone structure of your mouth.
Best by impact on facial structure: Implants
Insurance coverage: Many dental insurance plans cover some of the costs for dentures. However, dental implants are often not covered, so you'd want to look into specific insurance for dental implants.
Best by insurance coverage: Dentures
Depending on what you're looking for, dentures or implants could be the right choice for you. In a recent email to RetireGuide, Dr. Rashmi Byakodi, a dentist and health and wellness writer for Best for Nutrition, said:
"Choosing dentures or implants depends mostly on your health status, gum health, and also your budget. If you are looking for a long-term solution and a prosthesis that looks and feels like your natural teeth, you should choose implants. However, a dental implant is a time-taking, two-phase process. If you are looking for a quick fix, dentures are the right choice."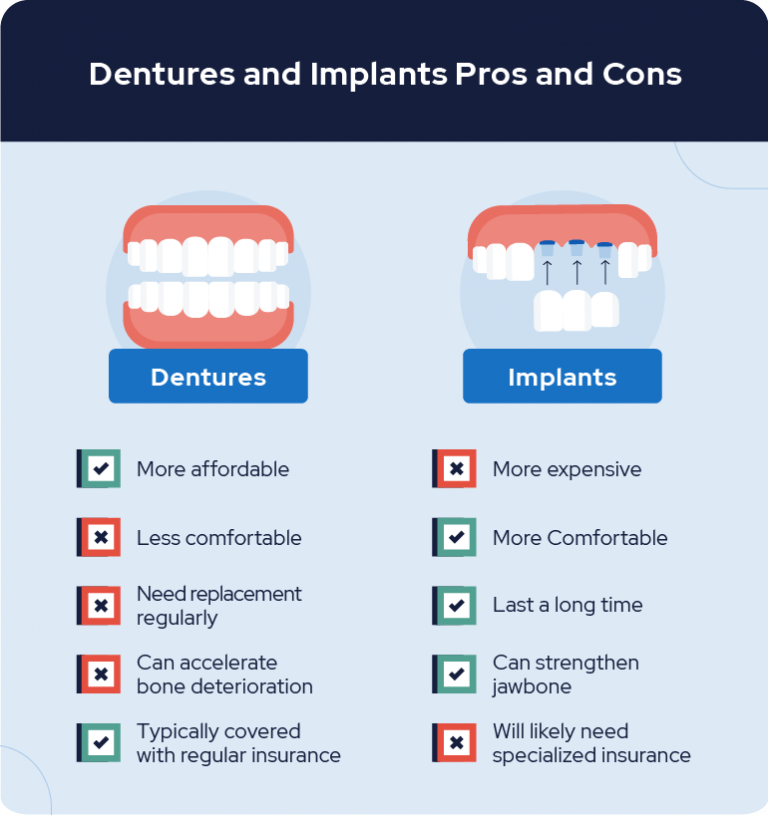 Frequently Asked Questions About Dentures vs Implants
There's a lot to know about replacement teeth, so you may have additional questions. Look through the frequently asked questions below if you're still unsure about a few things regarding dentures vs. implants.
Alternatives to Dentures and Implants
If you're unsure about dentures and implants, there are other replacement options available. Some alternatives include:
Partial Dentures: These dentures replace only a few missing teeth so you don't have to worry about removing several healthy teeth. According to Polident, partial dentures cost anywhere from $1,400 to $1,800.
Implant-Supported Dentures: If you're looking for something less expensive than implants but more sturdy than dentures, this may be the right option for you. Like normal dental implants, implant-supported dentures require surgery to implant something like a titanium screw that can later attach to your dentures.

The implant itself can cost around $500 to $2,200, according to Iowa Dental Group, with the dentures costing anywhere from $300 to $8,000.
Nontraditional Dentures: There are many different types of dentures, including snap-in, flexible and acrylic flippers. Their costs vary greatly depending on your specific needs, so talk with your dentist if you're looking for a nontraditional denture option.
Dental Bridge: If you're looking for a less invasive option, a dental bridge might be a good option for you. Rather than surgically implanting an object into your gums, a bridge attaches to the healthy teeth on either side of your gap. According to Handcrafted Smiles, a dental bridge can cost anywhere from $1,500 to $5,000.
Deciding on dentures vs. implants is a big choice that shouldn't be taken lightly. If you know you'll need to decide soon, talk with your dental provider and insurance company to figure out the best way to pay for your replacement teeth.
If you're not sure if your Medicare or Medigap coverage will help pay for your desired procedure, talk with an insurance expert or consider enrolling in a new plan if you're able.

Last Modified: January 17, 2023
Share This Page
23 Cited Research Articles
Mayo Clinic. (2021, July 29). Stress relief from laughter? It's no joke. Retrieved from https://www.mayoclinic.org/healthy-lifestyle/stress-management/in-depth/stress-relief/art-20044456
Hudnall, D. (2021, June 28). Average Cost of Dental Implants: Single and Multi-Tooth. Retrieved from https://eurodenture.com/blog/cost-of-dental-implants/
Fixodent. (2021, June 10). How Much Do Dentures Cost? Retrieved from https://www.dentureliving.com/en-us/advice-tips/preparing-for-dentures/costs/how-much-do-dentures-cost
Preferred Dental Care. (2021, March 18). How long do dentures last? When should it be replaced? Retrieved from https://www.preferreddentalcaresanrafael.com/how-long-do-dentures-last-when-it-should-be-replaced/
Higuera, V. (2021, February 19). Immediate (or Temporary) Dentures: Pros and Cons. Retrieved from ​https://www.healthline.com/health/immediate-denture#procedure
Marmolejo-Ramos, F., Murata, A., et al. (2020, May 11). Your Face and Moves Seem Happier When I Smile. Retrieved from https://econtent.hogrefe.com/doi/10.1027/1618-3169/a000470#_i22
The University of Oxford. (2019, October 24). Happy workers are 13% more productive. Retrieved from https://www.ox.ac.uk/news/2019-10-24-happy-workers-are-13-more-productive
Mayo Clinic. (2019, January 29). Dental implant surgery. Retrieved from https://www.mayoclinic.org/tests-procedures/dental-implant-surgery/about/pac-20384622
Gotter, A. (2018, September 18). What to Expect During a Tooth Extraction. Retrieved from https://www.healthline.com/health/tooth-extraction#cost
National Institute of Dental and Craniofacial Research. (2018, July). Dental Caries (Tooth Decay) in Seniors (Age 65 and Over). Retrieved from https://www.nidcr.nih.gov/research/data-statistics/dental-caries/seniors
National Institute of Dental and Craniofacial Research. (2018, July). Dental Caries (Tooth Decay) in Adults (Age 20 to 64). https://www.nidcr.nih.gov/research/data-statistics/dental-caries/adults
Salinas, T. (2017, November 16). Denture care: How do I clean dentures? Retrieved from https://www.mayoclinic.org/denture-care/expert-answers/faq-20058375
Stevenson, S. (2012, June 25). There's Magic in Your Smile. Retrieved from https://www.psychologytoday.com/us/blog/cutting-edge-leadership/201206/there-s-magic-in-your-smile
Abel, E., Kruger, M. (2009, September 9). Smile Intensity in Photographs Predicts Longevity. Retrieved from ​​https://journals.sagepub.com/doi/10.1177/0956797610363775
Patel, R., Richards, P., Inglehart, M. (2008, February 1). Periodontal Health, Quality of Life, and Smiling Patterns – An Exploration. Retrieved from
Lewis Family & Implant Dentistry. (n.d.) Will Dentures Change the Shape of My Face? Retrieved from https://www.lewisdentistry.com/dentures/will-dentures-make-me-look-different/change-shape-of-face/
Polident. (n.d.) How Much Do Partials Cost? Retrieved from https://www.polident.com/en-us/partials/getting-partials/how-much-do-partial-dentures-cost/
Forest Park Dental. (n.d.) Dental Implant Care: 7 Tips for Looking After Your Implants. Retrieved from https://forestparkdental.com/dental-implant-care-7-tips-for-looking-after-your-implants/
Iowa Dental Group. (n.d.). How Much Do Implant Supported Dentures Cost? Retrieved from https://www.iowadentalgroup.com/implant-supported-dentures-cost/
Handcrafted Smiles. (n.d.). Dental Bridge Cost near Villa Park, Illinois. Retrieved from https://handcraftedsmilesil.com/services/dental-crowns-and-bridges/
Pasadena Periodontics & Dental Implants. (n.d.). Bone Loss and Its Treatment. Retrieved from https://www.pasadenaperiodontics.com/services/bone-loss-treatment
Nagy Family Dental Group. (n.d.) The Benefits and Importance of Dental Implants. Retrieved from https://www.scottnagyddsltd.com/dental-implants/dental-implant-benefits/
Need Help Planning Your Retirement?
Yes, I'm Interested
I Have Help Already
I Will Manage It Myself
RetireGuide will soon offer services to help you better manage your retirement.
We will be offering assistance with annuities, life insurance, Medicare and financial planning. Sign up for updates and be the first to know when these services are available.
Get the right information to stay on top of your retirement planning.
Sign up for our newsletter for our latest retirement planning guides, tips and more!