3 Out of 4 Americans Fear Dental Tourism — Should You? [Survey]
Dental tourism, or traveling to have dental work done in another country, is on the rise. Knowing the most popular places for dental work abroad, what to be aware of before booking your plane ticket and how many Americans feel comfortable with the idea of overseas dental care can help you determine if dental tourism is right for you.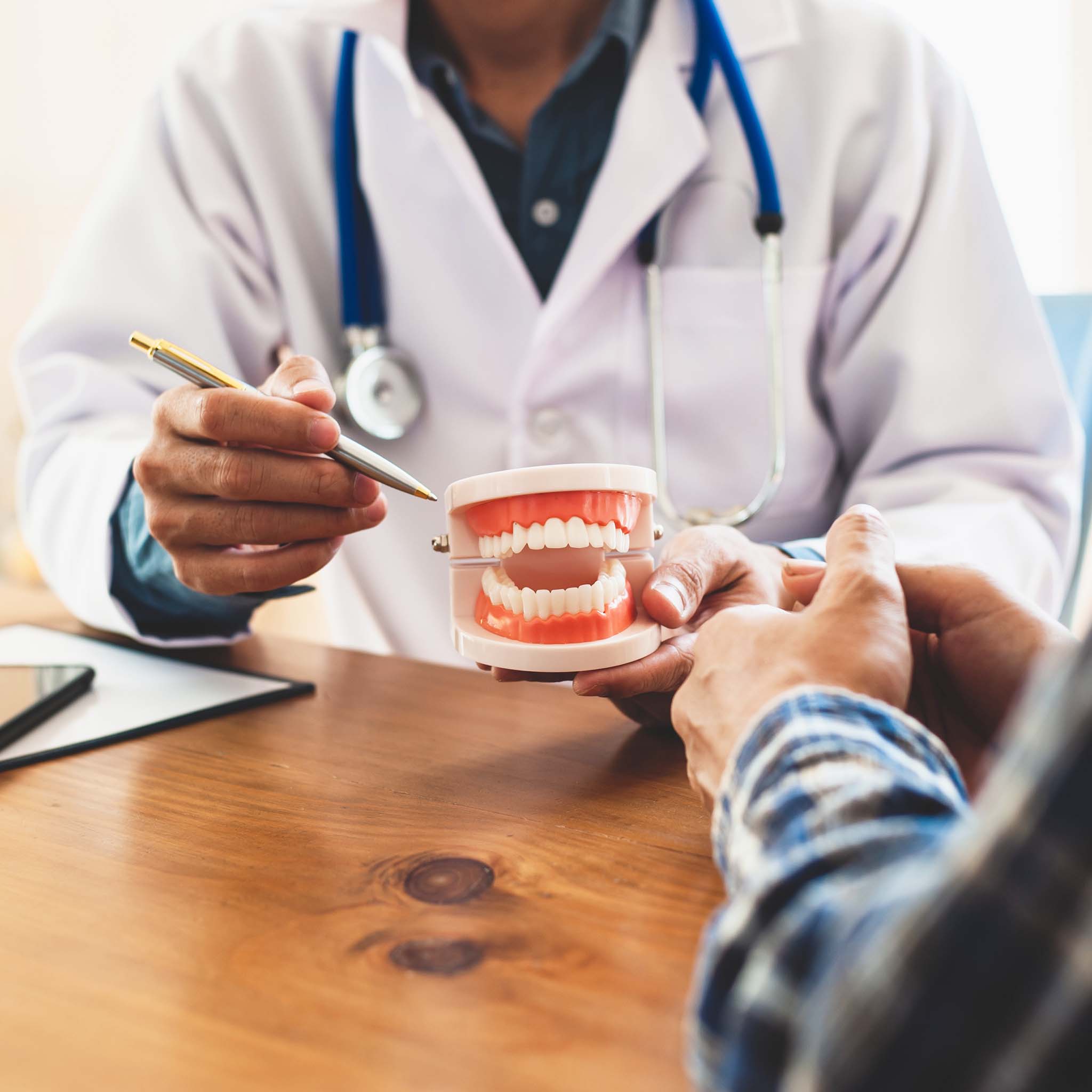 Edited By

Savannah Pittle

Savannah Pittle

Senior Financial Editor

Savannah Pittle is a professional writer and content editor with over 16 years of professional experience across multiple industries. She has ghostwritten for entrepreneurs and industry leaders and been published in mediums such as The Huffington Post, Southern Living and Interior Appeal Magazine.

Read More

Published: March 25, 2022
Updated: May 23, 2023
14 min read time
This page features 33 Cited Research Articles
Maybe you spent some time as an expatriate or took a year off work to see the world, but have you ever traveled to another country for the sake of your teeth? If you haven't, you may consider doing so in the future. According to GlobeNewswire, the dental tourism market is projected to increase 12 percent by 2025.
Despite the industry's growth, dental tourism is often feared by many Americans. In a recent survey, we asked 1,500 people from the ages of 18 to over 65 if they fear dental tourism — the results may surprise you.
Key Takeaways
Most Americans feel more comfortable having dental work done in the United States than having it done abroad.
Women are 20 percent more likely to fear dental tourism than men.
30 percent of those who fear dental tourism but would do it anyway are between the ages of 18 and 24.
75% of Americans Fear Having Dental Work Done in Another Country
Data from our survey shows that 3 in 4 people are afraid of having dental work done in a foreign country. Of those who are afraid, 10 percent said they would still do it despite their fear. Likewise, 24 percent said they would fear dental tourism only if the procedures weren't performed with modern medicine.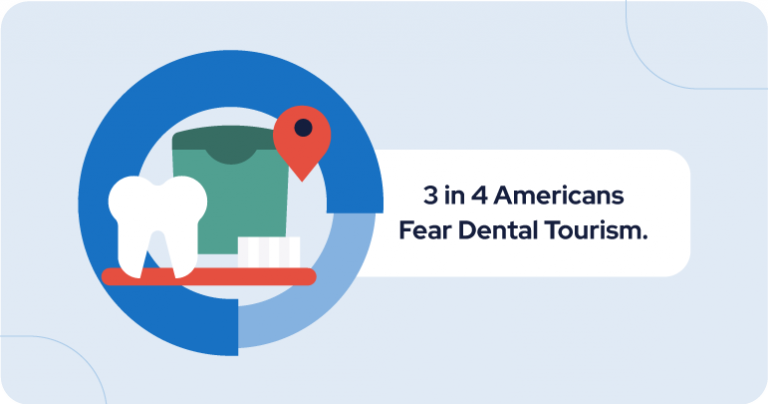 When asked if they were afraid of dental tourism, Americans responded with:
Yes, I'm afraid: 42%
Yes, if NOT done with modern medicine: 24%
Yes, I'm afraid, but would do it anyway: 10%
No, I'm not afraid: 24%
More Women Fear Dental Tourism Than Men
When it comes to gender, women are 20 percent more likely to fear dental tourism than men are. Of those who responded to our survey, 61 percent of women openly said they were afraid of dental tourism, while only 42 percent of men said they were.
Men were also roughly 10 percent less likely to fear overseas dental work when done with modern medicine.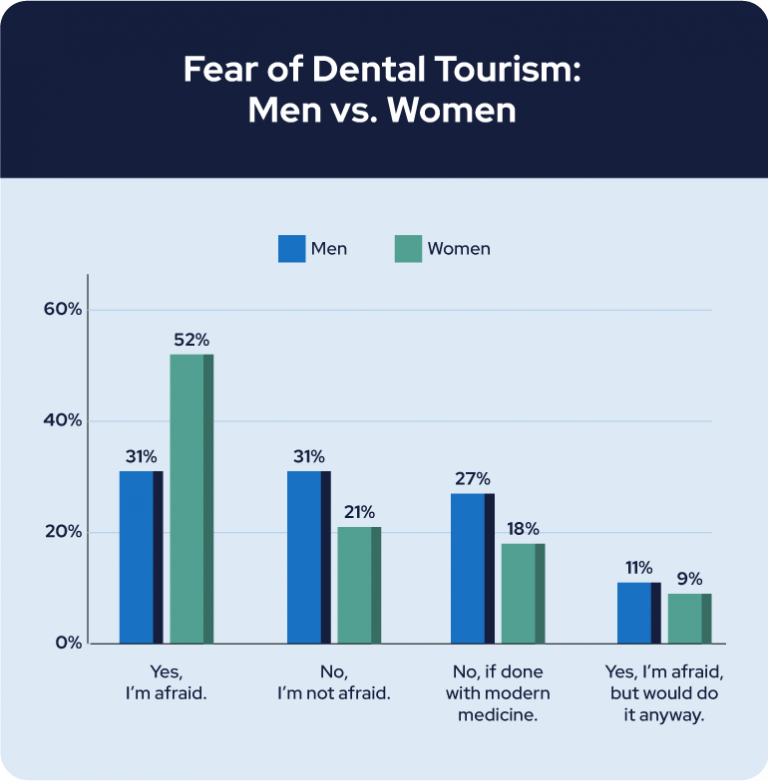 Total male responses:
Afraid: 42%
Not afraid: 58%
Total female responses:
Afraid: 61%
Not afraid: 39%
Don't Leave Your Health to Chance
Find a local Medicare plan that fits your needs by connecting with a licensed insurance agent.
Young Adults Are Twice as Likely to Fear Dental Tourism, but Do It Anyway
According to our survey results, young adults are the most likely to muster up the courage to have dental work done abroad. Those between the ages of 18 and 24 are twice as likely to have overseas dental work done even if they're afraid to, compared to those 35 and older.
Of those who said they would participate in dental tourism despite fear, 30 percent were 18 to 24, with the next highest age group being those 25 to 34, at 21 percent. Surprisingly, those 55 to 64 were the third highest age group at 15 percent.
Age group results of those who fear dental tourism but would do it anyway:
18-24: 30%
25-34: 21%
35-44: 11%
45-54: 10%
55-64: 15%
65+: 13%
The Northeast Fears Dental Tourism the Least of All U.S. Regions
We found that those residing in the Northeast are the least likely to fear dental tourism, with 53 percent of people not afraid of the concept. The West wasn't far behind, with 52 percent of people claiming they don't fear dental tourism.
Conversely, the Midwest is the most afraid of having overseas dental work done, with only 42 percent of people claiming to be unafraid of the idea. Those in the South had similar responses, with only 43 percent not afraid of having dental work done abroad.
Popular Places To Have Dental Work Done Abroad
When considering the benefits of dental tourism, many people first look at the cost of their desired dental procedure. You may ask yourself, "Where is the cheapest place to get dental work done?" in order to stretch your money as efficiently as possible.
The interactive map below will show you the average cost of specific dental procedures in some of the most popular dental tourism locations around the world. Use the average costs of dental work in the United States to compare.
Average cost of specific dental procedures in the United States:
All-on-4 Dental Implants: $12,000-$50,000
Zirconium Crown Over Tooth: $500-$1,500
Root Canal: $500-$1,500
Partial Dentures: $650-$2,500 per denture
Full Dentures: $1,000-$15,000
Wisdom Tooth Extraction: $140-$400 per tooth
Dental Procedure in
| | |
| --- | --- |
| All-on-4 Dental Implants | |
| Zirconium Crown Over Tooth | |
| Root Canal | |
| Partial Dentures | per denture |
| Full Dentures | |
| Wisdom Tooth Extraction | per tooth |
Travel Information
| | |
| --- | --- |
| Los Angeles | hours, minutes |
| Chicago | hours, minutes |
| Atlanta | hours, minutes |
| Average Flight Cost | |
Disclaimer: These averages are based on available information online and may vary between dental offices. Contact individual clinics to receive exact pricing for procedures offered. Flight times were calculated using Travelmath and average flight cost was found by comparing the average cost of flights from Los Angeles, Chicago and Atlanta on Google Flights at different times in the year.
Looking at the dental costs in the map above may have you ready to book your flight. However, there are additional costs to consider. When planning an overseas dental trip, you'll also need to account for your flight, hotel stays, transportation and food, in addition to the cost of dental work you plan to have done.
Pros and Cons of Dental Tourism
Similar to having dental work done in the United States, there are benefits and drawbacks to undergoing dental procedures in a foreign country. While these treatments can often be cheaper, you may experience increased discomfort while traveling as well as potential issues with a dental clinic you've never been to.
The benefits of dental tourism include:
Cheaper cost: One of the biggest benefits of overseas dental work is the cost, particularly for the 74 million Americans who don't have dental insurance. According to Medical Tourism Corporation, the average cost of a dental implant in India can be as low as $418, while the average cost in the United States ranges anywhere from $3,000 to $5,000.
Potentially shorter waiting period: Because of the price differences between countries, you may be able to get your procedure done sooner since you won't have to spend as much time saving money. This can be especially beneficial if you're experiencing discomfort but don't yet have the funds to get the procedure done in the United States.
Opportunity to be selective: When you choose to travel for your dental work, you can be more selective about the provider or clinic you go to. Remaining in the United States may mean seeing the closest dental professional or staying in your network, even if they aren't necessarily the best.
These benefits may feel like they would outweigh any drawbacks presented. However, the cons of dental tourism can be significant, including:
Potential for disease: Contracting diseases while traveling with open wounds is possible and something you'll want to be aware of. If you're worried about this, talk with your dental provider about the possibility of this happening, and ways you can prevent it.
Lack of insurance coverage: Typical dental insurance often doesn't apply outside the U.S. This also includes any dental coverage you may have through a Medigap plan.
Discomfort while traveling: Dental work alone can be uncomfortable, and traveling during that discomfort can make the process that much more painful.
Fewer regulations: In an email to RetireGuide, Melike Aytekin, a dentist at Vera Clinic in Turkey, explains: "​​The risks of having dental work in a foreign country can be the lack of regulation. It is also important to ensure you research the clinic you are undergoing the treatment with and ensure you research the products, as some can use low-cost materials."
What To Look For in a Dentist Abroad
If you've decided to look for a dental specialist in a foreign country, there are a few things to consider before choosing the right one for you. The last thing anyone wants is to pay for a more affordable dental procedure abroad only to need the procedure fixed upon arrival in the United States. Thoroughly vetting prospective dental providers can help you avoid this situation.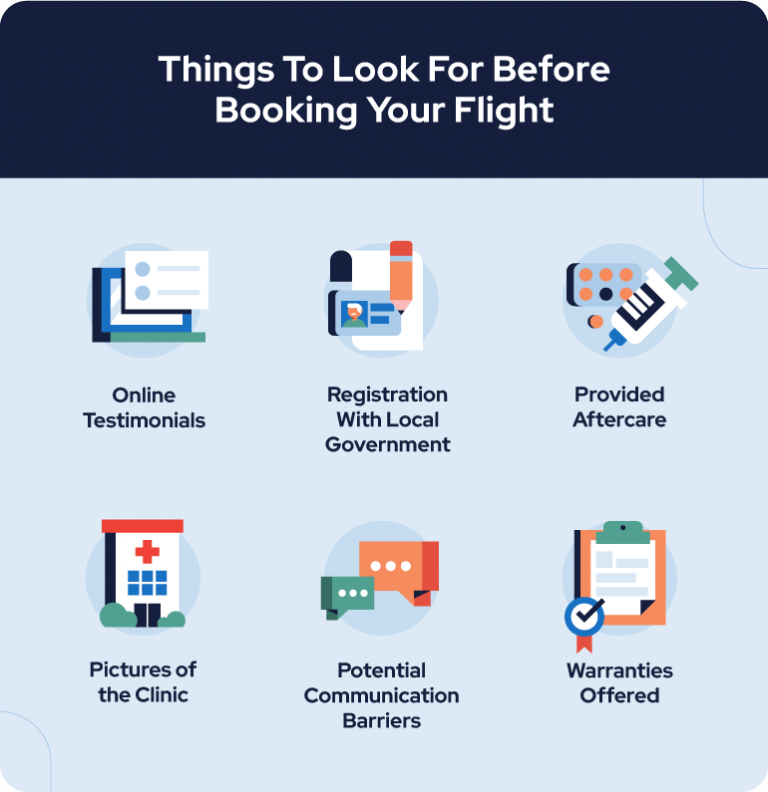 When choosing a dental professional abroad, be sure to look for the following things:
Online testimonials: Testimonials can reassure you about the positives and potential negatives of a dental clinic you're looking into.
Potential communication barriers: Language barriers can be dangerous when it comes to having any medical or dental treatment done. Ensure the dental professional you're looking into can speak your language, you can speak theirs or you'll have access to a translator.
Provided aftercare: Aftercare can prove difficult if you have to return home in a short period of time. Consider what these implications might be and what type of aftercare is needed for your procedure. If the foreign dentist is able to communicate with your home dentist about aftercare treatment, make sure this is arranged ahead of time. If your procedure doesn't require an intense follow-up appointment, ask your foreign dental provider if they offer telehealth-type follow-up appointments.
Offered warranties: Offering warranties is one way for a clinic to guarantee that their services will be of the highest standards, and they'll make it right if things go amiss.
Pictures of the clinic: Look on the clinic's website, Facebook page or through a Google search to see how sanitary the clinic looks. By also looking at the location of the clinic, you can determine if it's a safe place for tourists to be.
Registration with local governing bodies: In an email to RetireGuide, Wesley Jacobs, founder of Apollo Medical Travel explains, "Providers abroad typically include their license number on their website. You can check this number against government sites to see the qualifications of the provider. In Mexico, for example, you can check qualifications on the Mexican government's official site."
Checking these things before booking your plane ticket can help alleviate some stress on your emotions, your mouth and potentially your pocketbook.
Funding Your Dental Procedure in a Foreign Country
Dental procedures in the United States can be costly, which is one reason many people choose to have dental work done abroad. Despite other countries' abilities to offer more affordable dental care, certain procedures can still cost more than many people have in their savings account.
Unfortunately, most travel insurance coverage only extends to dental emergencies, and regular insurance like Original Medicare, Medicare Advantage or dental insurance only covers work done in your home country.
One of your best options for funding an overseas dental trip is doing so through financing. This can be through a personal loan from your financial institution or a loan through a company that specializes in medical tourism.
Dental tourism can be risky if you don't do your research beforehand. However, if you find a clinic abroad that uses the newest technology and has world-class dental professionals, you may find that overseas dental care can be cheaper than having certain procedures done in the United States.
If you're unsure whether or not your Medicare coverage could help pay for this, consider talking with a Medicare advisor who can help you understand exactly what your Original Medicare or Medicare Advantage plan covers.
Survey Methodology
An online survey was conducted for RetireGuide using Google Surveys in February 2022, surveying 1,500 individuals.
Post-stratification weighting has been applied to ensure an accurate and reliable representation of the United States population.
Last Modified: May 23, 2023
Share This Page
33 Cited Research Articles
Need Help Planning Your Retirement?
Yes, I'm Interested
I Have Help Already
I Will Manage It Myself
RetireGuide will soon offer services to help you better manage your retirement.
We will be offering assistance with annuities, life insurance, Medicare and financial planning. Sign up for updates and be the first to know when these services are available.
Get the right information to stay on top of your retirement planning.
Sign up for our newsletter for our latest retirement planning guides, tips and more!
Who Am I Calling?
Calling this number connects you to one of our trusted partners.
If you're interested in help navigating your options, a representative will provide you with a free, no-obligation consultation.
Our partners are committed to excellent customer service. They can match you with a qualified professional for your unique objectives.
We/Our Partners do not offer every plan available in your area. Any information provided is limited to those plans offered in your area. Please contact Medicare.gov or 1-800-MEDICARE to get information on all of your options.
888-694-0290