Bereavement Overload: Coping With Cumulative Grief
Bereavement overload may arise when you experience multiple losses in a short period of time. When you're aware of what bereavement overload is, its symptoms and how you can cope, you can begin to process your grief and move forward.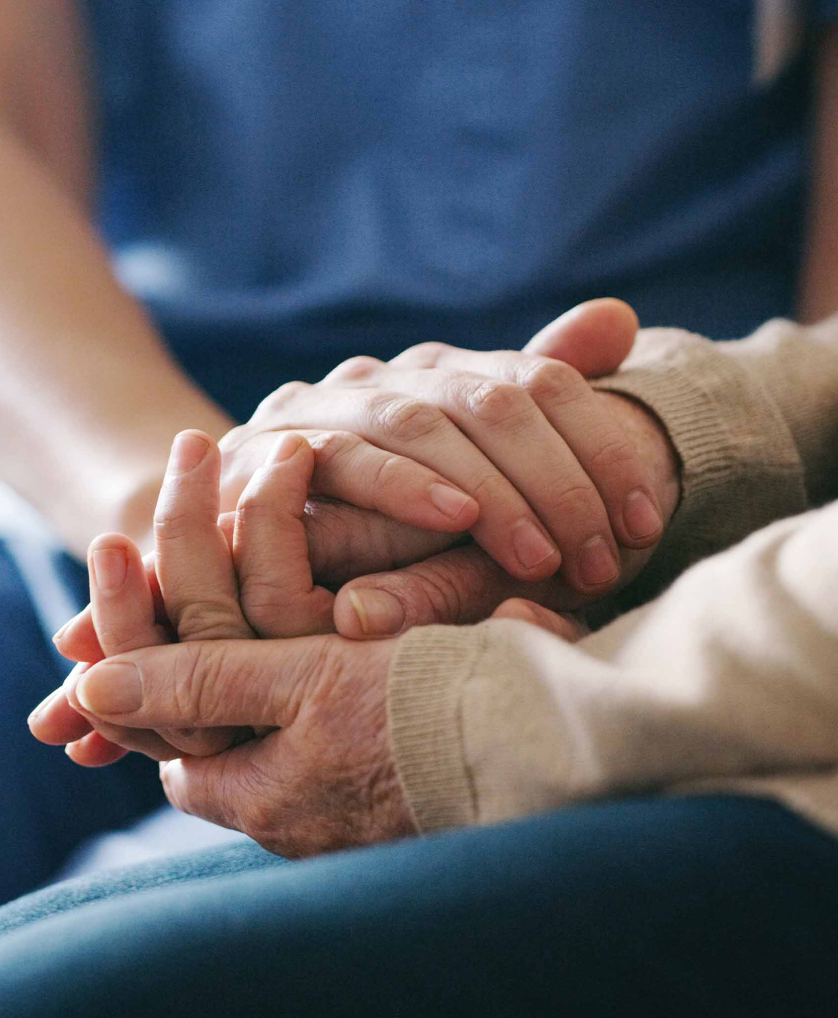 Edited By

Lamia Chowdhury

Lamia Chowdhury

Financial Editor

Lamia Chowdhury is a financial content editor for RetireGuide and has over three years of marketing experience in the finance industry. She has written copy for both digital and print pieces ranging from blogs, radio scripts and search ads to billboards, brochures, mailers and more.

Read More

Published: June 29, 2022
Updated: October 31, 2022
7 min read time
This page features 7 Cited Research Articles
Experiencing loss is never easy. Whether you experience the death of a loved one, an end to a friendship or the loss of a job, it takes time to process your emotions and heal.
But when you are faced with multiple losses at once, it can be even more overwhelming and painful. This situation is known as bereavement overload.
If you or a loved one are dealing with cumulative grief, then you've come to the right place. We've put together this comprehensive guide so you can recognize the symptoms and learn healthy ways to cope.
Bereavement Overload Definition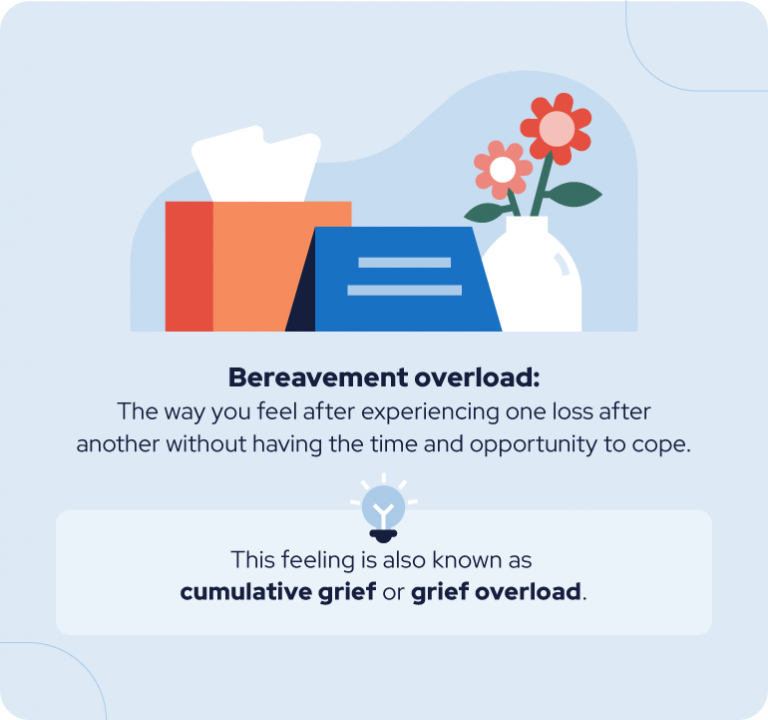 Bereavement overload, also known as cumulative grief, is the way you feel after experiencing one loss after another without having the time and opportunity to cope.
Age increases your chances of experiencing elderly depression because, as you grow older, you experience more deaths of friends and family at a faster rate than you did when you were younger.
Bereavement Overload Risk Factors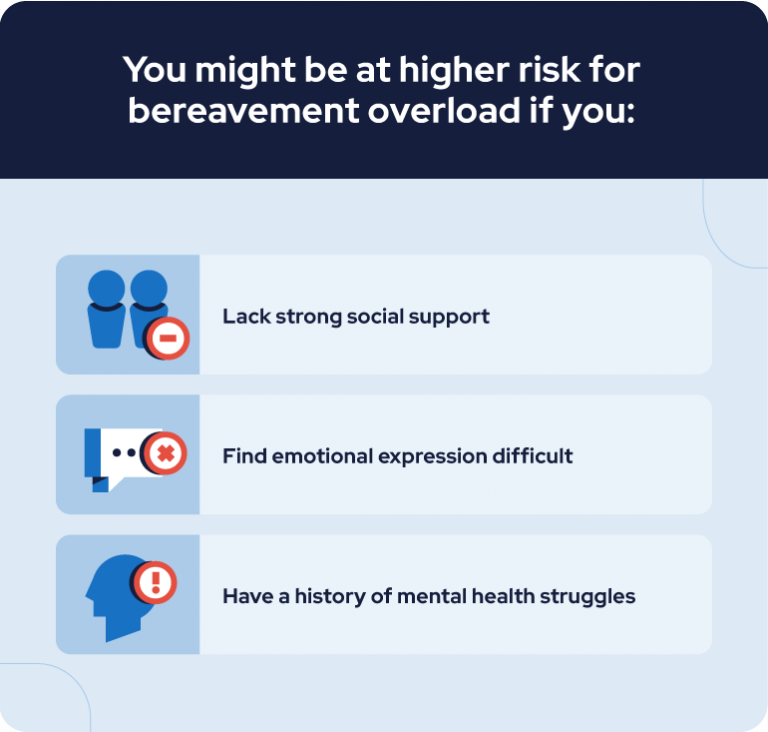 While some may experience bereavement overload from multiple losses at once, others might experience losses that build up over years.
You could be at higher risk of experiencing grief overload if you:
Lack support from friends and family
Find emotional expression difficult
Have a history of struggles with mental health
It's also important to note that bereavement overload isn't only triggered by death. For example, if you lost a relationship, lost your job and a parent was diagnosed with an illness all at once, these compounded difficult circumstances could cause cumulative grief.
How Long Does Cumulative Grief Last?
There is no set time over which cumulative grief takes place. For some people grief might last weeks or months, while for others it could last a lifetime.
While there is no guaranteed way to eliminate your sadness, adopting healthy coping mechanisms will help you move forward.
The Effects of Bereavement Overload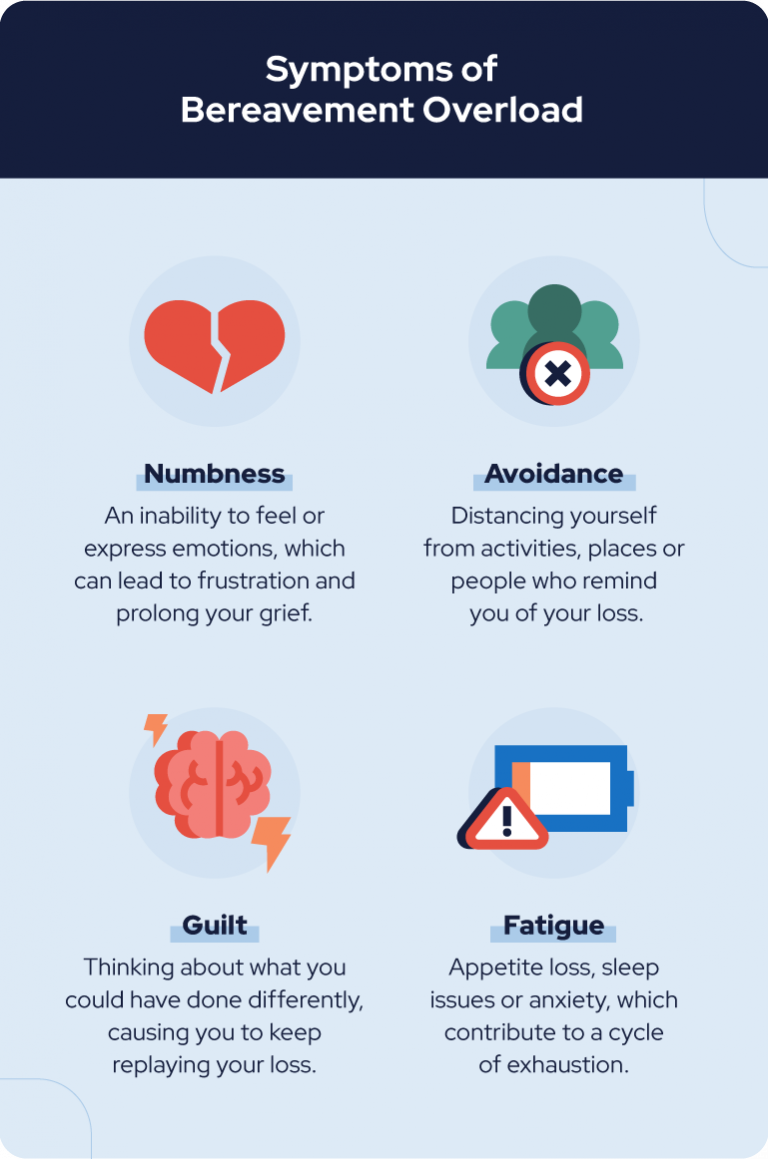 Effects of bereavement overload include:
Numbness
It's common to feel emotionally numb or disconnected from others after a major loss. If you feel numb after the death of a loved one, this could lead to frustration when you see others openly expressing their sadness at a funeral. You might even feel as though you aren't grieving in the "right" way.
But there isn't a universal way to grieve. While you might not express yourself in the same way as others, it doesn't minimize how much you cared about the person you lost.
Avoidance
Avoidance is another natural response to grief. You might avoid activities, places or people who remind you of your loss. While distracting yourself from a loss might act as a temporary solution to pain, overreliance on avoidance could result in the development of complicated grief, a persistent and debilitating bereavement disorder.
Put simply, when you avoid your grief too much, it can extend and exacerbate your feelings of loss.
Guilt
After experiencing multiple losses, you might think about what you could have done differently. Maybe you feel you could have prevented the death of a family member or that you should have spent more time with them while they were alive. Whether the guilt is rational or not, it can be difficult to let go of.
Fatigue
Grieving multiple losses can be both physically and emotionally overwhelming. Grief can cause loss of appetite, sleep issues, increased blood pressure and anxiety. These effects all contribute to feeling fatigued throughout the day, which can result in a cycle of exhaustion.
How to Cope With Cumulative Grief
Cumulative loss is a tricky problem to deal with. Since it can hit you with many negative side effects while draining your energy, it's important to choose healthy coping mechanisms. The more you avoid your grief by distracting yourself with TV, work or anything else, the longer your heartache could last.
Below, we've outlined healthy strategies to help you cope with grief.
Talk to Someone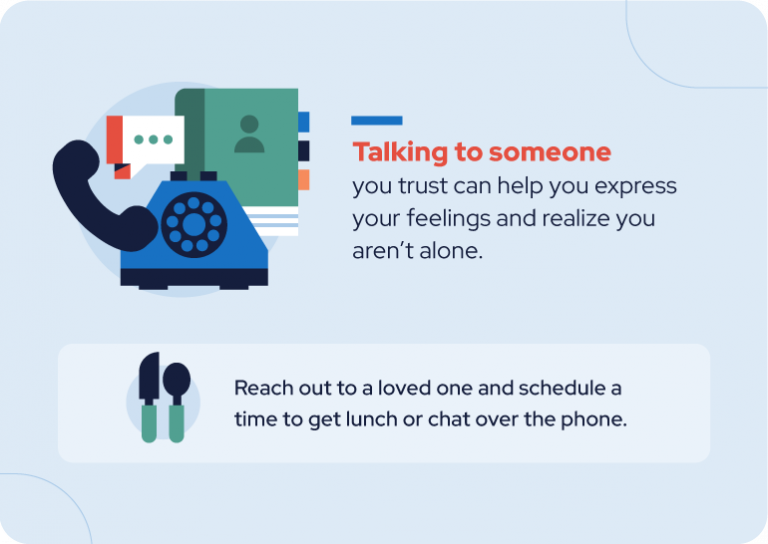 A common response to grief is to isolate yourself. You may feel like you're being a burden on others, or like there's nobody out there who understands your grief.
When you discuss your loss with a friend or family member, however, it helps you fully process your feelings. Even if they can't fully understand your grief, it helps to know you have people there to support you.
If you don't feel comfortable talking with a loved one, check to see if you're eligible for therapy through Medicare.
Tip
Reach out to a loved one and schedule time to get lunch or video chat.
Write a Daily Journal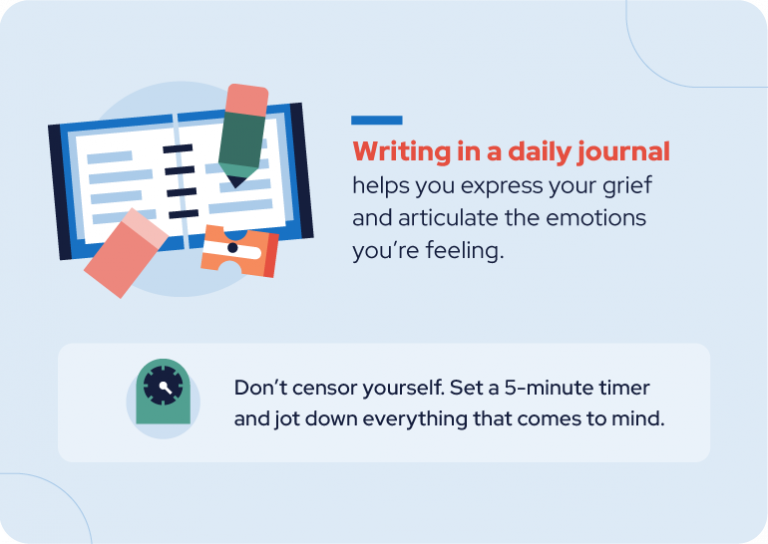 Keeping a daily journal where you write your thoughts and feelings onto paper is a great way to express your grief. By articulating your emotions, you can better understand yourself while accepting the reality of your loss.
Additionally, research suggests that writing before bed helps you reduce stress and get a better night's sleep.
Tip
Don't censor yourself. Jot down everything that comes to mind.
Practice Mindfulness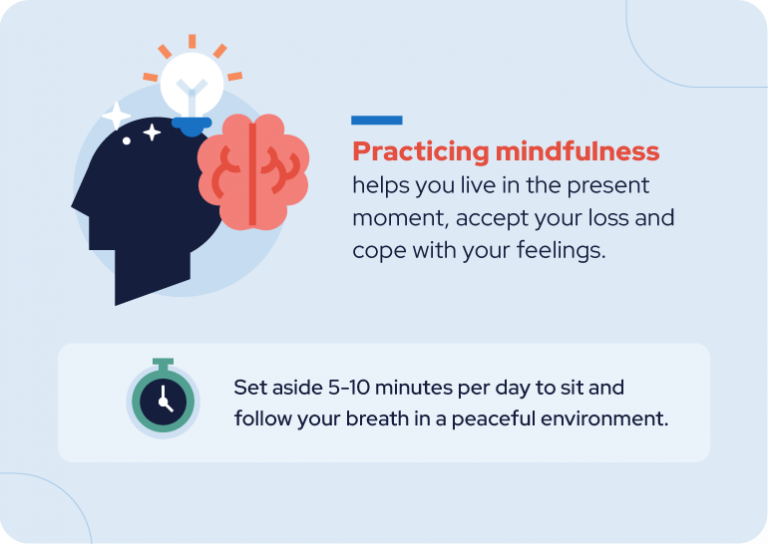 Practicing mindfulness means connecting with the present moment. While you might prolong your grief by avoiding your feelings, mindfulness can help you accept the reality of your situation and cope with symptoms from grief.
Studies suggest that mindfulness can promote sleep quality and reduce depressive symptoms. By simply creating a habit of being still and following your breath, you can increase your awareness and process your grief.
Tip
Set aside five to ten minutes per day to sit and follow your breath in a peaceful environment.
Create a Daily Routine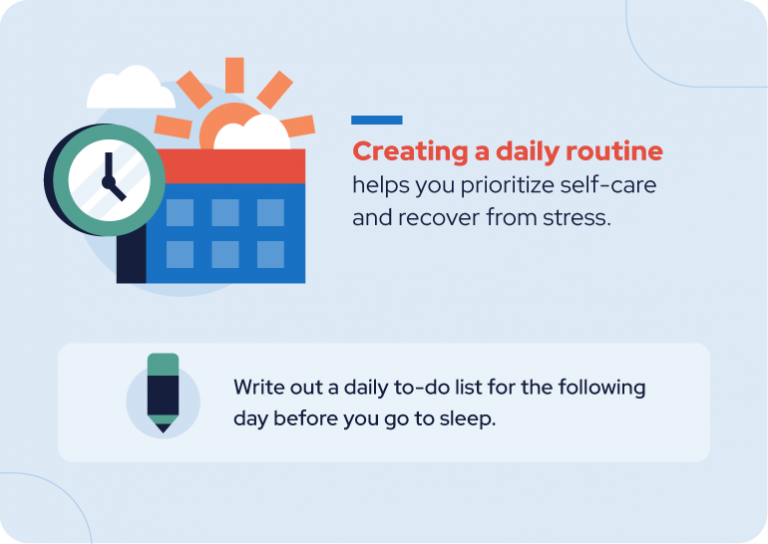 When you're grieving, it's easy to forget to prioritize self-care. Having a planned routine, however, helps you to stay on track and prioritize your physical and mental health.
Additionally, research suggests that daily routines can help you feel a sense of purpose, which helps you recover from stress.
Tip
Write out a daily to-do list for the following day before you go to sleep.
Practice Gratitude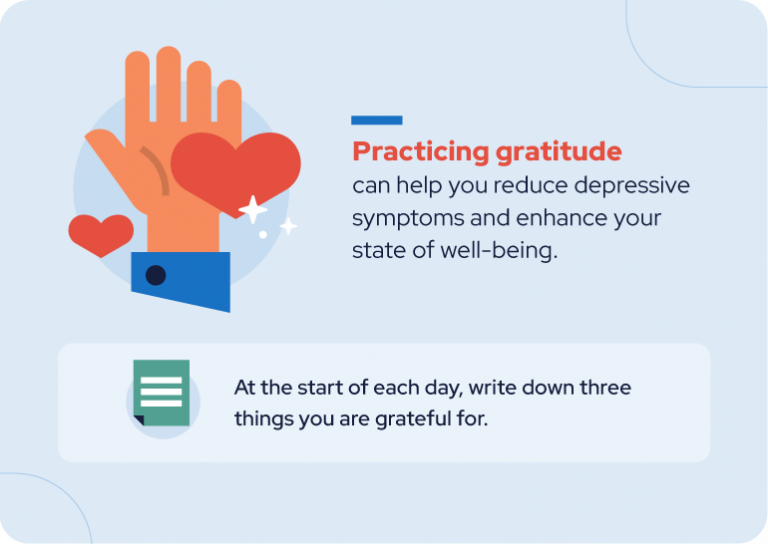 While it can be difficult to feel grateful amidst a major loss, it's worth the effort. Research suggests that practicing gratitude can help people reduce stress and depressive symptoms.
Tip
At the start of each day, recite out loud three things you are grateful for.
Compartmentalizing Grief
When you compartmentalize grief, you're suppressing thoughts and emotions related to your loss. In the short term, compartmentalization can be necessary to continue to function, but too much of it can prolong the time it takes you to mourn.
Signs that you're compartmentalizing your grief too much include:
Excessive TV watching, sleeping or substance use
Avoiding anything that reminds you of your lost loved one
Isolating yourself from friends and family
In contrast, there are healthier ways to compartmentalize your grief.
Some healthy way to cope with grief include:
Schedule time to grieve

Schedule time to go for a walk or journal where you can sit with your emotions and express yourself.

Meet with a therapist

If you have a time scheduled out each week to meet with a therapist, you can grieve in a safe environment and hold yourself accountable.

Slowly confront your loss

Take your time reintroducing yourself to anything you've been avoiding that reminds you of your loss.
Sometimes it's helpful to put your emotions aside temporarily so you can maintain a semblance of normalcy. But it's important to be mindful that you aren't compartmentalizing grief all the time. Scheduling time to grieve can allow you to process cumulative grief at your own pace.
Closing Thoughts
Experiencing bereavement overload can be difficult and overwhelming. You might find yourself feeling fatigued, numb or guilty about your loss. Healthy coping mechanisms such as journaling or seeking support from loved ones can help you cope with your grief and move forward with your life.
Remember that it's important to take care of yourself both mentally and physically. To learn more about healthy ways you can cope with grief, check out the infographic below.

Last Modified: October 31, 2022
Share This Page
7 Cited Research Articles
Need Help Planning Your Retirement?
Yes, I'm Interested
I Have Help Already
I Will Manage It Myself
RetireGuide will soon offer services to help you better manage your retirement.
We will be offering assistance with annuities, life insurance, Medicare and financial planning. Sign up for updates and be the first to know when these services are available.
Get the right information to stay on top of your retirement planning.
Sign up for our newsletter for our latest retirement planning guides, tips and more!