Living Your Best Life After Retirement
Post-retirement planning involves defining your goals and making important financial decisions. You need to determine withdrawal strategies, risk factors and your desired lifestyle. You may also want to consider getting a part-time job or volunteering in the community during retirement.
Written by

Rachel Christian

Rachel Christian

Financial Writer and Certified Educator in Personal Finance

Rachel Christian is a writer and researcher for RetireGuide. She covers annuities, Medicare, life insurance and other important retirement topics. Rachel is a member of the Association for Financial Counseling & Planning Education.

Read More

Edited By

Matt Mauney

Matt Mauney

Financial Editor

Matt Mauney is an award-winning journalist, editor, writer and content strategist with more than 15 years of professional experience working for nationally recognized newspapers and digital brands. He has contributed content for ChicagoTribune.com, LATimes.com, The Hill and the American Cancer Society, and he was part of the Orlando Sentinel digital staff that was named a Pulitzer Prize finalist in 2017.

Read More

Reviewed By

Ebony J. Howard, CPA

Ebony J. Howard, CPA

Credentialed Tax Expert at Intuit

Ebony J. Howard is a certified public accountant and freelance consultant with a background in accounting, personal finance, and income tax planning and preparation.  She specializes in analyzing financial information in the health care, banking and real estate sectors.

Read More

Published: September 28, 2020
Updated: August 17, 2022
5 min read time
This page features 9 Cited Research Articles
What to Consider in Post-Retirement Planning
Retirement is a major accomplishment. All those years of hard work and planning have finally paid off.
But planning doesn't stop when you leave the workforce. In some ways, post-retirement planning is even more important because it outlines a roadmap for your final years. It also helps ensure you spend your time in a comfortable and meaningful way.
There are inherent retirement risks everyone should consider. For example, your income tends to be more fixed in retirement, while the death of a spouse or major health care costs can disrupt even the best retirement plan.
Sitting down with a professional financial advisor can help you understand these risks and develop a game plan. Sometimes a second set of eyes can bring clarity to complex situations.
Things to Consider During Post-Retirement Planning
Sources of income
Debt
Future financial obligations
Your desired retirement lifestyle
Where you will live
Withdrawal strategies
Medicare and health care costs
Taxes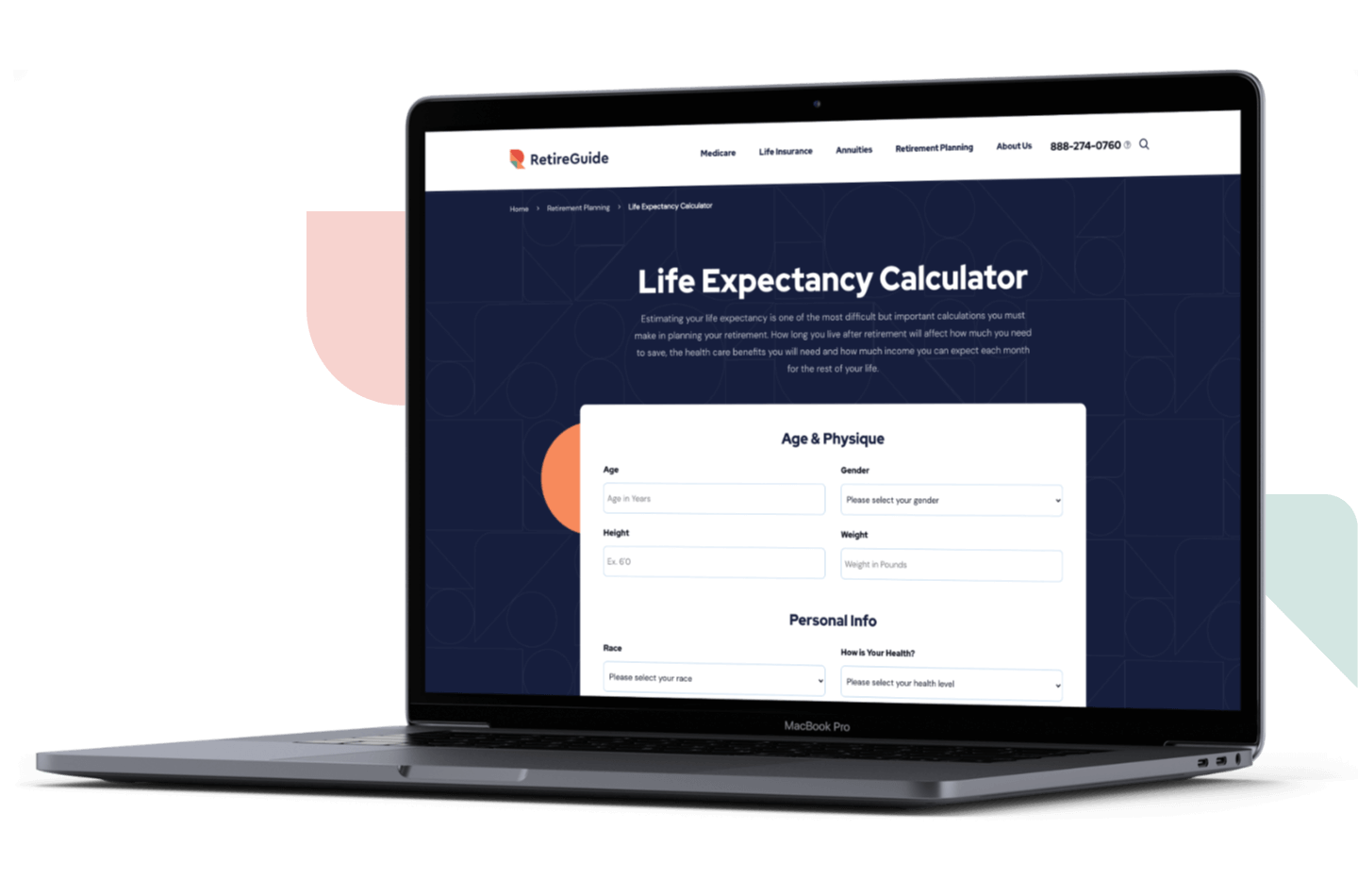 Calculate Your Life Expectancy
Life expectancy is a key factor in determining how much money you will need in retirement. Use our calculator to estimate how long you will live.
Withdrawal Strategies Entering Retirement
Spending money freely in retirement is a real temptation for many retirees. You worked hard for it, so it's natural that you want to enjoy it.
But establishing a budget and adopting a practical withdrawal strategy is essential to making your money last.
According to Fidelity, retirees should aim to withdraw no more than 4 percent to 5 percent of their savings during the first year of retirement.
After that, you can increase the withdrawal amount each year to account for inflation.
Fidelity claims that by following this advice, 90 percent of retirees can sustain their savings for at least 25 years.
But everyone's situation is different. You may decide to withdraw more money early on to enjoy travel or other hobbies before adopting a more conservative withdrawal strategy in later retirement.
Your withdrawal rate will vary due to things you can't control, including how long you live, inflation and the stock market. Other things you have more control over, such as your retirement age, spending habits and asset allocation.
For example, someone who retires before age 60 will likely need to adopt a lower withdrawal rate than someone who retires at age 70.
Financial markets also play a major role in your post-retirement finances. You may want to withdraw funds more conservatively during down market years while giving yourself more flexibility to access retirement account funds during strong market years.
Supplementing Income in Retirement
As of February 2019, more than 20 percent of adults age 65 and older were working or looking for work, compared with 10 percent in 1985, according to a report from United Income, a financial planning and investment management company.
Likewise, a September 2020 Voya Financial survey found that 59 percent of baby boomers currently in the workforce plan to keep working in retirement.
Working a part-time job or monetizing a hobby can help expand your post-retirement budget. You don't have to continue working your current job, but instead, pick something new that doesn't feel like work.
Extra income often helps retirees remain independent longer by preserving their retirement nest egg. Retirement also gives people more time to scale up a personal business and explore new opportunities.
Some post-retirement jobs include:
Substitute teacher or tutor
Uber or Lyft driver
Dog walker or pet sitter
Consultant in your former career
Tour guide
Nanny or babysitter
Real estate manager
For some retirees, continuing to work is less choice and more financial necessity. If you were unable to save enough money for retirement, working part time after age 65 may be the only way to make ends meet.
Living a Meaningful Life
Financial planning is important, but so is staying healthy, happy and active.
After you retire, other activities — such as volunteering or exercise — can help improve your mental and physical health.
Ways to Find Fulfillment in Retirement
Volunteering

Giving back through volunteer work not only helps others — it helps you, too. Retirement gives you time to ponder the bigger picture and look beyond your personal needs. Consider social causes you believe in, such as education or income equality. Look at different organizations in your community in need of help or check websites such as Volunteer Match to find opportunities in your area. Take advantage of the skills you gained during your career to make the world a better place. You can even look into moving to a green retirement community designed to help seniors live an environmentally-friendly life and help protect the planet.

Exercising

Whether it's going on brisk walks or enjoying bike rides, it's essential to make exercise part of your post-retirement routine. Staying active can help increase your happiness — as well as your physical and mental health. Low-impact activities such as daily stretching or yoga can improve your flexibility, reducing joint stiffness and other mobility issues associated with aging. There are many workout centers, programs and activities designed with senior citizens in mind. You can use the International Council on Active Aging Facility Locator to explore options in your area.

Socializing

Research shows that regular social interaction is beneficial for people of all ages. Maintaining interpersonal relationships can positively impact your physical health as well as your cognitive function. Studies indicate that socializing in retirement can lower blood pressure and potentially reduce the risk for Alzheimer's disease. Some social activity ideas for retirees include clubs focused on hobbies you enjoy, storytelling nights, art classes, concerts and educational courses.
Last Modified: August 17, 2022
Share This Page
9 Cited Research Articles
Your web browser is no longer supported by Microsoft. Update your browser for more security, speed and compatibility.
If you need help pricing and building your medicare plan, call us at 844-572-0696